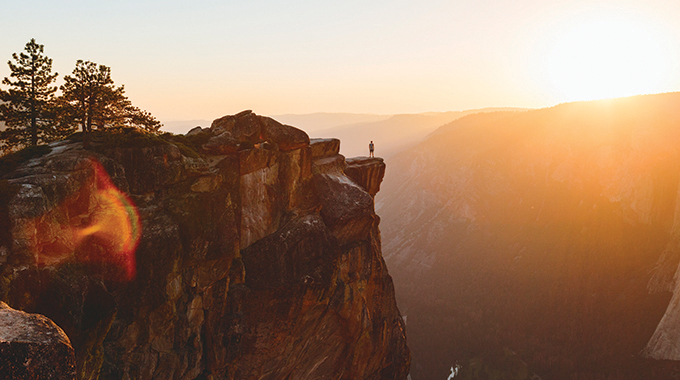 When John Muir hosted President Theodore Roosevelt in Yosemite in 1903, he posed with him at Glacier Point, the stunning overlook above Yosemite Valley. Muir's goal was to convince T.R. that the park needed federal protection. What better place to make the case? From Glacier Point, one can look 3,200 feet straight down into Yosemite Valley and across to Yosemite Falls. Off to the right are Vernal Fall, Nevada Fall, and the High Sierra peaks of the Clark Range. The grandeur is breathtaking. You will, of course, share the view with many others who make the 16-mile trip out Glacier Point Road. Want a more solitary experience? Hike just over a mile to nearby Sentinel Dome or Taft Point. Note: Glacier Point Road will be closed for construction in 2022. 
Learn about the Chinese workmen who helped to establish Yosemite National Park.
Best place to witness creation
Hawai'i Volcanoes National Park, Hawai'i Island
This park posts on its website a daily update called "What's Going on With the Volcanoes." That's how changeable things are where the ongoing eruption of Kīlauea reminds us that the world is still being created on a daily basis. For example, a water lake within the Halema'uma'u crater at the summit of Kīlauea boiled away in a single day last December and left behind a growing lake of molten lava. To witness geology in action, drive the open stretch of Crater Rim Drive and the 19-mile Chain of Craters Road, where overlooks provide jaw-dropping views of current and recent lava flows, vents, and craters. Don't miss the kid-favorite Thurston Lava Tube, which feels like a journey to the center of the Earth.
Get ideas on where to hike at Hawai'i Volcanoes National Park.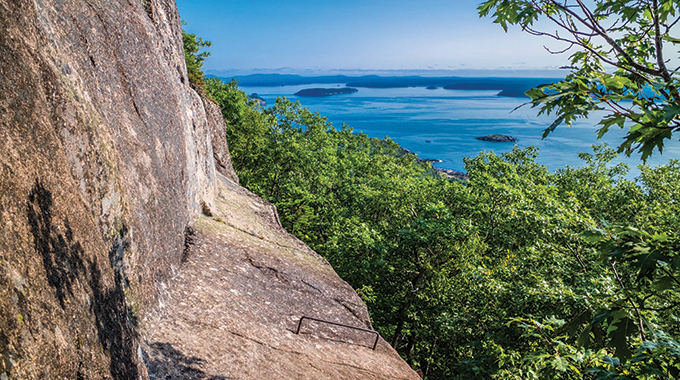 Is it a hike? A scramble? A rock-climb? Yes! But you don't really need skill to do the Precipice Trail—just a sense of adventure. This vertiginously vertical "trail" scales a 1,000-foot granite dome on Champlain Mountain in just under a mile. (The round trip is 3.2 miles.) Judiciously placed iron rungs help hikers through the dicier sections, and even then you still have to boulder-hop a bit to reach the top. The payoff is a glorious view of the east side of Mount Desert Island, heart of Acadia, with its ponds, meadows, mountains, and sea cliffs—and specks of islets dozing in the Atlantic.
Read about more things to do at Acadia National Park.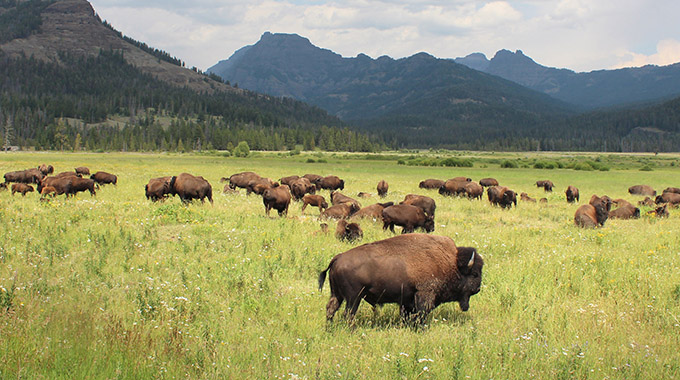 Yellowstone hosts the greatest concentration of mammals in the Lower 48—most notably black bears, grizzly bears, elk, moose, pronghorn, and gray wolves. The best time to spot them is sunrise or near dusk, and the best places are Hayden Valley, along the Yellowstone River, and Lamar Valley in the northeastern part of the park. The latter is the best place to look for wolves. You might spot bison ruminating in Hayden Valley and elk grazing in the Mammoth area. Black bears? Watch for stopped vehicles on the road—what rangers call a "bear jam." Stay in the car, but have your camera ready.

Best place to paddle in solitude
Everglades National Park, Florida
A slow paddle by canoe or kayak on the Wilderness Waterway (pictured at top) is a fast track to splendid solitude in a fertile world of narrow streams, ponds, and mangroves. The Waterway is 99 miles of serenity, but you can fashion shorter trips thanks to an abundance of camping platforms, called chickees. (See permit and reservation info on recreation.gov.) Or simply do a day paddle out of Flamingo in the south or Everglades City in the north. You may encounter manatees and dolphins; and you'll likely see egrets, roseate spoonbills, white pelicans, maybe even flamingos. That bump on the side of your boat? Might be a (generally harmless) hammerhead shark. That noise you don't hear? It's called silence.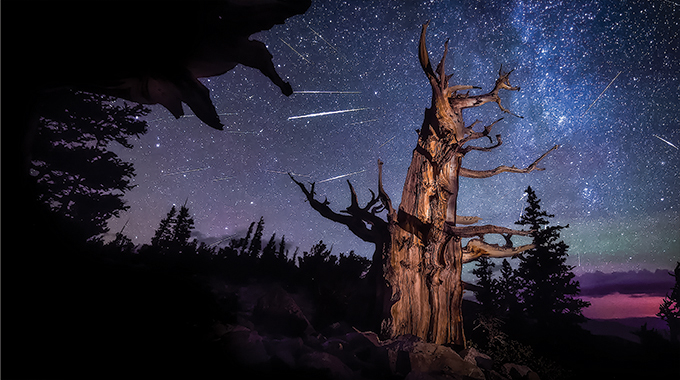 The sky above the remote (300 miles north of Las Vegas), arid Great Basin National Park is so dark on moonless nights that you don't need a telescope to be dazzled. Thousands of stars array across the night sky, far from the interference of city lights. The Andromeda and Milky Way galaxies, planets and satellites, all can be seen easily with the naked eye. No wonder the park is a certified International Dark Sky Park. An optical boost helps, of course. Fortunately, "dark sky rangers" offer night-sky tours and viewing through powerful scopes, and the park hosts an astronomy festival every September (9–11 this year). If a full moon drowns out the stars, join a ranger for a moonlit night hike.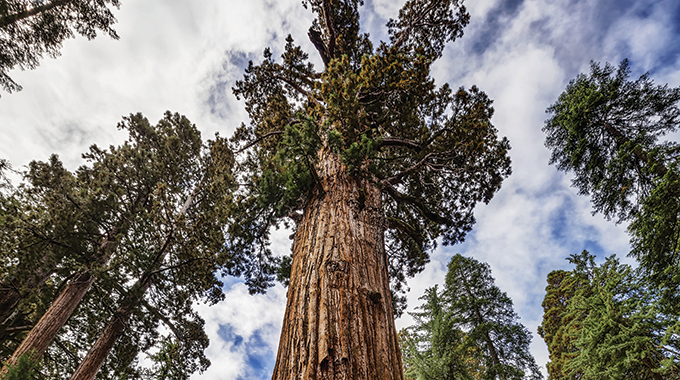 Statistics can't convey the sense of awe you feel when standing amid the world's largest living things, the giant sequoia. (Largest means by trunk volume, not height, as the tallest coast redwoods rise much higher than the largest giant sequoias.) Still, the stats are heady. The largest of them all, the General Sherman Tree in Sequoia's Giant Forest, stands 274.9 feet tall and boasts a diameter of 36.5 feet. One of the Sherman's branches is almost 7 feet in diameter, larger than nearly any tree trunk east of the Mississippi. That the Giant Forest is rife with dozens of similar giants adds to that sense of awe, and if you want even more, venture to nearby Grant Grove in Kings Canyon. Or, for a more solitary walk among giants, hike Redwood Canyon, also in Kings Canyon.
Most unusual wildlife spectacle
Great Smoky Mountains National Park, North Carolina and Tennessee
Most fireflies seem to simply flash at random, but in late May to mid-June, certain fireflies in the Great Smoky Mountains blink in sync, and it's an amazing sight to behold. Scientists believe that the synchronous fireflies are males flashing in unison, competitively, strutting their stuff to attract a mate. Note: The buggy light show is so popular that it generally requires a lottery application.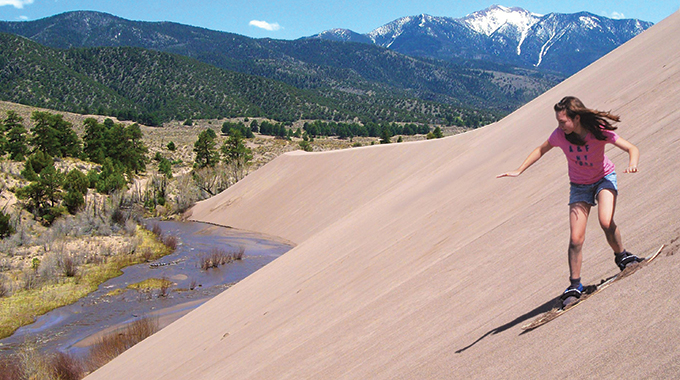 If they can ride a snow sled, they can ride a sand sled. If they can snowboard, they can sandboard. If they can squeal in delight, they (and you) will do so when sliding down the most scenic (and among the tallest) sand dunes in the world. The gorgeous sand hills of Great Sand Dunes National Park rise up to 750 feet against a backdrop of the towering Sangre de Cristo Mountains. You can slide anywhere in the park so long as you avoid sensitive dune vegetation. It'll take a bit of a hike—at least 0.7 miles on soft sand—and uphill scrambling for each run, but that's all part of the adventure, and justified by the thrill. Don't try to sub an old snow sled or snowboard for the real thing—way too much friction. Rent slick ones at the Oasis Store, just outside the park.
Best place to swim with ghosts
Biscayne National Park, Florida
The "ghosts" of Biscayne National Park are six shipwrecks arrayed along the park's undersea Maritime Heritage Trail, and the best way to enjoy these eerie sights is to snorkel among them on a guided trip. You'll see vessels that went down more than a century ago, such as the steamship Erl King, and you can snorkel the base of an 1878 lighthouse. But this park is not all restless spirits. Biscayne's coral reef system is the world's third largest, and home to more than 500 species of fish, including colorful critters like stoplight parrotfish, bluehead wrasse, and yellow-striped porkfish.
Robert Earle Howells says his favorite place in the national parks is in this article; he's just not revealing which amazing wonder it is.
Visiting Safely:  An NPS Pandemic Update
The National Park Service accomplished a delicate balance last year: promoting pandemic awareness and protecting the public while still providing safe recreational opportunities. Some indoor facilities such as visitors centers, stores, and museums were closed, and some ranger programs were curtailed. At press time, every park was open, while the park service continued to promote its Recreate Responsibly campaign, which included social distancing and wearing masks as recommended by the CDC. Be sure to check websites for the individual parks you plan to visit for up-to-date information.
Here are more tips on visiting national parks during the COVID-19 pandemic.