The 2018 volcanic eruption on Hawai'i Island brought monumental changes to the park. Here's a look at what's new.
In April 2018, seismic sensors at the Hawaiian Volcano Observatory on the Island of Hawai'i signaled the movement of magma (subterranean lava) inside Kīlauea Volcano. 
Then, suddenly, on April 30, the glowing vent within Pu'u 'Ō'ō cone collapsed. Soon afterward, the lava lake at Halema'uma'u crater in Hawai'i Volcanoes National Park (HVNP) began to drop. And, on May 3, fissure eruptions broke out miles downslope in the Leilani Estates subdivision to the east.
The awe-inspiring and heartbreaking eruption of fiery fountains and molten rivers near the coast continued for four months. Small, daily earthquakes—60,000 of them between April 30 and August 4—shook up those who live and work around Volcano Village and HVNP. The largest measured 6.9 on the Richter scale. The park closed for safety reasons–some roads developed steaming cracks, building walls fractured, and water pipes burst. No staff or visitors were hurt. 
Now, after rangers and engineers have repaired roads, hiking trails, campgrounds, and backcountry areas, almost all of HVNP (a UNESCO World Heritage Site and an International Biosphere Reserve) is again open and welcoming visitors.
Hawai'i's largest and youngest island, known to most people as "the Big Island," gained about 875 acres of new land–jagged lava-rock coast and black-sand beaches. While most parts of the park remain as they were before the 2018 eruption, with the same forests and lava plains, other areas of the park are forever altered. The most dramatic change to the park's landscape is the astoundingly wider and deeper summit crater, Halema'uma'u. 
The summit caldera used to be primarily a flat lava plain surrounding Halema'uma'u crater. Now the views and sense of place have changed. Quakes have carved new escarpments into the caldera. Halema'uma'u's volume has increased from about 75 million cubic yards to about 1.2 billion. It is no longer immediately fathomable as a whole geologic structure. 
"There's this duality, because not only is the volcano a source of destruction, but it's also a crucible of creation," park Ranger Dean Gallagher said during a guided hike along the Crater Rim Trail that partly encircles Halema'uma'u. He and other rangers lead informative hikes here and elsewhere in the park. "I want to give you a Hawaiian perspective," he continued, describing how volcano goddess Pele "wipes the slate clean" and creates more land, and then her sister Hi'iaka foments new growth.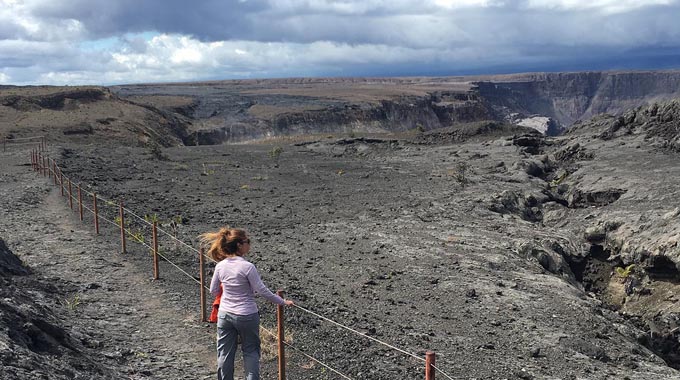 Where to hike in Hawai'i Volcanoes National Park
The Crater Rim Trail traces Halema'uma'u's edge through lush native forest and past steaming fissures. Sometimes mist floats in, making ghosts of the trees and ferns and leaving wet beads on your brow. Then, the sun burns through and the enormous caldera reappears. 

From the crater's edge, the Ha'akulamanu Trail, commonly known as Sulphur Banks Trail, still curves around to the steaming, yellow Sulphur Banks. Interpretive signs explain the pungent volcanic processes—sulfur dioxide gas from the magma rising through cracks in the earth solidifies in crystals on the surface.
Jessica Ferracane, HVNP public-affairs specialist, has logged hundreds of miles on park trails over the past 10 years. Her new favorite hike is actually on a closed portion of road: Crater Rim Drive toward Keanakāko'i crater (a little less than a mile from the Devastation Trail parking lot). 
"At several of the viewing points, you can actually see the section of Crater Rim Drive that collapsed into the summit crater in June 2018," Ferracane says. "It's astonishing when you realize what you're looking at: a flat, wide slab of asphalt suspended about halfway between the rim and what is now the gaping maw of Halema'uma'u. If you look closely, you can discern the double-yellow divider lines on the fallen section of road. I call it the Road to Nowhere." 

When the park first reopened, most trails and backcountry areas remained closed because of safety concerns related to rockfalls, fissure-severed roads, and collapsed cliffs. Now, most of those areas are open again, including the dramatic, yet easy, walk across the crunchy volcanic cinders of Devastation Trail, the Pu'u Pua'i Overlook, and the trail around and through Kīlauea Iki crater, which was one of the park's most popular hikes.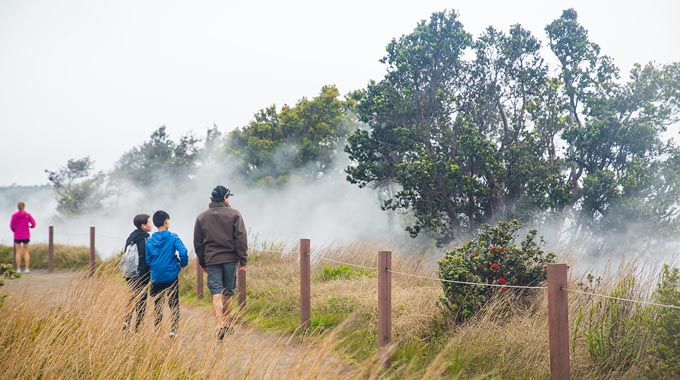 What's still closed in Hawai'i Volcanoes National Park
Some areas, however, remain off-limits. Jaggar Overlook and Jaggar Museum, named after Thomas Jaggar, founder of the Hawaiian Volcano Observatory, could be permanently closed due to earthquake damage. Some of the museum's exhibits are on display at the Pāhoa Lava Zone Museum in Pāhoa, a town about a 45-minute drive from HVNP's entrance.
To get the latest info on what's open and where to explore, stop at the Kīlauea Visitors Center immediately inside the park entrance or check the HVNP website for updates. The visitors center has maps, displays, dioramas, and videos introducing the island's volcanic origins, the Hawaiian people's story, and the park's native, ferns, trees, and birds. Rangers and akamai (knowledgeable) volunteers are on hand to answer questions. Admission to the park, which is open 24/7, is $25 per car, good for seven consecutive days.

Hawai'i Volcanoes National Park has many other areas to explore. You can get a good look in one day, or stay a week or more with forays up Mauna Loa Road, down to the ocean on Chain of Craters Road, or on the trails past Pu'uhuluhulu up to Mauna Ulu's crater rim, or through the Ka'u Desert. Serious trekkers can head into backcountry areas, maybe down to the coast, up to the summit of Mauna Loa, or over the lava plains to Nāpau crater.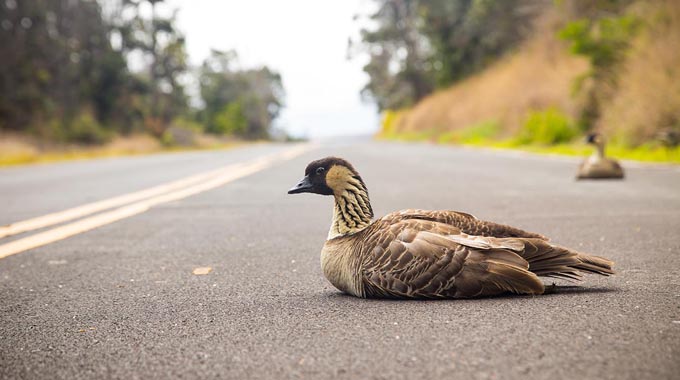 Volcano Village
Just outside Hawai'i Volcanoes National Park is Volcano village, where you can shop for volcano-inspired art, enjoy a meal (locavore fusion, Thai, continental, diner, vegetarian, food truck, farmers market), and stay the night. Populated largely by scientists, artists, farming and ranching families, and others closely connected to the land, there's plenty of right- and left-brain activity (and activism) around this little crossroads.
What to do in Volcano Village
Stop by the Volcano Art Center (VAC), a community anchor for art, culture, and nature. The center's Niaulani campus houses a small gallery and is often abuzz with art-making workshops, storytelling, movies, and special events. VAC's main gallery, located inside the park by the visitors center, features beautiful volcano-inspired art in the original Volcano House Hotel. Some pieces sell for a few dollars, others for thousands.
What to eat in Volcano Village
Volcano Garden Arts offers eclectic art, an excellent vegetarian café, gorgeous gardens, and even a B&B room–all of it envisioned and overseen by one of the village's most delightful characters, artist and entrepreneur Ira Ono. 

Sunday morning's farmers market at Cooper Center brings together a colorful, friendly mix of locals catching up with each other and selling farm produce, jewelry, used books, steaming coffee made from Hawai'i Island beans, fresh breads, pastries, and all sorts of sweet and savory prepared goodies. This is quintessential Volcano Village.
Where to stay in Volcano Village
You'll find many lodging choices: The handsome Kilauea Lodge has a fine restaurant and rates from $152 a night, (highwaywestvacations.com/properties/kilauea-lodge); find tucked-away vacation cottages at (experiencevolcano.com/stay). 
For more information on dining, art, and accommodation in Volcano Village, check out Experience Volcano.
AAA Travel Alert: Many travel destinations have implemented COVID-19–related restrictions. Before making travel plans, check to see if hotels, attractions, cruise lines, tour operators, restaurants, and local authorities have issued health and safety-related restrictions or entry requirements. The local tourism board is a good resource for updated information.