AAA Travel
Traveling With AAA podcast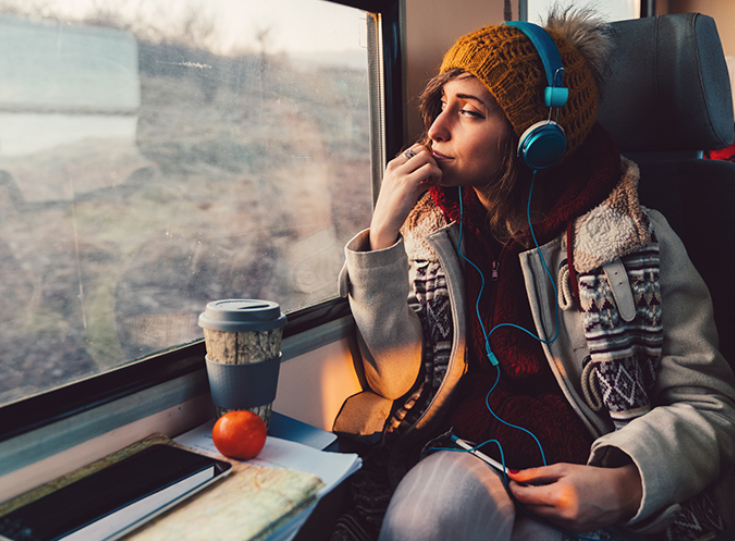 Get insights from those who know on Traveling With AAA
Traveling With AAA is a new podcast that inspires listeners to discover the joy and transformational value of travel. Find hidden gems, get tips from knowledgeable AAA Travel Advisors, and listen to interesting guests tell stories about their adventures.

Episode 41: Forever Maui - How Tourism Is Helping the Island Bounce back with Leanne Pletcher
Learn the geography of Maui to better understand which areas are still recovering and how choosing Maui for your vacation can make a difference to the community.

Episode 42: The Top 5 Experiences to Have in Maui with Leanne Pletcher
Fill out your must-do list with the best of what to see and do on your Maui vacation. 

Episode 39: Cemeteries to See Before You Die with Loren Rhoads
Learn about how attitudes about enjoying cemetery grounds have changed throughout history, and hear tidbits about some of the world's most famous cemeteries and why they're encouraging people to visit. 

Episode 40: Top 5 Must-see Cemeteries with Loren Rhoads
We take a look at 5 must-see cemeteries to help you kick start what's sure to be your new favorite travel curiosity. 

Episode 37: A Journey through the World of Wine with Jennifer Dombroski
Writer and photographer Jennifer Dombroski shares a simple way to remember how to pair wine with your meals and unique wine-tasting experiences in Europe and throughout the U.S.

Episode 38: Has Social Media Ruined Travel? With JoAnna Haugen & B.A. Van Sise
Social media influences our choices about where to go, what to see, where to stay, and how we document our experiences. Experts offer their perspectives on how social media has affected travel. 

Episode 36: Alaska - Exploring the Final Frontier
Award-winning travel writer Valerie Stimac shares the best ways to navigate Alaska, where to see wildlife, tips on visiting Alaska on a budget, and how to see the magical lights of the aurora borealis. 

Episode 35: Discovering Japan - Tokyo, Kyoto, Osaka, & Beyond with Don George
Don George, a lifelong "Japanophile," talks about how the major Japanese islands differ from one another, navigating the language barrier, and who to seek out if you need help.

Episode 34: The Pleasures of Paris & the 2024 Summer Olympics
Lee Abbamonte, who has been to Paris over 60 times, offers tips on where to eat, where to stay, and how to avoid the crowds in the most-visited city in the world. You'll also hear what Paris is doing to prepare for the 2024 Summer Olympics.

Episode 33: Mexico City, Puerto Vallarta, & the Yucatán Peninsula with Tim Leffel & Lydia Carey
Mexico travel experts, Tim Leffel and Lydia Carey, talk about what makes Mexico City, Puerto Vallarta, and the Yucatán Peninsula different. Learn where to find delicious street food and the best way to sample traditional Mexican spirits.  

Episode 32: Tips for Visiting U.S. National Parks & Avoiding Crowds with Gary Arndt
Gary Arndt discusses the impact of over-tourism at national parks with useful tips on avoiding crowds and venturing outside of the most popular parks to discover lesser-known options.


Episode 31: Family Road Trips & #VanLife with Kristen Bor
Kristen Bor, an outdoor enthusiast who has spent nearly a decade balancing life at home and adventures on the open road, shares how van life keeps her close to nature and reveals her favorite U.S. destinations for road trips.

Episode 30: Summer Trips to Europe & how to Avoid the Crowds with Alyson Long
CEO of World Travel Family Alyson Long shares tips on navigating non-English-speaking destinations, choosing the right accommodation for your needs, and the best way to experience busy places while maximizing your time.

Episode 29: Adventures in Iceland
Writer Jessica Fender talks about Iceland's easily accessible natural wonders, from glaciers and hot springs to the country's gorgeous waterfalls. She also offers tips on what to see and do in Reykjavik.

Episode 28: La Dolce Vita in Italy
Susan Van Allen, author of 100 Places in Italy Every Woman Should Go, offers tips on planning the perfect tour of Italy's food, architecture, and history.

Episode 27: A Local's Guide to Visiting Hawai'i
Kevin Allen of Hawai'i Magazine discusses new hotels and attractions and offers tips on visiting responsibly.

Episode 26: Total Eclipse of the Traveler's Heart
A rare total solar eclipse is coming our way in 2024. Self-confessed eclipse-chaser David Swanson offers tips for travelers making plans to see the unusual solar event.

Episode 25: Romantic Getaways
Travel enthusiasts Tonya and Ian Fitzpatrick discuss the importance of vacationing with your significant other. Romantic getaways, they say, can help couples reconnect through shared experiences and new perspectives.
Episode 24: Cruising for the Under 40 Crowd
Andrea Zelinski and Nicole Edenedo from Travel Weekly discuss younger travelers' growing interest in cruising and dispel myths that sometimes keep those under 40 from booking a cruise.

Episode 23: 2023 Theme Park News & Tips
Jordan "Jordie" Poblete, creator of the website DisneyExaminer, talks about Disney's plans to celebrate its 100th anniversary, the new Super Nintendo World at Universal Studios Hollywood, and more.
Episode 22: New Year, New Resolution
Emily Kaufman, better known as "The Travel Mom" for her website of the same name, gives tips on reaching that goal. She has great advice, not just for families, but for all travelers.

Episode 21: Tech Tools for the Traveler on Your Holiday Gift List
Photographer and podcaster Gary Arndt recommends gadgets, tools, and apps for the traveler in your life.

Episode 20: Why We Travel
Travel writers Jim Benning and Elizabeth Harryman discuss the life-changing power of travel—and making up for lost time after pandemic-related travel restrictions lifted over the last year.

Episode 19: Ireland Like a Local
Travel writer Jessica Colley Clarke is married to an Irishman and considers the Emerald Isle her second home. She shares tips for travelers to fit in like a local while they experience the island's charming towns and pubs.

Episode 18: Holiday Travel Tips
Award-winning travel writer Elizabeth Harryman shares tricks for travel during the holidays.

Episode 17: Voyage to the Galápagos
National Geographic Travel editor-at-large Don George recounts his recent cruise to the Galápagos Islands aboard a small Celebrity ship specially designed for the archipelago and its wildlife. He says it was a life-changing and healing experience.

Episode 16: Colombia – The Enchanting Country Behind Encanto
Travel writers Jim Benning and Elizabeth Harryman discuss Colombia's emergence as a tourist destination. Among the attractions discussed are world-class coffee, a gold museum, and a major bicycle event.

Episode 15: Alaska by Land or Sea
Fran Golden is the co-author of 100 Things to Do in Alaska Before You Die. Fran tells what made her fall in love with the Last Frontier, from majestic scenery to encounters with wildlife. She also narrows down her list to the No. 1 thing every visitor must do.

Episode 14: Why Outdoor Enthusiasts Love Fall
Chez Chesak, executive director of the Outdoor Writers Association of America, is an avid skier, biker, and backpacker. He offers tips on making the most of autumn's cooler days and shares his favorite fall hiking and biking spots.

Episode 13: Australia Adventures
Pulitzer Prize-winning writer Jessica Fender tells about her Australia experiences on a Contiki escorted tour aimed at travelers age 18 to 35. Jessica cuddled a koala at an animal sanctuary, took a surfing lesson, and climbed to the top of the Sydney Harbour Bridge.

Episode 12: Visiting Italy: A Love Story
Author of 100 Places in Italy Every Woman Should Go and Italy expert Susan Van Allen shares insights on making the most of a visit to Italy. She also produced her own 1-woman show about an Italian-American family and was a staff writer for the show Everybody Loves Raymond.

Episode 11: Visiting Disney World and Disneyland in 2022
What's it like to stay in the new Star Wars: Galactic Starcruiser hotel at Walt Disney World? What's new at Disneyland? Jordan Poblete offers tips on visiting the parks and shares his experience on Galactic Starcruiser.

Episode 10: River Cruising in America
River cruising in the U.S. is gaining in popularity—is it right for you? Guests Nick Chabarria and Elizabeth Harryman Lasley share their experiences cruising U.S. rivers and offer insights about riverboating on the Mississippi and others. 

Episode 9: RV Camping - Oregon Coast
RVs offer a comfortable way to see the country and camp in the great outdoors, but they may not be for everyone. Brad Wright shares his experience as an RV newcomer and offers tips to others considering RV travel and exploring Oregon.

Episode 8: All-Inclusive Resorts
The popularity of all-inclusive resorts is soaring. Is an all-inclusive right for you? What's it like to stay in one? Jack Richards, CEO and president of Pleasant Holidays, discusses the many advantages of a staying in these popular resorts.

Episode 7: Hawai'i for First-Timers
The Hawaiian Islands offer something for every type of traveler, but knowing where to begin can be tricky if you've never been. Doug Shupe, recently returned from his first visit to the islands, offers insights and tips for first-time visitors.

Episode 6: The Rise of Wellness Travel
More than ever, travelers want to focus on their health and well-being, and resorts and other travel providers are racing to meet their needs. Pulitzer winner Jessica Fender discusses the trend and offers tips.

Is it time to go back on the water again? We give you the answers to safely plan your cruise. Fran Golden, an award-winning journalist and cruise expert, chats with Mary about setting sail.

Hawai'i-based journalist Rachel Ng will share the rich cultural heritage of the Hawaiian Islands, discuss activities on the different islands, and give updates on the state's COVID protocols and requirements.

Episode 3: Visit Mexico & the Caribbean
Sarah Greaves-Gabbadon (JetSet Sarah), former editor of Caribbean Travel and Life, reveals the magic of Mexico and the Caribbean, including shopping, unusual activities, and all-inclusive resorts

Episode 2: Explore the Great Outdoors
ACE Publications travel editor Jim Benning and AAA field cartographer Shane Henry explore Arches National Park and share tips on visiting many of the country's most popular parks.

Episode 1: Travel Planning in the Age of COVID
Emma Weissmann, digital managing editor of TravelAge West, touches on the value of using a travel advisor, how to keep up with COVID protocols, and how far to plan ahead. Then Doug Shupe recaps his cruise to Alaska during the pandemic.