AAA Travel
Big Island of Hawaii Hotels and Resorts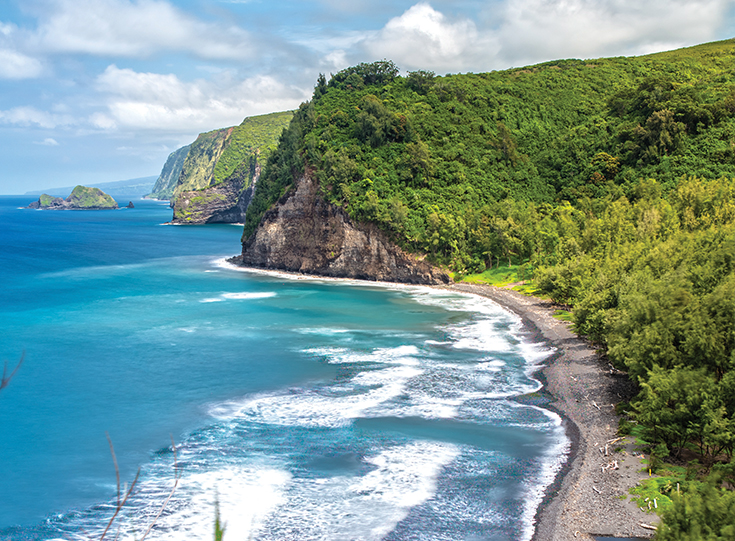 Big Island vacation packages
The Big Island of Hawaii has so much to offer, you may need multiple visits! It's called the Big Island because it's larger than all of the other islands combined. From the bustling Kona coast to laid-back Hilo, the Big Island has something for everyone. Big Island vacation packages can include everything from airfare and accommodations to rental cars and activities, so it's easy to find one that fits your needs and budget.
Big Island hotels and resorts
AAA travel advisors are often asked "what are the best resorts on the Big Island?" Their answer? The Big Island has everything; the best resort for you depends on what you want to do and see, as well as who's traveling with you. Big Island resorts are perfect for those looking for luxury and excitement. With plenty of activities to keep you busy and stunning beaches to relax on, the Big Island is the ideal vacation destination.
Here are some of our top picks by category, but we have options to please almost anyone and any budget.
Top Big Island resort picks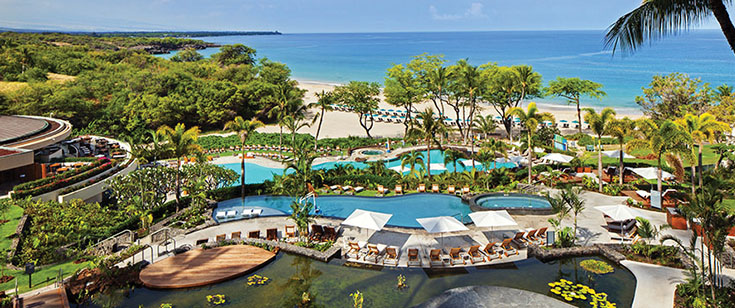 Westin Hapuna Beach Resort
This is the only hotel along the half-mile Hapuna Beach and offers romantic sunsets, an adults-only pool, 3 ocean-view restaurants, plus spa and golf.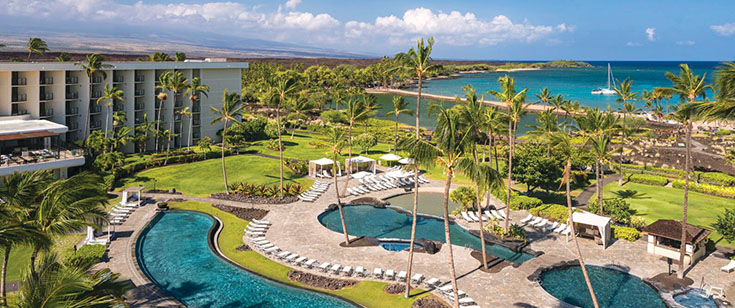 Waikoloa Beach Marriott Resort & Spa
The resort features an infinity pool, nightly luau, and the Mandara Spa, which offers Eastern and Western treatments, massages, stone therapy, and facials.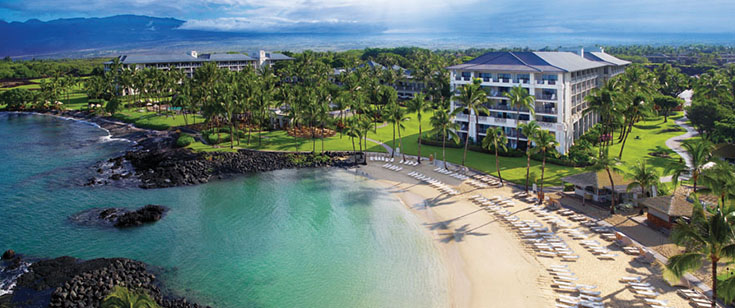 Featuring the award-winning Spa Without Walls, a 10,000-square-foot oceanfront pool, the Hui Holokai Beach Club, 6 restaurants, and world-class golf.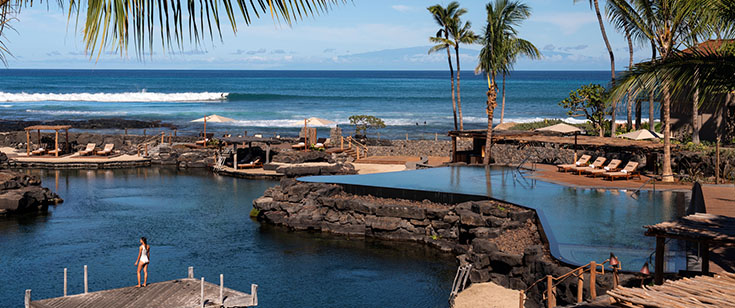 Four Seasons Hualalai Resort
The Four Seasons Hualalai Resort offers some of the best golf on the island, an exclusive spa, and exceptional service.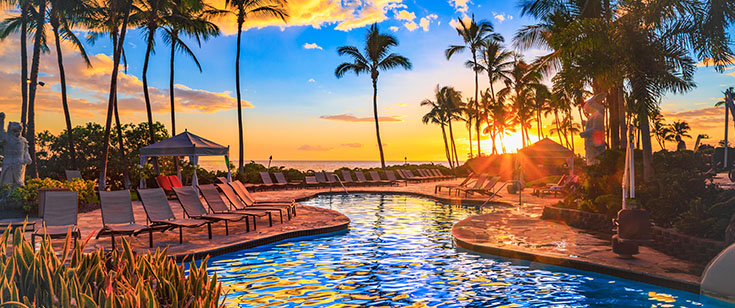 The Hilton Waikoloa Village® has 62 acres of oceanfront property, a 4-acre ocean-fed lagoon, 3 pools, on-site shopping, and 2 championship golf courses.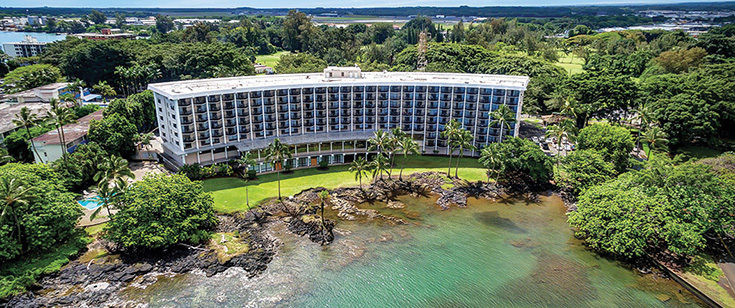 The Castle Hilo Hawaiian offers ocean views, contemporary decor, air-conditioned rooms, and Hawaiian charm.
Big Island vacation packages
Hawaii is an island paradise with something for everyone. From stunning natural beauty and world-class beaches to exciting activities and delicious cuisine, the Big Island has it all. And with our Big Island vacation packages, you can experience it all without breaking the bank.
Our Big Island vacation packages can include everything from airfare and accommodations to car rentals and activities. Whether you're looking for a romantic getaway or a family adventure, we've got you covered. Plus, we offer valuable deals on some of the most popular resorts on the island.
Considering a vacation to the Big Island?
The Big Island of Hawaii offers a wealth of recreational activities including surfing, snorkeling, and hiking, as well as some of the best beaches on the planet, all just minutes from Kona International Airport (KOA). It also boasts a bucket-list worthy opportunity to see red-hot magma break the surface in Volcanoes National Park, a great chance for an Instagram selfie.
 But what are the best things to see and do on the Big Island? This really depends on you. Most first-time visitors opt to stay on the Kona Coast on the western side of the island because the weather is almost always warm and sunny, and the sandy beaches are plentiful and easily accessible. This side of the island is also popular because of the restaurants, shopping, and nightlife, plus it's just minutes from Hawaii's main airport, Kona International Airport. 
 The eastern side of the island, while not as popular or crowded due to the 100+ inches of rain it gets each year, also has its charms. While a rainstorm isn't ideal for tanning on the beach, the precipitation, along with Hawaii's warm climate, produces lush rainforests and amazing waterfalls. While you could easily spend a week exploring this side of the island, many visitors opt for a day trip of sightseeing and hiking or a few nights to soak up the local vibe. 
 For a list of everything to do and see in the Big Island of Hawaii, including top attractions, restaurants, and resorts, check out the Big Island section of our AAA Digital TourBook. If you're interested in some "best of the Big Island" recommendations, we have a few below for your consideration.
Things to do in Hawai'i
The Big Island of Hawai'i is loaded with a variety of activities and attractions. There are plenty of ways to enjoy either a relaxing beach vacation, or an action-packed island adventure. Some popular activities on the island include hiking, biking, snorkeling, surfing, and golfing. There are also several great shopping and dining options available.
Here are some of our top suggestions for things to do while on your Hawaiian vacation.
If you don't find what you are looking for check out our Big Island activities page.
Other islands in Hawaii
The Hawaiian Islands are some of the most beautiful and alluring places on Earth so whether you are looking for a romantic getaway or an action-packed vacation, these Hawaiian Islands have plenty to offer.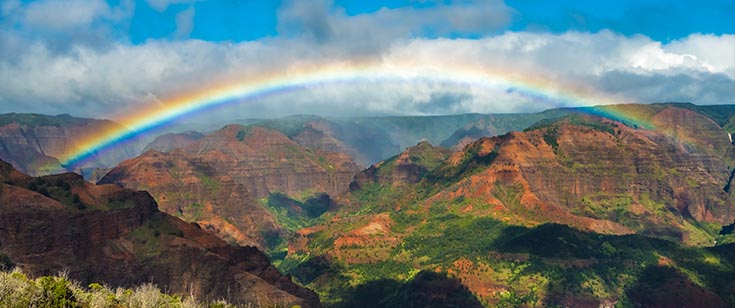 Whether you want  to spend most your vacation relaxing, or you'd rather seek adventure and explore, Hawaii Island can provide perfect escape. 
Maui is home to some of the most popular tourist destinations in Hawaii, including Lahaina, Kaanapali, and Kapalua.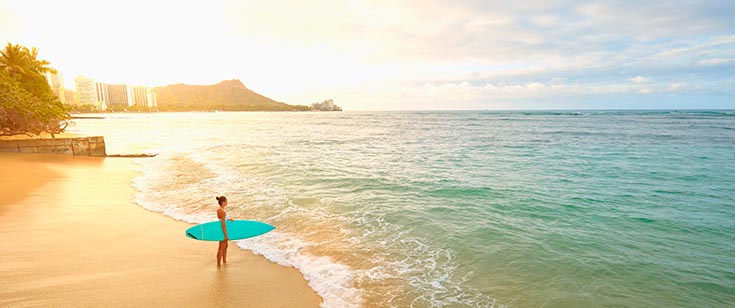 Oahu hosts some of the most picturesque beaches in the world, as well as a variety of activities and attractions that appeal to travelers of all ages.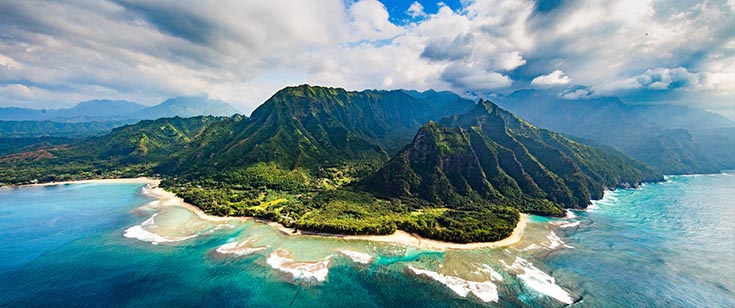 Kauai is one of the many islands in Hawaii that are full of natural beauty. This island is a perfect destination for a vacation or travel getaway.

AAA Travel is here to help plan the perfect Hawaii vacation
When it comes to booking your dream vacation, you want to make sure you're working with a travel company that has your best interests at heart. That's why AAA travel is the perfect choice for anyone looking for a hassle-free travel experience.
AAA travel agents are experts in their field and can help you find the perfect vacation package to suit your needs. They also have access to exclusive deals and discounts that you won't find anywhere else.
Perhaps most importantly, AAA travel offers comprehensive travel insurance in case of trip cancelation or other unforeseen circumstances. This means that you can book your vacation with confidence knowing that you're protected against any potential problems.
So, if you're looking for a stress-free vacation planning experience, be sure to book with AAA travel.
AAA Travel Advisors are here to help
AAA Travel Advisors are here to help you book your favorite Maui resort or vacation package and save you money. With years of experience, our agents know how to find the best deals and make sure you have a great vacation. Contact us today to start planning your dream trip!
If Hawaii's not for you, check out our Mexico vacation packages