AAA Travel
Maui Vacation Packages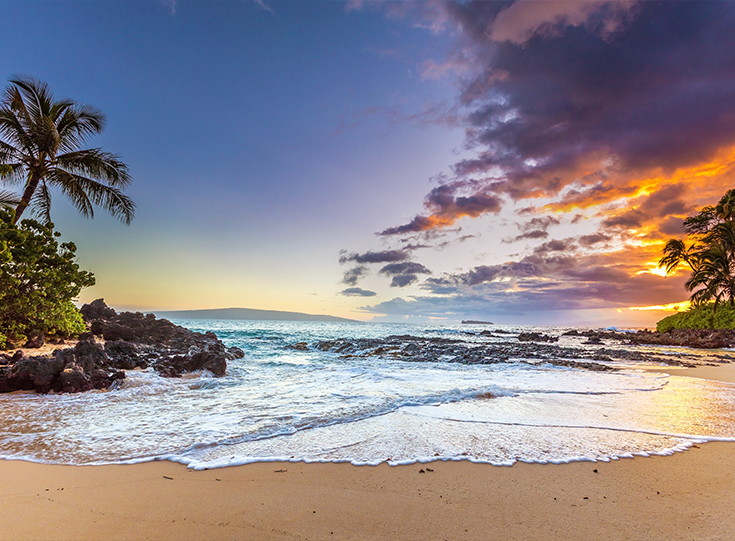 Find vacation deals for Maui
Maui is an attractive vacation destination for families and couples alike. From its stunning natural beauty to the many activities and attractions, the island has something for every traveler. Maui vacation packages can include everything from airfare and accommodation to rental cars and activities, so it's easy to find a package that fits your needs and budget.
Maui hotels & resorts
Maui resorts are the perfect place to stay for those looking for luxury and excitement. With plenty of activities to keep you busy, and stunning beaches to relax on, Maui is the ideal destination for a vacation. Whether you're looking for a romantic getaway or a family-friendly resort, Maui has something for everyone. Here you can search all Maui Resorts or check out some of our top picks for the best resorts and hotels in Maui.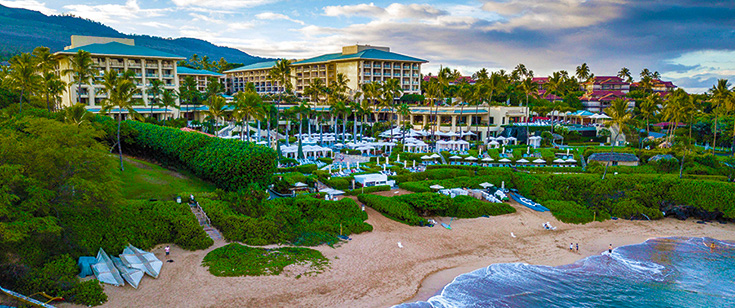 Four Seasons Resort Maui at Wailea
Set on beautiful Wailea Beach, guests at this newly renovated resort can experience unparalleled service, spa, golf, and dining at Maui's three best restaurants.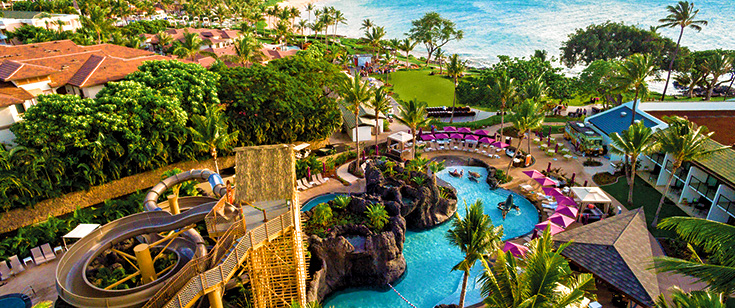 Marriott Maui Wailea Beach Resort
Enjoy spectacular sunsets, and relax at 5 pools across 22 acres including an adults-only infinity edge pool and family pool with 4 water slides.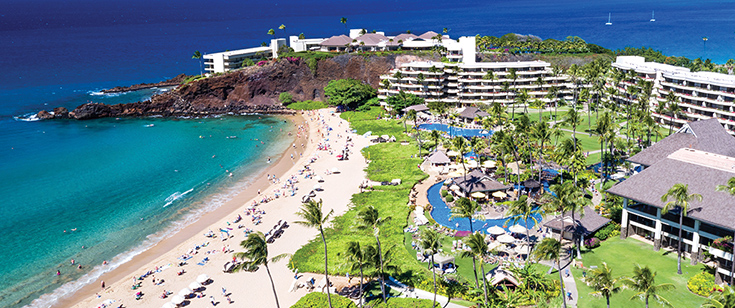 Sheraton Maui Resort & Spa
Relax at the resort's 142-yard lagoon style pool, taste fresh island cuisine, learn indigenous Hawaiian cultural activities and play in the white sand of Kaanapali Beach.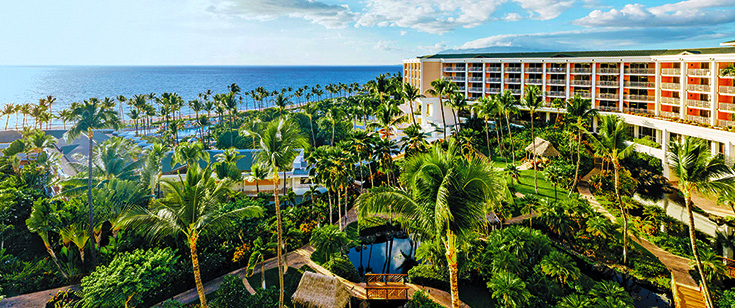 The resort features luxurious rooms and suites with private balconies overlooking the ocean, but guests can also opt for villas with their own private pools.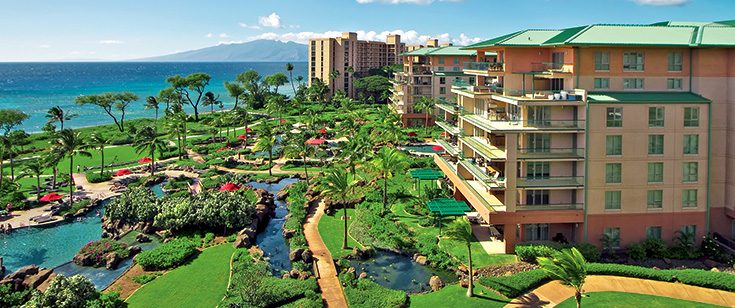 Behold stunning ocean views from their rooms and suites, dine at award-winning restaurants, relax at the spa, or take advantage of the resort's many recreational activities.
The Royal Lahaina Resort features 462 guest rooms, each with its own private lanai. The property also has two swimming pools, a tennis court, and a spa. 
Maui vacation packages
Maui is an island paradise with something for everyone. From stunning natural beauty and world-class beaches to exciting activities and delicious cuisine, Maui has it all. When you book your Maui vacation package with AAA Travel, you can experience it all without breaking the bank.
Our Maui vacation packages can include airline tickets and hotel accommodations plus you can add car rentals and activities. So, whether you're looking for a romantic getaway or a family adventure, we've got you covered. Plus, we offer unbeatable deals on some of the most popular resorts on the island.
Featured Maui vacation packages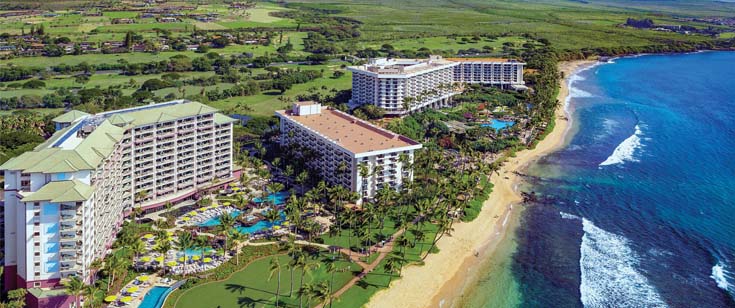 Hyatt Regency Maui Resort & Spa
The Hyatt Regency Maui Resort & Spa located in Lahaina, features a variety of amenities, including an outdoor pool, a golf course, and a spa.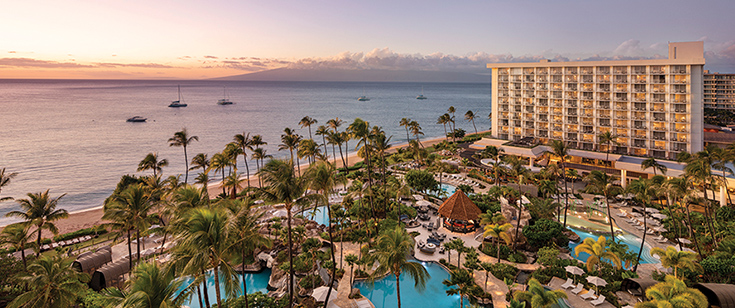 The Westin Maui Resort and Spa
The Westin Maui Resort and Spa offers a variety of amenities, including two swimming pools, a golf course, a spa, and several restaurants. 
Choose from luxurious accommodations, including suites with private balconies. Amenities include an outdoor pool, a golf course, and a spa.
Search all Hawaii vacation packages
Combining your round trip flights, hotel and even retal car could help you save on your Maui vacation.
AAA Travel agents
AAA travel agents can help you book your favorite Hawaii vacation package and save you money.
Considering a vacation in Maui?
Maui is the second largest of the Hawaiian Islands and is often referred to as the "Valley Isle." Maui is home to some of the most beautiful beaches in the world, as well as a variety of activities and attractions. From hiking and biking to snorkeling and surfing, there's so many ways to explore while in Maui. The island is also home to several prestigious golf courses and many enticing shopping and dining options. Whether you prefer for a relaxing vacation or an action-packed adventure, Maui is the right place for your dream getaway.
Maui resorts offer an array of accommodation options to suit every budget and need. From luxurious beachfront properties to more affordable condos and villas, there's a Maui resort to suit every taste. Many Maui resorts have a lot of amenities and activities, so you can enjoy your vacation without ever leaving the property.
Maui offers something for everyone.
From its pristine beaches to Haleakala National Park, there is no shortage of stunning natural beauty to explore on your vacation. Whether you are looking for a relaxing beach holiday or an exciting and fulfilling adventure, Maui has it all.
For those looking to relax, Maui offers enticing white sand beaches with crystal clear waters ideal for swimming and snorkeling. Take the opportunity to catch a spectacular Maui sunset while splashing in the crystal clear water as you watch colorful fish swim by. There are also many spas located around the island offering everything from massage therapies to hydrotherapy treatments such as hot stones and aromatherapy.
If you're longing for adventure, there are plenty of activities available in Maui:
Break a sweat with a scenic guided hike up to Haleakala National Park where visitors can take in scenic views from atop volcanic cinder cones.
For ocean lovers, you can sail along the coast on a charter boat with other travelers.
Get the grand tour of Maui with experienced locals who will show you some of Maui's best kept secrets.
Explore the island from the water with surfing lessons which are available all over the island, as well as kayaking trips through jungles full of lush vegetation and wildlife sightings.
What is the best month to visit Maui?
The best time to visit Maui is between the months of April through September. During this period, travelers will likely find the best weather, the lowest crowds, and the most affordable hotel rates for their stay. Not only do temperatures hover around a comfortable 80 degrees Fahrenheit (27°C), but sunshine and crystal clear skies will make it perfect for outdoor activities like snorkeling and scuba diving. As well as this, rainfall is significantly lower than at other times of the year which ensures that vacations are not cut short due to bad weather.
To make your trip to the island easier, flights and hotels tend to be more cost-effective in April through September, making it more budget-friendly while still allowing you to enjoy all of Maui's attractions. During this time visitors will have a wide variety of hotel options to choose from including luxury resorts, family-friendly accommodations and even eco-friendly lodges nestled among lush, tropical gardens. 
Things to do in Maui
Maui is loaded with fun activities for you to enjoy
Maui is loaded with a variety of activities and attractions. There are plenty of ways to enjoy either a relaxing beach vacation, or an action-packed island adventure. Some popular activities on the island include hiking, biking, snorkeling, surfing, and golfing. There are also several great shopping and dining options available.
Other fun activities in Maui
Other islands in Hawaii
The Hawaiian Islands are some of the most beautiful and alluring places on Earth so whether you are looking for a romantic getaway or an action-packed vacation, these Hawaiian Islands have plenty to offer.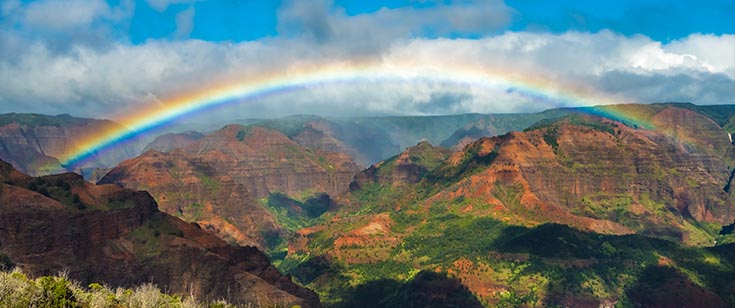 Whether you want  to spend most your vacation relaxing, or you'd rather seek adventure and explore, Hawaii Island can provide perfect escape. 
Maui is home to some of the most popular tourist destinations in Hawaii, including Lahaina, Kaanapali, and Kapalua.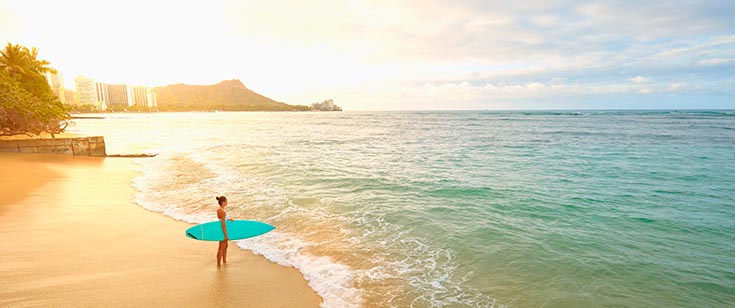 Oahu hosts some of the most picturesque beaches in the world, as well as a variety of activities and attractions that appeal to travelers of all ages.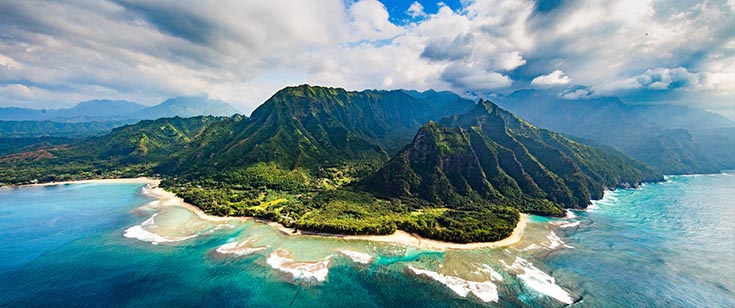 Kauai is one of the many islands in Hawaii that are full of natural beauty. This island is a perfect destination for a vacation or travel getaway.


4 fun foodie neighborhoods in Hawaii
Great food, shopping, and entertainment come together in these Oahu neighborhoods.

10 myths & misconceptions about Hawai'i travel in 2022
Hawai'i is a world-class vacation destination but many would-be visitors aren't sure whether Hawai'i is the right choice for them. 
AAA Travel is here to help plan the perfect Hawaii vacation
When it comes to booking your dream vacation, you want to make sure you're working with a travel company that has your best interests at heart. That's why AAA travel is the perfect choice for anyone looking for a hassle-free travel experience.
AAA travel agents are experts in their field and can help you find the perfect vacation package to suit your needs. They also have access to exclusive deals and discounts that you won't find anywhere else.
Perhaps most importantly, AAA travel offers comprehensive travel insurance in case of trip cancelation or other unforeseen circumstances. This means that you can book your vacation with confidence knowing that you're protected against any potential problems.
So, if you're looking for a stress-free vacation planning experience, be sure to book with AAA travel.
AAA Travel Advisors are here to help
AAA Travel Advisors are here to help you book your favorite Maui resort or vacation package and save you money. With years of experience, our agents know how to find the best deals and make sure you have a great vacation. Contact us today to start planning your dream trip!
If Hawaii's not for you, check out our Mexico vacation packages