AAA Automotive
AAA Mobile Battery Service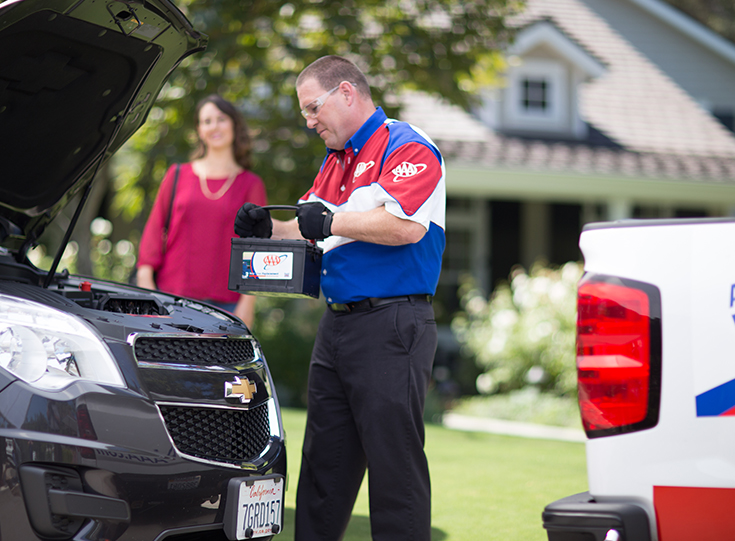 AAA can bring a new battery to you & install it
Sometimes it's better to replace a dead battery than jumping it. That's why AAA provides convenient testing and replacement service that comes to you. If your battery fails the test and needs to be replaced, our professional technicians can install a AAA battery1 and recycle the old one. We also offer a nationwide 3-year free replacement warranty.
You can request service online or call our 24/7 roadside mobile battery line at 1-877-516-0528.
AAA Mobile Battery Service options

Input your vehicle make and model to get a car battery quote with a AAA member discount. After reviewing the quote and requesting service, a technician will be dispatched to you.

Request roadside mobile battery service online
Skip the phone and chat with our virtual assistant. Requests take an average of less than 4 minutes and can be submitted 24/7.
What do members get with AAA Mobile Battery Service?
AAA Mobile Battery Service offers competitively priced premium AAA-branded batteries & provides:
AAA Mobile Battery Service tips & frequently asked questions

5 things you need to know about car batteries
They do more than start the car, and these important facts will help improve the life of your car battery.

The positives & negatives of advanced AGM batteries
Absorbent glass mat batteries have grown in popularity alongside hybrid cars. We look at what makes these batteries special and whether one may be right for you.