AAA Automotive
AAA Mobile Battery Service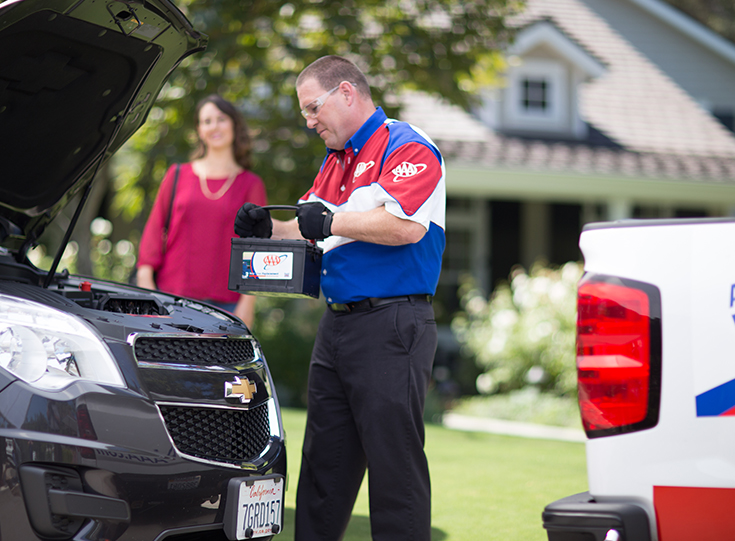 Need a new car battery? AAA can bring one to you & install it
Sometimes it's better to replace a dead battery than jumping it. That's why AAA provides a convenient testing and replacement service that comes to you. If your battery fails the test and needs to be replaced, our technician can professionally install a AAA battery1 and recycle the old one. We also offer a nationwide 3-year free replacement warranty.
Advantages of AAA Mobile Battery Service
AAA battery replacement includes:
Competitively priced premium AAA-branded battery
Delivery and battery installation at your home, business, or on the side of the road for most vehicles2
72-month limited warranty including 3-year free car battery replacement period
Diagnostic electrical system and battery test, with a printed or emailed results report
Proper disposal and recycling of all replaced batteries
AAA car battery service vehicles carry fresh batteries (less than 150 days after factory activation)

The positives & negatives of advanced AGM batteries
Absorbent glass mat batteries have grown in popularity alongside hybrid cars. We look at what makes these batteries special and whether one may be right for you. 
5 things you need to know about car batteries
They do more than start the car, and these important facts will help improve the life of your car battery.
Automotive offers & deals
Search approximately 7,000 AAA approved facilities throughout the U.S. and Canada.
AAA Mobile Battery Service
AAA provides a convenient testing and replacement service that comes to you.
Use your AAA membership to unlock do-it-yourself car care discounts.
AAA cares about your teen's safety and wants to help them develop safe driving habits.