A writer's road trip seeks the truth behind the bandits' legend.
A green brontosaurus the size of a pony guards Hollow Mountain, a souvenir-beer-bait store and gas station carved into the face of a red-rock cliff in Hanksville, Utah. Celeste, the auburn-haired proprietor, greets me when I enter the cave. She grew up on a local ranch and is steeped in stories about Butch Cassidy and the Sundance Kid, who had their desert hideout, Robbers Roost, just north of town. I ask what locals say about the outlaws' uncertain fate. She laughs.

"Do you want the legend or the truth?" 
I want the truth. "Good; Hollywood got it wrong," she says about the film Butch Cassidy and the Sundance Kid. "Sure, they robbed banks in South America. But everyone around here knows they weren't killed by the Bolivian army. They came back. My grandfather saw Butch in the 1930s. He was playing cards at a back table in the Silver Dollar Saloon up in Green River. Everyone knew it was him, but they let him be."
Like Celeste, I grew up in a part of the West where outlaws and gunslingers are celebrated symbols of the frontier spirit. Long before Hollywood canonized them in the namesake 1969 film starring Paul Newman and Robert Redford, Butch Cassidy and the Sundance Kid were already legendary outlaws, known as much for their daring daylight robberies and cunning getaways—they staged fresh horses at regular intervals so they could outride pursuing lawmen—as for their gentlemanly conduct.
Stories like Celeste's have drawn me to this remote corner of Utah on a weeklong, 800-mile quest. Like the Pinkerton detectives bent on arresting the duo, I'm chasing the ghosts of Butch and Sundance along Utah's fabled Outlaw Trail in the hopes of learning what really happened to them. The Outlaw Trail isn't an official scenic drive: I'm following my own informal loop of federal, state, and county highways that link together movie scenes and bandit history. My chance meeting with Celeste has breathed new life into my hopes that the outlaws outwitted fate.
Butch, Celeste believes, came back to Hanksville, but then left and later died quietly in Washington State in the 1930s. Before she sends me off to explore the canyon country around Robbers Roost, she offers a clue about Sundance's destiny. "You might want to ask around up north, near the Uinta Mountains."
Traveling classic Western landscapes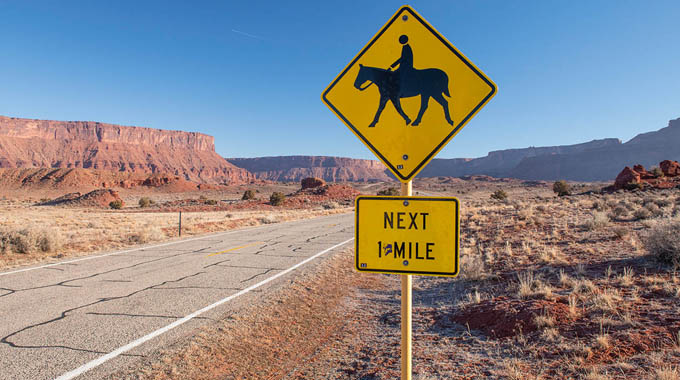 My quest started in the small town of Moab, just 26 miles west of the Colorado border. Butch got his start robbing the San Miguel Valley Bank in Telluride, Colorado, and fled here to escape the law. Winding down State Route 128 along the green coils of the Colorado River, I'm struck with a feeling of déjà vu.

That's not unusual, explains the woman at Moab's timbered Red Cliffs Lodge, which lies in the shadow of a canyon. "This is John Ford country," she says, handing me the key to my riverside cabin. "Almost every Western movie you've ever seen was filmed here. John Wayne slept here in 1950 while they were making Rio Grande."
After settling in to my cabin, I head back to the main lodge and explore the basement museum, a maze of brightly lit display cases full of posters and filmmaking memorabilia. A stuffed albino coyote shares the room with a prop mannequin that looks vaguely like  actress Susan Sarandon. The mannequin survived a plunge in a Ford Thunderbird off Fossil Point (affectionately known by locals as "Thelma and Louise Point").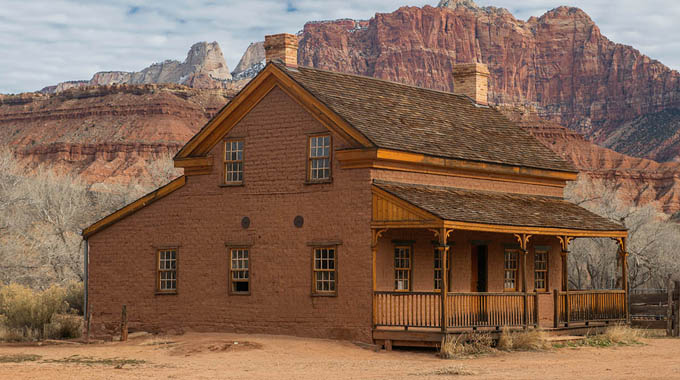 Moab's rim-rock country, with its castled buttes, is stunning, but if I want to chase down outlaw ghosts, I have to head much farther south to an actual ghost town. Grafton is a dirt-streeted town of half a dozen wood and adobe-brick buildings an hour's drive east of St. George. The sheer cliff faces of Zion National Park rise up across the Virgin River and swallows fill the spring air. Movie buffs know Grafton from the sun-washed "Raindrops Keep Fallin' on My Head" scene in Butch Cassidy and the Sundance Kid where Newman and Katharine Ross (playing Etta Place, Butch's love interest) flirt on a bicycle. I walk over and peer inside the empty adobe-brick church that stood in as a schoolhouse. It smells of fresh paint and turpentine. A couple are taking selfies in a nearby barn.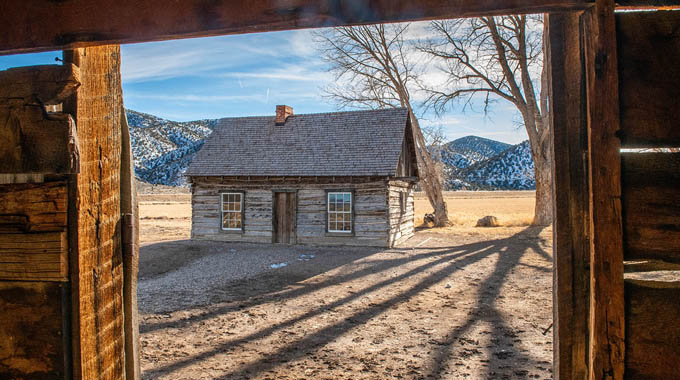 Zion National Park holds more clues. Towering stone mesas and soaring rock fins rise up from the valley floor. Driving into the park, I almost wish I'd rented a convertible—or at least a vehicle with a sunroof—because so much beauty soars above me. 

The rangers tell me Butch and Sundance could have hidden out up the North Fork of the Virgin River. "It's a great area to get lost in, even today," says one. "Just, you know, don't really get lost in there. And don't go in the canyons if it's raining. They flood."
The sky is blue and clear, and I park at the trailhead for the Riverside Walk, a 2.2-mile round-trip hike (during the peak season, a park bus shuttles visitors here). I pass families with strollers and more-serious hikers wearing dry suits and carrying trekking poles—they'll be continuing up the canyon into The Narrows.
It smells green in the shaded valley. Delicate fern and moss gardens decorate secret springs, and cottonwoods sigh in the noontime breezes. The travertine pools reflect the towering sandstone cliffs of the Temple of Sinawava far overhead. Deep in the canyon, it's so quiet I can almost imagine the clip-clop of horse hooves as the outlaws disappear around the next bend. 
The next day, I drive 90 minutes north to Circleville, where Butch grew up (he was born in Beaver, a small town 50 miles to the northwest). The landscape rises from desert to wide mountain valleys. Less than 2 miles south of Circleville, on the west side of US Route 89, I spot a weathered one-bedroom cabin leaning against a pair of ancient cottonwoods. The door to Butch's boyhood home is unlocked. Apart from the plexiglass barrier protecting the room, the interior of the cabin would seem familiar to the young Butch—an antique rocking chair sits by the window, a lariat hangs on the wall, and a pair of pants is draped over the foot of a quilted bed.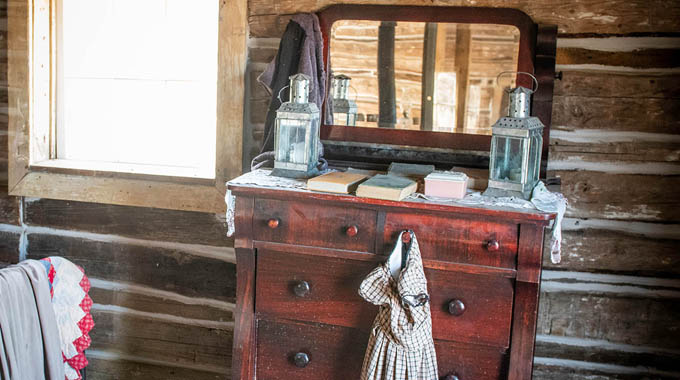 Celeste had told me that Butch survived South America and returned to Utah to visit family, play cards, and settle down to a quiet life of ranching. But what about Sundance? I remember her clue about the Uinta Mountains.

On my last day on the Outlaw Trail, I head north off Interstate 70 to Duchesne (pronounced doo-shane), a small town surrounded by dun-colored mesas and pine forests south of the Uinta Range. At the Duchesne County Welcome Center, Kathy, a blond, middle-aged woman wearing a maroon vest and blue scarf, is excited to hear about my hunt for Sundance. "You came to the right place," she says, pushing down her reading glasses. "Everyone thinks he died in South America, but he came back. We're very proud of him; he was always helping people out. Even today, there are rumors of treasure still stashed up in the mountains."
She sends me out to the Duchesne City Cemetery, a quiet 3 acres of tombstones and grass markers at the mouth of a canyon. It's early enough in the spring that snow blankets faded Christmas wreaths. It takes awhile to track down the gravestone of William Long—the alias locals say Sundance took after returning from Bolivia—and his wife, Luzernia. Magpies scold me from nearby trees as I wipe the snow and ice off the tombstone. I wash the red marble and run my fingers over the name and letters. They shine like new: "William H. Long Feb. 2, 1860—Nov. 27, 1936." I take a picture and climb back into my truck.
On my way back toward Moab, I climb high on a road that winds through spruce forests. I remember the question Celeste posed to me a few days earlier when I arrived in Hanksville. Was I searching for the legend or the truth about the fate of Butch Cassidy and the Sundance Kid? I realized it didn't matter much. There is plenty of both on Utah's Outlaw Trail.
Denver-based writer and photographer Jad Davenport has contributed to National Geographic, Men's Journal, and Outside.
Roadside attractions

The Inn on the Cliff, St. George: Perched like an ancient Puebloan cliff palace above the town of St. George, the Inn on the Cliff is a fitting home base for day trips to the nearby canyons in Zion National Park (located 41 miles east). At sundown, relax in the cliffside pool. Rates start at $119 Sundays to Wednesdays and $179 Thursdays to Saturdays, including breakfast. 435-216-5864; innonthecliff.com.
Robbers Roost: Spend a day canyoneering the region's slot canyons. Navtec Expeditions, based in Moab, offers year-round tours for fit beginners that involve strenuous hiking and four rappels (75 feet is the highest drop). $325. 800-833-1278.