Who gets top bun? Westways' restaurant critics weigh in on restaurants with A1 burgers.
1. Mesa Burger
315 Meigs Road, Suite F, Santa Barbara. 805-963-7492; mesaburger.com.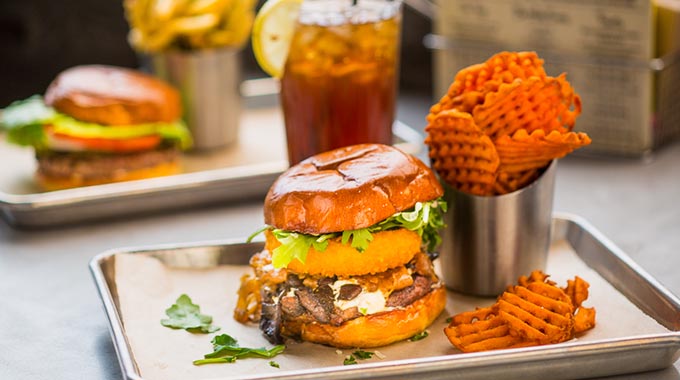 Expectations ran high when culinary star and hometown girl Cat Cora, the first female Iron Chef on Food Network's Iron Chef America, opened a neighborhood burger place. Expectations met. Locals stop by the beach-casual spot for top-notch burgers made with an Angus custom blend of chuck, brisket, and short-rib, with names that give shout-outs to nearby spots. Try the Montecito, gussied up with griddled goat cheese, bourbon-glazed mushrooms, an onion ring, truffle aioli, arugula, and grilled onions. Pair with a hot, fragrant heap of herb- and truffle-spiked Parmesan fries. —Nancy Ransohoff 
2. SLO Brew
736 Higuera Street, San Luis Obispo. 805-543-1843; slobrew.com.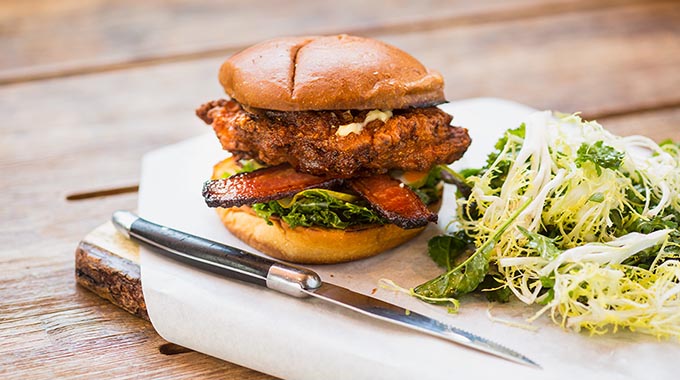 Even though it's one of the granddaddies of Central Coast craft breweries, SLO Brew is still hip. It recently moved to a newly renovated historic building in downtown San Luis Obispo and reinvented itself with an elevated gastropub menu. Join the steady stream of devoted residents, Cal Poly students, and main-drag–wandering visitors who come for the reliable and reasonably priced lunch, dinner, and Sunday brunch and the friendly, casual vibe. Go for the gusto with the Growler, a custom grind burger of brisket, pork, and bacon topped with Shropshire cheddar, grilled onions, braised pork belly, and a fried egg. —Nancy Ransohoff
3. The State
7900 Kew Avenue, Rancho Cucamonga. 909-317-2397; thestaterestaurant.com.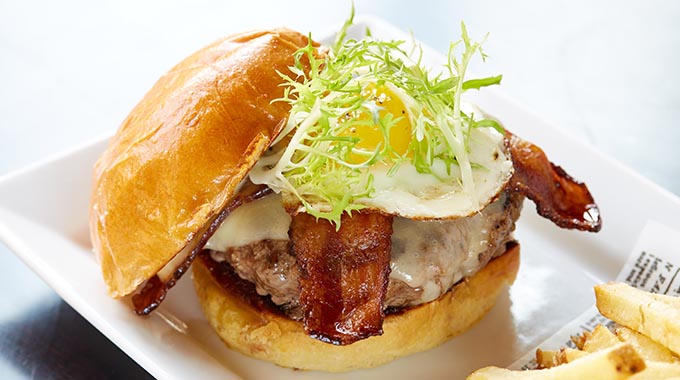 After launching in Redlands in 2015, The State recently debuted a second, much larger version of its convivial gastropub at Victoria Gardens, where the menu emphasizes creative interpretations of American comfort foods. Every respectable gastropub serves a good burger, but The State showcases an entire collection. The Drunken Pig is enhanced with stout-bacon jam, applewood-smoked bacon, white cheddar, and frisée, and served on a brioche bun slathered with coffee-flavored aioli. The smokiness of the bacon and slight bitterness of the coffee are mixed together with the oozing yolk of a fried egg. —Roger Grody
4. The Gathering Table
Ballard Inn, 2436 Baseline Avenue, Ballard. 805-688-7770; ballardinn.com/restaurant.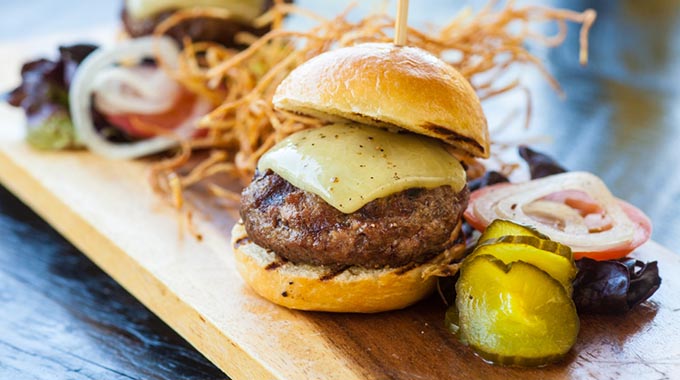 You don't exactly stumble upon this gem of a restaurant, set in a wine-country inn in the tiny Santa Ynez Valley town of Ballard. But it's definitely worth the drive past vineyards, orchards, and pastureland to seek out the award-winning French-Asian–inspired cuisine of chef-owner Budi Kazali. The restaurant was recently relaunched with a new concept and design as part of a renovation at the inn. The warm dining room melds a cozy rustic style, including a large fireplace and reclaimed woods. Sit at the communal table and you might get talking with inn guests staying here on a bike trip through the valley, a couple up from Los Angeles for a quiet country weekend, or locals out for a reliably superb meal. Creative plates highlighting local seasonal produce and seafood are designed for sharing and are arranged on the menu from lighter at the top to heavier at the bottom. The deceptively simple white cheddar sliders with house-made pickles and shoestring potatoes are sublime on their own, or you can add foie gras or pork belly for decadence. —Nancy Ransohoff
5. Little Calf Creamery and Café
652 E. Janss Road, Thousand Oaks. 805-497-2000; littlecalfcreamery.com.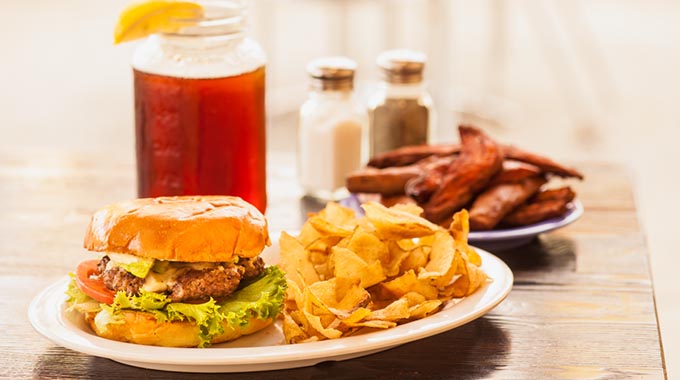 A refreshing oasis in a stretch of chain restaurants, Little Calf Creamery and Café is a mom-and-pop–owned spot for a casual lunch or dinner and heavenly house-made ice cream. Mom and pop are Jennifer and Scott Levin, whose family-friendly eatery serves up burgers, sandwiches, salads, and ice cream treats, all crafted with house-made ingredients, from the dressings and sauces to waffle cones and marshmallow topping. Friendly servers take your order at the counter and deliver pronto to your table in the spacious, cheery dining area or outdoor patio. Burger offerings include the winning Bleu Onion, with blue cheese, onion jam, arugula, and a slather of creamy garlic aioli. I've become addicted to the sweet potato wedges, baked and fried for a soft inside and crispy outside. —Nancy Ransohoff
6. Hatch
Inside Union Market, 2493 Park Avenue, Tustin. 657-208-2088; eathatch.com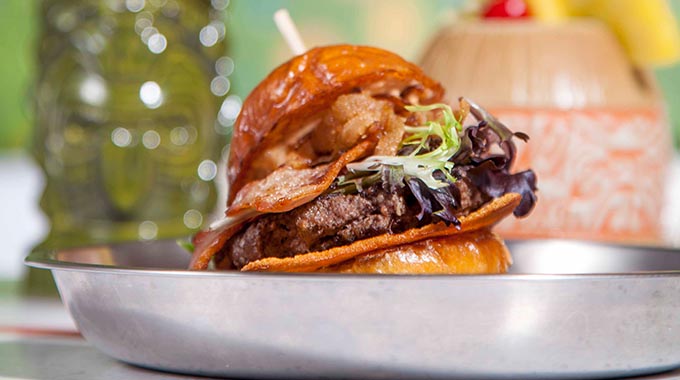 You can't exactly stumble upon Hatch—the retro-cool restaurant is squeezed into a corner of Tustin's Union Market. But it's there that this ode to midcentury tiki-dom is cooking up some of the county's finest (and tiniest) burgers. The menu is nothing but sliders, including a combo that pairs any two sliders with the side of your choice. The eponymous Hatch burger is a fantastic couple of bites: a sturdy Portuguese bun, pan-fried onions, a fatty beef patty, and a sheet of crispy, griddled cheese. —Miles Clements