AAA Travel
Virtual cruise shows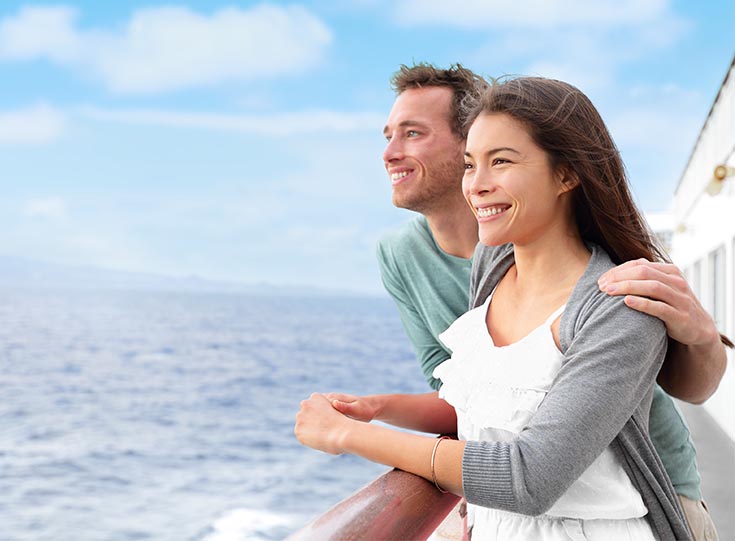 Soak in the soothing rhythm of water travel and enjoy the all-inclusive dining and relaxation experience offered by most cruise lines. Sample new destinations and cultures in comfort and style, all without having to check in and out of different hotels.
Register for upcoming shows
Attend an On Stage Alaska show to learn about Alaska cruises and cruisetours. Travel specialists from Holland America Line will take you on an inspiring journey to Alaska during an informative presentation.
Cruising 101 with Royal Caribbean®
Take adventure to new heights with Royal Caribbean. Explore itineraries that will take you to top-rated destinations, from sun-soaked Caribbean isles to ancient temples in Asia, and everywhere in between.
Watch past shows on demand
Cruising 101: Cruising with Holland America Cruises
Holland America Line holds true to the timeless elegance of ocean travel. From the moment you step aboard one of our spacious, mid-sized ships, you'll feel the difference.
On Stage Alaska with Holland America
Join AAA Travel and Holland America Line on an inspiring virtual journey of Alaska.
Explore Hawaii with Pleasant Holidays®
Experience the best of Hawaii on the only cruise visiting 4 islands in 7 days on Norwegian Cruise Line's Pride of America.
Cruising 101: Viking river and ocean cruises
Founded in 1997, Viking provides destination-focused journeys on rivers, oceans and lakes around the world.
Explore Galapagos with Celebrity Cruises
In the Galapagos, modern explorers come eye to eye with ancient tortoises, comical birds, and other amazing beasts—plus landscapes as fantastical as the animals—for a once-in-a-lifetime adventure. You'll always remember the islands that time forgot.
Portugal's Douro River with AMA Waterways River Cruising
Rambling vineyards and charming native farms cling to the steep sides of the Douro River Valley, creating an incomparable backdrop to one of Europe's most unspoiled regions and to Port country— the world's oldest demarcated wine region.
Hurtigruten Antarctica cruises
Go ashore and on small-boat cruises to discover charming wildlife and spectacular frozen landscape of Antarctia. From snowy mountains and jagged peaks, to icebergs and glaciers. Learn about Antarctica's fascinating history and science through lectures and hands-on projects. 
Cruising 101 - What's new with Princess Cruises®
Every Princess ship is a destination in itself with wide-ranging amenities, elevated culinary experiences and delightful activities. Get to know what we offer and what makes the Princess experience unique.
Luxury cruising with Regent Seven Seas Cruises®
Discover luxury cruising with Regent Seven Seas Cruises. Unearth hidden wonders in far-flung regions and favorite ports of call as you sail with every luxury included. Make life-long memories to share with friends and family with custom enhancements on an all-inclusive cruise.
Riverboat cruising with AmaWaterwaysTM
Get an introduction to all river cruising has to offer with AmaWaterways, a leading river cruise line with innovative itineraries, award-winning upscale ships, and inclusive pricing. Learn about a new way to travel and how professionally guided excursions can reveal new sights and experiences ashore. 
First time cruising with Royal Caribbean International
Unlock incredible destinations with Royal Caribbean International. Unwind in the Caribbean or Bahamas, earn your wilderness badge on an Alaska vacation, or visit culture-rich ports in Europe. Learn how cruises can take you deep into top-rated ports and off-the-beaten-path gems, so you can experience destinations like a local.
AAA Travel explores river cruising
From the array of rivers across Europe to those in the U.S., discover what makes river cruising a unique experience. Host Samantha Brown and special guests will share how river cruising immerses travelers in the local culture through activities, cuisines, and more.
AAA Travel explores Europe
Explore ways to visit Europe, including via ocean cruise, river cruise, and land tours. Plus, host Samantha Brown and special guests will reveal a variety of memorable experiences awaiting you in this culture-rich region. 
Hawai'i cruising with Norwegian Cruise Line
Let the gentle breezes of Waikīkī stir up your aloha spirit as you set out to explore the Hawaiian islands with Norwegian. You'll have plenty of time to explore the culture, sights, and local flavor of 5 unique ports: O'ahu, Maui, Hilo, Kona and Kaua'i. Only Norwegian lets you visit 4 islands in 7 days, which means you can explore an island every day.
Rediscover the world on a luxury cruise with Uniworld
From Italy to Portugal, with more countries opening for travelers, take this opportunity to discover why an all-inclusive, luxury river cruise aboard Uniworld Boutique River Cruises is the perfect way to rediscover the world. Plus, as a AAA member, you will receive exclusive savings on all Uniworld departures.
Discover grand voyages throughout the world with Oceania Cruises
Oceania voyages invite you to discover your next travel story. Experience faraway places with insider tours that immerse you in the destination's culinary and cultural traditions. Embrace your passion for travel with Oceania Cruises.
The world voyage by Cunard Cruising
A Cunard world voyage brings the globe's greatest sights to your door, with illuminating guest speakers and gourmet cuisine. From Sydney Harbor to the Panama Canal, the Caribbean islands and the South Pacific, the world is just a port away when you experience it aboard Cunard.
Where can Viking take you next?
Whether you're interested in Viking's award-winning river cruises, ocean voyages, a new expedition, or Mississippi cruise, you'll learn all the latest news and 2021-2023 product offerings. Plus, as a member of the Viking Explorer Society and AAA, you'll have access to exclusive benefits. 
Discover the right Viking river cruise for you
Have you considered a Viking river cruise? Learn about Viking as we journey into Europe and beyond on a culturally immersive, scenic river cruise. Whether you yearn to see the castle-lined Rhine, romantic Danube, historic Seine, or vineyard-laced Douro, your river cruise with AAA and Viking begins here.
Travel on an American cruise with AAA Travel & Pleasant Holidays
Join AAA Travel and Pleasant Holidays for an exciting virtual presentation on American Cruise Lines. Choose from 35 itineraries that visit 28 states on the Mississippi and Columbia rivers, Chesapeake Bay, Puget Sound, and more. With no more than 190 guests, riverboats offer a more intimate, personalized experience.
Experience the Galapagos with Celebrity Cruises
Join us as we explore the Galapagos Islands, with Celebrity Cruises' resident Galapagos expert, Susana Romero. Discover unique wildlife, traverse through unspoiled, isolated islands, and learn about this archipelago's rich and diverse history. Travel to the magical islands that enchanted Charles Darwin and inspired his studies.
AmaWaterways river cruises
An AmaWaterways river cruise is about more than the destination—it's the journey. With contemporary ships offering the luxury of personal space, critically acclaimed dining, a variety of shore excursions, and onboard amenities, AmaWaterways gives you the luxury of choice—and an unforgettable river cruise.
Explore the world's beauty with Regent Seven Seas Cruises
Enjoy every day as you wish while exploring some of the world's most beautiful places with Regent Seven Seas Cruises. Sail aboard luxuriously appointed, intimately spacious, all-suite ships with inclusions from flights and excursions, to gourmet dining and unlimited Wi-Fi. This is cruising as it was meant to be.
Wonderful new discoveries with Princess Cruises®
From relaxing pursuits and enriching activities to world-class entertainment and freshly prepared cuisine, when you step aboard a Princess cruise, you're setting a course for a world of wonderful discoveries.
River & rails with Uniworld Boutique River Cruises
Join Ashley Zaldivar of Uniworld River Cruises as she introduces AAA travelers to a new way to explore Europe: by cruise and rail! Uniworld has just launched an all-new Cruise & Rail program in partnership with Golden Eagle Luxury Trains.
Explore the exciting yachts of Seabourn
Enjoy unique, all-inclusive luxury cruise vacations featuring ports of call from around the globe.
Exploring South America with Alexander+Roberts®
Alexander+Roberts Latin America tours showcase South and Central America's history, culture, cuisine, wine, and natural wonders. Choose from unique Galapagos cruises aboard the 24-guest La Pinta expedition ship, plus Quito, Ecuador. You can also choose an Amazon cruises in Brazil, which can be combined with Easter Island, Patagonia, Bolivia, Peru and Argentina, and Chile and Argentina wine tours.