AAA Travel
Virtual cruise shows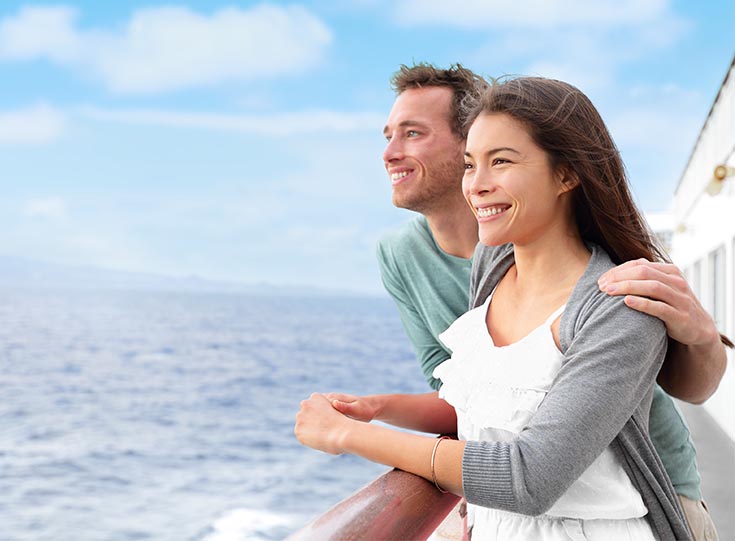 Soak in the soothing rhythm of water travel and enjoy the all-inclusive dining and relaxation experience offered by most cruise lines. Sample new destinations and cultures in comfort and style, all without having to check in and out of different hotels.
Watch past shows on demand
Cruising 101: domestic river cruising with American Cruise Line
American Cruise Lines offers the most modern riverboats, paddle wheelers, and small coastal ships cruising along inward waterways and U.S. rivers. Choose from 35 itineraries that visit the Mississippi, Columbia, and Snake rivers; Chesapeake Bay; Puget Sound and San Juan Islands; Alaska; and the Historic South. Enjoy a more intimate experience, gourmet cuisine, and more.
Cruising 101 with Royal Caribbean®
Take adventure to new heights with Royal Caribbean. Explore itineraries that will take you to top-rated destinations, from sun-soaked Caribbean isles to ancient temples in Asia, and everywhere in between.
Cruising 101 with Oceania Cruises
Each Ocean Cruises voyage is an invitation to discover your next travel story. Experience faraway places and new ways of looking at the world. Savor your experience with tours that immerse you in the destination's culinary and cultural traditions. There are as many reasons to travel as there are travelers in this world. Embrace your passion for travel with Oceania Cruises.
Cruising 101: Cruising with Holland America Cruises
Holland America Line holds true to the timeless elegance of ocean travel. From the moment you step aboard one of our spacious, mid-sized ships, you'll feel the difference.
Cruising 101: Viking river and ocean cruises
Founded in 1997, Viking provides destination-focused journeys on rivers, oceans and lakes around the world.
Explore Galapagos with Celebrity Cruises
In the Galapagos, modern explorers come eye to eye with ancient tortoises, comical birds, and other amazing beasts—plus landscapes as fantastical as the animals—for a once-in-a-lifetime adventure. You'll always remember the islands that time forgot.
Portugal's Douro River with AMA Waterways River Cruising
Rambling vineyards and charming native farms cling to the steep sides of the Douro River Valley, creating an incomparable backdrop to one of Europe's most unspoiled regions and to Port country— the world's oldest demarcated wine region.
Hurtigruten Antarctica cruises
Go ashore and on small-boat cruises to discover charming wildlife and spectacular frozen landscape of Antarctia. From snowy mountains and jagged peaks, to icebergs and glaciers. Learn about Antarctica's fascinating history and science through lectures and hands-on projects. 
Cruising 101 - What's new with Princess Cruises®
Every Princess ship is a destination in itself with wide-ranging amenities, elevated culinary experiences and delightful activities. Get to know what we offer and what makes the Princess experience unique.
Luxury cruising with Regent Seven Seas Cruises®
Discover luxury cruising with Regent Seven Seas Cruises. Unearth hidden wonders in far-flung regions and favorite ports of call as you sail with every luxury included. Make life-long memories to share with friends and family with custom enhancements on an all-inclusive cruise.
Rediscover the world on a luxury cruise with Uniworld
From Italy to Portugal, with more countries opening for travelers, take this opportunity to discover why an all-inclusive, luxury river cruise aboard Uniworld Boutique River Cruises is the perfect way to rediscover the world. Plus, as a AAA member, you will receive exclusive savings on all Uniworld departures.
The world voyage by Cunard Cruising
A Cunard world voyage brings the globe's greatest sights to your door, with illuminating guest speakers and gourmet cuisine. From Sydney Harbor to the Panama Canal, the Caribbean islands and the South Pacific, the world is just a port away when you experience it aboard Cunard.
Explore the exciting yachts of Seabourn
Enjoy unique, all-inclusive luxury cruise vacations featuring ports of call from around the globe.