AAA Travel
Dream Vacations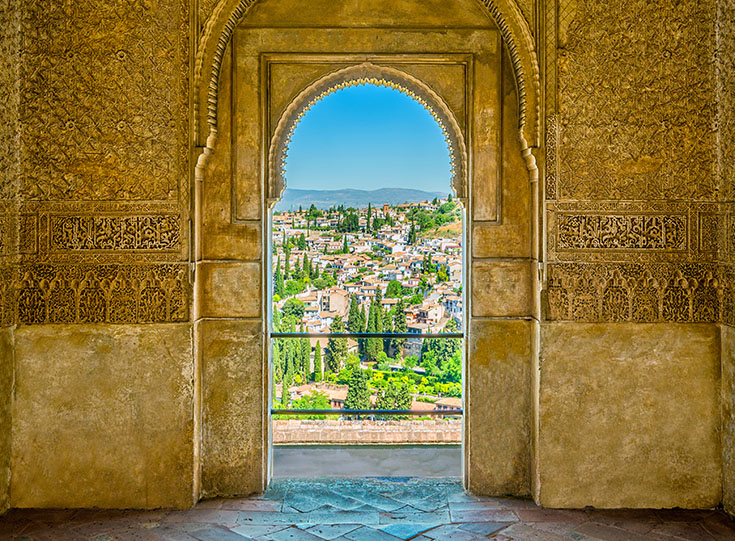 Your dream vacation awaits
Traveling is one of life's great joys, and now is the time to get that vacation you've been dreaming about on your calendar. AAA Travel has invaluable resources to help you plan your getaway, from amazing destinations and travel guidelines to knowledgeable travel advisors who can help you book early to secure preferred accommodations and show you how to apply your membership benefits.
AAA Member Choice Vacations®
Whether experiencing the majesty of U.S. national parks or Tuscany's rolling hills, AAA Member Choice Vacations® offers you more of what makes travel special.
National Parks of America
$4,1991
12 days/11 nights, land only
Relish iconic sights like Old Faithful and Yellowstone Lake. Marvel at the vast beauty of the Grand Canyon and discover a world of color and light on a Lake Powell breakfast cruise. Drive through the incredible Bighorn Mountains and the Great Sioux Nations territory before seeing Mount Rushmore and Crazy Horse Monument.
Trafalgar
With over a century of experience, Trafalgar trips are not your standard tours. You'll travel with enhanced well-being protocols, personal service, attention to detail, and the travel ease you're looking for, while enjoying unmissable experiences you've always dreamt of. Trafalgar's connections, understanding of local lifestyles, and recognizing the importance of positively impacting the places they visit are all part of choosing to tour the world differently.
Highlights of Spain & Portugal
$3,1752
13 days/12 nights, land only
Explore Madrid, Granada, Seville, Évora, Lisbon, Toledo, and more with a local specialist. Visit the Alhambra in Granada, the Cathedral Mosque in Córdoba, plus the Seville Cathedral, the Cathedral of Évora, and the Hieronymite Monastery in Lisbon.
Viking Cruises®
Viking® offers culturally rich, destination-focused itineraries on the world's great waterways, spanning all seven continents. Enjoy exciting cities, regional cuisine, and spacious staterooms aboard elegant state-of-the-art ships.
$1,9993
8-day river cruises
Enjoy a grand experience on an 8-day river cruise to culturally rich cities including Basel, Switzerland; Breisach, Germany; Strasbourg, France; Speyer, Rüdesheim, Koblenz, and Cologne, Germany; and Kinderdijk and Amsterdam, Netherlands.
Celebrity Cruises®
Celebrity Cruises, one of the world's leading premium cruise lines, visits all seven continents. Celebrity's cruise vacations offer stylishly designed accommodations, globally inspired cuisine created by a James Beard-featured chef, and intuitive service.
Ultimate Southern Caribbean
Set sail with Celebrity on a memorable 10-night cruise from Ft. Lauderdale, Florida. Soak up some sun in port cities of Basseterre, St. Kitts & Nevis; St. George's, Grenada; Castries, St. Lucia; St. John's, Antigua; and Philipsburg, St. Maarten.
$3095
3 nights, land only
The Hilton San Diego Mission Valley is perfect for a 3-night staycation.
$3736
3 nights, land only
The Hilton Myrtle Beach Resort is ready for your 3-night getaway plans.
Painted Canyons of the West
$3,1997
9 days/8 nights, land only
Visit the beautiful canyons of Denver and Grand Junction, Colorado; Moab,
Bryce Canyon, and Springdale, Utah; and Las Vegas, Nevada.
Enjoy a quick getaway on a 4-day cruise from Los Angeles to Catalina Island, then on to Ensenada, Mexico.
Car rental & hotel discounts

Get 20%9 off base rates. Additional qualified AAA drivers are free, plus get a 10% discount on a fuel purchase option. Secure your reservation early for the best availability.

Book your next great adventure & save on hotels
Unlock exclusive rates with your AAA membership number. Save up to 15%10 at preferred partner hotels, and get free advance cancellation.
Expedited passport & travel visas
Many countries require your passport to be valid 6 months after your return date, and some of your favorite destinations may require a travel visa to enter. Make sure you have everything you need in time for your departure date and get exclusive AAA rates on expedited passport and travel visa courier services online with RushMyPassport.
Traveling soon & need a passport?
Receive exclusive AAA rates on expedited passport courier service with RushMyPassport. Personalized application review can help avoid common mistakes. Start your online application today.
Traveling internationally & need a visa?
Receive exclusive AAA rates with RushMyPassport, a leader in online visa expediting services. Personalized document review helps avoid common mistakes. There's no need to visit a consulate or embassy on your own. Start your online visa order today.
From saving money to navigating the latest guidance from health officials, your AAA travel advisor is a knowledgeable and trusted resource to help you plan your vacation.
Explore more travel offerings
Get the latest offers from AAA Travel's preferred partners.
See how we can help you plan, book, and save on your next vacation.
Save big with AAA discounts on tickets to your next adventure.
Purchase travel insurance with Allianz Global Assistance.