In this episode:
Award-winning travel writer Elizabeth Harryman shares tricks for travel during the holidays.
Mary Herendeen:
Travel has rebounded, and with the crowds, lines, and challenges, it's more important than ever to be a smart traveler.
Welcome to Traveling with AAA. I'm your host, Mary Herendeen, and today we're going to get some tips and tricks on travel to help us plan for the upcoming holidays or any time. Joining us is Elizabeth Harryman Lasley, former co-host with her late husband, Paul Lasley, of OnTravel, a radio show that aired to a million listeners in 167 countries on the American Forces Network. She's also the former travel editor of Westways Magazine, where she continues to contribute today.
Welcome, Elizabeth. Thank you so much for joining us again.
Elizabeth Harryman:
Mary, I am so glad to be back on Traveling with AAA.
Mary:
We're glad to have you. Now, I know you've traveled a long time with your career around travel, and I definitely wanted to have you here to talk about some tips and tricks. Will you share with us a little bit about yourself and maybe give us a top tip to start, and then we'll hear some more.
Elizabeth:
Well, my top tip for the upcoming holidays is to pack your patience and holiday cheer because travel delays over this past summer were enormous. The airlines still have not ramped up to their full staffing, so there are lots of delays. With the holidays coming up, be sure to plan ahead. I do have some magical ways to help smooth your experience at the airport. Would you like to hear those?
Mary:
Yeah, I'd love to hear that. Tell us more.
Elizabeth:
Mary, do you have TSA PreCheck?
Mary:
I don't.
Elizabeth:
Uh oh! Uh oh!
Mary:
I know! I saw the look on your face!
Elizabeth:
Everyone listening should have TSA PreCheck. Now, TSA PreCheck is when you get to the airport, and you think you're there in plenty of time—and you should arrive at least 2 hours ahead of time for domestic travel and 3 hours for international travel. So, you get there, and you've planned…
Mary:
Wait, 2 hours? Is that all the time or just during the holiday season?
Elizabeth:
I do it all the time, but definitely through the holiday season. I'm infamous for getting to the airport early. We all want to fight stress these days, so it's so much better to be sitting at the airport having a latte instead of sitting in traffic.
Mary:
That makes sense.
Elizabeth:
About 200 domestic airports, or maybe even more now, have TSA PreCheck. TSA PreCheck is when you get through the shorter security line. When you're standing in the eternally long regular security line, you might see how a privileged few get to the shorter line, which is the TSA PreCheck line.
What it does is you're already pre-screened, so you don't have to take your liquids out. You don't have to take your jacket and shoes off, and you don't have to take your computer out. What you do is you fill out an application online and schedule an appointment at an enrollment center. You have a 10-minute interview which includes a background check and fingerprinting. It's $85 for 5 years. Check out tsa.gov/precheck.
So, that's how to speed up your time flying out of an airport. Now, do you want to know how to speed up your time when you're coming back to the country from an international trip?
Mary:
Yes, after the trip is over, I already want to be home. The travel is long enough. I'm usually exhausted.
Elizabeth:
There you go. Well, the key to this is Global Entry. When you come into an airport from an international trip, instead of standing in that long line for passport check and all of that, you just go to a kiosk. You put your passport in, you do your handprint, and you speed through. I have gone to LAX, which is a pretty busy international airport, from landing to out the front door of the terminal in 15 minutes because of Global Entry.
Again, you have to apply online with U.S. Customs and Border Protection, basically making you a trusted traveler. You fill out an application and you have an appointment at a Global Entry enrollment center where you have an in-person interview. They do a background check, they do fingerprinting again, and it is $100. It is non-refundable but again, it's for 5 years, and you go to cbp.gov to check it out. The great thing about Global Entry is that it automatically includes TSA PreCheck.
Mary:
Oh, nice.
Elizabeth:
Yeah, 2-for-1, and only for $100 for 5 years. And with certain credit cards, you can even get that $100 refunded. That is my key tip for smooth travel during the holidays or any time.
Mary:
No matter how much I try to make things go faster, like checking in beforehand, making sure I'm going to the kiosk, and doing all that, I always find that I spend so much time waiting for my bags to arrive. Now, I heard you only travel with carry-on, and you travel internationally. Share with us how you're doing that because I can't seem to fit everything into my carry-on.
Elizabeth:
Oh, Mary! You would be so good at this. Once you learn this, you will never go back to checked luggage because it's true you do not want to be standing around for your checked luggage. The key to traveling with only carry-on luggage is to color coordinate. Now you have a beautiful wardrobe, Mary, but what you do is pick a color, like black or navy or whatever, and then mix and match tops and jackets to accessorize. You can dress stuff up or dress stuff down.
Now, I learned this the hard way when Paul and I were about to embark on a Sea Goddess cruise. Now, Sea Goddess was a very luxurious cruise ship, so I packed some my formal duds, and Air Portugal lost my bag on the way to Madeira and that ship was about to leave.
Fortunately, I was wearing a very good-looking blazer and pants, and Madeira has nice camisoles, so that's what I did. I got a nice lace camisole, and that's what I wore for a formal night. Then, for other nights when Paul wasn't wearing his bow tie, I would borrow his shirt and bow tie. Somehow I got through, and by the end of the cruise, not only did people not criticize me, I was getting compliments on my wardrobe. Now, I don't think you have to go that far, but it's amazing how much you can get by with just dressing up or dressing down. Make everything double-duty. Like a swimming pool wrap can double as a workout outfit layer if you're going to different climates. I always pack lightweight thermal underwear so that I can take off the layers or add on the layers.
Only bring costume jewelry, never travel with anything that you would loath to lose. Leave those fancy watches at home and have only costume jewelry. I don't know whether it's easier for men or women, but SCOTTeVEST has a blazer that has all kinds of pockets. Paul, my late husband, had one of those and he would dress it down for a business meeting, dress it up for a formal night. Oh, and here's a key thing, wear your heaviest boots or shoes and then pack the others because that makes your carry-on lighter. You still have to be able to fit it into the overhead above you.
Mary:
Right, and drag it around in an airport.
Elizabeth:
Yes, but that's why wheels are key.
Mary:
OK, I've got to ask, you're narrowing down the wardrobe and bringing things that match, but are you folding it a particular way? My brother is in the Air Force, and I've seen him carry a duffle bag, and it's like a Mary Poppins bag, more and more keeps coming out of it. And I'm thinking, how does he do that? And I've watched him fold, but is that the key?
Elizabeth:
OK, Paul and I had a running debate about this. Paul folded and I roll. I am a great believer in rolling because I think it minimizes wrinkles. We also had a great debate about tissue versus plastic. Paul would put his garments in the bag straight from the dry cleaner in the plastic bags, and it worked for him. Everything was pristine when he pulled it out of the bag and hung it up. For me, I think plastic, especially if you're traveling to a humid climate, the moisture helps increases wrinkles. So, I use tissue paper and roll, and that helps minimize wrinkles.
Mary:
That happened to me once on a trip to Dallas. It was so humid out, and I had so many things packed away and straight from the dry cleaners. I ended up having to have my clothes cleaned again because I felt like I had picked up like a scent or something from the plane or the luggage. I don't know, but it was also wrinkly.
Elizabeth:
Yeah, so those are good tips for traveling with only carry-on luggage.
Mary:
The holidays are approaching and travel has rebounded. What are some other tips for holiday travel?
Elizabeth:
Again, pack your patience and holiday cheer, and your smartphone can be your best friend. Now, I'm actually going out to buy a new smartphone today because mine is antiquated and some of apps don't work anymore on it. There are fabulous apps you can get about weather delays. There's weather.com, another great app called Weather Underground, and FlightStats.com. Flight Aware is another where you can track your flight and your plane. Sometimes, if your flight is canceled or delayed, those apps might let you know even before it's announced at the gate. Oh, and always have your airline's app on your phone for alerts. They still alert me via old-fashioned texting, but at least they alert me.
Always have a backup plan. Think what the worst-case scenario might be and plan alternative itineraries that you could suggest if your flight is canceled. Also, if your flight is delayed or canceled, get in line, but also get on your smartphone. If you are a frequent flyer, use your frequent flyer status because they tend to cater to the elite status—your frequent flyers—first. Also, find out what airport hotels are near the airport if you're changing flights and you find yourself stranded. Some people even go so far as to make alternative reservations. I do not go that far, but I might plan in advance. Also, consider flying on the actual holiday if you have the time to do it or depending on your family's plans. But in the past, I have flown on Thanksgiving or Christmas Day, and the crowds and airfares are lower. And depending on the schedule, it could be an option.
Mary:
As we're talking about that, we're still facing the effects of inflation, and people are still eager to travel. Do you have any other tips for traveling affordably or finding the best deals?
Elizabeth:
Right now, I think we should all go to Europe.
Mary:
Tell us why. Well, I think so, too! But I'd love to hear why you're suggesting it.
Elizabeth:
Because the dollar is almost on a par with the euro right now. So, your dollar goes a lot farther in Europe, and even the British pound is lower than it normally is against the dollar. And I should remind everybody of Elizabeth's mantra. Elizabeth's mantra is you should always have a current passport because you never know when someone is going to invite you to Paris for the weekend.
Mary:
Ah! Well, mine's up to date. I don't think I'll be getting any invites to Paris this weekend, but we can always hope.
Elizabeth:
You can always hope, and you never know. You should always renew your passport at least 6 months before it's due. But here are some general tips to keep in mind. Travel off-season when possible, when prices are lower, and crowds are less. In terms of booking airfare, there are so many theories about when is the ideal time to buy an airfare. Airfares have gone up about 8% in the past year and they're not expected to come down anytime soon, but you can still get good deals, or at least affordable deals.
The best time to book, in general, is about 3 weeks in advance for domestic travel, and it could be 1-5 months for international travel. It all depends.
And again, people think, "Oh, when's the best time to fly?" Typically, fares are lower on Tuesdays and Wednesdays, but the key is to be flexible. A lot of times, when you go on the airline website, it'll say, "OK, this is the price if you fly this day," and they'll even tell you if you fly 1 day earlier or 1 day later, it can be a little less.
Also, consider flying out of a different airport. Whether it should be LAX, Orange County, or Burbank if you live in Southern California, because fares vary depending on the actual airport you fly into or out of. And here's another thing, stay in second-tier cities. Everybody wants to go to Paris, London, and Rome, and I'm not saying don't go there. If it's on your bucket list, go up in the Eiffel Tower, but also get out of those major capitals because they are very expensive. But if you're going to Italy, the city of Bologna is fast...oh, and you would love this, Mary, because I know you love Italian food.
Mary:
I do!
Elizabeth:
The pasta in Bologna! Oh my gosh, it's like where pasta was invented.
Mary:
Susan Van Allen, who was on the show previously, had shared a little bit about that.
Elizabeth:
Yes, the food is wonderful. They have these wonderful colonnades that you can walk through. They have medieval towers. But again, you might not think of going to Bologna. It's like a second-tier city.
The same goes for the United States, but instead, we have New York, San Francisco, and Chicago—they're all fabulous. My hometown of Indianapolis has the largest children's museum in the world, and it's amazing. Kansas City has a jazz museum and the Negro Baseball League Museum. I mean, there are fascinating things in these smaller-tier cities that are more affordable.
Mary:
Yeah, and so thinking of travel, I know COVID really taught us the value of making sure that you are flexible because sometimes you have to cancel plans or they're canceled for you. What's the value of having travel insurance? Is it more important now than ever? And what type of things does it cover?
Elizabeth:
Well, it is more important now than ever, and what trip cancellation or interruption insurance can do is reimburse you for  prepaid travel expenses. Because a lot of expenses are prepaid like if you go on a cruise or a tour, or even your airfare. It will reimburse you for those expenses if you cancel or interrupt your trip for a covered reason. Now, I'll get into covered reason in a minute.
Medical travel insurance can cover emergency medical costs and transportation. And Mary, those can run into thousands of dollars if you get sick or injured, especially abroad. For most people, your domestic travel insurance will not cover you internationally in most cases. So, that is a really good thing to keep in mind.
Now, in terms of what a covered reason is, you have to read the policy. It's so funny because people say, "Well, I didn't know I wasn't covered for that." Read your policy, read the fine print, and be sure it covers you for things you want to be covered for. Beware of exclusions, like acts of war or civil unrest are typically not covered. Surprisingly, terrorism is usually covered if it happens within 30 days of your trip.
Mary:
What about the recent devastation caused by Hurricane Ian? Is something like that covered? A natural disaster?
Elizabeth:
It is if you buy your travel insurance before the hurricane is named. That's the key. Typically, I recommend people buy travel insurance when they book their trip because there are some things that a lot of people don't know. For example, travel insurance will cover you for preexisting medical conditions. But to get that benefit and some of the others, you typically have to buy the insurance within 14 days of booking your trip, and just like you can't buy fire insurance once the building has gone up in flames, you can't buy hurricane insurance. And the key is once the hurricane has been named.
Mary:
So, it's important to think of those things and consider that before you plan your trips. Especially if you're traveling in or from an area where something like that is more likely to happen.
Elizabeth:
Exactly. Yes, like the Caribbean in autumn.
Mary:
If you're booking months in advance, too. You said 1-5 months for international travel, so I imagine it's something you just have to consider upfront. You can't wait.
Elizabeth:
Yes, and travel insurance protects you from the unexpected. It typically costs between 5-10% of the cost of your trip, and you can buy it through your travel advisor.
One of my favorite travel tips for saving money is don't forget your AAA card! You can get your AAA discount at so many hotels all over the country, so I always carry my AAA card with me. You also get discounts on attractions and sometimes the theater. That's one tip. And also, don't forget to book through your AAA travel advisor or travel agent because they can help you save money. They not only save you time and trouble, but they can also save you money because they are privy to deals and discounts that you might not know about and couldn't get on your own.
Mary:
Yeah, and they're probably reading that fine print for you on the travel insurance.
Elizabeth:
Well they do, and they can advise you on their travel insurance as well. That's true.
Mary:
Thank you for that. Now, I'm thinking about travel. You've done a lot, and I know you love cruises. What are some benefits of cruising or tips for travelers considering a cruise?
Elizabeth:
Well, speaking of saving money, cruising is probably the best travel value out there. You pay 1 price upfront that covers your transportation, accommodation, most of the onboard activities, and meals. Now, you can spend extra if you want to. There are some activities that they now charge for and some specialty restaurants that they charge extra for. But you can go on a cruise and not pay anything extra, just go to included meals in the dining room or in the buffet, and do all the activities that are included. The entertainment is all included, and it's incredible entertainment every night and throughout the day in lounges and stuff. All that's included. And you can cruise for less than $100 per person per day.
Now, there are luxury cruise lines. It depends on what you want. So again, a key thing is that if you're considering a cruise, call your AAA travel advisor because you need an experienced cruise travel agent to help.
There are so many different kinds of cruises. You can go on a cruise where you can go rock climbing, ice skating, or ride on a rollercoaster, or you could go on a little expedition ship where dressing up means just putting on a clean sweater for dinner and entertainment is the ecology lecture for that night. If you're a guy who wants just peace and quiet, watch the whales, and listen to the ecology lecture, you might not be happy on the rock climbing wall cruise. Your travel advisor can direct you to the cruise that will meet your interests and your budget.
Mary:
What about traveling with a loved one? Or if you are physically challenged, is cruising a good option for someone like that?
Elizabeth:
Cruising is one of the best options for traveling if you or a loved one is physically challenged because most cruise lines have handicap-accessible cabins. If you need special equipment, you can plan and book ahead for that, so cruising is one of the best options. It's interesting that you ask about that because a huge percentage of the population identify as physically challenged. I think it's something like 26% of the population.
Mary:  
Oh wow.
Elizabeth:
I know, and about 15% of the world's population have some kind of disability. But everyone is eager to travel, and it is easier for them. I would recommend everybody go to a website called Curb Free with Cory Lee. Cory Lee is in a wheelchair, but he has traveled to all 7 continents. He has traveled more than any of us, and he has amazing tips on his website about what to do. Hotels and airlines haven't always kept up with the latest about what they should be doing, but they're all trying. And of course, traveling within the United States everything has to be ADA-compliant so that is helpful, but you have to be a little more careful when you're traveling abroad.
Mary:
Ah, that's interesting because I hadn't thought of that especially if I'm going to a country I've never been. I'm used to it here where everything meets those ADA standards. How different is it? And are there some countries that are more accessible than others?
Elizabeth:
Yes, for example most historic places have cobblestone streets, and won't have wheelchair-accessible curbs. So do your research ahead of time, and again, your travel advisor can help you with this. Ada.gov is another good resource and the Department of Transportation at dot.gov. But again, do your research. Every country is trying to be more accessible. It's just that a lot of places still have a long way to go. But if you or a loved one has those challenges, don't let it keep you home.
Paul and I have a couple of friends, John and Larry Gassman. They are twin brothers blind from birth. They have traveled probably more than many other people. They used to have a radio show about old-time radio. They do more blind than I do sighted. They've been ziplining in Costa Rica. Larry and his wife went parasailing in Hawai'i. There really are no limits. You just have to do your research and get the help you need, but don't let anything like that keep you home.
Mary:
Yeah. Travel smart. What recommendations do you have for traveling safely? Particularly in a foreign country or even here. I remember the first time I went to New York trying to use the subway system, and I was clueless about it. Would you share with us some of your tips?
Elizabeth:
Well, I think be alert. Travel defensively wherever you go. Some places have a reputation for being dangerous, but there are parts of any city you live in that you have to be careful about. Just always be aware of what's going on around you. And put things into perspective, you have a higher probability of being hit by lightning than being a victim of terrorism.
Having said that, a good tip is to enroll in the State Department's Smart Traveler Enrollment Program, called STEP. You can register for that at step.state.gov. Basically, what happens is you sign up and say, "I'm going to be in France this particular period." You will receive security notices, and if something does happen in that country, they know where to find you and how to help you get out. But again, put it in perspective. In terms of crime, violent crime against travelers is not typically going to be your greatest danger. The greatest danger in terms of simple crime is being a victim of a pickpocket.
Mary:
Or identity theft now, fraud, or things like that.
Elizabeth:
You do have to be careful of that. So again, guard those documents carefully. I would say travel with only 2 credit cards—leave one in your hotel safe. Beware of distractions because your attention can be diverted, and that's when they could pick your purse or pocket. And don't put your cellphone in your back pocket, and guys, don't put your wallet in your back pocket. You guys should know better.
Mary:
Put it in your front pocket.
Elizabeth:
Yes, front pocket. I like pockets with zippers, and if you must travel with a purse, there's a company called Pacsafe that makes bags with a wire in the handle so somebody on a scooter can't come by and cut the strap of your bag and steal it that way.
Mary:
I had never even thought of that being a thing! How somebody would cut it. I just wear the crossbody bag.
Elizabeth:
That helps.
Mary:
Or I'll put my jacket over it, so the bag is in there because I'm likely to set things down. I get something in my hand, I set it down and I start looking at something else, and lo and behold, I can't find my phone or my wallet.
Elizabeth:
Yeah, I usually put my purse around one leg or something. Lily Tomlin said, "Living in New York is always knowing where your purse is." That's a good way to travel.
Be alert and avoid getting into situations where you might be a victim of crime. Everybody's talking about boundaries these days. Maintain your boundaries and if you're going to meet a stranger, meet them in the hotel bar or at a public place.
Mary:
So, we're talking about traveling smart and traveling safely. What about traveling responsibly? I know a lot of people really care about the environment and want to leave little when they go. Could you share any of your tips on that
Elizabeth:
Sure. You're right, most people want to travel, but we care about our planet. And the advantages of travel in terms of what it does for individuals, and what it does for the world outweigh the disadvantages. However, we do want to minimize environmental impact and maximize the positive benefits for local communities. There's a website called sustainabletravel.org, which has some great tips. One of the things they say is to stay longer in places. If you haven't traveled a lot internationally, maybe your goal is to go to London, Paris, Rome, and Madrid. Maybe go to fewer places and stay longer in each place. Not only will you have a less impact on the environment, but you'll be able to absorb the local culture better and vary your modes of transportation.
In Europe especially, trains are fabulous. And in this country, I'm a huge fan of Amtrak. The trains are great. And do your best to conserve water and energy. When you travel abroad, a lot of times you'll be in a hotel, and the hall light won't go on until you enter the hallway, or the light on the stairway won't go on until you step up the stairs. They're kind of ahead of conservation. Just make sure you turn out the lights when you leave the room, and skimp and conserve water the way we all do here in Southern California. Simple things like that can help.
Mary:
Thank you for that for those tips. What about traveling solo? Any tips or tricks for anybody traveling alone?
Elizabeth:
Well, we talked a little about cruising. The irony is that cruising and escorted tours are great trips for single travelers, but solo travelers are also hit with this dreaded single supplement. And what that means for a solo traveler is you might be paying between 125-200% of the per-person double occupancy cost.
For the hotel or the cruise line, it makes sense for them economically, but the solo traveler may feel they're being discriminated against, right? Well, the good news is there are some cruise lines and tour departures that either waive the single supplement, or have a low single supplement, like maybe 110% so you're just paying a little more than the per-person double occupancy price.
But many cruise lines are building their newer ships with more single cabins, and those tend to always sell out first. This is good because a single person can travel safely on a cruise or a tour. It's a great way to meet people. The industry is finally catching on. More than a quarter of our country's population live in single households, and yet they're treated like second-class citizens by the travel industry, but I think that's changing and they're getting the idea.
Mary:
It's interesting to learn how the travel industry is changing even when building the cruise ships now, considering that a lot of people travel solo, even if they're not in a single household. So yes, thanks for that tip. It's interesting too when you're looking around and thinking, "OK, do I want this cruise line or that cruise line?" Well, which one's going to charge you the higher single supplement.
Elizabeth:
Exactly. And there again, your travel advisor can help.
Mary:
Well, thank you so much for all your tips today. Now finally, let's wrap this up with what's the one most important thing to remember about traveling smart?
Elizabeth:
Don't postpone your travel. I think that's one thing we all learned from the pandemic. Don't put it off. Get out there and go.
Mary:
Thank you so much for that. And I need to book some travel here myself. I know I've got so much vacation time, and I definitely need to put it to good use. Well, thank you so much for joining us today, Elizabeth. It's really been a pleasure having you back again on the show.
Elizabeth:
Thank you so much for having me.
Mary:
And thank you to our listeners for being with us. If you're planning a trip, be sure to connect with a AAA travel advisor, check out aaa.com/travel, or visit your local branch. And if you enjoyed this podcast, please subscribe. I'm Mary Herendeen. Thank you for traveling with AAA.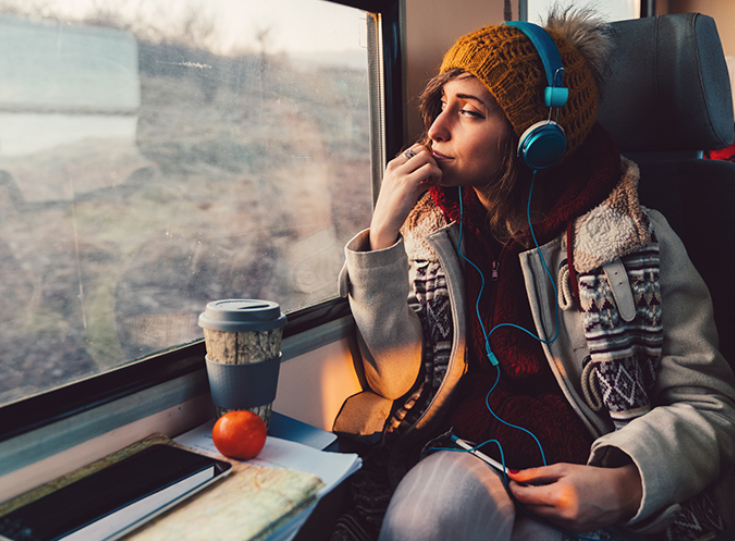 Listen to more episodes of Traveling with AAA
Find hidden gems, get tips from knowledgeable travel advisors, and listen to interesting guests tell stories about their adventures.