AAA Travel
Mexico vacation packages & travel deals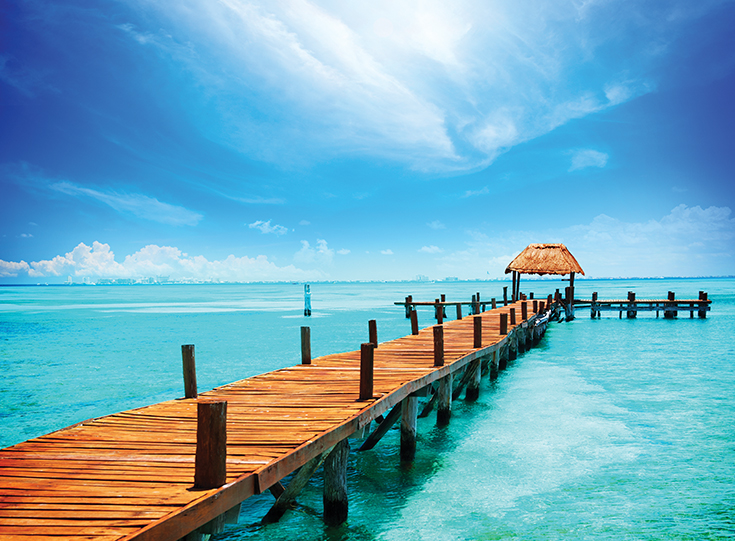 Discover the beauty of Mexico
Mexico is a vacationer's paradise with a variety of climates, cuisines, and cultural experiences. There's a resort for every kind of traveler with many offering all-inclusive food and beverage packages. From families searching for an affordable vacation to couples looking for a high-end spa experience, AAA has the perfect Mexico vacation package.
Things to see & activities to do in Mexico
Mexico has nearly 6,000 miles of coastline with pristine beaches, lush rainforests, hidden cenotes, an active volcano, and The Great Pyramid of Cholula—the world's largest pyramid by volume. Visitors have a wide variety of activities to do in Mexico, including relaxing on the beach, hiking through rainforests, ATV riding, sport fishing, golf, spa treatments, tequila tasting, eco-tours, food and cultural experiences, snorkeling, and scuba diving.

Whether you're looking for a romantic getaway, planning a destination wedding, or want an action-packed vacation, Mexico has plenty to offer.
Trending beach vacation spots in Mexico

With stunning beaches, tropical jungles, nightlife, and all-inclusive resorts, Cancun is a top spring break destination, but also a go-to Mexico vacation spot for families, couples, and nature lovers.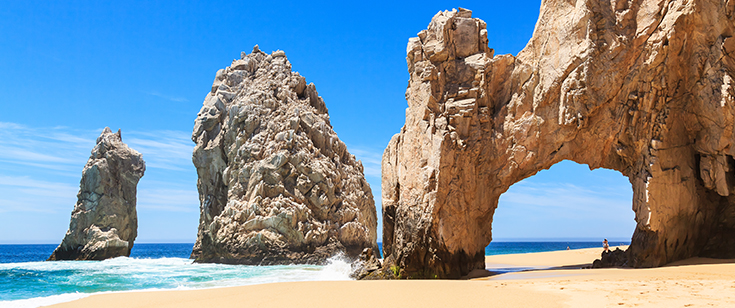 Once a sleepy fishing village, Cabo San Lucas is now a popular Mexico vacation spot with luxurious resorts, PGA-level golf courses, and vibrant nightlife.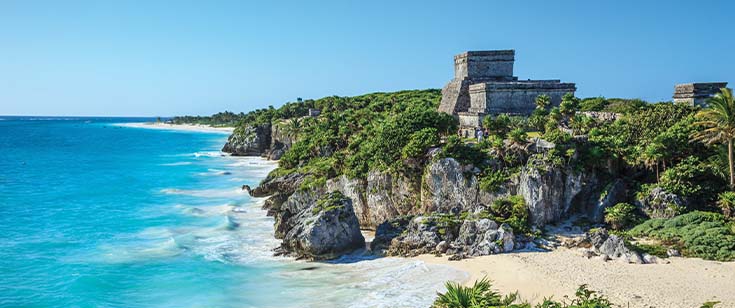 This coastal paradise is a bucket list destination with ancient Mayan cities, ecological reserves, relaxing cenotes, and the second-largest coral reef in the world.  
More top beach cities in Mexico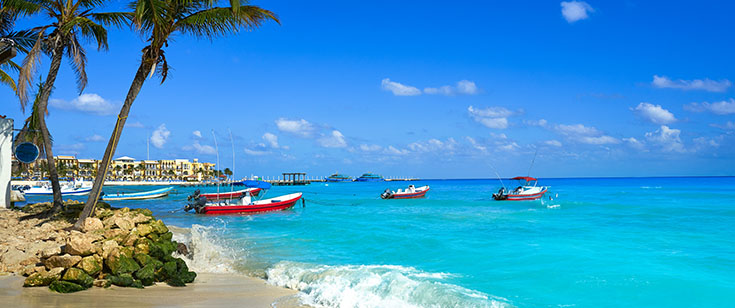 Playa del Carmen offers a respite from the crowds of Cancun, and is a top destination for family vacations and beachside weddings.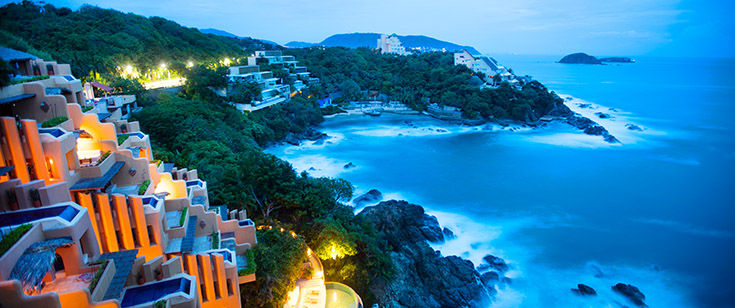 Ixtapa's contemporary resort villages and high-rise condos, and traditional Zihuatanejo are a perfect blend of modern and historic Mexico.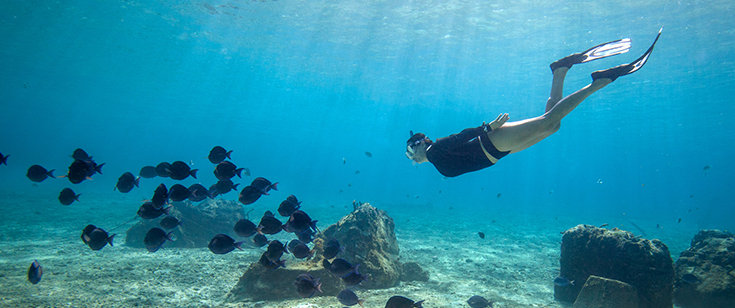 With accommodations for almost any budget, including 5-star luxury all-inclusive resorts, Cozumel is perfect for family vacations and destination weddings.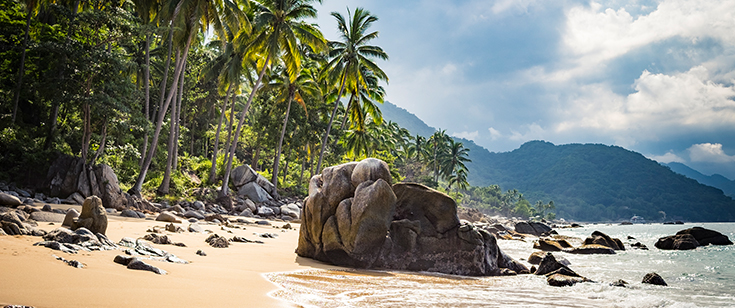 Puerto Vallarta has over 60 miles of coastline and is a top destination for a romantic getaway, honeymoon, beach wedding, or a multi-generational family vacation.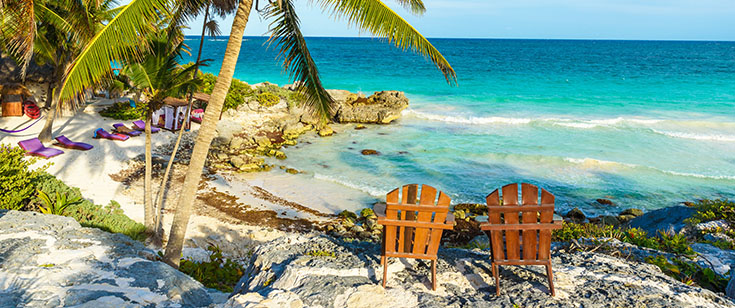 Isla Mujeres is a beach lover's paradise; no matter where you are on the island, you're just blocks from the ocean, and Cancun is only a 15-minute ferry ride away.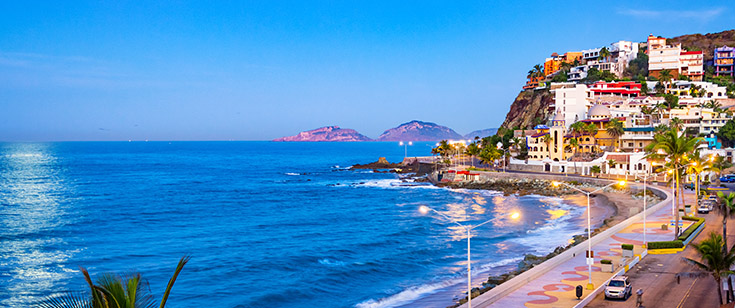 Mazatlan is a popular, affordable destination for younger travelers and expats who enjoy nice beaches and a tropical climate.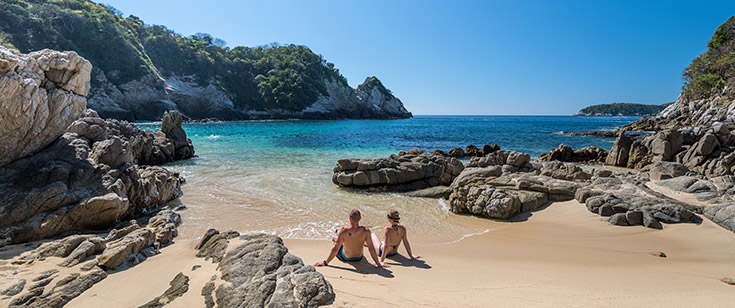 Huatulco may be Mexico's best-kept secret. The region is a surfer's paradise with culinary delights, craft mezcal distilleries, coffee plantations, and more.   
Tulum's dreamy setting has culture, ancient ruins, and Mexico's best beaches. The all-inclusive resorts are perfect for romantic getaways, family vacations, and beach weddings.
Fast facts about the best places in Mexico to visit
Trending Mexico resorts for families
Mexico has all the ingredients for a great family vacation: sunshine, beautiful beaches, relaxing pools, lazy rivers, and fun activities and adventures. Plus, many resorts in Mexico are all-inclusive, so food and beverages are included in the price. Many families go to Mexico for the first time and return every year because it's one of the best family vacations they've experienced. From fun and affordable resorts to 5-star luxury stays, you're sure to find the perfect family resort in Mexico.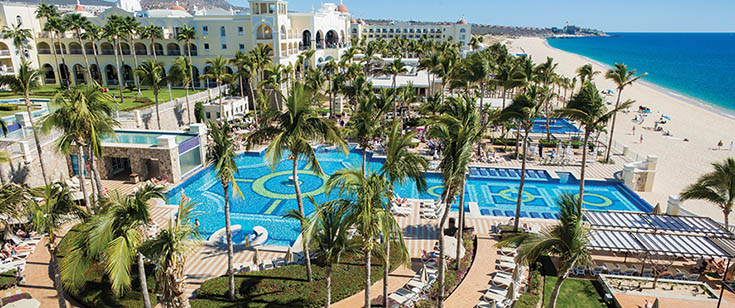 Riu Palace - Cabo San Lucas
Riu Palace features kid-friendly activities, as well as a lazy river, pools, and a water park.
All-inclusive
Access to Splash Water World

5 pools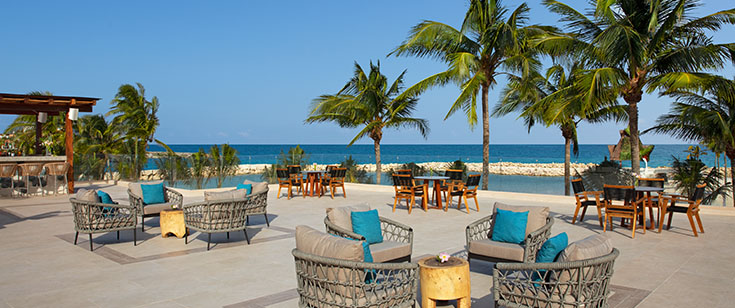 Dreams Aventuras Riviera Maya
Enjoy gourmet restaurants, room service, concierge services, and hideaway beach spots at Dreams Aventuras Riviera Maya.
On-site waterpark
Swim-out suites available
Located on the beach
Dreams Los Cabos is an all-suite, all-inclusive resort boasts opulent suites with spectacular ocean views.
3 pools
Kids program

Full-service spa

Want to honeymoon in Mexico? Check out these top resorts for couples
Mexico is one of the most popular destinations for couples looking for a romantic getaway. With stunning beaches, lush tropical forests, and endless activities, it's no wonder why people look to this paradise to escape the hustle and bustle of the everyday. 
These are some of the best resorts for couples looking for a romantic getaway or honeymoon in Mexico. From secluded beachfront hideaways to luxurious spa retreats, these resorts offer everything you need for a romantic vacation. If you're planning a Mexico destination wedding, AAA Travel Advisors specialize in group travel and are here to help.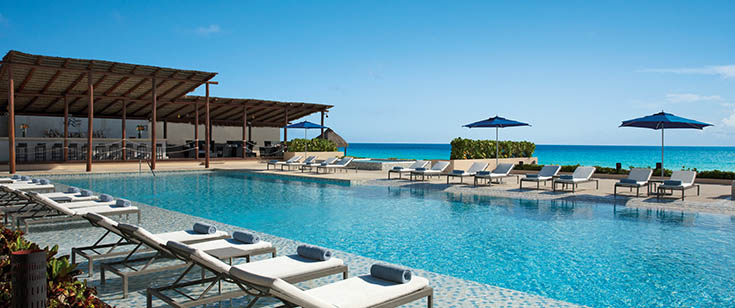 This chic, contemporary retreat combines the natural beauty of the Yucatán Peninsula with the elegance of a world-class resort.
All-inclusive
Adults only 18+
7 bars, 6 restaurants
Full-service spa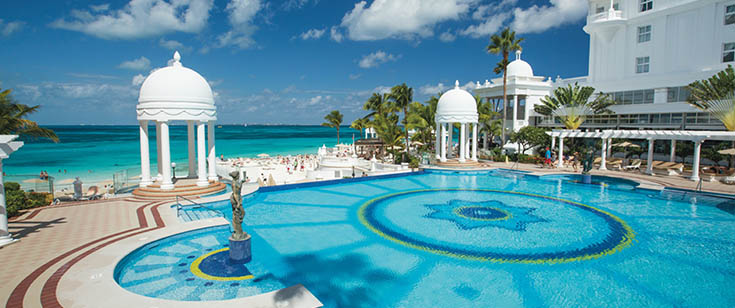 Riu Palace Las Americas - Cancun
This spectacular all-inclusive resort is on a dazzling stretch of white sandy beach framed by tropical trees and crystal clear turquoise waters.
All-inclusive
Adults only 18+
6 bars, 7 restaurants

Full-service spa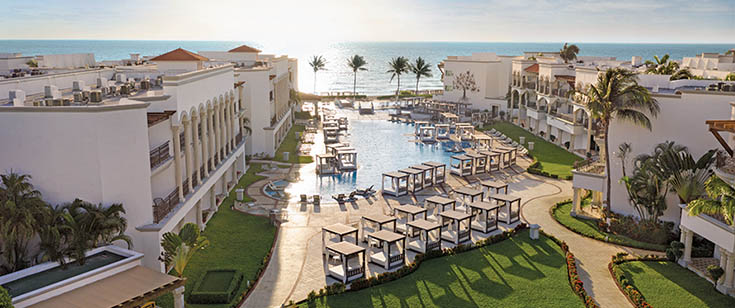 Hilton Playa del Carmen - Riviera Maya
This beachside luxury resort features handcrafted furnishings, marbled baths, and exceptional service.
All-inclusive

Adults only 18+
4 pools

Full-service spa
Mexico cruises
A cruise from California to Mexico is the perfect way to enjoy the beauty of the country without the stress of a flight. Unpack, relax, and enjoy your time on the ship while seeing many of the top vacation spots in Mexico.
When you cruise to Mexico from California, you could save hundreds on your vacation by not having to buy airfare. You'd simply take a short cruise from Los Angeles or San Diego to Mexico.
Mexico cruises offer an array of activities. Whether you want to spend your days relaxing by the pool or exploring the port cities, you'll be able to find a cruise that's right for you. And, of course, you'll also be able to enjoy the delicious food and drink that Mexico is famous for.
If you're looking for a fun and affordable vacation, a Mexico cruise from California is the perfect option. You'll be able to save money, while still getting to see and do everything that you want.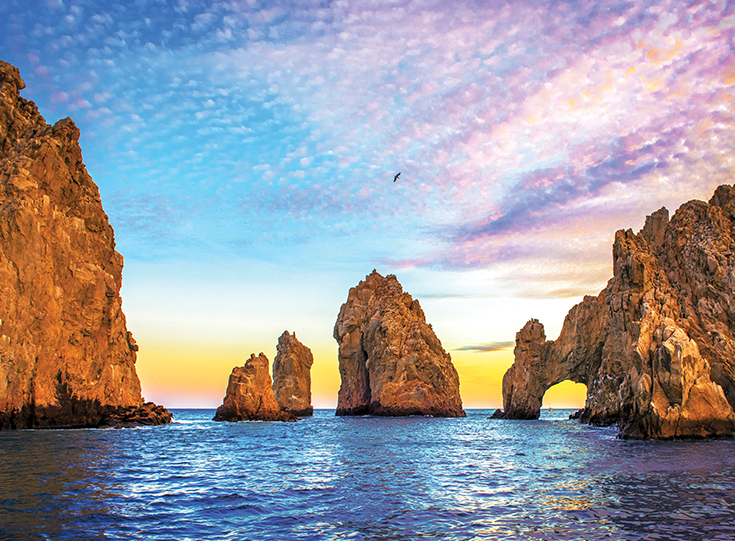 Find an assortment of dining options, dazzling entertainment, and exciting activities for the entire family. Relax and have fun on the ship, while still getting to see everything that Mexico has to offer. Plus, you'll get to experience both Mexico and the Southern California coast.
Mexico vacation packages
Most vacation packages to Mexico include airfare, hotel accommodations, and a car rental. Many also include meals, activities, and transportation to and from the airport.
When looking at Mexico vacation packages, pay attention to the details and make sure you know exactly what's included in the price before you book anything. For example, some packages might not include airfare or transportation to and from the airport, others might only include lodging and a car rental. 
Also, look at the different activities that are included in the package. Some Mexico deals will include things like snorkeling, hiking, and golfing. Others might only include 1 or 2 of these activities. If you have specific things that you want to do while you're on vacation, make sure the package includes them. Otherwise, you might end up paying extra for things that you don't really want to do.
Finally, when booking a Mexico vacation package, pay attention to the price. It's important to find a package that's within your budget. Also, check if the resort is all-inclusive, which can help save you money on food and drink. Don't be afraid to shop around, compare pricing, and visit your AAA branch to see what exclusive savings your AAA Travel Advisor can offer.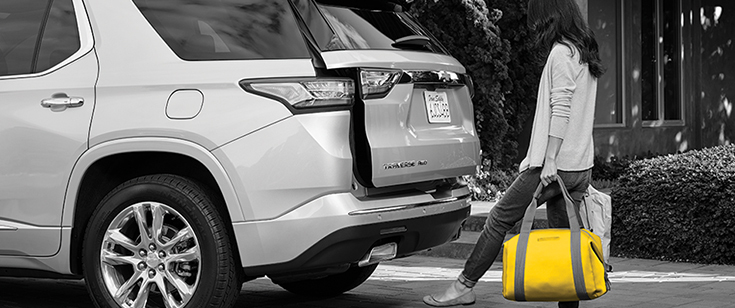 Save up to 20% on Hertz car rentals. Plus, get a free child seat, no charge for additional drivers or young renters, and more exclusive member benefits.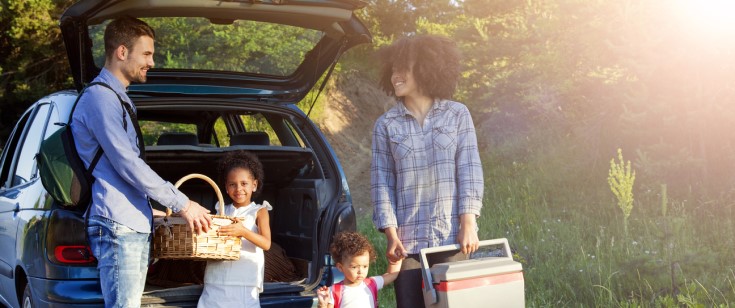 Save 10% on Dollar car rentals with reservations. Dollar Rent-A-Car provides rental cars for the value seeker with elevated expectations.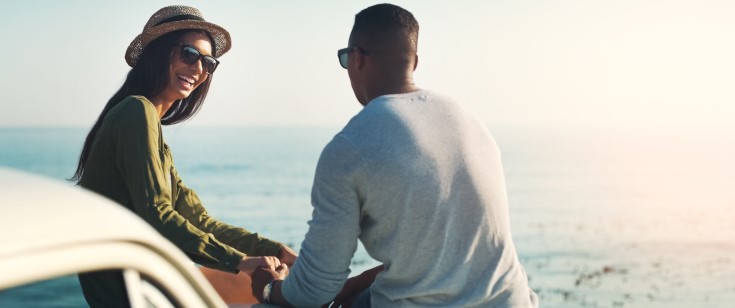 Save 8% on Thrifty car rentals with reservations. Thrifty provides rental cars for vacationers and those who see life as an adventure.

Travel articles about Mexico

The best 10 things to do along the Riviera Maya
The eastern coastline of Mexico's Yucatan Peninsula hits the Caribbean Sea in one of the world's most sought-after tropical resort destinations.

Why you should visit Los Cabos
Los Cabos is a traveler's paradise. There's nightlife, galleries, adventure tourism, incredible sunsets, great food, fishing, and whales. 
AAA Travel is here to help plan the perfect Mexico vacation
When it comes to booking your dream vacation, you want to make sure you're working with a travel company that has your best interests at heart. That's why AAA Travel is the perfect choice for anyone looking for a hassle-free travel experience.
AAA travel advisors are experts and can help find and customize the perfect vacation package for you. They also have access to exclusive deals and discounts that you won't find anywhere else, and have experience planning and coordinating reservations for multi-family vacations and destination weddings. 
Most importantly, AAA Travel offers comprehensive travel insurance in case of trip cancellation or other unforeseen circumstances, so you can book your vacation with confidence.
If you're looking for stress-free vacation planning, book with AAA Travel today.
AAA Travel Advisors are here to help
AAA Travel Advisors can help you book your favorite Mexico resort or vacation package and save you money. Our advisors have years of experience finding the best deals on top Mexico resorts, and can help make sure you have a great vacation. Contact us today to start planning your dream trip.