AAA Travel
Hawai'i welcomes you back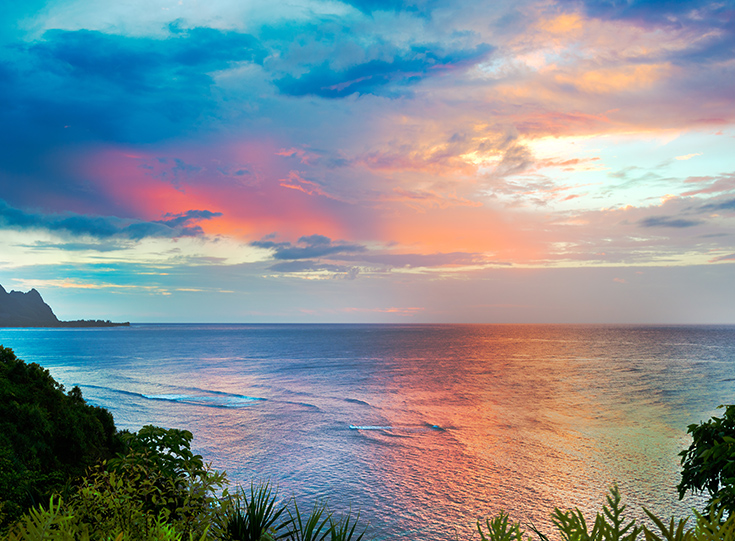 Come visit the aloha state
Beginning November 1, 2021, vaccinated visitors are once again invited to travel to the islands and celebrate the spirit of aloha and experience Hawaiian hospitality. With low airfares and exclusive travel offers from AAA, now is this the best time to book your dream Hawai'i vacation.
Hawai'i travel requirements
Travelers who have been fully vaccinated in the United States (including its Territories) can go to Hawaii and may bypass quarantine without a pre-travel test. Travelers to Hawai'i must upload their CDC-issued vaccination record card to the state's Safe Travels Program website and have that card with them upon arrival in the State of Hawai'i. All travelers wishing to bypass quarantine who are ages five and older and who choose not to participate in the vaccination exception program will be required to take a Nucleic Acid Amplification Test (NAAT) from a certified Clinical Laboratory Improvement Amendment (CLIA) lab in order to bypass the State of Hawai'i's 10-day mandatory quarantine. Anyone without a negative test result or U.S. vaccination prior to departure must quarantine upon arrival. AAA travel advisors can help you as your trip approaches, or you can check the Hawai'i COVID-19 website, and the Hawai'i Department of Health's site for updated guidance on traveling to Hawai'i.

What is the Safe Travels application?

All travelers (18 and older) must complete the new Safe Travels application online. The names of each child/children traveling with an adult will need to be included in the adult's Safe Travels program application. The digital application, which collects required health and travel information, is critical to protecting the health and safety of residents and visitors. Travelers will receive a notice 24 hours prior to their departure time to the Hawaiian Islands to complete the Mandatory State of Hawai'i Travel and Health Form via their Safe Travels Hawai'i account. Upon completion of the Mandatory State of Hawai'i Travel and Health Form, a QR code will be emailed to the traveler for each leg of their trip, which they will need to present to airport personnel upon deplaning in Hawaiʻi. The QR code can be either on paper or on their mobile phone and must also be presented with a legally valid photo ID. Safe Travels is part of a multi-layered screening process which includes arrival temperature checks and secondary screening for those with symptoms or temperatures of 100.4 degrees Fahrenheit or higher. Read the full announcement with details on Safe Travels or find and complete the application online.

Where can I find more information?
We recommend all travelers follow state and local guidelines, as well as guidelines from the Centers for Disease Control & Prevention (CDC). These guidelines are updated regularly in response to current events and the newest prevention research. Visit the CDC website regularly for more information.
Where can I get tested?
The state of Hawai'i will only accept Nucleic Acid Amplification Test (NAAT) from a certified Clinical Laboratory Improvement Amendment (CLIA) lab test results from trusted testing and travel partners. Visit the COVID-19 State of Hawai'i website for more information. 
Where can I find more about interisland travel?
Interisland travel information can be found on the Kaua'i County, Maui County, and Hawai'i County websites.
Explore more Hawai'i vacation offers

Get up to $250 in value per booking on select Pleasant Holidays vacations when you book by May 22, 2022.

AAA Travel vacations to Hawai'i
Check out Hawai'i vacation offers from AAA Travel partners.

How to stay safe and healthy during hotel stays
We asked lodging, public health, epidemiology, and legal experts about the potential COVID-19 risks and how to minimize them. Here's what they said.

What to expect if you fly during the coronavirus pandemic
Find out what you might experience at airports and on flights. Plus, get tips to help you on your travels.