A lifelong love of travel evolves into a quest to visit every last state.
I held a scrap of paper with a number scrawled on it and moved one step to the side of a weather-beaten, brown roadway sign. My son, Jann, took a picture and recorded a quiet, special moment in life.  
I was in North Dakota—and had just crossed into my 49th American state. I was only one trip short of my goal to visit all 50.  
Hitting that milestone wasn't exactly a childhood dream. It was largely unplanned, the result of someone who enjoyed long drives, attended three colleges near two oceans, relished hunting down historic spots, and preferred vacations in new places. In addition, as a journalist for 40 years, I often traveled for work. By the time I took my first trip to Hawai'i, I was deep into middle age and realized that I'd seen almost every U.S. state and that it would be silly not to check them all off.
In the end, though, completing this 50-state adventure became a spiritual journey, too, with each successive trip rekindling the wonderment I'd often felt while traveling as a young boy.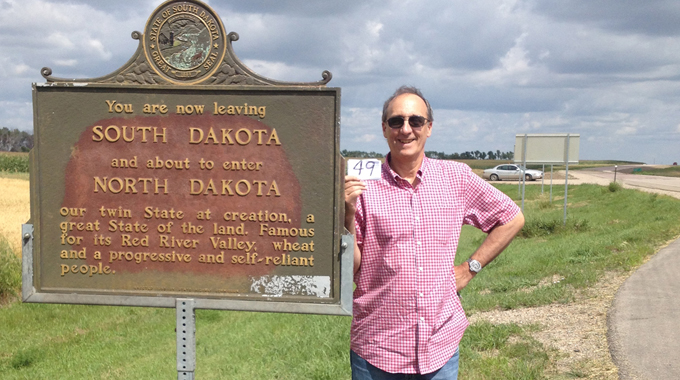 My first binge of solo travel happened in 1972 when I turned 20 and had my own car. I grew up in a Boston suburb and after a gloomy winter at college in the Berkshires, I happily transferred that fall to USC, drawn by images of suntans in winter and swims in the Pacific Ocean.

With a lapful of AAA state maps, I headed west in a rusty 1968 Porsche 912. Near the Missouri-Illinois border, I felt my first moment of adventure. 
I drove over a bridge into St. Louis and saw the nearby Gateway Arch, but I had another landmark in mind. I exited into the city and, without a street map, alternated U-turns with arbitrary turns until I pulled into a random parking lot. I ran down into the weeds, bent over, and stuck my fist into the one-and-only, great, grand Mississippi River. My reaction was childlike, disbelieving, and giddy. I thought about Mark Twain piloting a steamboat here a century ago and writing about his adventures and about how his powerful words diverted this waterway into our cultural heritage. 
Another postcard moment occurred on a two-lane road in Wyoming. I was feeling a bit overwhelmed by my first view of the vast sky country when I spotted a hillside dotted with big, brown creatures, ones I'd never seen, even in zoos. I ran to a fence and there they were. Bison, dozens of them, chewing the late-summer grass. It was a powerful scene, one made stronger because of the sense I'd traveled a great distance and had entered an isolated, almost unimaginable landscape. I didn't take a picture, but then, I didn't need one to imprint that image.
The following spring, I traveled to Oklahoma with a college friend to return his borrowed car. To save money, we hitchhiked back to L.A. separately. Late on Day One, I was sitting in the backseat of a Rambler, riding with an elderly couple as we neared Albuquerque. The New Mexico sky, so rich in prisms of blue, made me think of Georgia O'Keeffe's paintings. "Do you have a place to stay overnight?" the couple asked. I shook my head no. At their home for dinner we had enchiladas, my first-ever Mexican dish. The next morning they fed me again, then dropped me off near Interstate 40 and promised me it was a good spot to flag rides. I had one in minutes. 
After college I returned to Boston and started scratching my way into a journalism career, then jumped to take a job in Florida and made another move to Forbes magazine's Chicago bureau. 
Blessed with generous expense accounts and an ever-growing number of frequent-flyer miles, soon I had visited nearly every significant American city. My sense of the Mississippi's grandeur grew, when a decade after my initial encounter with the river, I spotted my first bald eagle fly over it while on assignment in La Crosse, Wisconsin, and saw the river spill into the Gulf of Mexico while on vacation in New Orleans. 
In the late 1980s, I took a job with the Los Angeles Times. I became a dad, got divorced, and remarried. My new wife, Vani, had an even bigger travel bug than I did.
In 2002, my sister, Debby, invited us to stay with her family at a rented house on the Island of Hawai'i. We visited beaches, watched lava flows, hiked in a rain forest and around the Mauna Kea Observatories. At sunset, I sat in a hammock strung between palm trees and drank beer and thought about the number 50: I'd just turned 50. Hawai'i was our 50th state. And how close was I to seeing all 50 states?
I pulled out a U.S. map, did some quick calculations and realized I had been to every state except Alaska, Arkansas, and North Dakota. Sure, it was a trio of scattered states, but my new goal was to see them all.
Rules to travel by
One treat about playing the 50-states game is crafting your own rules about what counts as an official visit. Here are some of mine:
Changing planes at an airport doesn't qualify. A trip across a turnpike or a highway, even if you fuel up on gas or doughnuts, doesn't count. Ditto for railroad trips, especially if you stay inside the coach. Childhood vacations, unless you remember colorful details without studying snapshots, don't count either.
Obviously, visiting a new state is a personal exploration. A true sense of discovery can occur in a few hours, by visiting a quirky museum, strolling past monuments of local heroes, eating a dish special to that area, deciphering local accents, or talking with a native.
So when Vani attended a conference in Little Rock in 2005, naturally I tagged along. I toured the Clinton Presidential Library and the Arkansas Governor's Mansion and walked by a two-story house where the Clintons once lived.
The highlight was seeing my ex-literature professor, Gene, whom I'd contacted for the first time since college before the trip. In a battered pickup, he took me out to feed his horses. We talked about books, politics, and Southern manners. I visited his home and met his wife. At day's end, Gene said dryly that he had no recollection of me as a student.
In 2013, my son was accepted into graduate school on Long Island. I decided to buy him a new compact car with anti-lock brakes because he'd never driven in snow or cold weather. He asked when I planned to ship the car to New York. "Oh, no," I said, "we're driving it across the country together and we have to stop in North Dakota."  
After posing for that picture at the YOU ARE ... ABOUT TO ENTER NORTH DAKOTA sign, we drove mostly on small roads, roughly paralleling the state line. At midday we parked in Hague (pop. 65). All the cars had Dakota plates, except ours. 
A dozen customers were inside the Hague Cafe, but their conversations stopped when we entered. No one spoke to us, except for a waitress, and that exchange was as clipped as dialogue in a Clint Eastwood movie. Later, we headed east on State Highway 11, passing wildlife sanctuaries, ponds, and farmlands dotted with cattle. The traffic was so light that at one stop, I lay down in the middle of the road just because I could.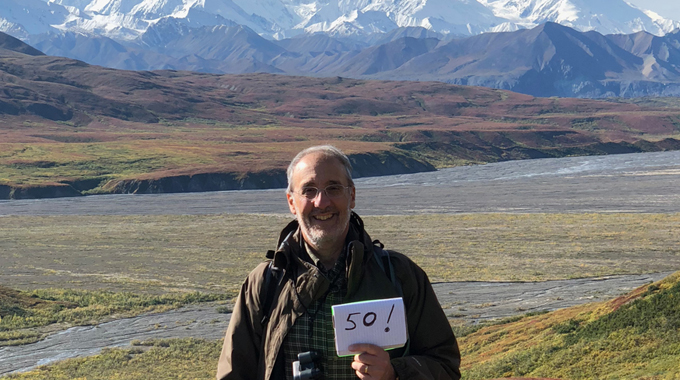 After returning home from North Dakota, Vani and I talked about saving the Alaska trip for our retirement. Maybe we'd take a cruise, even drive there. We had plenty of time.

My sense of time altered when my doctor called with the results of some recent medical tests. Tumors, biopsies, chemotherapy, and experimental drug trials became my new mileposts. I stopped making plans, and I stopped thinking about Alaska. 
One summer passed. 
Then last summer, postcards came from my friend Kurt, who'd retired and was on an epic drive to complete his 50-state checklist. I put his postcards on the refrigerator. I asked myself, What does it matter, 49 or 50 states? Would visiting Alaska make me feel better? How much would it cost? Would I get sicker?
I briefly lapsed into the idea of waiting another year, after the spring thaw, before possibly taking on Alaska. Then in what I can only call a lightbulb moment—waiting is the same as wasting time—I decided to stop talking about the trip and just do it.
So over Labor Day weekend, Vani and I boarded a plane, and as it descended into Anchorage the clouds cleared and glaciers appeared. On a Kenai Peninsula day cruise, we saw more glaciers, along with bald eagles, seals, otters, and puffins. We watched sunsets over Resurrection Bay. We ate fresh salmon, halibut, and the biggest oysters we'd ever seen.
The high point, in altitude and emotion, came during a daylong bus ride inside Denali National Park and Preserve. As we crested into a valley, snow-covered Denali, the 20,310-foot peak, highest in North America, came into view. The park bus stopped and we ran out like kids on the last day of school.
I pulled out a sign with number 50 on it. Vani took pictures. 
At that moment I recalled a wooden jigsaw puzzle from my childhood, the kind with the states painted in various colors to provoke some concept of geography. And I realized it had taken nearly an entire lifetime—66½ years—for me to pick up this last puzzle piece and fit it into the right place.  
Read about Barry's eight-day Alaska road trip.
Barry Stavro worked as a journalist for four decades, including 30 years with the Los Angeles Times.
AAA Travel Alert: Many travel destinations have implemented COVID-19–related restrictions. Before making travel plans, check to see if hotels, attractions, cruise lines, tour operators, restaurants, and local authorities have issued health and safety-related restrictions or entry requirements. The local tourism board is a good resource for updated information.