In Fort Worth, Houston, and San Antonio, these three neighborhoods are hopping with popular restaurants, innovative shops, and cutting-edge galleries.
Fort Worth: West Magnolia Avenue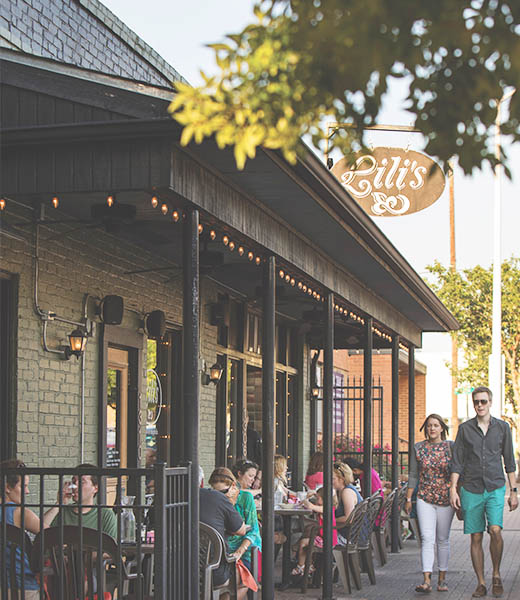 Fort Worth's once-neglected West Magnolia Avenue is back—in a big way. On a 20-block stretch comprising the commercial heart of the rejuvenated Near Southside district, a bona fide restaurant row has evolved, and West Magnolia is now the place where ambitious chefs aspire to hang a shingle. Sure, you'll encounter a handful of boutiques, too—the SiNaCa School of Glass and Gallery (sinacastudios.org) is well worth a visit—but the primary draw is dining. Expect to find white-hot restaurants and watering holes (most with patio seating). Don't miss the free concerts (from April to October) at Magnolia Green (nearsouthsidefw.org). —June Naylor
Where to eat
Occupying a beautifully renovated 1920 service station, the genteel Ellerbe Fine Foods restaurant woos with Southern charm, an enticing wine list, and a menu laden with dishes crafted from local farm goods. The menu changes seasonally, but during a recent visit, favorite noshing choices included Louisiana crawfish étouffée, sherry-braised rabbit, pancetta-wrapped rainbow trout, and hummingbird trifle. 1501 W. Magnolia Avenue. 817-926-3663.
At Fixture-Kitchen and Social Lounge, comfort food gets a chic twist in modern yet cozy digs. Beet fries served with a spicy aioli are downright addictive, as are green chile grits crowned with sautéed Gulf shrimp. The roasted duck hash is excellent. 401 W. Magnolia Avenue. 817-708-2663.
Lili's Bistro was a pioneer when it opened on Magnolia in 2007, and this laid-back hangout with exposed brick walls and live piano music earns its loyal clientele with dishes such as gorgonzola waffle fries, chicken breast stuffed with tamal and cornbread dressing, and lobster ravioli. Among vegetarian offerings, the roasted poblano chile is sublime. 1310 W. Magnolia Avenue. 817-877-0700.
Clean lines and warm colors define the petite dining room at Paco's Mexican Cuisine, where flavors from Mexico's interior hold court. Rich queso fundido with crab makes the perfect starter, followed by main dishes such as Veracruz-style trout, and pork tenderloin with quail in velvety green and dark red moles. 1508 W. Magnolia Avenue. 817-759-9110.
Where to sip
A favorite place on Magnolia to get a caffeine fix, Avoca is also a fine spot to catch up on email or simply while away the hours with friends at community tables, two-tops, or couches. Try the pour-over espresso, a cold brew, or a latte topped with exquisite foam art. Nibble on locally made pastries, too. 1311 W. Magnolia Avenue. 682-233-0957.
Grand Cru, a self-proclaimed wine bar and boutique, serves as a quiet retreat for enjoying wines from around the world by the glass, flight, or bottle. Most are also offered for take-away purchase. Be sure to order a small plate of fig-prosciutto-goat cheese bites to accompany the vino. 1257 W. Magnolia Avenue. 817-923-1717.
Head to Proper, a tiny, friendly craft cocktail bar, to enjoy the jukebox and quaff specialty drinks. On pretty evenings, the outdoor patio is perfect. 409 W. Magnolia Avenue. 817-984-1133.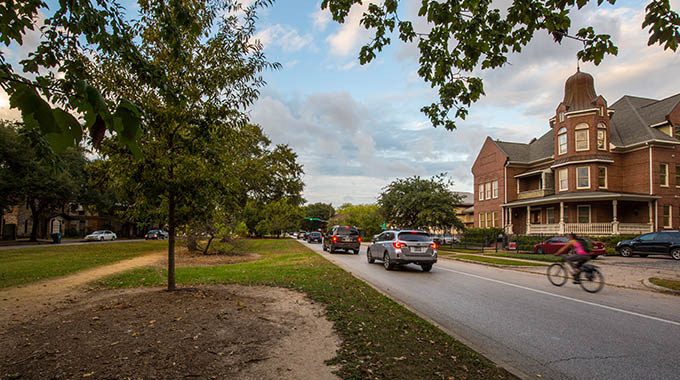 Located north of downtown, the historic Houston Heights district got its start in 1891 as Texas' first planned community. Today, this quaint and lively neighborhood is home to an eclectic mix of quirky shops and galleries, a growing roster of popular restaurants, and some colorful Houston institutions such as the Contemporary Arts Museum. Shady, central Heights Boulevard, with its splendid, New England-inspired promenade, has many older homes, while several art galleries reside on the fringes of what locals consider the Greater Heights. —Dan Oko
What to do

Casa Ramirez Folkart Gallery is a must-see for people interested in Mexican and Latin American culture. Shoppers can browse lucha libre wrestling masks, ceramic tiles, assorted crosses, posters, and a wide selection of books. 241 W. 19th Street. 713-880-2420. 
White Oak Music Hall, with three stages and a rooftop bar, features cocktails, food trucks, live music, and even cornhole games. 2915 N. Main Street. 713-237-0370.
Where to shop
Heights Antiques on Yale features bona fide treasures and miscellaneous salvage for the home and garden. With nearly 10,000 square feet of inventory, this emporium sells everything from European china to cowboy boots to deer antlers. 2110 Yale Street. 713-861-3335.
The Art Car Museum celebrates ties between automotive innovations shown in the city's popular Art Car Parade (which takes place in April and features exquisitely decorated vehicles) and the broader artistic community. While visitors may find cars altered with paint, welded mechanical additions, and even plastic toys, the exhibits often feature national and international sculptors, painters, and photographers whose work may have no link to cars. 140 Heights Boulevard. 713-861-5526.
Where to sip
Operating out of a former gas station, Eight Row Flint bar and grill serves tasty tacos, but the emphasis is on frozen craft cocktails—and a selection of whiskeys. 1039 Yale Street. 832-767-4002.
San Antonio: The Pearl District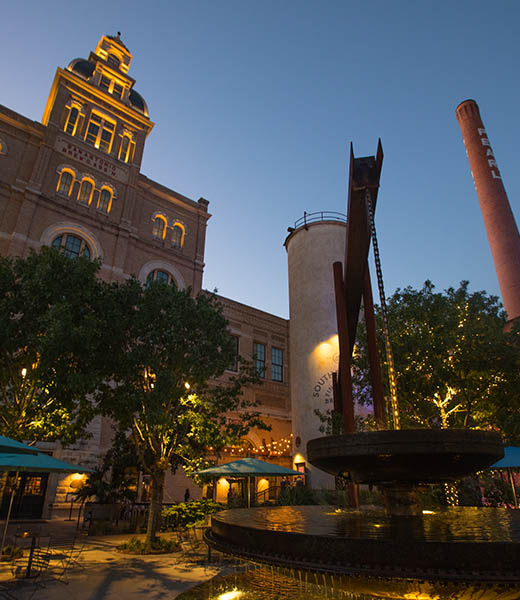 Set among the 100-year-old-plus industrial brick buildings that once housed Pearl Brewery, San Antonio's stylish Pearl District is an ideal place to spend the day. The buzzy 22-acre neighborhood is home to innovative restaurants, hip boutiques, a Culinary Institute of America campus, and the spectacular Hotel Emma. Stroll the car-free paths and you'll find budding chefs hurrying to class in smart white coats, kids playing on the lawn, twice-weekly farmers markets, and plenty of locals shopping and dining—all just 2 miles from downtown. —Jim Benning
What to do
Browse the Pearl's boutiques, including The Sporting District for men's leather goods and attire (210-223-1889); The Tiny Finch for gifts and home decor (210-253-9570); and The Twig Book Shop for best sellers, classics, and a fine selection of Texana (210-826-6411).
Walk about a mile and a half down the San Antonio River Walk to the San Antonio Museum of Art (200 W. Jones Avenue; 210-978-8100).
Make a beeline for Jazz, TX, which is pianist Brent "Doc" Watkins' jazz club. It also serves a hard-to-resist pecan pie. Building 6, 312 Pearl Parkway #6001. 210-332-9386.
Or rent a bike from the self-serve BCycle station near Boiler House and ride over to see the free-admission Japanese Tea Garden. 200-414 Alpine. 210-212-4814.
Where to eat
Start your day with coffee and a Parisian pastry at Bakery Lorraine. 306 Pearl Parkway, #110. 210-862-5582.
For a light lunch, try the market bowl at The Good Kind, located inside the Bottling Department food hall. Other vendors offer ramen, burgers, and rotisserie chicken.
Just down the road, Supper at the Hotel Emma serves a killer churro dessert. 136 E Grayson Street; 210-448-8351.
Carnivores should head to Cured, Steve McHugh's celebrated restaurant inside the 1904 Administration Building. Start with the charcuterie, then move on to masa fried oysters and roasted bone marrow. 306 Pearl Pkwy #101. 210-314-3929.
For fusion fare, try Botika, which specializes in Peruvian-Asian dishes such as tuna tiradito and cheese empanadas. 303 Pearl Parkway #111. 210-670-7684.
Where to sip
Sample a lager or an IPA at craft beer maker Southerleigh. 136 E. Grayson Street. 210-455-5701.
If you're craving a cocktail, step into Sternewirth, the inviting bar at Hotel Emma. 210-448-8300.
Where to stay
Located at the Pearl District's west end next to the San Antonio River, Hotel Emma (thehotelemma.com) is the ideal base for exploring the neighborhood. You'll be seduced the moment you walk into the industrial-chic lobby, which gracefully incorporates original brewery machinery. But that's only the beginning. From the two-story vaulted library to the handsome bar, and from the efficient staff dressed in guayaberas to the 146 elegant guest rooms, every detail feels perfect. Rooms start at $396.
AAA Travel Alert: Many travel destinations have implemented COVID-19–related restrictions. Before making travel plans, check to see if hotels, attractions, cruise lines, tour operators, restaurants, and local authorities have issued health and safety-related restrictions or entry requirements. The local tourism board is a good resource for updated information.