Many state parks safeguard historical sites and natural resources from being lost, but the Ozark Folk Center State Park in Mountain View preserves a whole way of life. Marking its 50th anniversary this year, the park celebrates Ozark music, crafts, and culture in north-central Arkansas.
From mid-April to late October, you can visit the Craft Village to watch more than 20 artisans at work, including potters, blacksmiths, candlemakers, and quilters. Also, walk through the Heritage Herb Garden to check out flourishing native plants, medicinal and culinary herbs, and vegetables.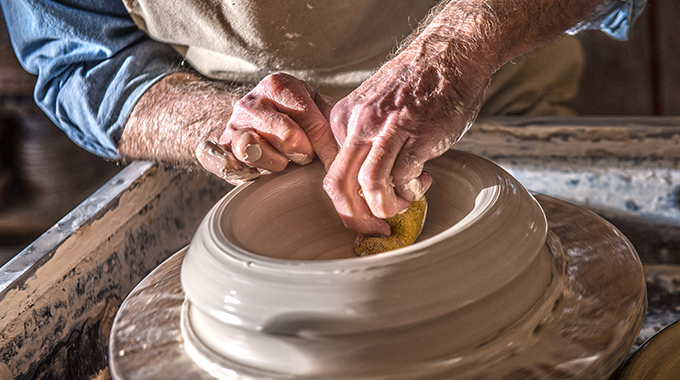 The heartbeat of the park is folk music, and musicians of regional and national renown perform in the Craft Village throughout the day and in the Ozark Highlands Theater on select weekends. Toe-tapping melodies on guitars, mandolins, dulcimers, and fiddles provide a window on the history—and future—of American roots music.
When hunger strikes, the Skillet Restaurant offers a menu of hearty fare, and you can settle in at the Cabins at Dry Creek for the night. Park admission, $15 for guests 13 and older; cabin rates start at $90.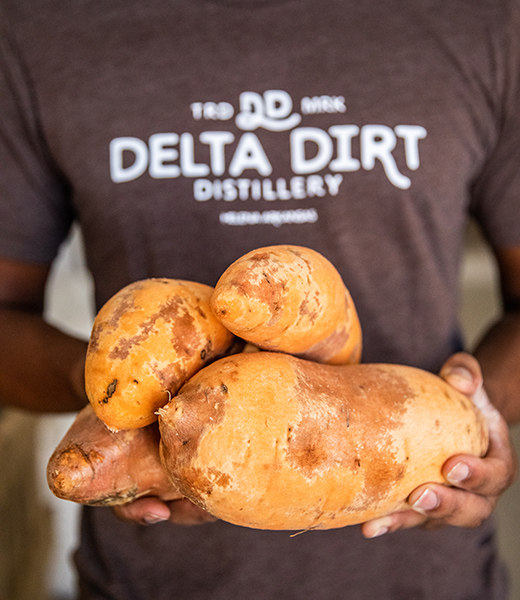 The Williams family has deep roots in the Arkansas Delta's fertile farmland, which has become a wellspring of spirits. Using grains and produce from their fields, the fourth-generation farmers opened Delta Dirt Distillery in Helena 2 years ago, and it's already garnering awards. The most recent accolade is its designation by Arkansas Tourism as the 2023 Tourism Attraction of the Year.
Arkansas' first Black-owned distillery, Delta Dirt began by focusing on vodka but has expanded to produce gin and other spirits. The distillery's Sweet Blend Vodka, crafted from farm-fresh sweet potatoes and corn, won the Double Gold award at the San Francisco World Spirits Competition in 2022.
On behind-the-scenes tours, observe the distilling process in action and learn how founders Harvey and Donna Williams strive to make a positive impact in the Delta. There's also a tasting room with a massive bar and convivial seating areas. Tour plus tasting tickets for guests 21 and older are $10; those not participating in a tasting are admitted for free. Be sure to designate a driver if you plan to drink alcohol.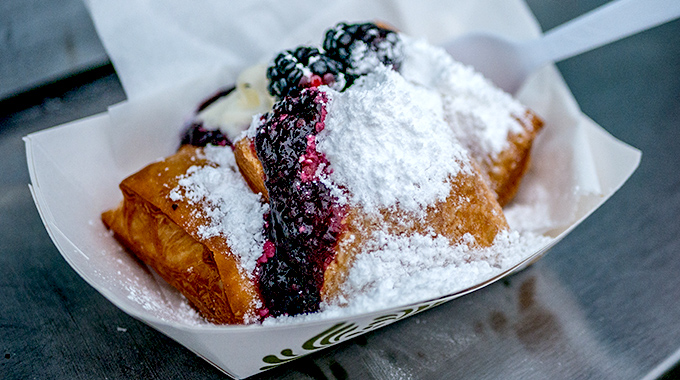 You're guaranteed to get some powdered sugar on your hands, face, and more than likely your clothes during the Beignet Fest, but that's a small price to pay to bring joy to your taste buds. Coming this year to the New Orleans City Park Festival Grounds on September 23, the annual event celebrates the decadent pastry that's a Crescent City culinary mainstay.
In addition to sweet beignets, you can choose from savory options filled with seafood, cheese, and sausage, as well as a host of other festival fare. Several local bands will take the stage while you treat your palate.
Shop for artwork, handmade clothes, and crafts in the Artist Market, and find activities for youngsters in the Kids Village. Proceeds support local children with developmental delays and disabilities. Tickets, $20 in advance and $25 at the gate for guests 13 and older; VIP tickets are available.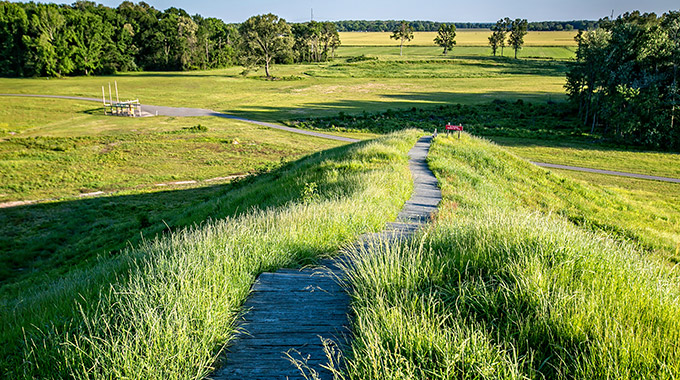 By hand and by basket, Native Americans transformed the landscape of northeastern Louisiana with mounds and other intricate earthworks. Now a 3,400-year-old site near the town of Pioneer has turned to cutting-edge technology so you can experience its fascinating history in a new way.
Poverty Point World Heritage Site has introduced a free mobile app with augmented reality and virtual reality components that bring the spot to life as never before. On a 2.3-mile trek through the grounds, you can hold up your phone at various locations to see how each area may have looked thousands of years ago. For instance, you can stand on Mound A (pictured), the tallest of the site's 5 mounds, and visualize the entire village when it was a thriving community and major trading hub in the Mississippi River Valley.
After your tour, stop at the visitors center to learn more and see a collection of ancient artifacts. The app, Explore Louisiana State Parks, will feature additional parks and historic sites in the coming years. Park entrance, $4 per person.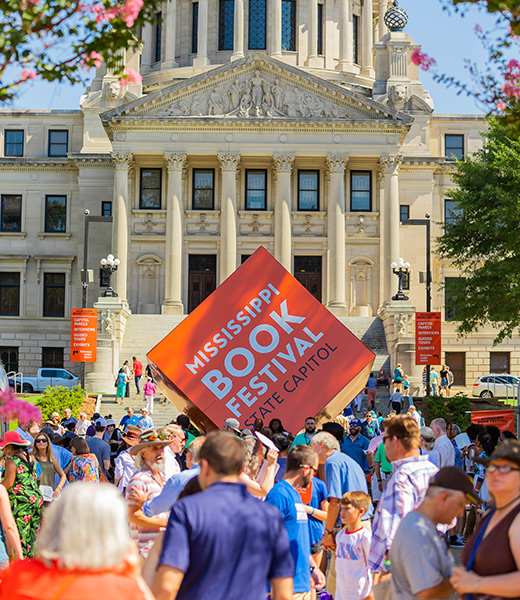 In this age of smartphones, TikTok, and an ever-expanding slate of streaming services, you could easily assume that the written word is dead. For convincing proof to the contrary, visit the Mississippi Book Festival in Jackson on August 19 when the Capitol, its grounds, and the surrounding streets become a playground for thousands of book lovers.
During this lively literary event, which runs from 9 a.m. to 5 p.m., peruse the offerings from a host of independent booksellers. More than 150 authors meet fans, sign copies of their works, and participate in thought-provoking panel discussions. Children's activities engage young readers, and tours of the Capitol delight architecture, politics, and history buffs. After nourishing your mind, satisfy your appetite at more than a dozen food trucks. Admission is free.