The country music superstar reveals her real life at Dollywood and in her hometown in the Great Smoky Mountains
I stood frozen in place at Dollywood's Chasing Rainbows museum in Pigeon Forge, Tennessee, mere inches from an artifact I didn't know still existed: Dolly Parton's famed coat of many colors (pictured below). Seeing it took me back to the Christmas when I was 10 years old and my sister gave me my first Parton record, Best of Dolly Parton, a 1975 compilation of hits. I nearly wore the record out playing "Coat of Many Colors." As I listened, I imagined what that coat must've looked like, raggedy pieces of fabric scraps sewn together.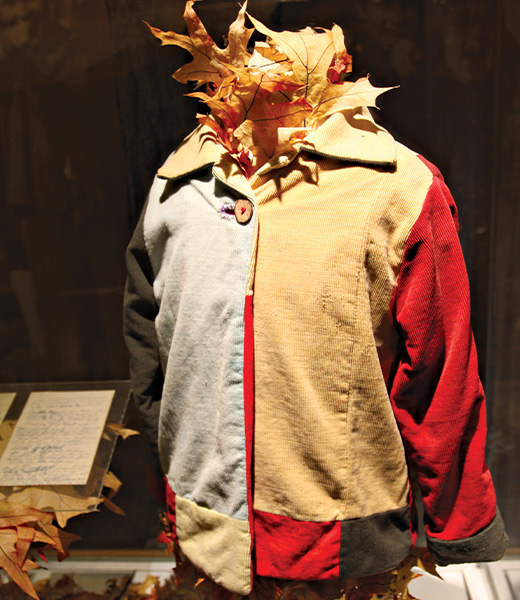 The little garment now housed in a glass case in front of me didn't match the image in my mind. It seemed pretty stylish, with larger pieces of red and golden-yellow fabric neatly sewn together and a button at the top. No wonder Dolly loved it enough to honor it in her music.
That personal piece of her life was one of many I glimpsed of my country music idol while on a mission one summer to eastern Tennessee, a culmination of my lifelong appreciation for all things Dolly. Raised in a country-music-loving family, I loved many of the singers of that era and genre, but it was Dolly's voice and folksy sense of humor that struck a chord with me. Her music seemed to come so easily to her, the way she plucked various stringed instruments with her long fingernails, so I learned some guitar chords and attempted to emulate her (minus the sequins and platinum hairdo).
Now I had the chance to discover the real Dolly. My friend and willing accomplice Alyson Stanton gleefully signed on to join the search. Our itinerary played like a country song: Two city girls hit the highway to trace the roots of their music idol, who grew up—and left her indelible stamp—among these hills, where her song "My Tennessee Mountain Home" invokes a life as peaceful as a baby's sigh.
But how does one go about finding Dolly? We headed to Dollywood.
Since putting her stamp on Dollywood in 1986, Dolly's mission has been to share her Smoky Mountains home with people from all over the world, to showcase the area's crafts and cultural heritage, and to bring jobs to her old hometown. The park features thrill rides, but visitors will also find a chapel, restaurants, and a working grist mill.
Alyson and I beelined for the Chasing Rainbows museum, where a Dolly hologram greeted us with the singer's bubbly enthusiasm. Our first sighting!
The museum took us on a musical tour of Dolly's life, from her childhood growing up with 11 siblings in a one-room shack to her rhinestone rise to country music queen. While I stood mesmerized by the coat of many colors, Alyson gravitated to the props and costumes from Dolly's role in the 1980 film 9 to 5.
Viewing other exhibits felt like strolling through Dolly's closet: cases filled with her form-fitting jumpsuits and papers scribbled with handwritten lyrics from her song catalog. Gazing at the wall plastered with her album covers, I found myself back in my old room, sitting on the floor next to my record player and belting out "Jolene" duets with Dolly.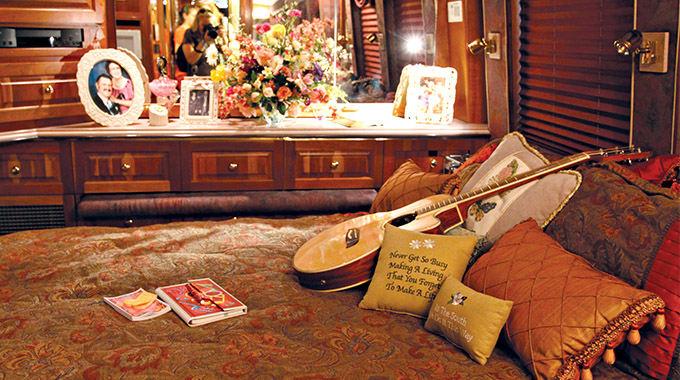 Outside, we climbed aboard Dolly's former tour bus, which became an exhibit here in 2009. Her bedroom (pictured above) and closet are fixed in time, her guitar resting casually on the bed and family photos placed throughout the room. In the tiny dressing room, I could picture Dolly applying a fresh coat of bright-red lipstick.
We ducked in to the park's DreamSong Theater, home of Dolly Parton's My People, My Music. "Her people" included her people: a sister, a brother, and two nieces, among other live musicians who interacted seamlessly with a prerecorded video of Dolly. It was as though we were sitting in her childhood home, listening to family stories of how Dolly would sing into a tin-can microphone and bribe her siblings to sing along with her.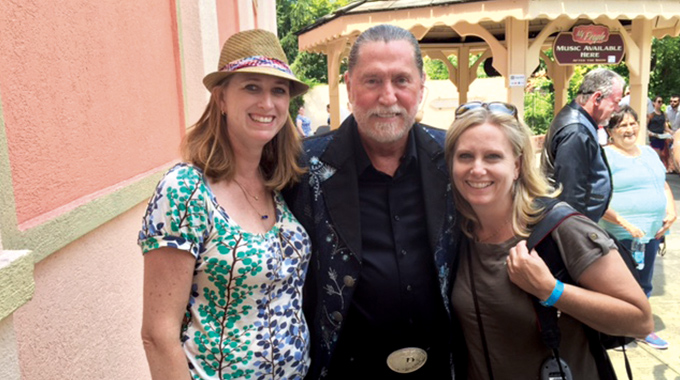 Dolly's brother Randy Parton (pictured above with author, right, and Alyson, left) greeted show-goers afterward, shaking our hands as though we were old friends. As he put his arms around us for a photo, I realized I was just one degree of separation away from my idol. My head swam as Randy told us about his favorite places in the Great Smoky Mountains, but when I opened my mouth to reply, only gibberish came out, as though I were a teenager trying to casually chat with Justin Bieber. Alyson rescued me, reminding me we had other Dolly sites to explore.
Going to Dolly's hometown
Seven miles north of Pigeon Forge we found quaint-as-a-quilt Sevierville, Dolly's hometown (population 17,000). County historian Carroll McMahan, who offers guided history and Dolly-themed tours, met us at Courthouse Donuts, housed in the town's former dry goods store. McMahan, who was a couple of years behind Dolly in school, told us that the Parton family had carved out a humble existence in the Appalachian foothills, so Saturday trips to town were a big deal. But even as a youngster, McMahan said, Dolly stood out.
"They were country people," he told us, "but she always set her own style." As we strolled, McMahan pointed out key sites, including the former bus stop where, the day after her high school graduation, Dolly boarded a bus bound for Nashville.
"She's most proud of her statue," he proclaimed, as we wandered up to the life-size guitar-embracing Dolly Parton statue (pictured above) perched prominently in front of the county courthouse. Could we count this as another sighting?
En route back to Pigeon Forge, we stopped at Frank Allen's Market and Grill, one of Dolly's favorite road-food stops, tucked inside a BP gas station. We asked the waitress what Dolly orders.
"Slaw dog" was her brief reply, so she served us the same as we took a seat at the counter. The tasty slaw was creamy and made with cabbage chopped into tiny bits, and I used the soft bun to sop up the overflow that had fallen out onto the plate. Locals zipped in and out, picking up orders and chatting up the waitresses. We spun around on the counter stools, keeping an eye on the gas pumps for Dolly's bus, just in case.
Dolly's country life
Dolly Parton was born in 1946 in the foothills of the Great Smoky Mountains, and as our drive took us deeper into the towering trees, it was easy to see why Dolly sings so sweetly of her homeland.
"Wow" was all Alyson could manage as we pulled over to soak up a view of the undulating hills that made me think of the ocean, with waves of foliage rolling across the valley.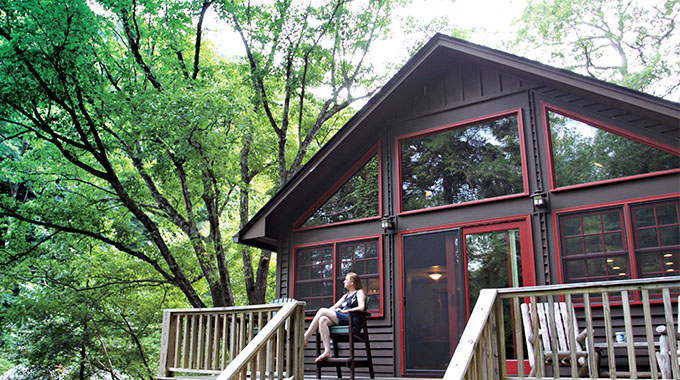 We put our feet up at our home for the night, the Historic Tapoco Lodge, which sits near the southern edge of Great Smoky Mountains National Park in Robbinsville, North Carolina. At the two-bedroom White Oak cabin (pictured above), tucked against a hill, Alyson and I stretched out on our back porch as twilight settled in.
There it is!" I sputtered, as a lightning bug drifted in and out like a tiny lightbulb losing juice. It was Alyson's first lightning bug, and we spent the rest of the evening shifting our gaze between the lights dancing among the foliage and the smear of stars pressed into the plum-blue North Carolina sky.
After learning that the Great Smoky Mountains host 30 species of salamanders, animal-loving Alyson convinced lodge employee James Huskey to take us "creek stomping" the next day.
"Salamanders should've been the national park animal instead of the black bear," Jim joked as he gingerly scooped a few of the slimy critters into Alyson's palm for us to study.
Afterward, we headed for the big views (and a steep, half-mile hike) atop Clingmans Dome, the concrete observation tower at 6,643 feet, the park's highest point, and gazed at the blue-haze-enshrouded hills that stretched between two states and more than a half-million acres.
Dolly day
We had danced all around Dolly, from theme park to national park; her home on wheels to her hometown. She doesn't often perform at her theme park, but for our last day, we scored tickets to a Dolly Parton charity concert. The thought of seeing her perform live gave me a fresh case of butterflies.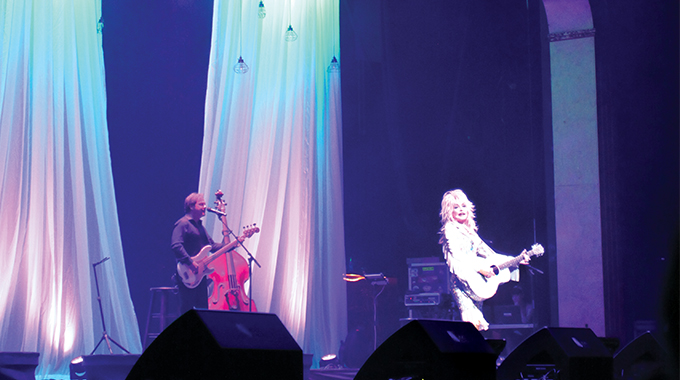 On a bare stage with a single spotlight, she casually strolled out in white fringe (pictured above) and began chatting in her cheerful twang.
"It's always good to be back at Dollywood," she told the audience, and proceeded to roll through the tunes stashed deep in my brain, from "Coat of Many Colors" to an a capella, chills-inducing version of her lesser-known "Little Sparrow."
Despite being "raised up here in one of these hollers," Dolly later told the audience, "it was always my dream to stand out on stage." And as she lived out her dream, she burned through a music store's worth of instruments, from acoustic guitar and dulcimer to piano and electric guitar.
The sound of her voice pulled me forward in my seat. I tried not to tear up, which I managed pretty well even during "Jolene." But when the lights came down for "My Tennessee Mountain Home," I blubbered like that Justin Bieber–crazed teenager again. To me, this was the best place to find Dolly, living out her dream—and mine, too.
"Sittin' on the front porch on a summer afternoon
In a straight-back chair on two legs, leans against the wall. Watch the kids a' playin' with June bugs on a string And chase the glowin' fireflies when evenin' shadows fall.
In my Tennessee mountain home
Life is as peaceful as a baby's sigh."