Besties celebrating their 20th friendship anniversary explore Boise, Idaho, and share their likes.    
"It's Boy-See, not Boy-Zee," said our Uber driver as we climbed into the backseat, headed toward our hotel for the weekend. Kasia, my best friend since third grade, shot me a wide-eyed look and I immediately cracked up, apologizing for my amateur pronunciation.
"Look at the leaves!" Kasia squealed. It was fall in Boise, Idaho, and just about every tree was bursting with color, something we California girls don't often see. But we hadn't come to Idaho just for leaf peeping. We'd come to celebrate two decades of friendship in a city that Travel and Leisure named one of the 50 best places to travel in 2018.
This wasn't our first out-of-state adventure together. Fresh off high school graduation, we road tripped to Utah's Zion National Park. After listening to hours of burned CDs, stopping for too many bathroom breaks, and staying at kind-of-creepy motels (sorry, Dad), we realized that not only did we love to travel, but we loved to travel together.
I vowed to the Uber driver never to mispronounce the town's name again (spoiler alert: I did). We settled into our room at the Inn at 500 Capitol—which we chose because it's close to all the action downtown—and reviewed some of the weekend's activities: shopping, hiking, wine tasting, and touring an eerie penitentiary. Yep, sounded right up our alley.
Fortunately, we both like to move at a brisk pace. In honor of our friendship anniversary, we trekked, toured, and tasted our way through Boise for three days to come up with our favorite 21 things to do and see in Idaho's biggest city.
1. Slip in to Press and Pony. Knowledgeable bartenders mix creative cocktails and perform a "fire show" hourly at this speakeasy-themed bar. (208) 949-7532; pressandpony.com.    
2. Sample local goods at the farmers markets.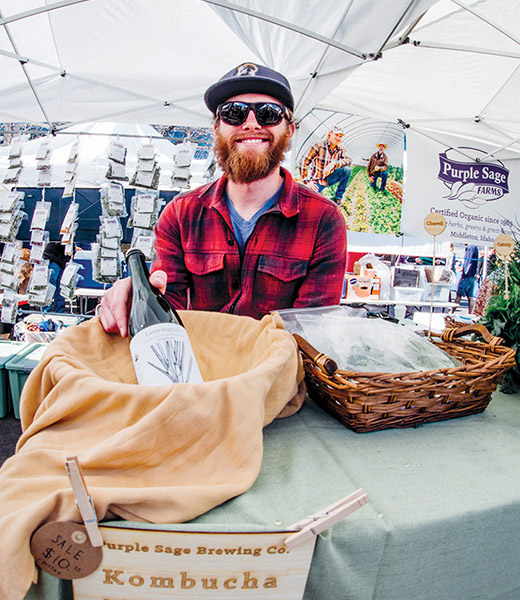 On Saturdays, Capital City Public Market and Boise Farmers Market offer local produce, freshly pressed coffee, and hot-from-the-grill breakfast options. After stopping by Purple Sage Farms for lemongrass kombucha, we saw a fill-in-the-blank chalkboard that read before i die… . "You have to write on that board!" Kasia said. I grabbed a piece of chalk and wrote visit all 50 states, something that's been on my bucket list since I was a kid. "Idaho, check!" I whispered.
3. Bike along the scenic Boise River Greenbelt. We rented bicycles from Boise Green Bike and pedaled along the 25-mile, tree-lined trail that winds past Zoo Boise, the Boise Art Museum, the Julia Davis Rose Garden, and the Idaho Anne Frank Human Rights Memorial. The journey triggered memories of Kasia and me riding our bikes in summer along the Newport Beach boardwalk. 
4. At Guru Donuts, enjoy a vegan treat almost too pretty to eat—almost. For breakfast one morning, we shared the Hipsterberry, with a glaze made from blueberries, blackberries, and organic lavender. (208) 571-7792; gurudonuts.com.
5. Shop at Mixed Greens. The store sells modern home decor, handmade cards, and jewelry. I bought a dainty, locally crafted necklace. (208) 344-1605; ilikemixedgreens.com.
6. Get spooked at the Old Idaho Penitentiary. It was a working prison from 1872 to 1973. You can tour solitary confinement and the gallows. "Here, put on this black-and-white–striped jacket," I told Kasia. We dressed up as inmates and took "cell-fies" behind bars in one of the exhibits. (208) 334-2844; history.idaho.gov.
7. Take a self-guided tour of the Idaho State Capitol Building. Browsing the permanent exhibit on the building's lower level, we learned that Lewiston was Idaho's original capital. legislature.idaho.gov/capitol.
8. Have a cheat day at Fork.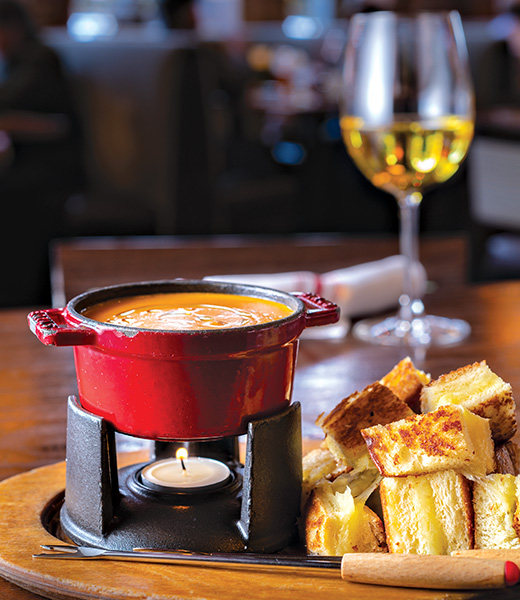 Start with the tomato-basil fondue and grilled cheese before perusing the entrée options. Our recommendations? The artichoke heart and ricotta ravioli with a creamy white wine–pesto sauce and the red wine–braised short ribs with carrot puree, horseradish cream, and brown-butter mashed potatoes. Still hungry? Finish your meal with warm butter cake topped with vanilla bean ice cream and Oregon berry coulis. (208) 287-1700; boisefork.com.
9. Browse the funky Record Exchange shop. You'll find vintage vinyl, CDs, and Boise-themed gifts. We almost bought T-shirts that said "Boy-See." (208) 344-8010; therecordexchange.com.
10. Come for the fries but stay for the burgers at Boise Fry Company. Choose from beef, bison, turkey, or vegan patties to pair with your choice of potato: russet, purple, sweet, or yam. We loaded up on sauces like roasted jalapeño ranch and blueberry ketchup. boisefrycompany.com.    
11. Strike a pose at Freak Alley Gallery.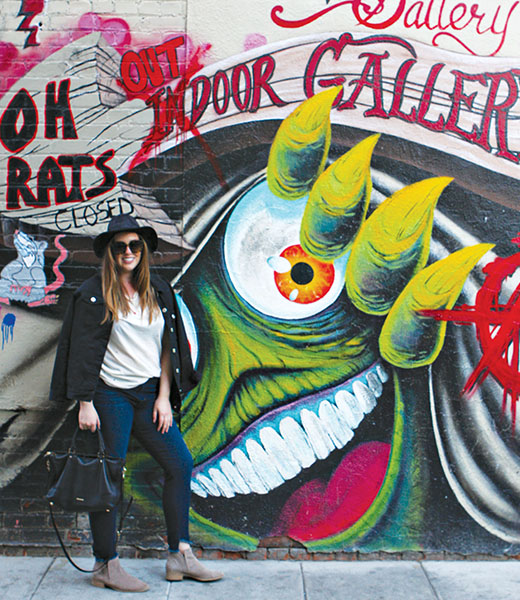 It started with a painting of a single doorway in 2002. It's now the largest outdoor mural gallery in the Northwest. "Take a picture of me in front of the Breaking Bad painting," said Kasia, who previously lived in New Mexico, where the show was set. Spend an hour or so here and note: You will make new friends. (208) 440-2412.
12. Take a treat from Chocolat Bar back to your hotel room for an indulgent late-night snack. We liked the crème brûlée and the huckleberry truffles. (208) 338-7771; thechocolatbar.com.
13. Stop for tacos at Madre Taqueria. Opened by James Beard Award semifinalist John Cuevas, this restaurant offers tacos with a twist. Our favorites were the Idaho spud and the braised short rib with kimchi tacos. (208) 432-1100; madrerestaurant.net.
14. Sip cider on the patio at Meriwether Cider House. Our picks were pineapple habanero, available only in autumn, and ginger root, served year-round. (208) 972-6725; meriwethercider.com.
15. Dig into savory sandwiches and soups at Tasso.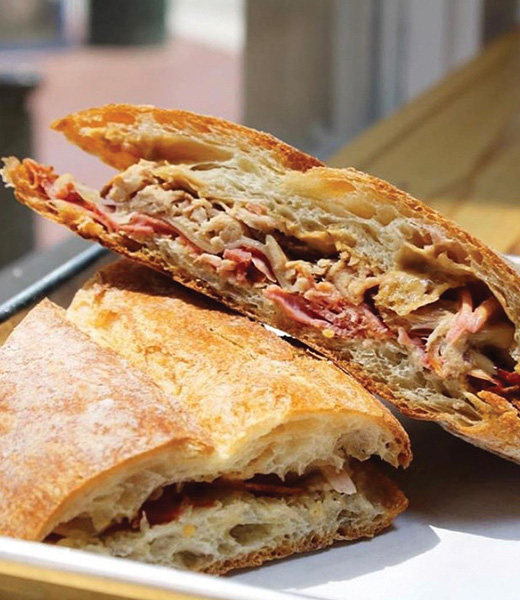 With its exposed brick walls, photo gallery, and minimalist furniture, it might just be the most beautiful sandwich shop you'll ever step inside. The Country Devil was heavenly: ham, pork, melted Gruyère, house-made mustard, and pickled onion. (208) 336-2555; tassoboise.com.
16. Chill out with a scoop (or three) from The Stil. The long line is worth the wait for house-made ice cream flavors such as churro, lavender berry, vanilla cream cheese, or brownie batter. We were pleasantly surprised to find booze-infused options—honey bourbon and butterscotch ale—on the menu. (208) 953-7007; ilovethestil.com.
17. Be eco-friendly at Bittercreek Alehouse's low-power happy hour. Dig into poutine, a Canadian specialty of French fries and cheese curds smothered in gravy and here topped with braised pork. Wash it down with hyperlocal Boise beers, all while conserving energy with dimmed lighting. (208) 429-6340; bittercreekalehouse.com.
18. Get in your steps with a hike to the top of Table Rock. The semi-challenging 8-mile round-trip trek is worth the effort for picturesque views of downtown Boise and beyond.
19. Grab an oat-milk latte and avocado toast. Then slide into a booth at Form and Function, a sleek, modern coffee shop. (208) 922-7824; formandfunctioncoffee.com.
20. Enjoy a cabernet on the Fido-friendly patio at Telaya Winery. In 2008, owners Earl and Carrie Sullivan left their careers to pursue their winemaking passion. The result? A tasting menu complete with full-bodied reds and crisp whites. It was the perfect place for Kasia and me to toast to our next 20 years of friendship. (208) 557-9463; telayawine.com.
21. Tuck yourself into the AAA Four Diamond Inn at 500 Capitol. The hotel offers cool in-room amenities such as a gas fireplace to keep cozy. Grab a complimentary beverage (local beer and wine) and snack before wandering through the lobby, which doubles as an art gallery. Rates start at $209, including Wi-Fi. (208) 227-0500; innat500.com.
Westways features editor Elisabeth Abrahamson is still deciding whether she liked the blueberry ketchup at Boise Fry Company.    
AAA Travel Alert: Many travel destinations have implemented COVID-19–related restrictions. Before making travel plans, check to see if hotels, attractions, cruise lines, tour operators, restaurants, and local authorities have issued health and safety-related restrictions or entry requirements. The local tourism board is a good resource for updated information.