Albuquerque balloon festival celebrates 50 years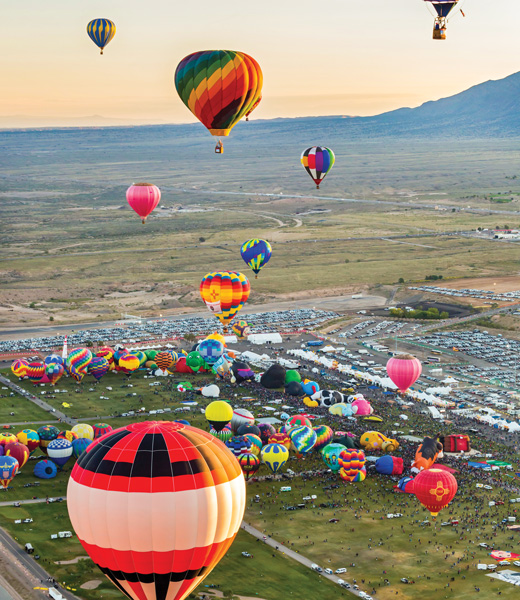 This fall, legions of volunteers, visitors, and local businesses will celebrate the 50th anniversary of the Albuquerque International Balloon Fiesta. The festival began modestly in 1972 with just 13 balloons. This year, some 650 balloons will take to the skies. Representatives from the 1972 fiesta will gather for a commemorative launch September 30 to kick off this year's event, which officially runs from October 1 to 9.
"The color and spectacle of hundreds of balloons in the air at the same time is breathtaking, exciting, and humbling all at once," said Thomas McConnell, who started piloting balloons in 1973 and who has served on the fiesta's board of directors since 1980.
For McConnell's family, like so many others in Albuquerque, the event has blossomed into a multigenerational tradition. His son Tom II now flies the family's balloon, Zia, and the elder McConnell and his wife, Mary, are part of the chase crew. Mary has knitted sweaters bearing the Zia emblem for each family member, adding up to 40 handmade sweaters over the years.
"The real miracle of Balloon Fiesta is that no one feels left out," Thomas said. Admission, $15. —Cynthia J. Drake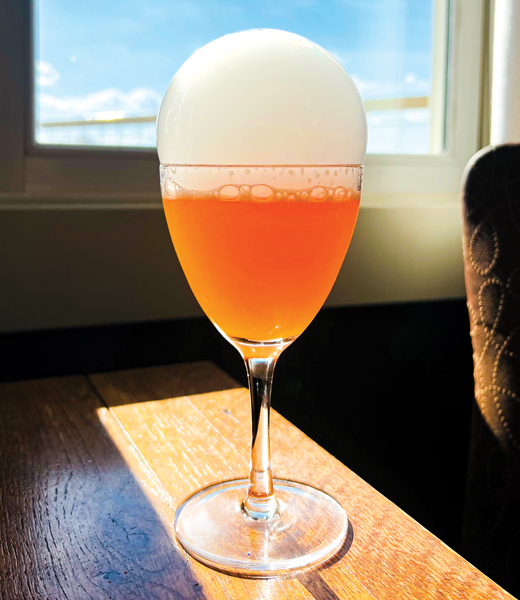 Hotel Parq Central in Albuquerque features a cocktail crafted for this golden anniversary in its Apothecary Lounge. The Aeronaut (bourbon, Aperol, lemon, and honey, topped with a citrus smoke bubble) mimics the appearance of a balloon floating to the clouds.

New life in Albuquerque's Old Town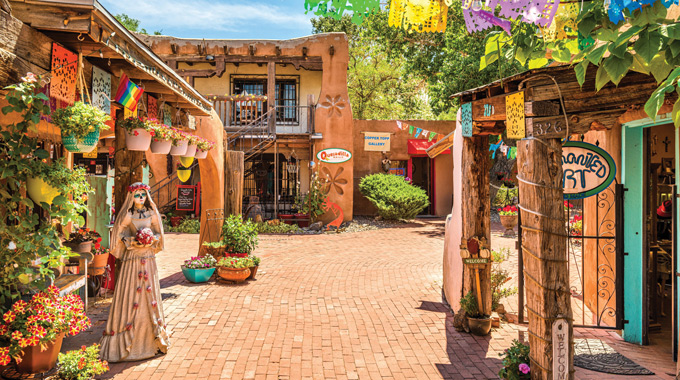 In October, Albuquerque's Old Town comes alive with tales of the dead. With a history that stretches well before Albuquerque's founding in 1706, the district has had plenty of time to come up with some good ghost stories. And while Old Town remembers its past this time of year, it has plenty of new inns, stores, and restaurants to celebrate, too. —Steve Larese
Search for things that go bump in the night with ABQTours' Ghost Tour of Old Town, beginning nightly at 8. Follow a guide who will regale you with true stories of Old Town's history. Learn about working girl Scarlett and her association with the Covered Wagon store, and hear the tragic tale of Victoria, who supposedly still roams the historic La Placita Dining Rooms, the longtime West Old Town restaurant that went out of business during the pandemic. Tickets, $30.
Or combine modern spirits with ghostly spirits and learn about Old Town's beerly departed on ABQTours' Haunted Pub Tour. 6–10 p.m. on select evenings. Must be 21 or older. Tickets, $20 (food and beverages not included).
Old Town's local shops sell everything from Breaking Bad souvenirs to New Mexico fine art. Don't miss Happy Hiker, which opened in 2021 and offers hiking gear, disc golf supplies, and a wide assortment of fun stickers.
At the new Fat T's barbecue, Albuquerque native Tylor Torres uses apple and white oak wood smoke to flavor his signature brisket.
The Desert Compass, the historic area's newest boutique lodging, brings a chic Southwest vibe to the heart of Old Town. Local artworks enhance the 6 adobe suites, a stock tank pool invites soaking, and the communal firepit is perfect for making s'mores. Rates start at $125.
A new visitors center and hotel on Route 66
The Duke City's historic stretch of Route 66 welcomes 2 newcomers. The renovation of a vintage motel adds a dash of pizzazz to the heart of town, while a new Mother Road–themed visitors center and museum anchors Albuquerque's west end of Route 66. —Eli Ellison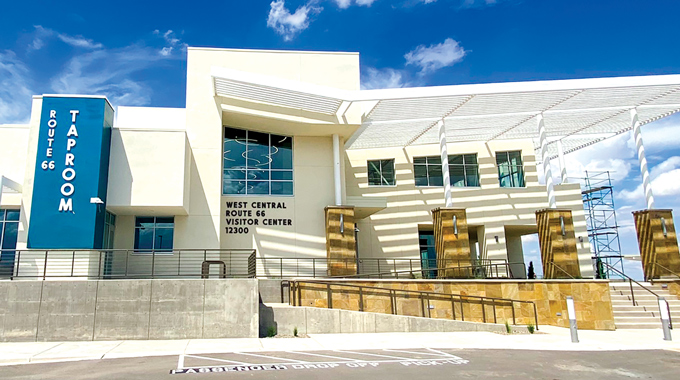 Prior to the construction of Interstate 40, Albuquerqueans approaching town from the west on Route 66 knew home sweet home was near when they crested Nine Mile Hill and first glimpsed the shimmering city 9 miles below. Today, the hill is home to the new $12 million West Central Route 66 Visitors Center, which as of press time was scheduled to open on September 30.
The new center packs a Route 66 history museum, a New Mexico Music Hall of Fame exhibit, and a brewery taproom into a sleek, 2-story facility with panoramic views of the Rio Grande Valley.

Outdoors, fronting the dusty west end of Central Avenue (Route 66), the center's Neon Sign Graveyard displays a half dozen beauties from the Mother Road's heyday. Local history buffs are guaranteed to geek out over the 1940s Mountain Lodge motel sign that's topped with a neon burro and rider.
Aspiring to be more than a tourist attraction for Route 66 fanatics, the center is equally focused on providing a long-needed gathering place for the west ABQ community. It plans to host performances in a small open-air amphitheater as well as food trucks and drive-in movie screenings. Admission, $5.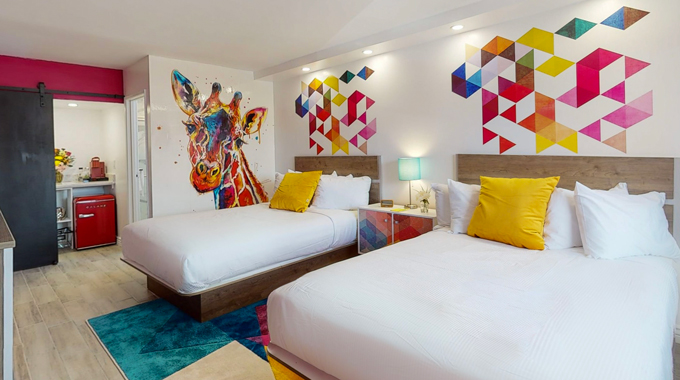 Looking to stay on Route 66? A circa-1958 former Travelodge motel was scheduled to wrap up a renovation in September and reopen as Hotel Zazz. The Nob Hill boutique property is angling to snare younger social media mavens and baby boomers alike. Its 49 rooms have gone from drab to Instagrammable fab—thanks to clean, minimalist decor splashed with the colorful pops of wall murals (think geometric patterns and abstract landscapes) by local artists.
Owner Sharmin Dharas envisions Hotel Zazz becoming "the living room of Nob Hill's east side" with the addition of a new courtyard event space that will host musicians and DJs. And don't miss the swank "hidden speakeasy," where you can get your craft-cocktail kicks on ol' 66. Rates begin at $180.

Railroad town redux in Santa Fe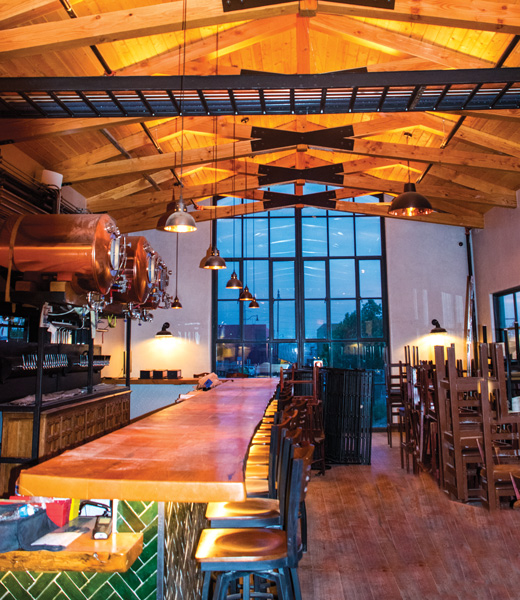 Thirsty riders pouring out of the Southwest Chief train on the outskirts of Santa Fe have a new spot to wet their whistle. This spring, Nuckolls Brewing Co. opened inside Lamy station's former freight room. Beneath the remodeled Spanish Mission–style depot's red-tile roof, cold suds flow from 6 different taps of New Mexico microbrews (Nuckolls aims to have its own beers available this fall). Though the initial food menu is limited to pub grub like hot dogs and Frito pies, there are plans to serve smoked-on-site barbecue.
The brewery is open from 2 to 8 p.m. Thursday–Sunday, with an open mic night on Saturdays and live music—from country to rock—on Sundays. At press time, Nuckolls was also set to open a new flagship taproom in the Santa Fe Railyard district; that location was scheduled to debut in late summer.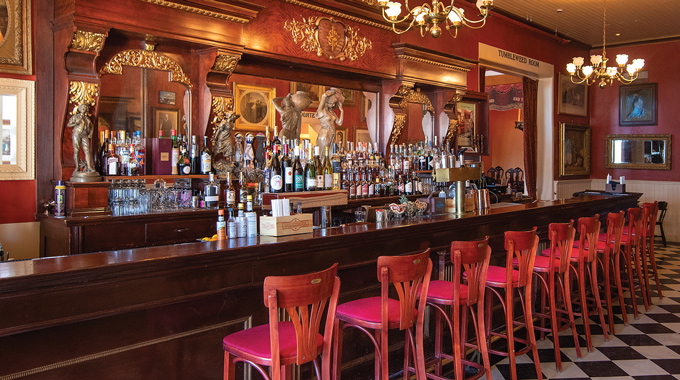 Across the road from the Lamy station, the Victorian-style Legal Tender Saloon & Eating House dates to 1881. Last year, the bar and restaurant reopened after a lengthy hiatus (partly due to the COVID-19 pandemic) with new manager/chef Sean Sinclair at the helm.
The narrow barroom, with its antique globe-lamp chandeliers, ornate woodwork, black-and-white checkered floor, and long oak bar, feels like an Old West time warp where you half expect to see a poncho-clad Clint Eastwood pull up a stool. In the adjacent dining rooms, Sinclair offers an upscale menu that mixes modern food trends (think crab spring rolls) and classics like prime rib and carne adovada. Open 3–8 p.m. Wednesday–Sunday. —Eli Ellison

Be sure to designate a driver if you plan to drink alcohol.