This innovative architectural city is full surprises.
Driving east into downtown Columbus on State Route 46, you'll cross the Robert N. Stewart Bridge, the first cable-stayed bridge of its kind in North America. With cables fanning out from red steel supports, it's just the first surprise of this innovative architectural city.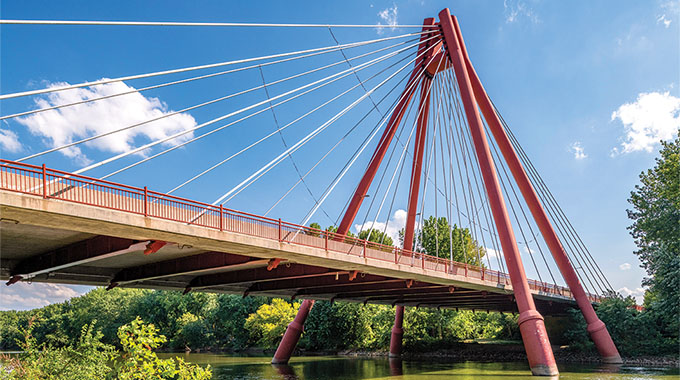 Say thanks to philanthropists J. Irwin and Xenia Miller and their vision for places where the people of Columbus live, play, and work. J. Irwin subsidized public buildings designed by prominent architects, and his commitment to excellence produced a showpiece city boasting works by luminaries. There are seven National Historic Landmarks and more than 70 notable buildings to admire and explore.
Architectural landmarks in Columbus, Indiana
Head over to Fifth Street, known as Avenue of the Architects, to find the Columbus Area Visitors Center, where you can buy a self-guided tour map or catch a popular guided architecture tour (reservations recommended).
Eliel Saarinen's First Christian Church, with a geometric design that embraces modernist principles, sits nearby.
I.M. Pei designed the Cleo Rogers Memorial Library across the street to reflect the church in its front doors. Completing the tableau, British artist Henry Moore's Large Arch graces the library's front terrace.
One block east is St. Peter's Lutheran Church, designed by Latvian architect Gunnar Birkerts. Topped by a 186-foot copper-clad spire, the church is a study in opposites, with angles and curves meeting in the building's geometry.
Farther north is the 1950s Miller House and Garden, one of the country's leading modernist homes. Showcasing the talents of architect Eero Saarinen (Eliel's son), designer Alexander Girard, and landscape architect Dan Kiley, the iconic home is accessible only by tour.
Eero's North Christian Church, a completely different modernist take from his father's First Christian design, is also northside.
Other don't-miss sites include the Bartholomew County Memorial for Veterans, where snippets of soldiers' letters carved into 25 towering limestone columns will break your heart.
Mill Race Park beckons with a bounty of attractions, such as a lovely covered bridge and several structures designed by architect Stanley Saitowitz that include an 84-foot observation tower and a tunnel-shaped arbor.
Where to shop in Columbus, Indiana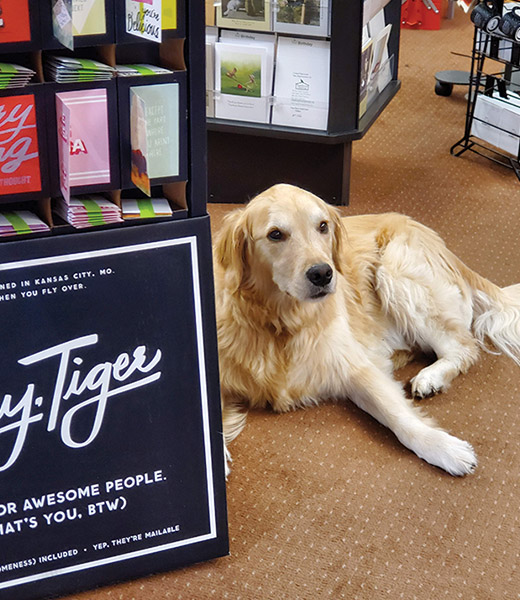 Viewpoint Books is a quintessential bibliophile's store.

Tri-State Artisans showcases about 50 local makers.
Where to eat in Columbus, Indiana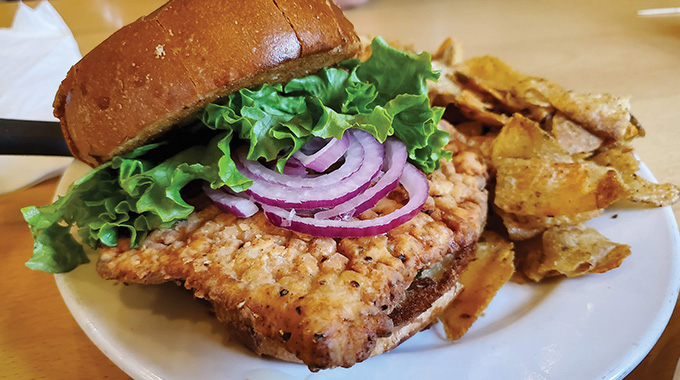 The 4th Street Bar and Grill is a great place to grab a burger. Shell out the extra buck for sweet potato fries served with a kicker of maple syrup and cayenne pepper.
The Savory Swine butcher shop offers custom sandwiches. 
No matter where you dine, dessert must be at Zaharakos, a restored 1900s ice cream parlor.
Where to stay in Columbus, Indiana
Modernists should opt for the Hotel Indigo Columbus Architectural Center, a boutique hotel styled to match the city's architectural atmosphere.
Traditionalists will want to bunk at the Inn at Irwin Gardens, J. Irwin's historical childhood home.