Our writer takes a cross-country journey to revisit an iconic, wanderlust-inducing novel.
Ogallala, Nebraska, is nobody's idea of a cultural capital. It didn't make any 2019 must-visit lists. Anthony Bourdain never filmed here. You won't see Instagram stars flocking to the town anytime soon. But I was happy to pull into Ogallala on a recent afternoon, because it's a place that has fueled my imagination since I first read Jack Kerouac's iconic 1957 novel, On the Road. 

The book's passages about the town and its surroundings aren't long, but they're classic Kerouac, brimming with ecstatic prose about the allure of the American countryside and the romance of the open road.
Traveling across the country, the narrator, Sal Paradise, arrives in Ogallala in the back of a flatbed truck with farm boys and freight-train-hopping hobos. Breathing in "the wild, lyrical, drizzling air of Nebraska," he's enjoying "the greatest ride of my life." 
I arrived in Ogallala not in a flatbed but a fuel-efficient Nissan sedan. I'd left San Francisco, alone, a few days earlier bound for New York City. And now, to borrow from On the Road, I was halfway across America, at the dividing line between the West of my youth and the East of my future.
Well, sort of.
I'd just turned 48—a year older than Kerouac when he died. My youth was receding all too fast in my rear-view mirror. As for my future, at least the immediate portion would be spent chasing Kerouac's enigmatic and enduring ghost. 
No other writer in American history has been so associated with the call of the road. Kerouac's seminal Beat Generation novel about two guys traveling the country in the late 1940s and early '50s propelled generations of Americans to light out on the nation's byways in search of adventure, inspiration, and salvation. Time magazine named it one of the best English-language novels of the past century. Critics have hailed it as one of the most influential books of all time. 
I was 19 the first time I read On the Road—a good three decades after it was originally published.
Like countless others who read the novel as they were coming of age, I was bowled over by its restless energy and its characters' yearning for experience—all heightened by Kerouac's rapturous prose. "The only people for me are the mad ones," he wrote in the most oft-quoted passage. Elsewhere, Sal's friend Dean Moriarty says, "Sal, we gotta go and never stop going till we get there." "Where we going, man?" Sal says. "I don't know," Dean replies, "but we gotta go." The book stoked my wanderlust in a way few others had. 
Kerouac died 50 years ago, and I took the semicentennial anniversary as an opportunity to see how his most famous book—and the road itself—have held up.
Kerouac loosely based the novel on his own travels, and in one of the early drafts—on the 120-foot scroll of paper he famously typed the manuscript on six years before it was published—he didn't even change the names. Only for legal reasons, it seems, did Jack become Sal and his friend Neal Cassady become Dean Moriarty.
Ironically, we learn early in the novel that Sal doesn't have a driver's license. He crisscrosses the country a few times in the book—hitching rides, aboard a bus, in a Hudson driven by Dean. I decided to roughly follow one of the routes—a northern track that would take me through some of Kerouac's favorite places.
Feeling the beat
I had little trouble deciding where to start. San Francisco appears a couple of times in On the Road, perhaps most memorably during a "warm, mad night" out grooving to jazz at a sawdust saloon at Folsom and Fourth streets. Of course, San Francisco is a different city today. The jazz saloon is no longer there. But you can find vestiges of the city's Beat past.
I headed to North Beach, the Italian immigrant neighborhood where Kerouac and his friends caroused, philosophized, and generally conspired to revolutionize American writing.
The literary scene's beating heart today is City Lights Bookstore, founded by poet Lawrence Ferlinghetti more than 60 years ago. I wandered its hallowed stacks, bought a couple of books, then strolled down the alley named for Kerouac next door, where a quote from On the Road swirls underfoot: "The air was soft, the stars so fine, the promise of every cobbled alley so great …"
I stepped into Vesuvio café and had lunch at Caffe Trieste, both old Kerouac haunts. Then I visited the two-story Beat Museum that celebrates the literary movement.
Memorabilia fills the place, from Allen Ginsberg's typewriter to one of Kerouac's jackets. The 1949 Hudson Commodore that director Walter Salles employed in his 2012 film adaptation of On the Road is parked inside. 
I told owner Jerry Cimino that I was embarking on a Kerouac-inspired cross-country road trip. He wasn't surprised. Kerouac pilgrims from around the globe stop in to the museum all the time. "They're on a quest," he said. "They're reading On the Road. They're looking for the vibe." Cimino gets it. He's made the cross-country journey a couple of times with John Allen Cassady, the son of Kerouac's travel buddy, Neal.
"On the Road is a love letter to America," Cimino said. "The world had just suffered through World War II. All of a sudden, gas is cheap, after having been rationed for the war. So let's drive."
In his view, the impact of Kerouac and the Beats can't be overstated. They inspired Bob Dylan and The Beatles (who, Cimino pointed out, took the spelling of their name from the Beats). The Doors might never have existed if Kerouac hadn't penned On the Road, the band's keyboardist, Ray Manzarek, once wrote. Other well-known fans—Jimmy Page, Tom Waits, Van Morrison, and Patti Smith among them—have all stopped in to the museum to pay tribute.
Kerouac might even have inspired some of the very tech entrepreneurs who would transform San Francisco into a city of $15 avocado toast and dot-com millionaires, not least Apple cofounder Steve Jobs. The "Think Different" Apple ad in which he intones, "Here's to the crazy ones, the rebels, the troublemakers …" echoes the "mad ones" passage from On the Road.
The ad copy wasn't written by Kerouac, even though it's often attributed to him. It was a brilliant evocation of the author and his work by a new kind of revolutionary.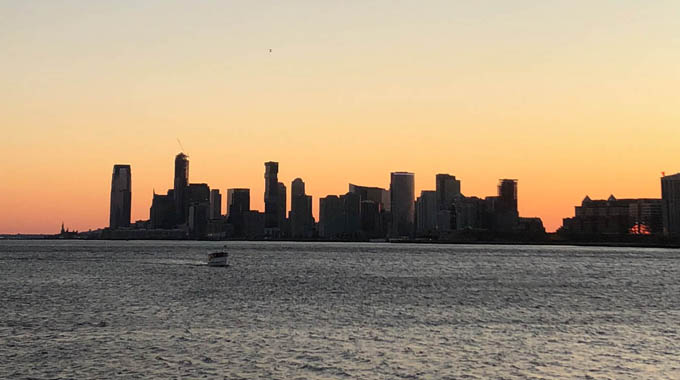 I left the Bay Area under a big blue sky, zooming east on Interstate 80, winding into the Sierra, and following the Truckee River into Reno. The next day, I filled up the gas tank in Elko, Nevada, and crossed into Utah. Just after sundown, the vast Bonneville Salt Flats spread out alongside the highway. In the fading light, the white surface took on an ethereal blue hue, and the horizon lit up with glowing pink streaks. 

Kerouac and his characters hadn't actually traveled I-80. The Interstate Highway System was launched in 1956, five years after Kerouac finished the original On the Road scroll. Yet I-80 follows the old Lincoln Highway and adheres pretty closely to a route Kerouac describes in the book. From Salt Lake City, I drove east into Wyoming. Strong winds buffeted my car, and I pulled into Laramie for a late lunch before making a beeline to one of Kerouac's most beloved cities. 
Grooving to the vibe
Kerouac lived in Denver for a spell, and Neal Cassady grew up there. The Mile-High City plays a central role in On the Road—at one point Sal describes it as "looming ahead of me like the Promised Land."
I checked into the historic Brown Palace Hotel and walked a few blocks to Larimer Street, where Sal arrives, buoyant, early in the novel: "I stumbled along with the most wicked grin of joy in the world among the old bums and beat cowboys." Today, Larimer is a popular dining and shopping strip. I didn't spot any cowboys. But I ended the night at El Chapultepec, the city's oldest jazz club, where Kerouac reportedly liked to hang out in a booth by the front door. 
A glowing neon green cactus hung over the entrance. Inside, the place was hopping with twentysomethings, gray-haired jazz cats, and all manner of humanity in between. I ordered a Modelo and listened to a jazz band fill the room with drums, keyboard, and blistering sax. I could almost imagine Kerouac here now, and Neal yelling at the horn player, "Blow, man, blow!" I'd found the vibe.
Reading the landscape
The next day I zoomed into the cornfield-flat expanses of Nebraska. I was coming to realize one of the great pleasures of crossing the country by car: watching the continent's most defining geological features unfurl at eye level.
Kerouac understood. While riding a bus through the Southwest, Sal gives up on trying to read a book: "I preferred reading the American landscape as we went along. Every bump, rise, and stretch in it mystified my longing." 

A whistling freight train was rumbling through Ogallala as I pulled into town. I doubted that the soda fountain Kerouac mentioned in On the Road was still around, but I wanted to stretch my legs.
As soon as I parked among the old brick buildings, I spotted a small bookstore and strolled inside. Owner Chris Bradley was standing behind the counter and we got to talking.
"Ogallala's dying," he said. 
Bradley is 66, and he'd grown up in the town, so he'd seen the changes. The interstate highway arrived in the '60s and took a toll. "The bypass went out 3 miles west of town," he said. "Before then, people would drive right through here and say, 'Oh, look, books!'"
Then the Internet came along, with the likes of Amazon.com. But Bradley was hanging on. He'd even written a couple of novels. "That's why, when I get a chance to talk to another writer, I love to do it," he said. "My books are set in a nameless small town in Nebraska." He laughed: "Imagine that." 
I had miles to go to reach Omaha by nightfall. I bought a copy of Summer of '65—Bradley's first book—and returned to the road.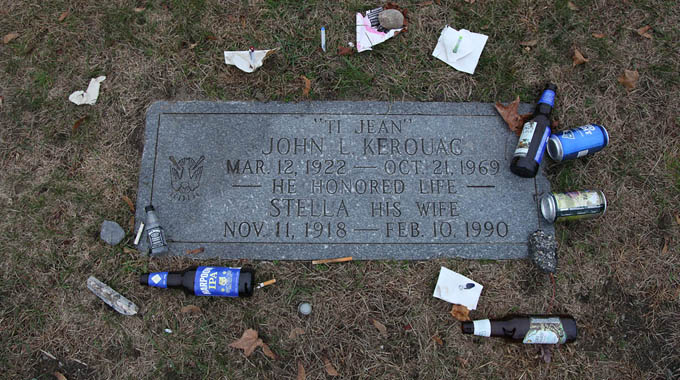 By the time I reached Chicago, I'd been rereading On the Road for days, and I was feeling uneasy. Kerouac was writing about a world where segregation was still legal, after all, and where #MeToo was 70 years away. You don't have to look hard in its pages to find misogyny, homophobia, and racism.
In a recent essay in The New Yorker, Amanda Petrusich wrote of On the Road, "The books we read as teenagers—the ones that get inside us and rearrange things—are sacred, even when they're plainly imperfect." How true. Take the passage I mentioned earlier:

"Sal, we gotta go and never stop going till we get there."
"Where we going, man?" 
"I don't know, but we gotta go."
As a wide-eyed teenager, I'd loved that. I thought it made perfect sense. Just shut up and go, Sal! But now pushing 50, I couldn't help but cringe a little. When you read such passages later in life, writer and book critic David L. Ulin points out, all the frantic movement seems "less exuberant than desperate."
I'd come to see On the Road much the way I viewed some of the songs I adored in my youth: I loved their melodies. They were a part of me. But could I get behind every lyric? Not so much. (Consider: Toto's "Africa.")
The price of success
Kerouac published On the Road to largely rave reviews. The success turned him into a celebrity, but his life unraveled. Casual fans confused the author—by all accounts a somber guy most comfortable playing the role of observer—with the wilder Neal Cassady. The attention wore on Kerouac. By the time the book hit big, he was living a quiet, domestic life at home with his mother. And he was drinking too much.
Fame took a toll. In October 1969, while at home in St. Petersburg, Florida, he began vomiting blood. He died early the next morning. Doctors blamed internal bleeding and cirrhosis of the liver. His body was returned to his hometown of Lowell, Massachusetts, and he was buried at Edson Cemetery. 
That would be my next stop. From Chicago, I zipped north across I-90, spent a cold night in Buffalo, and then, late in the next afternoon, rolled into Lowell.
I drove through the cemetery's open gates and wound past hundreds of headstones until I arrived at his grave site. I had the place to myself. A simple headstone read: "John L. Kerouac. Mar. 12, 1922–Oct. 21, 1969. He Honored Life". His third wife, Stella, shares the plot.
Admirers had left empty beer bottles and folded notes. "Thank you for your inspiration," one said. "You will never be forgotten," read another. A second headstone several feet away inscribed with a classic Kerouac line seemed a more fitting tribute: the road is life.
The final stretch
My trip was winding down. The next morning, I hightailed it south to New York City to end my journey at the spot where On the Road itself ends.
In a lyrical passage on the last page, Kerouac writes: "So in America when the sun goes down and I sit on the old broken-down river pier watching the long, long skies over New Jersey and sense all that raw land that rolls in one unbelievable huge bulge over to the West Coast, and all that road going, all the people dreaming in the immensity of it …" 
I'd always loved that. So in the evening, I caught a taxi to Chelsea and walked out on a concrete pier over the rippling Hudson. A cold wind blew under a cloudless sky.
By the time the book was published, the country Kerouac described was disappearing. Shortly before he died, he lamented the changes that had come to the road: "You can't do what I did anymore." 
That may be true. But you can still light out in search of adventure.
You can groove to jazz in Denver and breathe in the wild, lyrical, drizzling air of Nebraska. When you reach New York City, you can still sit on a river pier as the sun sets over New Jersey and sense all that raw land rolling over to the West Coast, and all that road going.
And after driving 3,563 miles of it, you might even decide that, for all its imperfections, you love the country that you just crossed—and that many of the changes that have transformed it are, really, for the better.
Jim Benning is a features editor for Westways.
Roadside discoveries

Word After Word Books, Truckee, California: I love independent bookstores with a strong sense of place, and Word After Word in downtown Truckee is just that, packed with thoughtfully curated books, including titles about the Sierra and Tahoe. 530-536-5099. 
Born in a Barn, Laramie, Wyoming: When I told locals I wanted to eat lunch in a very Wyoming kind of place, they pointed me to Born in a Barn for the chicken wings and sauces that include pineapple Sriracha and "angry buffalo." Good stuff. 307-460-3604. 
American Writers Museum, Chicago: Opened in May 2017, the Michigan Avenue museum celebrates the nation's great writers. You can even read an electronic version of Kerouac's On the Road scroll. 312-374-8790.