Check out these Oscar-winning settings in Los Angeles and beyond.
In the film production biz, Los Angeles–area locales often stand in for someplace else. The 1958 gem Touch of Evil even went so far as to have Venice Beach double as a U.S.–Mexico border town. But we find that Southern California iconic landmarks shine brightest when playing themselves, as they do in this roundup of movie locations—and you won't need a blockbuster budget to visit them. We cast a spotlight on movies that were either past Oscar winners or nominees.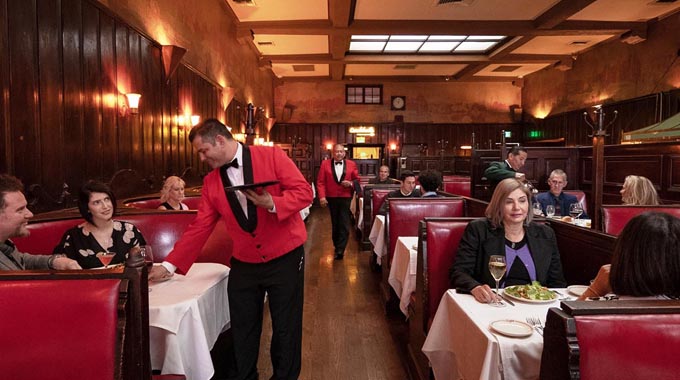 1. Musso and Frank Grill
Scoring 10 Oscar nominations and winning two (Best Supporting Actor and Best Production Design), Quentin Tarantino's Once Upon a Time...in Hollywood features scenes shot in this legendary restaurant. If seeing Brad Pitt (a Best Supporting Actor nominee) drinking at Musso's bar in the movie sparks déjà vu, it's because you've seen him there before—alongside George Clooney in a scene from 2001's Ocean's Eleven. 
How to see it: You can dine at this Tinseltown classic—once a favorite of Orson Welles and Humphrey Bogart—but dinner doesn't come cheap (the juicy rib eye will set you back $42). The lunch menu offers lower prices. Or act like an underemployed Hollywood screenwriter by skipping the food and sidling up to the bar for one of Musso's signature martinis. 6667 Hollywood Boulevard, Hollywood. 323-467-7788.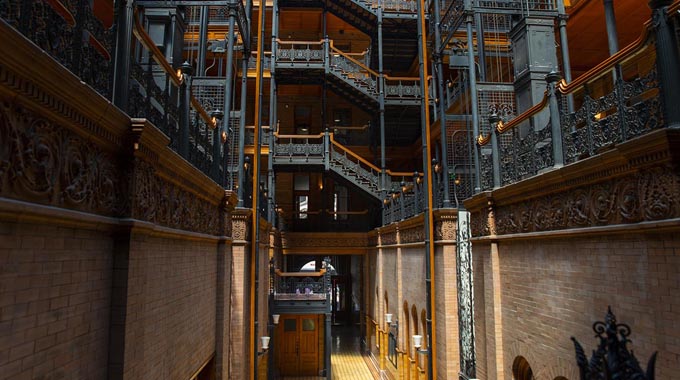 2. Bradbury Building
This downtown Los Angeles architectural wonder has been hosting film shoots since the 1940s. And with good aesthetic reason. The 1893 building's interior Victorian-style court—with its ornate ironwork, open-cage elevators and tented-glass skylight—is pure film noir. Perhaps the Bradbury's most famed silver-screen appearance was in the 1982 sci-fi cult classic Blade Runner (Oscar nominated but no wins). But if we're talking Oscar cred, it can't touch the building's turn in Best Picture winner The Artist (2011).
How to see it: The Bradbury is open daily to the public. However, you won't be permitted to ride the elevators or climb stairs to the upper floors. If you'd like to visit on a guided tour, the Bradbury is a featured stop on the Los Angeles Conservancy's Historic Downtown Walking Tour (Note: The tour doesn't offer any additional building access.) 304 S. Broadway, Los Angeles. 213-623-2489.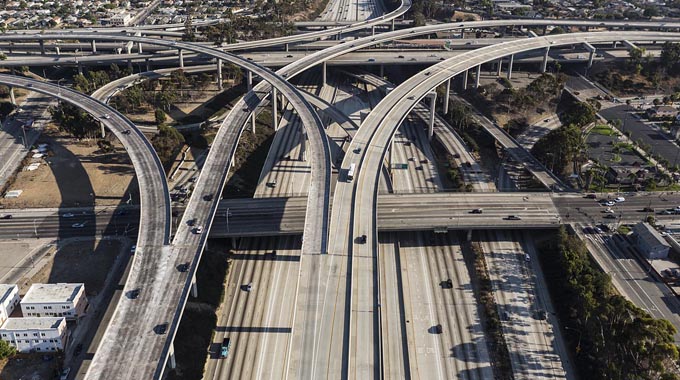 3. Express Lanes Flyover Ramp on the Interstate 105–Interstate 110 interchange
The Best Picture nominee La La Land (2016) opens with a spirited song-and-dance number ("Another Day of Sun") in the middle of a Los Angeles freeway. The film's production crew had mercy on weekday commuters who travel the I-105 and I-110 freeways. They closed this interchange on a Saturday and Sunday in 2015 to film a huge cast of pro dancers and extras bustin' moves in reported 110-degree heat.
How to see it: Take a friend, and drive in the carpool lane on the eastbound I-105 freeway, then transition to the northbound I-110 freeway to motor through the elevated film locale. Bonus: As you drive, you'll have a sweeping panoramic view of downtown L.A. Though it should go without saying, for everyone's safety do not stop on the overpass to take pictures.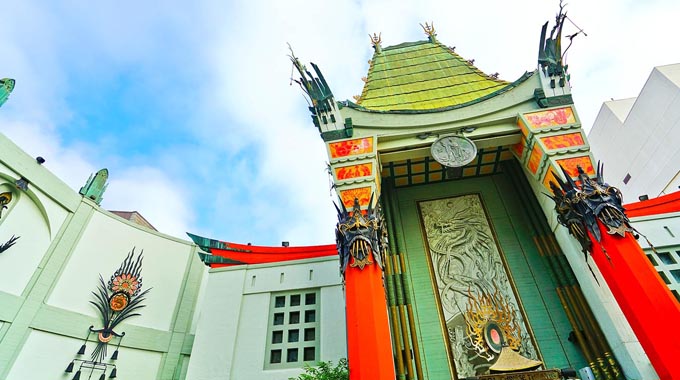 4. TCL Chinese Theatre (a.k.a. Grauman's Chinese Theatre)
With its forecourt of celebrity hand and footprints set in cement, Hollywood's most iconic movie theater has not only hosted the Academy Awards ceremony and countless film premieres, it also has been a celluloid star itself. The Oscar-winning 2004 Howard Hughes biopic, The Aviator, features Leonardo DiCaprio (as Hughes) in scenes shot in the theater's lobby. You may also have seen an explosion rip through Grauman's in 2013's Iron Man 3.
How to see it: After rubbing elbows with the tourist throng in Grauman's forecourt, buy a ticket to see a film in this lavish 1927 movie palace. Even if the picture stinks, it's worth the price to ogle the theater's kitschy Asian decor and be wowed by the IMAX laser-projection screen. 6925 Hollywood Boulevard, Hollywood. 323-461-3331.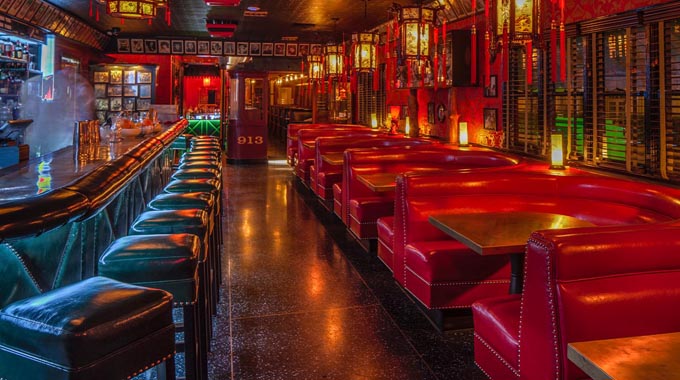 5. Formosa Café
A memorable scene in the 1997 neo-noir drama L.A. Confidential (a winner of two Oscars) follows Los Angeles Police Department detectives played by Guy Pearce and Kevin Spacey into this landmark 1939 watering hole as they attempt to roust a woman they think is a prostitute made up to look like actress Lana Turner. 
How to see it: In 2019, The Formosa emerged from a $2.4 million restoration that left the Chinese-themed bar and restaurant looking spiffier than ever. In the main barroom, the horseshoe-shaped booths are named for once-upon-a-time celebrity patrons. Naturally, you'll be requesting the Lana Turner booth. 7516 Santa Monica Boulevard, West Hollywood. 323-850-1009.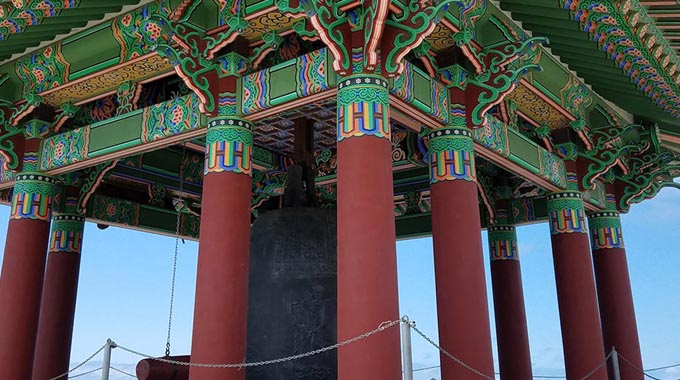 6. Korean Bell of Friendship
In 1995's The Usual Suspects, the titular characters (including Best Supporting Actor Oscar winner Kevin Spacey) hold a criminal meeting next to this massive bronze bell housed in a pagoda-like pavilion atop a hill in San Pedro. A 1976 goodwill gift from the South Korean government to the U.S., the bell weighs a whopping 17 tons.
How to see it: The bell's Angels Gate Park perch has paved walking paths, sweeping ocean views, outdoor basketball courts, and a pint-sized children's playground. To hear the bell ring, plan your visit for noon on the first Saturday of the month. 3601 Gaffey Street, San Pedro. 310-548-7705.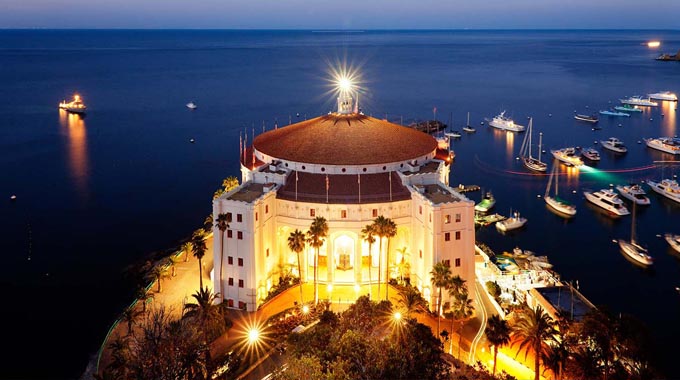 7. Catalina Casino
Chinatown (1974) trails private eye J.J. "Jake" Gittes (Jack Nicholson) all over Southern California as he tries to crack a case. One of his investigative trips lands him on Santa Catalina Island, where we see the town of Avalon's famed 1929 Catalina Casino building splashed across the big screen. A bona fide modern classic, Chinatown received 11 Oscar nominations but surprisingly won only a single trophy for Best Original Screenplay.
How to see it: Though this circular art deco–style beauty is named "casino," it has never offered gambling of any sort. For decades, movie buffs could catch a flick in the casino's Avalon Theatre, but its days as a first-run movie palace ended in late 2019. What can you see? The casino offers daily 45- and 90-minute walking tours showcasing the landmark's marvelous architecture. 1 Casino Way, Avalon. 877-778-8322.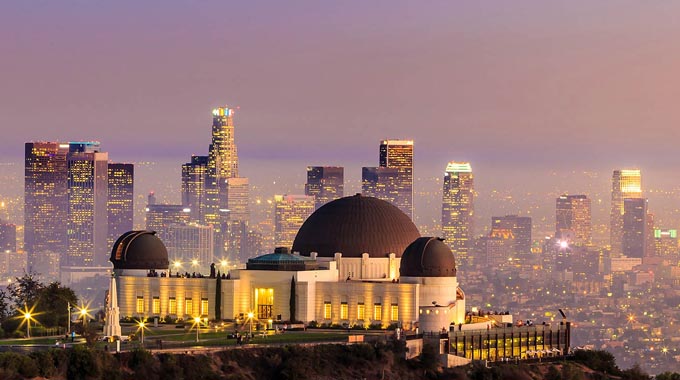 8. Griffith Observatory
Modern moviegoers recognize L.A.'s iconic 1935 observatory as a backdrop for La La Land (2016). But for old-school film buffs, it's best remembered as a major player in the 1955 James Dean classic, Rebel Without a Cause. The latter received three Oscar nods, including Natalie Wood and Sal Mineo for supporting roles, but came up empty-handed.
How to see it: In La La Land, Ryan Gosling and Emma Stone's nighttime visit to the observatory is an homage to Rebel, and among the locations shared by both reels is the building's lobby rotunda with its celestial-mythology mural and massive Foucault pendulum. Outside on the west lawn, pose for photos next to the bronze memorial bust of James Dean with the Hollywood sign in the distant background. 2800 E. Observatory Road, Los Angeles. 213-473-0800.
Eli Ellison is a Southern California-based travel and pop-culture writer whose TV is glued to Turner Classic Movies.