Didn't plan ahead? You might still be able to score a spot at one of these 10 scenic campgrounds. 
If you're planning a last-minute getaway, you might be disappointed to find that many popular campgrounds in California are booked up months in advance. But don't pack away your camping dreams just yet.
Newer and less-visited campgrounds such as the ones listed here might still have RV and tent sites available. While they may not be exactly where you wish to be, they can serve as base camp for visiting neighboring state or national parks and other popular destinations. (These 5 tips can improve your chances of scoring a great campsite at the last minute.)
1. Kamp Klamath
RVs, $45; tents, $35. 707-482-0227; reservations, kampklamath.com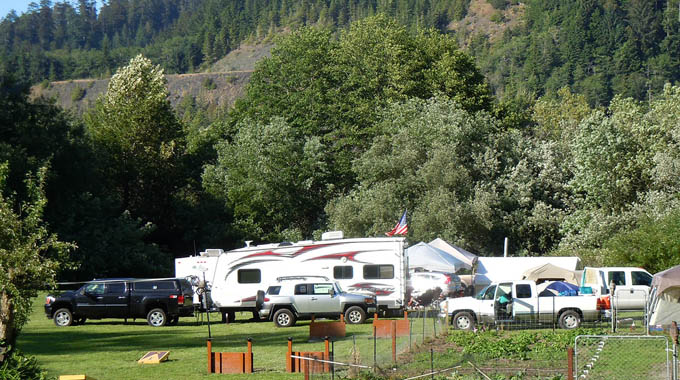 This rustic Bigfoot Country campground is lush with ferns, moss-covered red alders, and grassy tent sites and gravel sites for RVs. You can even tent camp on an island in the Klamath River, which is popular with salmon-fishing enthusiasts. Majestic Fern Canyon in Prairie Creek Redwoods State Park, where the first Jurassic Park was filmed, is minutes away. Jedediah Smith Redwoods State Park is also close by. Park owner Aaron Funk will entertain you with stories about Bigfoot sightings in the area. Enjoy the Saturday night all-you-can-eat chicken and salmon barbecue buffet ($19.95) through Labor Day, with organic stir-fry vegetables and salad from the campground's garden. 
2. Lassen RV Resort
RVs, $39; tents, $25. 530-336-5657; reservations, lassenrvresort.com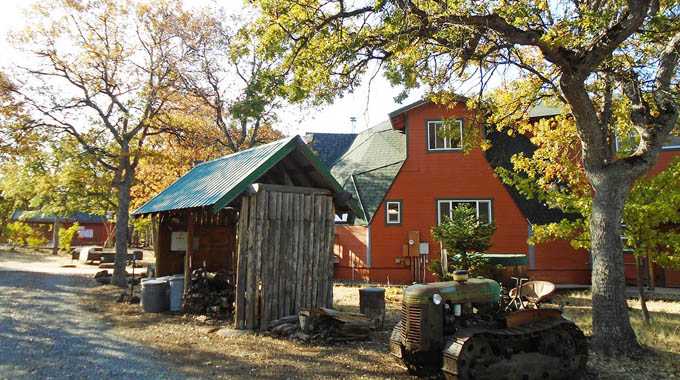 This resort, hidden in a dense grove of pine and oak trees near McArthur, has spacious RV and tent sites. It's a base camp for visiting Lassen Volcanic National Park, Lava Beds National Monument, McArthur-Burney Falls State Park, and remote Ahjumawi Lava Springs State Park, which is accessible only by boat or kayak. On Saturdays and Sundays, enjoy the on-site bistro run by park owners Jasmin and Phil Martin. The menu features delicious "world fusion" dishes made with locally sourced grass-fed beef, organic chicken, and fruits and vegetables. Try the rib eye steak with a Mexican rub and garlic lime butter or the creamy gorgonzola organic pasta with shrimp, wild-caught Alaskan cod, or organic chicken.
3. Coleville/Walker KOA
$4–$80 for RVs and tents; motel rooms start at $75. 530-495-2255; reservations, koa.com/campgrounds/coleville
On US Route 395 south of Topaz Lake, this Eastern Sierra campground at the foot of the Centennial Bluffs can be a base camp for day hikes, fishing, ATV rides, or a day trip to the historic ghost town of Bodie. The property also has a 20-room motel with several adjoining units to accommodate large families. Some units have kitchens. Amenities include a dog park and camp store. If there's a full moon, be sure to drive 11 miles north after sunset to watch it rise over Topaz Lake.
4. Lower Lee Vining Campground
$14. 760-873-2500; information, recreation.gov/camping/poi/245694
With a location at the base of Tioga Pass about 4 miles west of Lee Vining, this is a great off-the-grid base camp for visiting Mono Lake, the Yosemite high country, the Eastern Sierra, and Bodie. With RV and tent sites close to aspen-lined Lee Vining Creek, you can listen to the rushing water as you drift off to sleep. It's rustic, with portable toilets and bear lockers to store your food. Try Latte Da Coffee Café in Lee Vining for tasty coffees and house-made pastries. Nicely's restaurant is a traditional coffee shop that serves breakfast, lunch, and dinner. You can't reserve these campsites online. You pay when you get there, assuming a site is available.
5. Silver Lake Campground
$20–$45 for RVs and tents. Reservations, recreation.gov/camping/campgrounds/234330.
This Forest Service campground on the June Lake Loop often has a few sites available, even in summer. Amenities include flush toilets and bear-proof lockers to store food. The scenic setting borders aspen-lined Rush Creek and 97-acre Silver Lake. Boat rentals, hiking trails to backcountry lakes, and horseback-riding opportunities are close by.
6. Yosemite Lakes RV Resort
RVs, $75–$85; tents, $54–$58. 209-962-0103; reservations, rvonthego.com/california/yosemite-lakes-rv-resort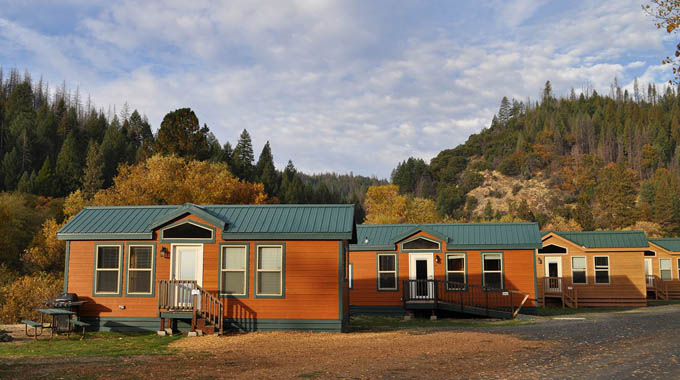 This is one of the few privately owned campgrounds near Yosemite's western entrance (east of Groveland) where you still stand a chance of snagging a spot in summer. Located along the South Fork of the Tuolumne River, the resort has RV and tent sites as well as furnished cabins and yurts. Leave your vehicle at the campground and ride the YARTS bus into Yosemite Valley and back for day trips. Reservations through the YARTS website are recommended. Bonus: YARTS riders can enter Yosemite for free.
7. Cava Robles RV Resort
RVs, $77–$129; cottages, $232–$385 (rates may vary by occupancy). 805-242-4700; reservations,  pages.suncommunities.com/cava-robles
This resort, which opened in 2018 in Paso Robles, has RV sites and rental cottages, two swimming pools and three hot tubs, multiple off-leash dog runs, walking trails, a bocce ball court, a wellness center, and a wine bar and bistro that serves stone-fired pizza. Kids can also enjoy a splash pad and a playground.
8. Temecula/Vail Lake KOA
$45–$75 for RVs and tents. 951-303-0173; reservations, koa.com/campgrounds/temecula
This 385-acre campground, which recently joined the KOA network, has 467 RV and tent sites, many of which are shaded by mature oak trees, sycamores, cottonwoods, and pines. Amenities include three pools, a small on-site café, and a full-service bar, as well as hiking and mountain biking trails. Temecula's wineries are also close by. Be sure to request a campsite in a shaded section.
9. Idyllwild RV Resort
RVs, $54–$61; tents, $44–$49; cabins, $160 and up. 877-570-2267; reservations,  thousandtrails.com/california/idyllwild-rv-resort.
In addition to RV hookups, this campground has tent sites and cabins. Hiking opportunities abound nearby. Trek to town for chocolate-dipped ice cream, candied apples, and other treats at the Candy Cupboard. Check for road closures due to winter storm damage.
10. Kaibab Camper Village
RVs, $40–$45; tents, $20. 928-643-7804 or 928-635-5251; reservations, kaibabcampervillage.com
For last-minute summer reservations near the Grand Canyon, try this remote forested campground, 45 miles north of the North Rim in Arizona. The basic campground has RV and tent sites and showers. At nearly 8,000 feet, it also offers cool nights on the hottest summer days. Nearby restaurants include the Jacob Lake Inn Restaurant and the Kaibab Lodge.
Jeff Crider is an avid camper and outdoors enthusiast who has been writing about camping and RVing in California and across the country for 25 years. 
Stumped about to cook at a campsite? Try these 4 gourmet recipes.
AAA Travel Alert: Many travel destinations have implemented COVID-19–related restrictions. Before making travel plans, check to see if hotels, attractions, cruise lines, tour operators, restaurants, and local authorities have issued health and safety-related restrictions or entry requirements. The local tourism board is a good resource for updated information.