This California wine region is true to its Old West heritage.
As California's largest and oldest natural freshwater lake, Clear Lake  (pictured above) covers 68 square miles (Lake Tahoe is bigger, but sits partly in Nevada). The lake is nearly 1 million years old, and its plant and animal life have sustained human habitation for 12,000 years. Today, Clear Lake still sustains human life, albeit in modern pursuits, and forms the centerpiece of Northern California's Lake County, a nexus of boating, fishing, wildlife watching, sightseeing, wine tasting, and a refreshing lack of pretension. 
Last June, I set out to explore the region's pastures, vineyards, and rounded hills, which appeared to be swathed in velvet by green and golden grasses. The towns of Upper Lake and Lakeport are convenient home bases. In Upper Lake, I felt as if I'd entered an Old West movie town: A doctor's office, a lawyer's office, a post office, a saloon, a hotel, and several shops line one main street. I half expected to see a poncho-clad Clint Eastwood with his pistol out, ready to dispatch a villain.
What to do in Lake County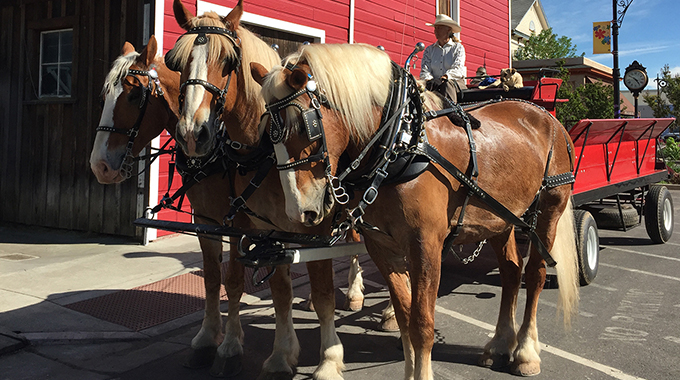 Being a horse lover, I leaped at the chance to see some of the region from a red wagon drawn by three Belgian draft horses named Chief, Mr. Max, and Jimmy (pictured above). With her pug mix, Daisy, next to her, Susan McCarty, co-owner of Live Oak Belgians with her husband, Kenn, drove our group of six through pear orchards and walnut groves, where growers came out to greet us.
Two-hour trips available with reservations (up to $300 per wagonload); 20-minute rides from Upper Lake offered about once a month ($10 per person). 707-275-3365 or 707-900-1693.
"Clear Lake is the country's largest breeding ground for Western and Clark's grebes," said Faith Rigolosi, co-owner with her husband, J.W. Shipley, of Eyes of the Wild, as she piloted a pontoon boat onto the lake. Displaying an uncanny ability to find these long-necked, pointed-beaked waterfowl, she slowed the boat near a Western grebe with a baby nestled on its back.
In March or April, you might catch the grebes' mating dance: "He picks up weeds, she picks up weeds, and they dance around each other," Rigolosi said. We also spotted ospreys, cormorants, and the flash of a yellow-headed blackbird whose rasp resembled a smoker's cough. Two-hour tours, $50 per person. 707-262-2401 or 707-349-0026. 
At the Historic Courthouse Museum in Lakeport's 1871 former County Courthouse, a dapper gentleman with a thin mustache, a bead necklace, and a black Western hat welcomed me. For centuries, Pomo Indians were master basket weavers, explained American Indian interpretive specialist John W. Johnson, as he showed me baskets with dazzling geometric patterns reminiscent of op art.
"These were woven so tightly, they could hold water," he said. "People would put water and acorn meal in the cooking baskets, then add hot stones. You'd have to keep stirring, so it wouldn't burn a hole in the basket." Closed Mondays and Tuesdays. Donations accepted. 707-263-4555.
Some Lake County wineries offer more than wine tasting:
Where to eat in Lake County
The Blue Wing Saloon Restaurant at the Tallman Hotel serves dishes such as Lake County Yerba Santa goat cheese with roasted walnuts, greens, and a citrus vinaigrette. Local musicians play three nights a week and during Sunday brunch. Dinner entrées, $17-$32; Tuesday evening three-course prix fixe dinner, $20. 707-275-2244; tallmanhotel.com.

Where to stay in Lake County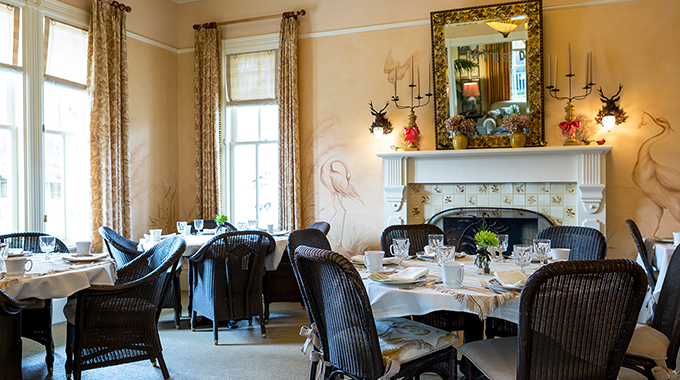 The historic wooden Tallman Hotel (pictured above) adds to the Old West ambience. A veranda surrounds three sides of the hotel, and my room had a 12-foot-high ceiling, a claw-foot tub, and a wicker desk.
"This was the end of the stage line past Ukiah," said Bernard Butcher, co-owner with his wife, Lynne, as we chatted in the parlor. "People transferred here to wagons to go to hot springs resorts." Four rooms are in the original 1896 building, 13 more are in modern structures. Rates start at $219, which includes continental breakfast and Wi-Fi.