Anderson Valley: wine country bliss without the crowds
The Anderson Valley, by any reasonable account, is beautiful. Pastoral vineyards and apple orchards are set among rolling hills shaded by oak and madrone trees, before the land narrows and yields to conveyors of coastal redwoods. But for wine lovers, the beauty of this Mendocino County hotbed for pinot noir and other cool-climate varietals is its remoteness. The distance from the Bay Area and the curvy highway that leads into the valley keep the boutique wineries surrounding the towns of Boonville, Philo, and Navarro blissfully free of limos or party buses. Some locals say it's like Napa Valley was 30 years ago. Only prettier. —Brad Wright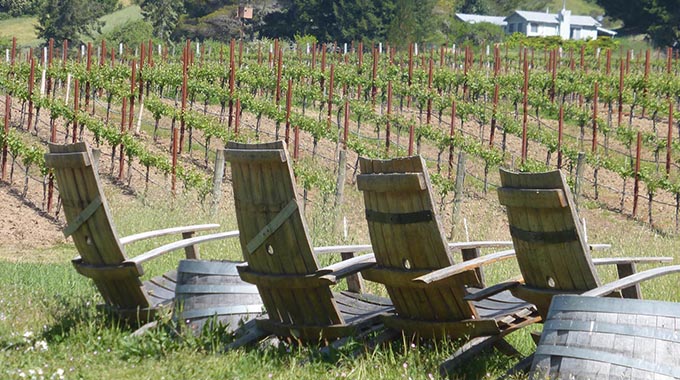 Sip
Toulouse Vineyards built a cozy tasting room next to the original barn, but unless it's windy outside, you'll want to head straight for the patio out back for an expansive view of the valley, the Navarro River, and the lush hillsides to the west. All of the estate's 21 acres of vines are dedicated to pinot noir except for 1 acre of riesling, and all of the grapes are organically grown. A tasting is likely to include a pinot gris, a gewürztraminer, a couple of pinot noirs, and a wild card. Ask to try the jammy petite sirah. Plan to linger awhile at this table-service winery, where an attendant makes the rounds pouring one taste at a time. In between sips, grab a pair of the binoculars and scan the valley floor for deer munching on acorns under the big oak trees. Tasting fee (waived with purchase), $10. 707-895-2828.
Navarro Vineyards, one of the valley's oldest wineries, is still operated by the same family that purchased the land in the mid-1970s. Though competition has steadily sprung up along the Highway 128 corridor, Navarro remains a must-visit in the valley. The winery's patio is perfectly pleasant, but it's best to gather inside around the wide bar, where you can request to try anything you want from more than a dozen choices. The small-batch pinot noirs, not surprisingly, are excellent, but Navarro is white-wine heaven: The winery is renowned for its Alsatian-style wines such as gewürztraminer, and seven of the winery's 10 wines released this spring were dry whites. This is a great place to bring the entire family: Navarro also produces nonalcoholic red and white grape juice for kids, and pet dogs are welcome. No tasting fee. 707-895-3686.
End your tasting day and treat your "novinophobia" (fear of running out of wine) at Lula Cellars, where the laughter and the pours flow generously. "We're majoring in fun and minoring in selling wine," says tasting room manager Dan Reed, a Napa Valley refugee who has a business card with the title "pushy salesman." Reed can usually be found behind the counter at this converted tractor shed, filling glasses and handing out buttons and postcards featuring the late Honey, the winery's former rescue dog and Head of Barketing. Lula specializes in pinot noir, but you'll also want to take home a bottle of the Guntly Red, an unusual blend of pinot noir and zinfandel that will stump your wine-geek friends in a blind tasting. Tasting fee, $10 (waived with purchase). 707-895-3737.
Get a list of Anderson Valley wineries from the Anderson Valley Winegrowers Association. 707-895-9463.
Eat
The Bewildered Pig is a rustic, fine-dining restaurant housed in an old loggers' bar and general store. Husband-and-wife owners Daniel Townsend and Janelle Weaver are committed to local, sustainable, organic food. The seasonal menu might include a house-made spinach and nettle pappardelle or the Mendocino Meats duck breast with cauliflower, morel mushrooms, and savoy cabbage. Salads, $13–$16; sides, $14–$18; entrées, $32–$42. Closed Mondays, Tuesdays, and Wednesdays. 707-895-2088.
Do
Take a tour of the family-owned, solar energy–powered Pennyroyal Farm and meet the 100 goats and 30 sheep that contribute to some of the finest cheese this side of San Francisco. Stock up on the cream cheese–smooth Laychee, the Camembert-style Velvet Sister, and the sweet and nutty Boont Corners Reserve Tomme, all handmade in small batches. 707-895-2410.
Break off a wedge of that cheese during a picnic beside the swimmable Navarro River at Hendy Woods State Park, home to two groves of old-growth coast redwood trees. The park's 1.6-mile Upper Loop Trail is an easy, level hike (no dogs allowed) through the 80-acre Big Hendy Grove. 707-895-3141.
Stay
The Anderson Valley is free of chain hotels or motels, and instead offers several boutique properties, B&Bs, cabins, and vacation rentals.
Sheep Dung Properties' The Other Place has four dog-friendly cottages, all with large, fenced-in yards, set on a 500-acre ranch with hiking trails that lead to a ridge overlooking the valley. Book early; these rentals ($150–$375 per night) have a loyal fan base and on weekends can be sold out a year or more in advance. 707-895-3979; sheepdung.com.
The campground at Hendy Woods State Park, less than 2 miles from Navarro Vineyards, is open year-round and has four camping cabins ($60–$70) and 92 campsites ($40–$45).
Livermore Valley: vintage wine country in the East Bay
If you don't think a fabulous wine country could exist in San Francisco's commuter town–dotted East Bay, think again. Long before anyone had ever heard of Napa, more than 50 wineries flourished on its golden hills in the 19th century. But then, Prohibition happened. Wente and Concannon survived, and, bit by bit, other wineries have arisen, 50-plus and counting, returning this dreamy, rolling landscape to its former guise as a wine-making haven. Today, Livermore Valley is celebrated for its oak-shaded lanes, wraparound porches, blossoming music and food scene, intimate and relaxing wine-tasting—and the fact it's the nation's only wine country accessible via public transportation (BART). —Barbara Noe Kennedy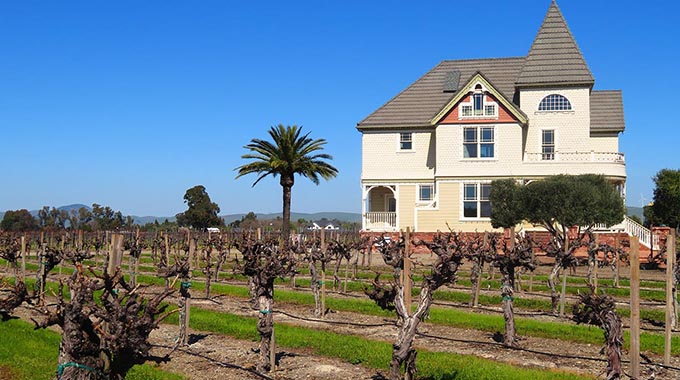 Sip

"The Block East End" might sound off-putting, but this industrial-warehouse quarter on Research Drive harbors six wineries (plus a brewery and distillery), most notable of which is Wood Family Vineyards. Step inside the bland facade and you'll find a chic-rustic, ruby-red, low-lit tasting room, where family members masterminded by founder (and former airline pilot) Rhonda Wood pour their local wines—they're best known for their Bordeaux, zinfandel, and Rhone varietals. Fun events include live music, happy hour with half-price glasses and flights, and occasional pairings with cheese and chocolate. Tasting fee, $15. 925-606-7411.
It's an obvious choice, considering it's the nation's oldest continuously operated, family-run winery (1883) and probably Livermore Valley's best known, but Wente Vineyards keeps up with the times with two tasting rooms, the Winemakers Studio (hosting hands-on blending seminars and special flight tastings), a summer concert series, the Wood Fire Kitchen food truck, even a Greg Norman–designed championship golf course, making it a must do. Its cab is some of the best around. Tasting fee, $20–$25. 925-456-2305 or 925-456-2385. 
Another original wine estate, Murrieta's Well, is Wente's rustic-elegant sister property, located on nearby Mines Road. Tasting fee, $25 (reservations required). 925-456-2395.
The esteemed, palm-shaded McGrail Vineyards not only produces illustrious wines (cabernet sauvignon in particular), it also offers from its hillside perch some of the valley's best vineyard-dappled views. Take a vineyard tour, play bocce, or simply while away a sunny afternoon on the tasting room patio. Life does not get better than this. Tasting fee, $15. 925-215-0717. 
Get a list of wineries and tasting rooms from the Livermore Valley Winegrowers Association. 925-447-9463.
Eat
Grab a booth at Zephyr Grill and Bar, a polished, dark-wood restaurant in downtown Livermore, and enjoy New American cuisine (molasses-glazed meatloaf, potato-wrapped halibut) prepared by Executive Chef Jesus Martinez. Its happy hour and weekend brunch earn rave reviews, too. Main dishes, $14–$27 (lunch) and $20–$39 (dinner). 925-961-1000.
Unexpected hipster bistro Range Life, the brainchild of two couples (Waine Longwell and Lauren Heanes-Longwell from New York and Bill and Sarah Niles of San Francisco), occupies a pastoral 1800s brick building just off Livermore's main street. You'll find super-fresh, locally sourced, global-California cuisine on the oft-changing menu (duck liver toast with roasted cherries, grass-fed sirloin steak with roasted mushrooms, Fort Bragg uni on toast), creative cocktails, an amazing wine list, a sunny back patio, and a cheery staff. Main dishes, $25–$48. Closed Tuesdays. 925-583-5370.
Do
The East Bay has some of the best hiking and horseback riding around, and in the case of Livermore Valley, the go-to is Del Valle Regional Park. Twenty-eight miles of scenic country trails wind through oak-shaded hills, with swimming and boating at its 5-mile-long lake, to boot. $6 vehicle entrance fee. 510-544-3146. 
That said, if you have the time, head for Mount Diablo, about 40 miles northwest. From atop the 3,849-foot peak, accessible via car or hiking trail, a stunning 360-degree panorama takes in misty vistas of San Francisco Bay to one side, Livermore Valley and beyond on the other. Park entrances in Blackhawk and Danville; vehicle entrance fee, $10. 925-837-2525.
Explore the little Americana town of Livermore (925-373-1795), which thrums with shops, restaurants, wine bars, craft beer taprooms, public parks—and the Bankhead Theater (925-373-6100), a 500-seat venue showcasing local opera, ballet, and theatrical performances. 
Blacksmith Square is a brick courtyard with a taproom, two wine bars, and a bistro. Uncle Yu's at the Vineyard offers more than 600 wines to accompany its divine Asian fare. Main dishes, $17–$35. 925-449-7000.
Note that the Livermore Wine Trolley departs from town, the perfect designated driver for an all-inclusive wine-tasting afternoon in the valley (open Friday–Sunday for public tours; private tours are offered daily. Lunch and tour of three wineries, $121.99. 925-989-0421.
Stay
The valley's only boutique resort (for now), Purple Orchid Wine Country Resort and Spa hides away in a golden valley among olive oil tree–dotted hills (it's also a working olive orchard). Lucky guests enjoy an evening gathering hour, a full plated breakfast, and refreshing afternoons at the waterfall-graced swimming pool. Each of the 10 country-style suites has a fireplace and choice of views over olive orchards, rose gardens, and/or vineyard-covered hills. If you can't stay overnight, the full-service spa is another way to revel in this sublime property. Rates, $295–$425 per night. 925-606-8855; purpleorchid.com.
Inland San Diego County: a legacy of viticulture
When talking California wines, we think of the Big Three: Napa Valley, Sonoma County, and the Santa Ynez Valley made famous by the movie Sideways. San Diego County? Not so much. Which is odd, because the region has deep viticulture roots that date back more than two centuries: Father Junipero Serra planted the state's first wine grape vines at the Mission San Diego de Alcalá in 1769. And San Diego County was one of the state's biggest producers of wine before Prohibition decimated the industry in Southern California in the early 20th century.  Happily, winemaking is making a comeback here, particularly in inland San Diego County's Ramona and San Pasqual valleys, near the towns of Escondido and Ramona. According to the Ramona Valley Vineyard Association, Ramona Valley has more than 30 wineries in its 154 square miles. Though the valley was designated an American Viticulture Area (AVA) in 2006, bringing it global pedigree, it's not as well trampled as the more famous AVAs to the north. You'll have all the pleasures of a day spent in the quiet beauty of vineyards and a more intimate wine-tasting adventure, talking to the winemakers themselves about their craft. Time your visit for Fridays to Sundays because most tasting rooms are closed on other days. —Vani Rangachar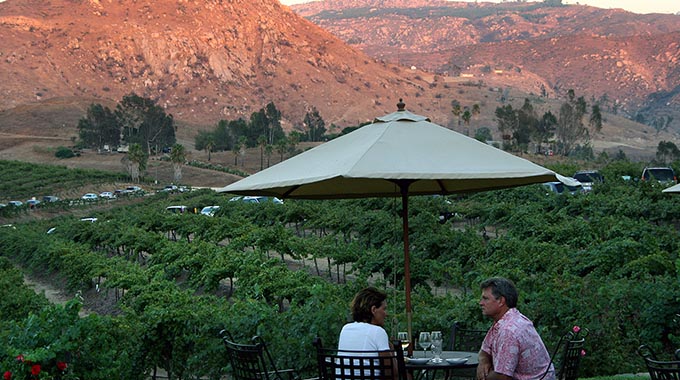 Sip

One of the biggest wineries in the area, Orfila Vineyards and Winery in Escondido sits atop a hill surrounded by vineyards in the San Pasqual Valley Agricultural Preserve. Its capacious tasting room is dominated by wood barrels at the rear, and wine-related tchotchkes and paraphernalia, and flags collected by founder Alejandro Orfila, a former ambassador from Argentina, decorate the tasting area. With 14 wines on its tasting menu, you'll have a choice of estate wines (try Lotus, an award-winning white) as well as those from farther afield, such as pinot noirs from Oregon. Buy crackers, as well as cheeses, prepared salads, and hummus in the refrigerated cases near the entrance, and head outside to enjoy your vino and view over the vineyards. $15 for six tastings, or $25 for eight, including the glass. 760-738-6500.
Friendly locals, vineyard workers, and visitors crowd the tiny tasting room at Pamo Valley Winery in the historic district of Ramona. You're likely to find winery owner and winemaker Jennifer J. Lane pouring her primitivo, sangiovese, and petite sirah behind the bar. It's a tiny operation: She produces 800 to 1,000 cases annually, sourced from her 4 acres and other Ramona Valley vineyards. $4 for two tastings, $8 for four. 760-271-3090.
Next door is Reds, Whites, and Brews, where you can sample wines from a variety of local wineries and San Diego County beers in a rustic frontier-style building dating to the mid-1800s. No food served. 760-440-9305.
If you tire of the reds and whites, stop in for a tour and tasting at Brooking Vineyards, tucked into a residential area in Vista. The tiny family-owned winery produces 420 cases of cream sherry and port, a passion of Eric Brooking, the owner and winemaker. He likes "to make wine the old-fashioned way, the way they did it in the 1800s" and leads fascinating two-hour tours of the unsophisticated winery, explaining the history and production of fortified wines. Tours (which include tastings), $20. 760-689-0160.
Get a list of wineries and tasting rooms from the San Diego County Vintners Association, the Ramona Valley Vineyard Association, and the Escondido Visitors Center. 
Eat
The Ramona Café in Ramona serves classic American breakfasts, lunches, and dinners, but you'll want to order the minicake-sized iced cinnamon buns made by owner Sonja Steiner. She also runs the adjoining London Bakery, which serves a proper British tea with scones and clotted cream. 760-789-8656.
Several people in Ramona recommended Marinade on Main for brunch, lunch, and dinner, and with good reason. Its menu, sourced from local farms when possible, has vegetarian fare, such as the Mediterranean Health Bowl with veggies and quinoa, but also classics such as burgers and steaks. San Diego Country beers are on tap as well as Ramona Valley wines. Lunches $9–$18.50; dinners, $6-$26. 760-440-3171. 
Do
In Ramona, get a twofer of wine and art at Rashelica Winery and Art Garden, which houses the playful and eclectic sculpture collection of Mexican businessman Jaime Chaljón amid grape vines and a Mediterranean garden. Paths wind past works by Alejandro de Zúñiga, Armando Amaya, and Jorge Marín, among others. The tasting room dishes up pizzas and estate pinot noir, red blends, and cabernet sauvignon, among others, on a patio that overlooks the artwork and vineyards. 619-520-1703. 
Stay
Ramona Valley has a handful of hotel options. One of the nicest is the quiet AAA Four Diamond Rancho Bernardo Inn in San Diego. Its 287 rooms are sprawled on 265 acres, with gardens with fountains, fireplaces, and plenty of nooks to relax, as well as an 18-hole golf course. Amenities include three pools (the spa pool costs extra), two full-service restaurants, and a grab-and-go cafe. Rates from $189 (resort fee is extra). 888-976-4417; ranchobernardoinn.com.
A less-expensive but good back-country choice is the San Vicente Golf Resort in Ramona, with a golf course and two restaurants (serving fresh California cuisine and Ramona Valley wines). Rates from $99. 760-789-8290; sanvicenteresort.com.
AAA Travel Alert: Many travel destinations have implemented COVID-19–related restrictions. Before making travel plans, check to see if hotels, attractions, cruise lines, tour operators, restaurants, and local authorities have issued health and safety-related restrictions or entry requirements. The local tourism board is a good resource for updated information.