Southern California's island playground is welcoming visitors.
If you think of Santa Catalina Island as unchanged over time, you probably haven't ventured across the 26-mile San Pedro Channel lately. In the past few years, several new cultural and recreational offerings have launched, including a major Catalina Island Museum expansion and an exhilarating adventure course in the trees.
Throw in the reopening of Avalon's renovated Hotel Atwater in 2019, and you've got the makings of a quick, relaxing getaway just a short ferry ride from the mainland.
Day 1 on Catalina Island
Cast away
Catalina Express currently offers daily round-trip boat service to Avalon from Long Beach and Dana Point (800-613-1212); the Catalina Flyer offers service between Newport Beach and Avalon (855-220-1433).
Live like a Wrigley
Upon arrival, take the shuttle (arranged in advance) to Mount Ada and check in to the former island home of chewing-gum magnate William Wrigley Jr. and his wife, Ada, situated on a hillside overlooking Avalon Bay.
The elegant six-bedroom mansion once hosted presidents and British royalty. Overnight stays are a splurge and range from $500 to $1,000, including breakfast and a multicourse lunch (read on for a cheaper hotel option). 877-778-8322.
Hit the trail
The Catalina Island Conservancy added 27 miles of new trails in 2017, expanding hiking opportunities around Avalon and beyond. Get maps and info at the Trailhead visitors center, which opened in 2019 at Crescent Avenue and Pebbly Beach Road.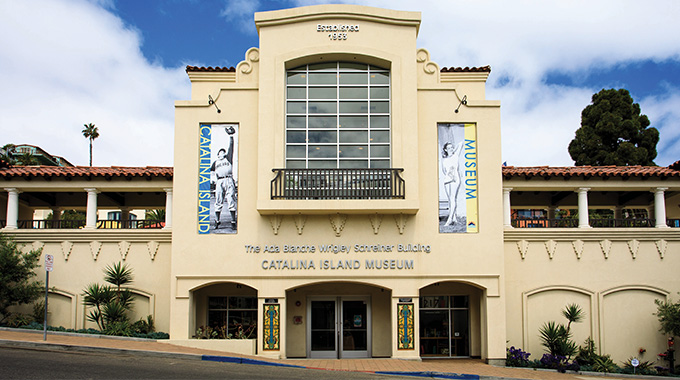 Journey to the past
The Catalina Island Museum's digs in the Ada Blanche Wrigley Schreiner Building in central Avalon provide more room to showcase the island's 8,000-year history, as well as the work of world-class artists. General admission, $17; children age 15 and younger, free with paid adult admission. 310-510-2414.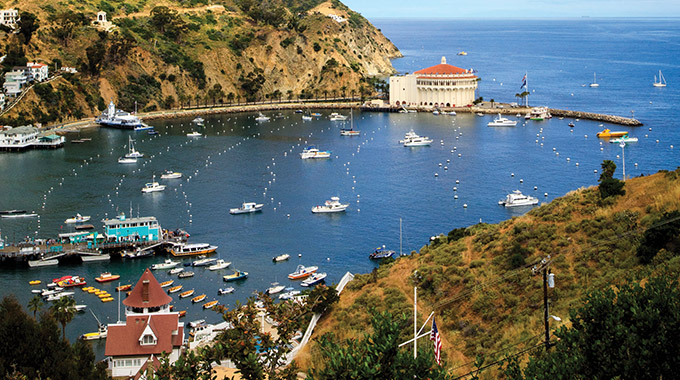 Get a selfie
For a great shot looking down on Avalon and the harbor, head uphill on Wrigley Road to Buena Vista Point.
Day 2 on Catalina Island
Morning pick-me-up
Locals start their day at Catalina Coffee and Cookie Company, a grab-and-go in the Metropole Market Place. The sweets—brownies, cinnamon rolls, and cookies—are the stars. 310-510-2447.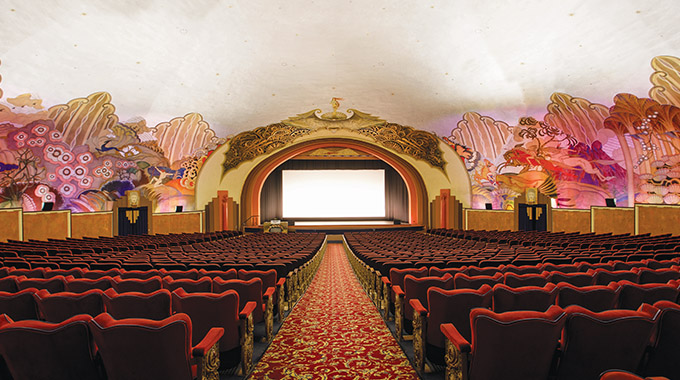 Ballroom blitz
Tour the art deco Catalina Casino—highlighted by the 29,000-square-foot circular ballroom where Ginger Rogers and Fred Astaire once danced the night away. Tours are $19.95 for Discover the Casino and $29.95 for Behind the Scenes Casino. 877-778-8322.
Overnight option
If Mount Ada is full or a stay there is beyond your budget, try the oceanfront Pavilion Hotel. Relax at day's end around the cozy fire ring. 877-778-8322.
Swing into action
At Catalina Aerial Adventure in a eucalyptus grove a short walk from the casino, you can swing from trees and balance on logs and ropes ($49.95 per person). For even more adrenaline-inducing thrills, sign on for a two-hour Zip Line Eco Tour (rates start at $119 per person). 877-778-8322.
Chill time
Wind down at the Catalina Island Brew House, a microbrewery, bakery, café, and espresso bar. Grab a table on the shaded patio and enjoy an artisan flat bread and craft beer brewed on-site. 310-339-8085.
Change of scenery
If you're here in the summer, grab your luggage, check out of your hotel, and board the Cyclone shuttle for the 40-minute boat ride to Two Harbors. $15 one way. 877-778-8322.
Historic digs
Check in for the night at the 12-room Banning House Lodge, the only bed-and-breakfast in Two Harbors (campsites and two villa rentals are also available). Built in 1910, the former hunting lodge has simply furnished rooms, friendly service, and incomparable views of the isthmus. 877-778-8322.
Waterside dining
From Banning House, walk less than a half-mile to the oceanfront Harbor Reef Restaurant for fresh seafood, burgers, and steaks. 310-510-4215.
Day 3 on Catalina Island
Morning workout
At Two Harbors Dive and Recreation Center, you'll find a dive shop for underwater adventures and rental equipment for stand-up paddling, kayaking, and mountain biking. 310-510-4205.
Hit the heights
Hike the trail to Upper Ballast Point to grab photos of both sides of the isthmus.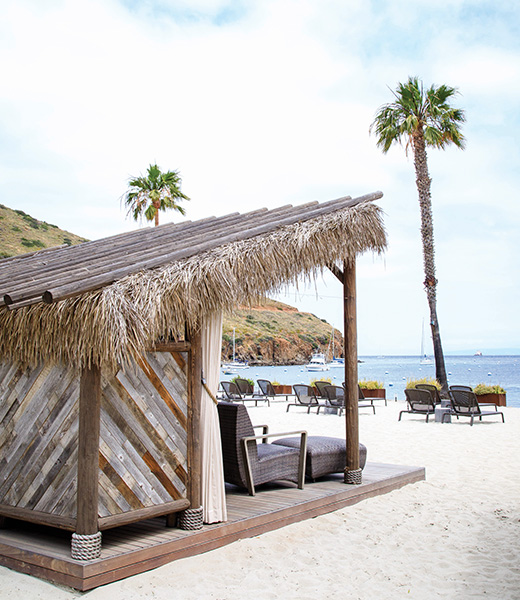 R-and-R
Make like you're marooned on a tropical island at Harbor Sands, where you can rent a lounge chair (starting at $25) or one of six thatched-roof palapas (starting at $250). Palapas are named after movies filmed on the island, including 1962's Mutiny on the Bounty. You can order beverages, burgers, and more at the beachside dining deck or from your palapa.