The coastal California villages of Half Moon Bay, Cambria, and Avila Beach offer breathtaking views and other seaside charms. 
Half Moon Bay: Get back in touch with nature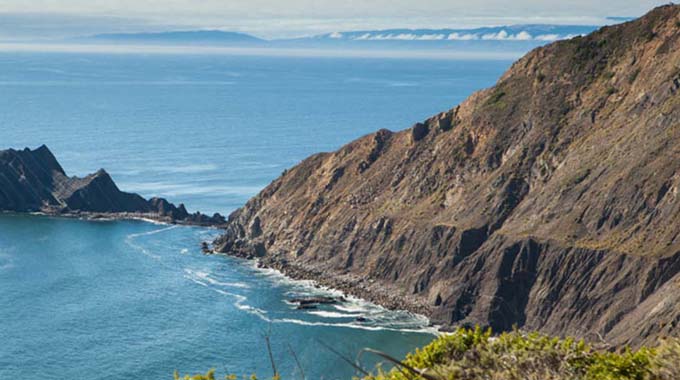 Many people know Half Moon Bay for Mavericks, the famous big-wave surfing break just north of town, or for the charmingly odd downtown area anchored by Main Street, where a chicken coop and feed shop share a block with an upscale Italian restaurant and a fancy apothecary. It also boasts unimpeded ocean views while driving Pacific Coast Highway; the James V. Fitzgerald Marine Reserve, a nature preserve just north of the bay with forested bluffs and some of the state's best tide pools; and a beachside walking trail perfect for long weekend runs. —Robin Jones
What to do in Half Moon Bay

Hike the Devil's Slide Trail, a twisting two-lane road carved into the side of Montara Mountain with panoramic views of the Pacific Ocean. It's part of the California Coastal Trail, a partially finished 1,200-mile network envisioned to extend from Oregon to Mexico. It's about 7 miles north of Half Moon Bay. Parking can be scarce; hikers are encouraged to take SamTrans (samtrans.com), which has a stop in front of the trailhead. Dogs on leashes are welcome.

Where to eat in Half Moon Bay

In Half Moon Bay, the pizza oven at It's Italia turns out delicious pies with unusual topping combinations, such as pears and Parma prosciutto; or artichoke hearts, shiitake mushrooms, and Italian sausage. 650-726-4444.

Where to stay in Half Moon Bay

At the AAA Four Diamond The Ritz-Carlton, Half Moon Bay, perched on towering bluffs just south of downtown, guests can enjoy fire pits on the oceanfront patio and wine, beer, and cocktails in the cozy bar before retiring to spacious, well-appointed rooms. Rates start at $869. 650-712-7000; ritzcarlton.com/hmb. 
Downtown, the charming Half Moon Bay Inn provides comfortable rooms and easy access to Main Street's shops and restaurants. Rates start at $160. 650-726-1177; halfmoonbayinn.com.

Half Moon Bay is 380 miles north of downtown Los Angeles. Free San Mateo–Redwood City–Half Moon Bay and San Francisco Bay maps are available at your Auto Club branch.
Cambria: Where beauty, romance, and history meet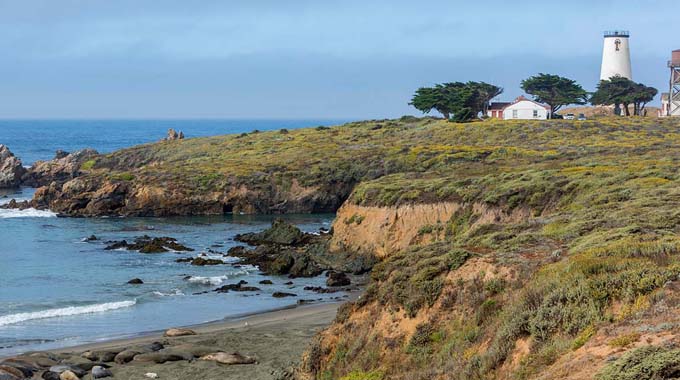 Cambria makes an ideal base for exploring such Central Coast sites as Hearst Castle and the Piedras Blancas Light Station. But don't overlook the area's beautiful stretch of coast, with narrow beaches made for strolling hand-in-hand with your honey. —Howard Cole
Galleries, specialty gift stores, and independent ice cream shops abound. If you are an avid knitter, check out the yarn store Ball and Skein and More. 805-927-3280. 
Support local artists at Ephraim Pottery West Gallery, housed in a Victorian building on Main Street. Glazed artworks include bowls, tiles, and vases, many with nature-inspired motifs, such as a jackrabbit that looks as if it's going to pounce from a vase straight into your living room. 805-924-1275.
Visit Piedras Blancas Light Station, built by the United States Army Corps of Engineers and first illuminated in 1875. You aren't allowed to climb the circular stairway to the top, "for safety reasons," noted Ryan Cooper of the Bureau of Land Management, which runs the facility for the U.S. Department of the Interior. Adult admission, $10. 805-927-7361.
Tour Covell Ranch, about a mile inland and up the hill from Main Street, in a four-wheel-drive. Or go horseback riding. Two-hour tours and trail rides start at $100 per person. 805-975-7332.
Take a tour at Hearst Castle, newspaper publisher William Randolph Hearst's former retreat. Adult tour prices start at $25. 800-444-4445.
Set in a red brick building, Linn's of Cambria is hopping at breakfast and lunch. Try the omelets, such as the Moonstone Beach with shrimp and Dungeness crab or the Central Coast Veggie. Olallieberry jam, which I enjoyed on my toast, is a favorite. Chicken pot pie is another. Breakfast, from $8. 805-927-0371.
At the Cavalier Oceanfront Resort in San Simeon, check into Room 276 on the second floor. It's about 30 feet from a cliff above the sand, and it has a fireplace and a king-size bed. Rates start at $159; oceanfront rooms from $279. 805-927-4688; cavalierresort.com. 
Cambria is about 225 miles north of Los Angeles. Free San Luis Obispo County Cities maps are available at your Auto Club branch.
Avila Beach: A relaxing escape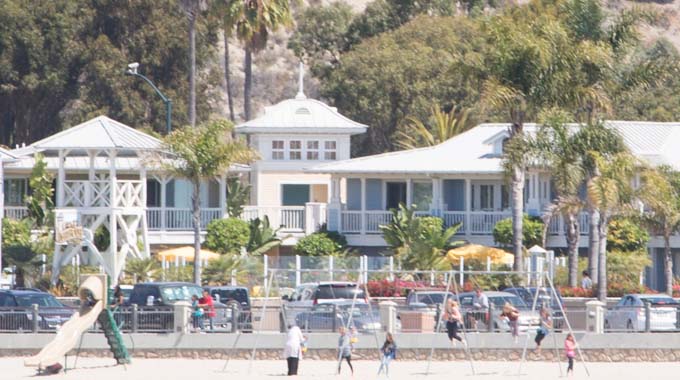 Hearing the ocean's cadence is just one of the daily pleasures of life in this picture-perfect hamlet of Avila Beach ensconced in Central Coast wine country. You can also walk along the beachfront promenade, browse boutiques, and nosh at eateries set in colorful clapboard buildings buzzing with patrons. —Rachel B. Levin
What to do in Avila Beach
Peloton Cellars is one of several wineries with tasting rooms in town, meaning you can sample local wines without leaving the beachfront. 805-627-1080.
Nature lovers can rent bikes for a spin on the scenic Bob Jones City-to-Sea Trail, which follows San Luis Obispo Creek to the ocean. visitavilabeach.com.
Get up close and personal with sea life at the Central Coast Aquarium. 805-595-7280.
Where to eat in Avila Beach
Dine on fresh-caught seafood at the Olde Port Inn at the end of Harford Pier—you can peer down into the water from your glass-top table. 805-595-2515.
At Hula Hut, save room after your salad or wrap (available until 4 p.m.) for a helping of fudge or Doc Burnstein's locally made ice cream. 805-627-0488.
Where to stay in Avila Beach
Some rooms at the nautical-themed Avila Lighthouse Suites have ocean views; all have either a balcony or a patio. Rates start at $169. 805-627-1900; avilalighthousesuites.com.
Experience the mineral waters at the Sycamore Mineral Springs Resort and Spa, where all rooms include private patio hot tubs. Rates start at $149. 805-595-7302; sycamoresprings.com.
Avila Beach is about 190 miles north of downtown Los Angeles on US Highway 101. Free San Luis Obispo County Cities maps are available at your local Auto Club branch.
Pick up your free California Coast and Valley map and free TourBook guides and get TripTik Travel Planners at your local AAA branch or online.