Why Arizona's Old Pueblo is a new foodie hot spot (and so much more).
A longtime underdog—"like Austin 20 years ago," some say—Tucson is suddenly hotter than the local chiltepines (the so-called mother of all peppers). Whether the first signs were UNESCO's foodie scouts (who soon declared Tucson the nation's inaugural city of gastronomy), or the Jimmy Kimmel Live! segment that went viral last year (when he and Diane Keaton shared a Tucson lovefest—and a kiss), or everyone's overnight obsession with saguaros, this mountainous corner of the Sonoran Desert is clearly trending. Here are some of the best ways to see why.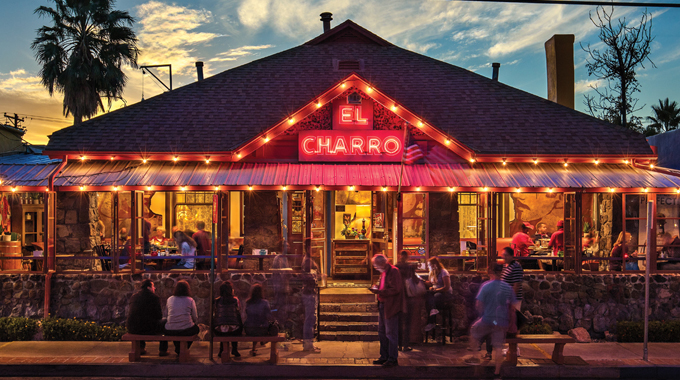 Day 1
MAKE YOURSELF AT HOME: How do chefs say bienvenido a Tucson? The aptly named Welcome Diner is arguably the best place to find out. One of a new breed of restaurants playing up the city's 2015 UNESCO designation, this farm-to-table hot spot uses some of the same ancient heritage ingredients that captured the U.N. agency's attention. Desert-loving tepary beans, for example, make up the heart of the Three Sisters breakfast burrito—also a vehicle for ridiculously good roasted corn, tempura-battered squash, smoked pecan "cheese," and ranchero sauce. (520) 622-5100.
GET THE LOCAL DIRT: To see some of those same ingredients in their natural habitat—among other crops cultivated by local indigenous communities for millennia—visit the beloved Mission Garden. So named for the 18th-century Jesuit mission that once stood here, these fields are also home to fruits and veggies that accompanied waves of Spanish, Mexican, Chinese, and African American arrivals through the centuries. Check the website or call for operating hours and tour times. (520) 955-5200.
SNAP TO IT: Cofounded by Ansel Adams, the University of Arizona's Center for Creative Photography makes for a dazzling midday respite. (520) 621-7968.
GO OLD SCHOOL: End your day at a local legend. Opened in 1922 and said to be the nation's oldest Mexican restaurant run by one family—and the plausible birthplace of the chimichanga (there are rival claims)—El Charro Café is also known for otherworldly carne seca and a dissertation-length margarita menu. (520) 622-1922.
SLEEP HERE: Established in 1929 as a ranch school for the daughters of America's aristocracy, Hacienda del Sol morphed into a guest ranch for Hollywood royalty. Whether you book one of the cozy original rooms in this Moorish-inspired adobe enclave or one of the new suites, your views of the surrounding mountains will rival any in town. Between dips in the two pools and rides on the resident horses, ask to see the garden that Andrew Weil (one of Tucson's local celebs) consults on. Rates start at $179. (520) 299-1501; haciendadelsol.com.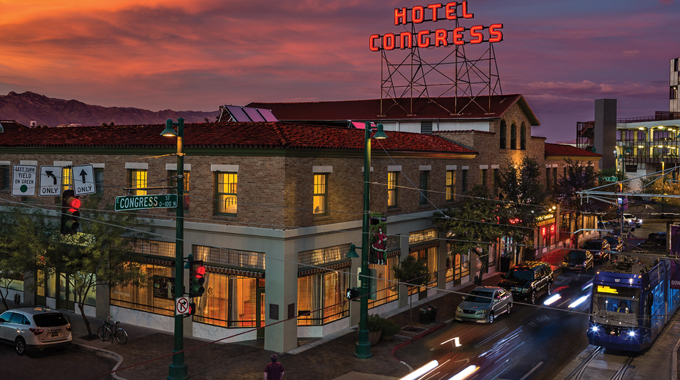 Day 2

TAKE A HIKE: Every local has a favorite hiking trail, but the most universally adored is tucked into Coronado National Forest at the base of the Santa Catalinas: Sabino Canyon, a saguaro-palooza bisected by a creek with ever-so-handy swimming holes. Though you shouldn't overheat if you get an early start (aim to be on any of Sabino's five main trails by 6:30 a.m. this time of year), pack a swimsuit just in case—or just for fun. Pack generous supplies of water and sunscreen, too. (520) 749-8700.
SHOP AND NOSH: Stop into the Spanish Colonial–style Mercado San Agustin for regional Mexican food at Seis Kitchen (don't miss the house horchata–iced-coffee blend); desserts at either Sonoran Sno Cones or La Estrella Bakery; and Tucson-centric merch at Love Where You Live in the new container park annex. (520) 461-1107.
GO ON A MISSION: Visit the ethereal Mission San Xavier del Bac, known as the White Dove of the Desert. The restored 18th-century Franciscan mission—the state's oldest intact European structure—is still in use and open to the public until 5 p.m. daily. (520) 294-2624.  
REFUEL: For some of the most delicious and unorthodox tacos in town (they're all vegetarian, for starters) head to Tumerico, where Mexican and Eastern traditions meld to astonishing effect. Try the "carne asada" (jackfruit in clever disguise) and the mole tacos if they're available. (520) 240-6947.
GET YOUR GROOVE ON: A legendary hideout (John Dillinger was famously captured here) turned nightlife epicenter, the 100-year-old Hotel Congress has an impressive lineup of live music (520) 622-8848; hotelcongress.com.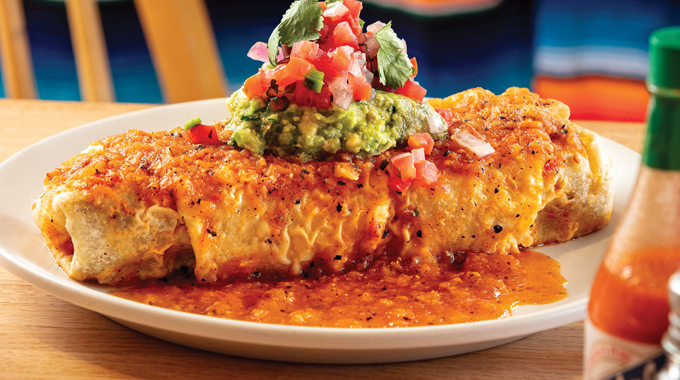 Day 3
GO WILD: Everyone's favorite local mashup—part zoo, part botanical garden, part natural history center—the Arizona–Sonora Desert Museum leads you on miles of trails through the habitats of 230 animal species. Arrive early and don't miss the mountain lions, bighorn sheep, prairie dogs, and river otters. (520) 883-2702.  
HEAD FOR THE HILLS: Pick up picnic staples at hyperlocal favorites Barrio Bread, Monsoon Chocolate, and the Sand-Reckoner Tasting Room (where cheese and other small bites are available), then head for Mount Lemmon. Bring a sweater; temperatures are often at least 20 degrees cooler than in town. Before you're out of cell range, download the Mount Lemmon Science Tour app. Local celebrity Joey Burns, frontman of the Tucson indie rock band Calexico, explains the sights en route. Bonus: You'll hear Calexico music on the way up. Once you've reached Summerhaven, find a picnic table with a view (one of the tiny town's abundant assets) and enjoy your feast.
SEE STARS: Make your way over to Mount Lemmon SkyCenter, home to some of the largest publicly accessible telescopes in this astronomy-happy region, for a dazzling SkyNight stargazing session (available most Thursdays through Sundays; advance bookings required). (520) 626-8122. 
After 25 years as a magazine editor in New York, Tucson native Abbie Kozolchyk is happy to now live in California—closer to her hometown.
AAA Travel Alert: Many travel destinations have implemented COVID-19–related restrictions. Before making travel plans, check to see if hotels, attractions, cruise lines, tour operators, restaurants, and local authorities have issued health and safety-related restrictions or entry requirements. The local tourism board is a good resource for updated information.