An insider's guide to the best places and options for experiencing one of America's most popular national parks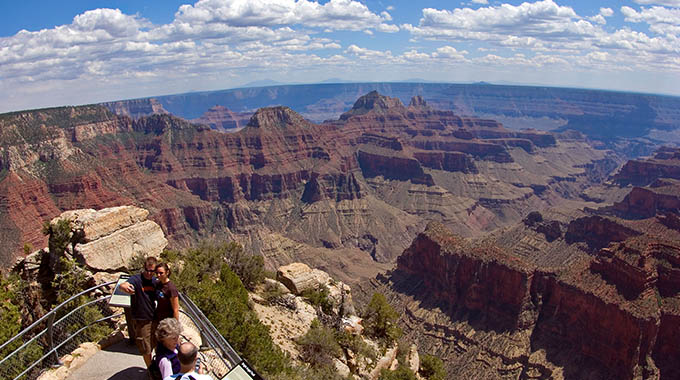 Grand Canyon National Park is the prime reason I chose Arizona as my home. From my first shivering glimpse into the canyon's chasm, freshly draped in December snow, I felt its pull on my soul and knew I could explore it for a lifetime. And so I have, roaming the park for 40-plus years. I think of it as a kingdom of dimensional space and geologic time, of flowing water and soaring stone, of wonders concealed until revealed by physical acts like hiking, climbing, rafting, or even riding a mule. 
Let me show you where to go off the beaten track to discover the beating heart of our 14th national park, one of the greatest canyons on Planet Earth, which recently celebrated its centennial.
1. Hike the North Rim in summer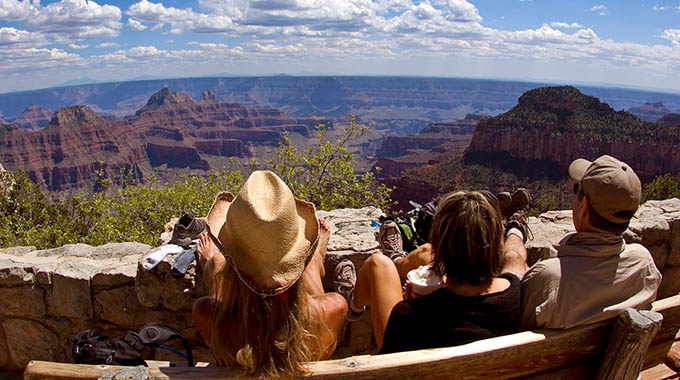 Most of the Grand Canyon's 6 million annual visitors come in summer, mostly to the South Rim. Find quietude at the North Rim, which typically is open from mid-May to mid-October.
About 1,000 feet higher than the South Rim, the North Rim has cooler weather—and a wider choice of forested rim trails, many of them fairly easy and outrageously scenic, like the Bright Angel Point Trail. This paved path, just a half mile in and out, winds partly along an exposed ridgeline, and is a great choice for sunset. A step up in distance and always uncrowded is the Widforss Trail, a 10-mile, round-trip jaunt through a forest of aspens and ponderosa pines. Stretch out your stride and watch for elk and deer. In early October, the aspens are a blur of shimmering gold.

If you have energy to burn, descend the famous North Kaibab Trail. The trek is about a mile to the Coconino Overlook, a grand spot to marvel at the maze of canyons unfolding across 180 degrees of horizon. Just remember: "What goes down must go up." Trudging back to the rim, you'll feel the altitude difference.

Drive east 23 miles from the North Rim Visitors Center to Cape Royal. The approximately 1-mile round-trip Cape Royal Trail yields fine views of the Colorado River and Angel's Window, a natural arch. On the 4-mile, round-trip Point Imperial Trail, about 11 miles from the visitors center, you'll typically find few folks with whom you'll share the quiet beauty. From midsummer to early autumn, thunderstorms, lightning, and evanescent rainbows stud monsoon skies, and the North Rim is a matchless place to drink in the expansive panorama of canyons and monolithic rock temples. Find more hiking trails at hitthetrail.com/north-rim-day-hikes.

Lodging: Grand Canyon Lodge-North Rim, a National Historic Landmark perched on the edge of the Kaibab Plateau, was constructed in the late 1920s of local limestone boulders and huge pines. It was rebuilt in the mid-'30s after a fire. My favorite spaces here are the Sun Room and the Dining Room, a grand hall with views of the great canyon through picture windows. Dining reservations are essential, but dress is canyon casual. Frontier cabins sleep one to three people; Pioneer cabins, six people max, and Western cabins, two to four people. 877-386-4383; grandcanyonforever.com.
You can also stay at the nearby National Park Service (NPS) campground. 877-444-6777; recreation.gov/camping/campgrounds/232489.

The Kaibab National Forest offers 38 single-family sites at the DeMotte Campground, 18 miles north of the rim. 928-643-7395; fs.usda.gov/recmain/kaibab/recreation.
Insider tip: Don't hike without a good rain shell, especially during monsoon season, and if a thunderstorm hits, don't take refuge under a tall tree. Find a low spot and wait it out.
2. Snowshoe the South Rim in winter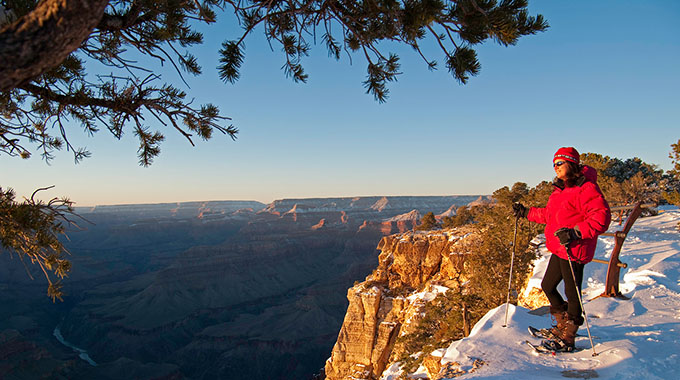 My favorite season at the South Rim is winter, especially after snow dusts the wind-sculpted junipers and accents the red rock layers. Bring snowshoes and explore the easy rim trails in solitude, with billions of years of geology exposed at your feet. Many of the park's major trails and historic structures span the rim from Hermits Rest on Hermit Road (formerly West Rim Drive) to Desert View on Desert View Drive (formerly East Rim Drive). These roads are plowed after storms, so you can drive to viewpoints, step into snowshoes, and walk in fresh, untracked snow. (The NPS restricts driving access to these places in summer and offers shuttles.)
My go-to South Rim snowshoe route is the Rim Trail, which begins at the South Kaibab Trailhead and winds west along the rim for 13 miles to Hermits Rest, the end of the road. Much of this section is lightly trod, so you'll have the park almost to yourself. Hermits Rest has a gift shop that sells hot cocoa. That walk may whet your appetite for more adventurous rim jaunts. Check out more hiking options at hitthetrail.com/south-rim-day-hikes.
Lodging: A stone facade and a porch framed by rough-hewn wood logs distinguish the Bright Angel Lodge and Cabins. Set at the canyon's rim, El Tovar Hotel opened in 1905. Log-paneled public rooms create a rustic grandeur. 888-297-2757; grandcanyonlodges.com/lodging.
Insider tip: Bring your own snowshoes or rent them in Flagstaff, which has several rental shops. Get the right ones for your weight and the type of snow you'll be traversing (call the NPS main number at Grand Canyon, 928-638-7888, before visiting and ask a ranger about the snow), dress in layers, and bring plenty of water and snacks. You'll work up a sweat and burn a lot of calories at 7,000 feet.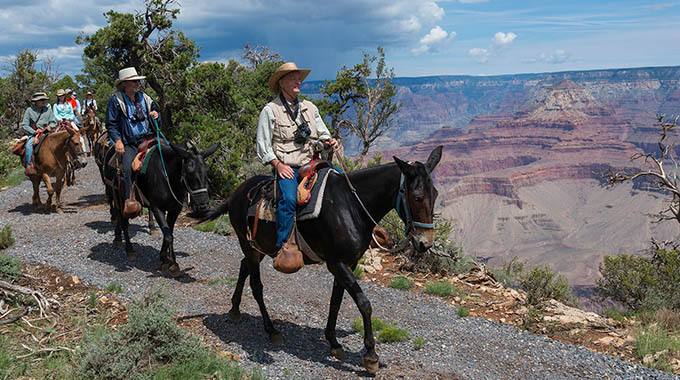 Mount a sure-footed beast for the Canyon Vistas Mule Ride. The mule wranglers are veterans, freely dispensing wry humor to tenderfeet, and you'll see the canyon from a rolling seat. You can choose a short ride, covering 4 miles in three hours from Yaki Barn, east along the rim. But if you have a zest for adventure, sign up far in advance for the overnight mule ride to Phantom Ranch, thousands of feet below the rim. Designed in 1922 by Mary Colter, who also designed El Tovar, the ranch lies next to Bright Angel Creek, which flows into the Colorado River a short stroll away. Stay at least two nights, so you have time to explore trails to waterfalls, wildflowers, and even a beach where American geologist and explorer John Wesley Powell and his beleaguered crew camped in 1869. Visitors have been riding mules into the canyon's depths since 1887. Canyon Vistas Mule; grandcanyonlodges.com/plan/mule-rides  
Lodging: Phantom Ranch rides are packaged with stays at Phantom Ranch, which has two male and two female dormitories for hikers only and 11 cabins that can accommodate from two to 10 guests. The cabins, made of wood and river rock, feature a private toilet and sink, soap, and towels. (Showers are in a separate building.) Rates include breakfast, a sack lunch, and dinner, served family-style. Water, iced tea, beer, and hot coffee and tea, are delivered by mule to the canteen. Phantom Ranch conducts a lottery for these precious beds and accepts submissions beginning the 15th month prior to the stay month. 888-297-2757. grandcanyonlodges.com/lodging/phantom-ranch.
Insider tip: Choose a cabin instead of a dormitory bed for greater comfort and privacy.
4. Drive the back roads to Toroweap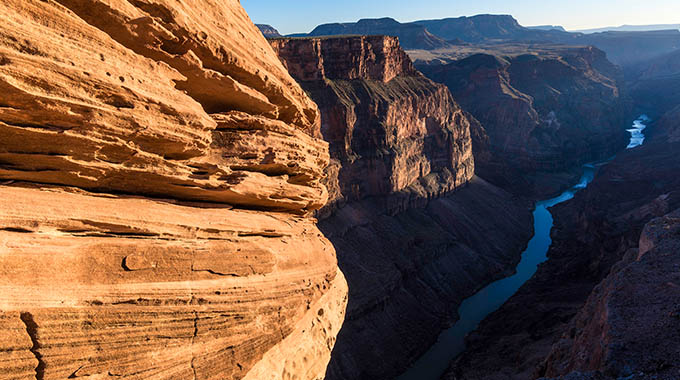 One of the Southwest's signature viewpoints, Toroweap, lies distant and remote on the park's northwestern boundary, but is well worth the 62-mile one-way drive. You start out on a decent washboard road, but the last few miles angle over sandstone ledges, requiring a high-clearance vehicle and nerve. Once you reach the small parking area by the edge, scamper out and gaze 3,000 sheer feet to the river gliding below your ankles. Comparatively few people see this sight, a wilderness gift in a nation pushing 330 million people. I've been alone here many times.
In a secluded primitive campground behind the rim, you can wake to watch the horizon's glow paint the sky above the great river that carved the Grand Canyon over the past 6 million years. It will consume a full day to see Toroweap, but you'll not soon forget the shock of standing by the precipice, hearing Lava Falls Rapid far below, and watching rafts float past. If you're not camping, you must leave Toroweap by sunset. You'll find other helpful information at the park service's website.
Lodging: Tuweep Campground has nine small sites on sandstone, with picnic tables and nearby portable and composting toilets. The campground does not have running water or camping services, though a NPS ranger will check you in. Arrive by sunset. Obtain a backcountry permit before your trip (you cannot get a camping permit from the ranger). Fax your permit request form—preferably on the first of the month, four months prior to your desired date—to the Backcountry Information Center at 928-638-2125, nps.gov/grca/planyourvisit/backcountry-permit.htm, or mail it to Grand Canyon National Park, Permits Office, 1824 S. Thompson Street, Suite 201, Flagstaff AZ, 86001.
If camping seems daunting, consider a tour. Dreamland Safaris offers day and overnight trips to Toroweap from Kanab, Utah. Will James, owner of Dreamland, is loquacious and a fount of history and lore, which he unfailingly shares on the two-hour drive to the rim. James also offers six overnight, small-group Toroweap Photography trips, between April and October. 435-644-5506; dreamlandtours.net.
Insider tip: The towing fee from Toroweap can exceed $2,000, so leave the minivan at home.
5. Raft the Colorado River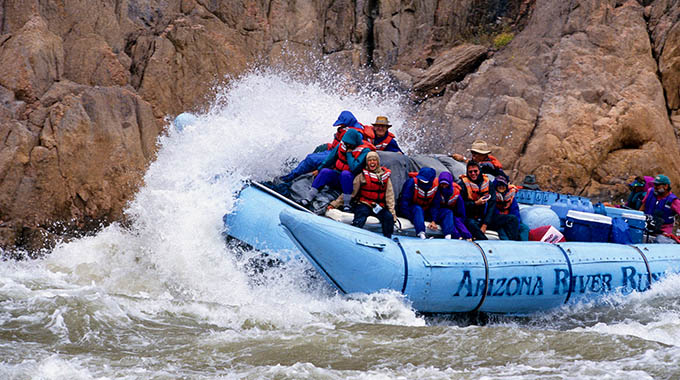 I've rafted the Colorado River through the Grand Canyon 15 times, and the layer-cake geology, desert bighorns, and chill blast of the waves always enchant me. This trip takes me to hidden wonders I could never reach by trail. It's an expedition back in time and through the very spine of the canyon. 
Leverage gravity by riding the river 188 miles from Lee's Ferry to past Toroweap, then helicopter from the river up to the Bar Ten Ranch, and fly out on a small plane to Marble Canyon or Las Vegas. Most people take a motorized raft downriver in seven-night trips, but if you have 13 days free, opt for a paddle trip. Guides drive or paddle the boats while you unwind and learn how to judge a rapid by sound before you run it; hike to waterfalls, pools, and Native American sites; sleep on beaches under the Milky Way; and soak up river lore.
Info: For commercial rafting trips, book well in advance and pay close attention to the gear checklists. I've rafted many times with these two companies:
Arizona River Runners offers motor trips of three to eight days, showing you all or part of the 240-mile river corridor from Lee's Ferry to Lake Mead. Some trips are shorter and have hike-in or hike-out options. They also offer nonmotorized oar trips, but don't worry—your guides do the rowing. 800-477-7238.
Western River Expeditions runs one of the biggest motor rafts on the Colorado River, offering a rocking ride through rapids. 866-904-1160.
Insider tip: Invest in a high-quality, two-piece rain suit, because the river is always chilly (low 50s), and the rapids will shred a cheap rain shell.
6. Swim, hike, and relax in the Havasupai Reservation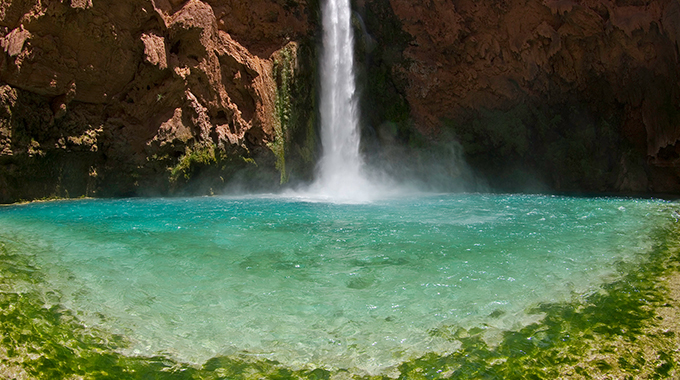 The Havasupai people are believed to have inhabited this canyon for more than 1,000 years, and were noted in John Wesley Powell's journals. The deep side canyon adjoins Grand Canyon National Park to the west. A perennial spring provides water for the Havasupai tribe and creates turquoise waterfalls famous the world over. Havasupai's literal meaning is "people of the blue-green water." Each year, the tribe of fewer than 1,000 individuals welcomes thousands of visitors who come to hike, swim, and renew themselves. I've been here 17 times, and still want to return. 
Here, your days will fill up with short hikes to the falls, swimming in the pools, and watching the stars wheel over the steep walls that enclose this desert Shangri-La. You'll meet people from around the world, and you can chat with the Havasupai rangers. I learned that the Havasupai survived by farming in the canyon and hunting on the rim until 1882, when President Chester A. Arthur confiscated all but 513 acres of their ancestral lands. A long legal battle restored the tribe's land rights, and in 1975, the Havasupai people regained 188,000 acres. As word got out about the ethereal beauty of the cascades—Havasu Falls, Fifty-Foot Falls, Little Navajo Falls, Beaver Falls, and Mooney Falls—tourism became a source of income and identity for the tribe. You might meet some Havasupai in their village of Supai, especially at the café, which is owned and staffed by the tribe. I've found the people to be friendly but guarded, and approachable if you take the time to listen. theofficialhavasupaitribe.com.
Lodging: You must make reservations for lodging before arrival. Set at the base of red rock formations, Supai Lodge in the village has comfortable guest rooms and a grass courtyard. 928-448-2111 or 928-448-2201; theofficialhavasupaitribe.com/Havasupai-Lodge/havasupai-lodge.html.
Many campsites are available beside Havasu Creek, which is shaded by tall cottonwood trees. Fresh potable water comes from a spring issuing from a shaded cliff. Bring a tent, a stove, and food, although if you run low on provisions, Supai has a small store with limited choices. April and October are typically warm enough to camp, and although summer afternoons are hot, you can chill in the 72-degree pools below the major waterfalls. Camping permits are valid for three nights and go quickly. For reservations and information, visit havasupaireservations.com.
Getting there: The drive to Havasupai Reservation from the South Rim's Grand Canyon Village is about 129 miles. Take Old Route 66 west from Seligman, then head north on Indian Route 18 for 63 miles. This paved highway leads to the trailhead at Hualapai Hilltop, where most people hike the 8 miles to Supai village, check in with the tribal office, and then hike the final 2 miles to the campground below Havasu Falls. You can lighten your load by placing heavier camp gear on a pack mule, (reservations required). Pay attention to the size and weight limits, which you will find here.
On certain days of the week, you may be able to fly in and out of the reservation by Airwest Helicopter from Hualapai Hilltop for the 8-mile trip that takes about eight minutes. Note that Havasupai tribal members have priority; visitors ride after all tribal members have been accommodated. For information, click here.
Insider tip: Hiking here is not recommended for children. Bring a swimsuit, a towel, a really good book, and your very best friends. 
More information about the Grand Canyon is at 928-638-7888 or nps.gov/grca/index.htm. Call 928-638-7496 for road condition/closure updates.
AAA Travel Alert: Many travel destinations have implemented COVID-19–related restrictions. Before making travel plans, check to see if hotels, attractions, cruise lines, tour operators, restaurants, and local authorities have issued health and safety-related restrictions or entry requirements. The local tourism board is a good resource for updated information.