This page has a redirect option enabled. In production the page will redirect to: https://www.ace.aaa.com/publications/travel/travel-smart/traveling-with-special-needs-children.html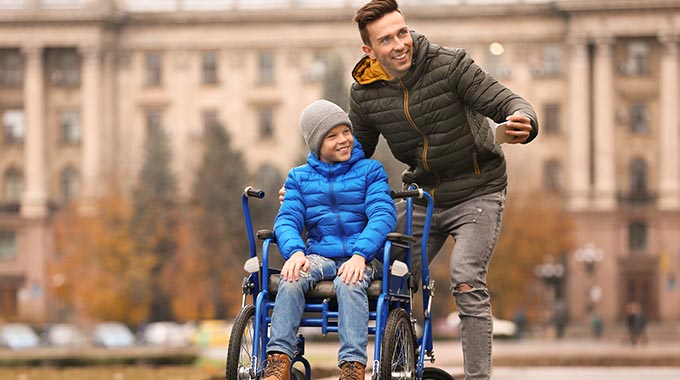 Preparation and patience can help make family vacations go smoothly.
Tracy Jensen has six children; one son has spina bifida, and her daughter has cerebral palsy. Both use wheelchairs. 

"When we fly, some airlines are not as careful as others with wheelchairs," says Jensen, who lives in Fountain Valley, California. "It's a huge struggle getting down a plane's aisle, and it's hard to use the small restrooms."
As a mother of children with special needs, Jensen is not alone in facing such travel hurdles. According to Centers for Disease Control and Prevention statistics, one in six children ages 3 to 17 have one or more developmental disabilities nationwide, and still more face other challenges. Conditions such as autism spectrum disorder, Down syndrome, a visual or hearing problem, or mobility issues can feel like obstacles to travel.
They don't have to be, says Dr. Arthur Lavin, chair of the American Academy of Pediatrics' Committee on Psychosocial Aspects of Child and Family Health. "Family vacations are a gift parents give to their kids," he says. "As important as it is to share the world with typically developed children, it's also important for special-needs children to have adventures and fun."
For Houston-based Lillian Howard, traveling with a son, who has Down syndrome, and two older children means planning activities for everyone.
"They all like zip lining and anything to do with water and the beach," Howard says. "When the fireworks at Disney World were too loud for Mark, we just watched them from the hotel."
These parents agree that despite challenges, family vacations are worth the effort. "The more prepared and patient you are, the less stressed you'll be," Jensen advises. "Don't be afraid to travel."
Tips and Resources for Families with Special-Needs Children
1. When flying, fill out a TSA Notification Card and contact TSA Cares (855-787-2227) 72 hours prior to your flight to request the aid of a Passenger Support Specialist, who can take the family to the head of the security checkpoint line and facilitate screening. Free. tsa.gov/travel/passenger-support.
2. Contact Wings for Autism/Wings for All, which offers a "practice run" at airports for those with autism and intellectual/developmental disabilities. Participants practice entering the airport, getting boarding passes, and boarding a plane. Free. thearc.org/wingsforautism.
3. Note that several major theme parks—including Disney, SeaWorld, and Universal Studios sites in California and Florida—offer assistance passes, which can cut wait times for rides. Rules differ. disneyparks.com; seaworld.com; universalstudios.com.
4. Seek destinations that are autism-certified, which means workers in the resort or theme park have been trained in autism awareness. autismtravel.com.
5. Use a travel agent who's knowledgeable about accessible travel to help you book lodging that's wheelchair accessible and offers adaptive sports.
6. Consider places designed for special-needs children, such as Morgan's Wonderland in San Antonio, Texas. Adult admission, $17; ages 3–17, $11; guests with special needs, free. morganswonderland.com. 
7. Check out these websites: specialneedstravelmom.com, from Karin Sheets, mother of a special-needs daughter, and emerginghorizons.com, by accessible-travel expert Candy Harrington.
Los Angeles–based Dinah Eng is a contributing writer for Fortune and Emmy magazines.