Thousands travel to Normandy to commemorate the day that changed history.
Smashed concrete bunkers at Pointe du Hoc. The sunken remnants of an artificial harbor at Arromanches. A village church steeple draped with a parachute at Sainte-Mère-Eglise. A dark fortress staring out at the sea at Ouistreham. A small bridge named after the winged stallion of Greek mythology at the Caen Canal. Remnants of a vast battlefield are scattered for 60 miles across the coast of Normandy in northern France.
Seventy-five years ago on June 6, 1944, an army of some 156,000 American, British, and Canadian troops descended upon the sands of Normandy, fulfilling a promise to liberate Western Europe from Nazi occupation. The endeavor was dubbed Operation Overlord, but it was the name that marked the first day of landings that stuck forever: D-Day.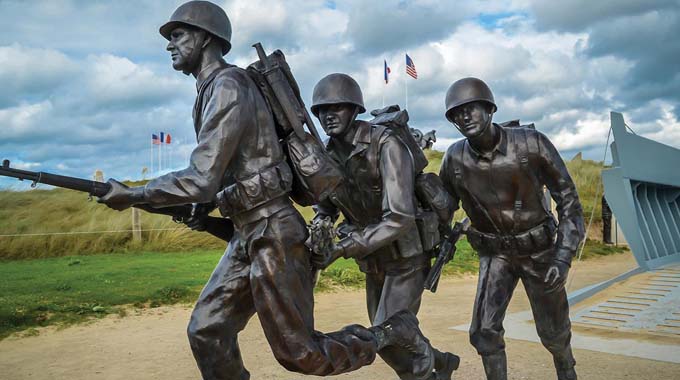 Honoring heroes
Thousands of people are expected to visit Normandy this year to see the onetime resort beaches at places such as Port-en-Bessin, Bernières, and Courseulles-sur-Mer that have since become known by odd English names: Juno, Sword, Gold, Utah, and Omaha. 
I've visited the Normandy D-Day sites seven times—first as a tourist, then as a military reporter, then as a travel editor. Each visit revealed the enormity of the risk and sacrifice Allied troops made and the enduring significance of that single day to world history.
During my earliest visits more than 30 years ago, I would often meet older men who said they had been there that day. An American paratrooper who'd floated down near Sainte-Mère-Eglise and said he'd seen the original parachute that Private John Steele had snagged on the church tower. A Canadian infantryman who'd waded ashore with bicycle-carrying troops at Juno Beach. A landing craft driver at Utah Beach who had returned all these years later to see what he then had seen only from the sea.
Journeys of remembrance
There were never more veterans in Normandy than at the 50th anniversary commemorations of the landings in 1994. A middle-aged woman just off a veterans' group bus ran into a stern gendarme. Her husband had jumped into France with the 82nd Airborne on D-Day. She wanted a shortcut to the anniversary celebration viewing stands for her now-disabled husband.
"Non," said the stern officer of the law. 
"We saved your ass back in '44 and this is the thanks we get!" she responded.
The men in line with me laughed or shook their heads. Scores of them were waiting to get to the viewing stand, and more buses were coming up the road. They had fought. I was a journalist covering their stories.
The first time they'd come to Normandy, thousands of machine-gun and Mauser rifle bullets, grenades, and 88-mm shells had greeted the servicemen, keeping those who'd made it to the beach pinned down until their leaders urged them on. "There are two kinds of people who are staying on this beach: those who are dead and those who are going to die," Colonel George A. Taylor had told his troops. "Now let's get the hell out of here."
The troops crossing the English Channel carried with them the eloquent Orders of the Day from General Dwight D. Eisenhower calling for "... the Great Crusade, toward which we have striven these many months." They didn't know that Eisenhower had also written two versions of an invasion announcement. In an "In Case of Failure Letter," Eisenhower took personal responsibility for the mission's failure if the attack was repulsed.
But it was the other version, announcing that the Allies had secured a beachhead in France, that went out to the world. "INVASION!" screamed headlines on newspapers around the United States. Within a week, the number of Allied troops on French soil had doubled. A resolute-looking Eisenhower appeared on the June 19 cover of Life magazine.
By storming the beaches on D-Day, the Allied soldiers became heroes to the French. They went on to push the Germans east, past Paris and across the Rhine into Germany. Some who died in the fighting were buried at what would become the Normandy American Cemetery and Memorial at Colleville-sur-Mer, a piece of France that the U.S. operates and maintains. With the Soviets pushing on Berlin from the east and Allied forces moving into the north of Italy, the war in Europe would be over in less than a year after the landings.
Enduring legacy
On one visit to Normandy, I walked up Omaha Beach with a former staff sergeant and squad leader named Walt Ehlers, a Kansas farm boy who had joined the Army with his brother shortly after the Great Depression. They'd fought side by side through Northern Africa and Italy, but were in separate units on D-Day. Walt would lead his men off Omaha Beach and onto the heights, and then go on to receive the Medal of Honor for bravery. His brother never made it to the sand; he was killed when his landing craft was hit by a mortar shell.
Walt is gone now. They are almost all gone. Like the doughboys of World War I before them, the veterans of D-Day are passing from memory to history. 
In my most recent visits to Normandy, the veterans touring the region have been replaced by their children and grandchildren. Or just travelers who want to visit a place out of their schoolbooks. All the signs and sites of sacrifice are still there for all to see. If the soldiers and sailors of 75 years ago had not come to Normandy, who knows what kind of world we'd be living in today?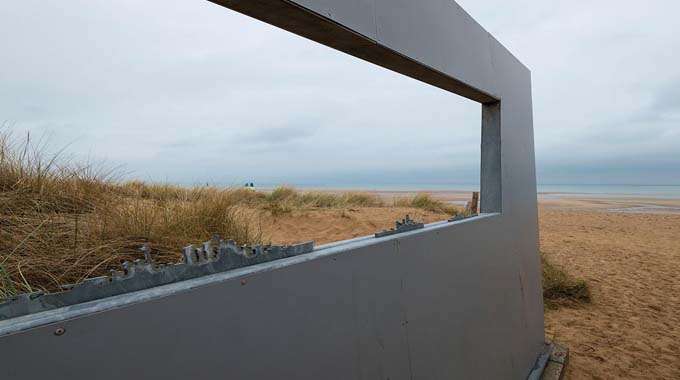 Key D-Day sites to visit
IN FRANCE
Omaha Beach: Scene of D-Day's most intense fighting.
Gold Beach: Remnants of the artificial "Mulberry" harbor seem like an ancient seaside ruin.
Pointe du Hoc: U.S. Army rangers scaled the 100-foot-tall cliff.
German Military Cemetery: Some 21,000 German soldiers lie in the quiet, often deserted burial ground.
Sword Beach: British 3rd Infantry Division troops came ashore here.
Pegasus Bridge: British commandos landing in gliders took this key crossing over the Caen Canal.
The Grand Bunker: The best preserved of the Nazis' "Atlantic Wall" defenses in the area. 
Normandy American Cemetery and Memorial: Nearly 9,400 Americans are buried here. 
Sainte-Mère-Eglise: American paratroopers of the 82nd and 101st Airborne divisions attacked this village.
[Bayeaux is a good base for exploring D-Day sites in France. Find out where to stay and eat in the medieval village.]
IN BRITAIN
Your D-Day pilgrimage isn't complete without a visit to England, where Operation Overlord was planned.
Churchill War Rooms: Winston Churchill's command post in Westminster. Adult admission, about $24.
Imperial War Museums: Visit both the main museum in London, and the air museum in Duxford, with aircraft painted with the black-and-white wing stripes of the D-Day invasion. London: admission, free. Duxford: adult admission, about $22.
HMS Belfast: The Royal Navy cruiser, now anchored on the Thames' south side near London's Tower Bridge, showered shells on German defenses at Normandy. Adult admission, about $20.
St. Clement Danes: This church on The Strand in London is the Royal Air Force's official church.
The D-Day Story, Portsmouth: Near one of the main invasion embarkation ports, this museum recalls the massive effort to send an army to France under strictest secrecy. Adult admission, about $13.
IN THE U.S.
The National World War II Museum in New Orleans: Operation Overlord exhibits include a C-47 Skytrain suspended from the ceiling and a Higgins boat, a landing craft used on the beaches. Adult admission, $28. 
RESOURCES
Gary A. Warner is a former Orange County Register military reporter and travel editor.