A father-daughter surf trip to Costa Rica sparks memories and offers solace
My 12-year-old daughter and I were bobbing in the warm Pacific off Costa Rica, gazing out at the forested Nicoya Peninsula, when a waist-high swell rolled toward us. "Paddle!" I yelled. Lucia was learning to surf and trying to master the delicate art of catching a wave. She scratched toward the shore and her board fishtailed. I thought the swell would pass her by, but somehow, miraculously, she picked up speed and hopped to her feet.
What happened next took only a second or two: She glided down the curl and tumbled into the whitewater. But when I look back on that moment now, more than a year later, I can see her dropping into the wave almost in slow motion. I see her emerging from the froth, wiping her long, damp hair from her face, and beaming. And, if I try hard enough, I can conjure other moments from the trip, too, so that our journey stretches out in my mind's eye out like a long, shimmering horizon.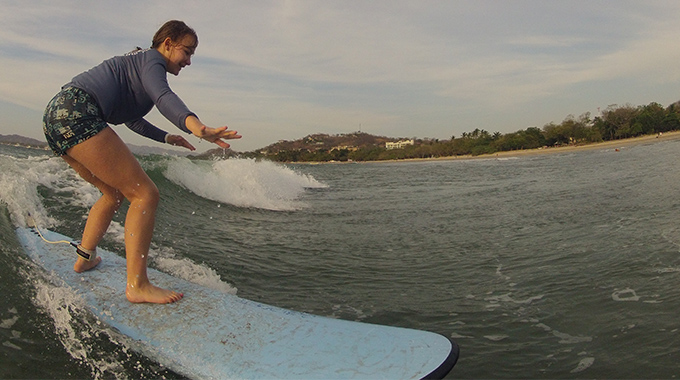 We tend to think of travel as something that's experienced most profoundly in the moment. But this year, as our passports have gathered dust because of the pandemic, many of us have found ourselves escaping through the portal of memory to trips made in the Before Times. In the same way that birthdays and graduations serve as temporal landmarks in our past, so, too, can travel experiences, the best of which are such radical departures from everyday life that they often endure in ways other memories don't.
Perhaps that's why I've found myself returning to this father-daughter surf trip that we took last year. Like most people with more than a few decades behind them, I've long felt time accelerating—especially as a parent. Just yesterday, my kid was in onesies. Then, suddenly, she was shopping for ripped jeans. At 12, Lucia was teetering between childhood and adolescence—an age of becoming, of trying to figure out who she was, and who she wanted to be. But even as her attention swung from Harry Potter to Billie Eilish, she was steadfast in her desire to surf. I wanted to get away with her to share my love of the sport, and to try, however briefly, to slow down time.
Why Costa Rica is an ideal surfing destination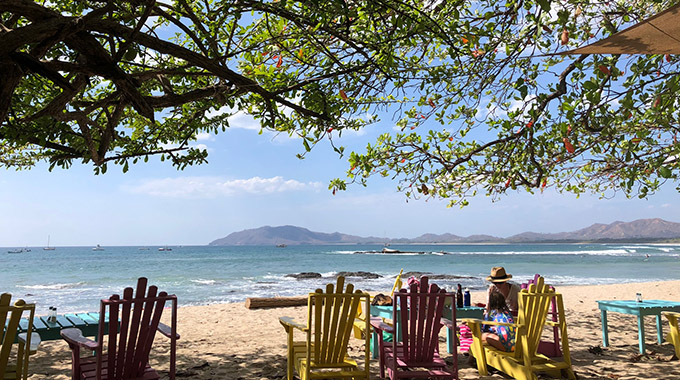 Costa Rica seemed an ideal destination. Not only would we have the chance to encounter furry sloths, who seemed to be reaching peak meme, but we'd also find no shortage of pristine beaches. A number of sophisticated surf camps had opened on the country's Pacific coast in recent years, but their waves were generally better suited to seasoned surfers. I chose the town of Tamarindo in northwest Costa Rica because of its small, gentle waves that crumble over a sandy bottom—ideal conditions for beginners.
I picked Tamarindo for another reason, too. I'd spent several carefree days there in the mid-'90s, during a two-month Spanish-immersion trip to Costa Rica. I remember stepping off a long, sweaty bus ride from San José one warm October evening into a coastal Shangri-La with palm-dotted beaches, inviting waves, and a handful of cheap hotels and restaurants that catered to backpackers and surfers. Now, I was eager to introduce my daughter to one of the places that had caused me to fall in love with this big, messy world.
No sooner had we arrived at our beachfront hotel than Lucia peered out at the blue-green Pacific and said, "Come on, Dad! Hurry up! Let's go!" We changed and ran down to the beach. Palm fronds rustled in a light breeze. People lazed in hammocks. Several boats rocked offshore. We hurried across the hot sand and swam out into the waves. Then I rented a couple of surfboards from a beachfront shack and we paddled out.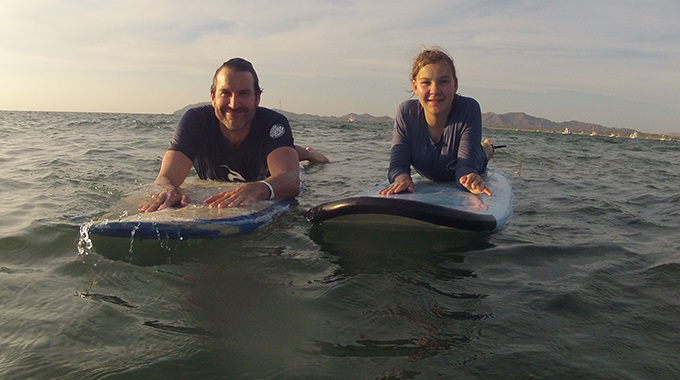 Lucia had attended a weeklong surf camp near San Diego the previous summer and was still working on the basics. She wasn't particularly eager to hear my tips, but when we toweled off, she agreed to take a refresher lesson from an instructor the next day.
We awoke the following morning to strong winds and a low tide that had flattened the waves, so we decided to postpone the surf lesson and stroll into town. We passed yoga studios, discos, hippie-chic boutiques, and even a falafel joint—all new to me, but not especially surprising. I'd read that Tamarindo had grown considerably after the release of the 1994 surf documentary The Endless Summer II. "For a lot of surfers," filmmaker Bruce Brown intoned over footage of tantalizing tube rides near Tamarindo, "this is the kind of day you dream about: just you and your friends, offshore wind, 85-degree water, quality waves, and the nearest parking meter is 800 miles away."
Among the surfers riding those waves was Robert August, who decades earlier had starred in the original Endless Summer. August had been so taken with Tamarindo that he'd moved there after The Endless Summer II came out, I'd read, and was making custom boards. I had to find him. I loved the idea of meeting a childhood hero of mine—as a kid, I'd watched a VHS tape of The Endless Summer about a thousand times—and the full-circle prospect of introducing my daughter to the surfing legend. We spotted the sign for Robert August Custom Surfboards—the Endless Summer–inspired painting over the entrance caught my eye—but the door was locked. "Try back in half an hour," said a young woman working at a surf shop next door.
While we waited, we sat outside a tiny café that I'd remembered for its surprisingly delicious pastries made by French expats. To ensure that Lucia fully appreciated the significance of our upcoming meeting, I pulled out my phone and found a clip of The Endless Summer's most enduring scene. Lucia and I ate pain au chocolat and watched as August and his costar, Mike Hynson, glided across some of the best waves ever captured on film—perfect, peeling curls at Cape St. Francis, South Africa.

"We're going to meet him?" Lucia said, pointing to August tucking into a curl. She wasn't quite as excited as I was, I'm sure, but she sounded genuinely enthusiastic.
"If he's there when we return," I said.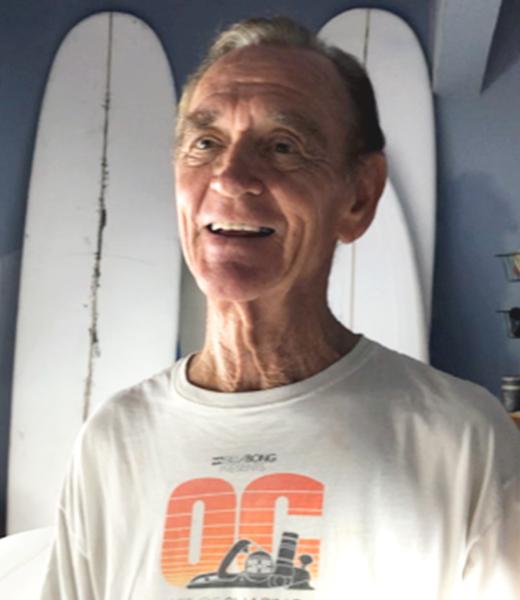 A short while later, we stopped by August's shaping room, opened the door, and there he was, now in his mid-70s, in shorts, flip-flops, and a T-shirt, ever the image of the consummate surfer. Boards lined one wall, and CDs lay scattered across a nearby shelf. He welcomed us inside, asked Lucia about her surfing, and then, at my prodding, recalled his introduction to Tamarindo decades earlier. A real estate developer from Texas had invited him to check out the area's surf. "He said, 'Why don't you guys come down to Costa Rica and take a look and do some filming, and let people know about the waves?' " The rest, you could say, is surf history.

While some have lamented the influx of visitors that followed the film's release, even dubbing the town "Tamar-gringo," August isn't one of them. "It's a nice place," he said. "There are people from all over the world who live here, and who are happy and get along great."
After we said goodbye, Lucia and I perused a dozen of his surfboards for sale next door—she was drawn to a coral-and-blue longboard—and we bought a couple of Robert August Surf Company T-shirts to help preserve the memory of our visit.
The making of a surfer
The wind dropped that afternoon and we headed down to the shore for Lucia's lesson. Surfing isn't easy, but even articulating proper surfing technique can be challenging. As writer–surfer William Finnegan wrote in his memoir, Barbarian Days, "Nearly all of what happens in the water is ineffable—language is no help."
Fortunately, Lucia's instructor, Rigoberto Rosales Munguia, had been teaching for more than a decade. As Lucia lay on a soft-top board on the beach, Rosales explained how surfers use their hips to control their board and shift their weight to turn. Popping up to a standing position was another matter. "When you get up, do it like you're doing a push-up," he said. "Put your back foot down first. Keep your knees bent."
Lucia practiced popping up, and then they headed into the surf. The waves were no more than 2 or 3 feet and mushy—perfect for her. Rosales pushed her onto a few waves, but she struggled to stand. Then, on the fourth or fifth try, she popped right up and rode the wave for 15 or 20 yards. "Great!" he shouted. She rode the next one all the way to the shore. I cheered. Rosales gave her a high five. Soon, she was catching almost every wave she wanted.
That night, I told Lucia that I was proud of her for keeping at it even when she felt frustrated. She wondered aloud, "Am I a surfer now?"
The question reflected this formative time in Lucia's life, and also got at something essential about surfing—that it's not just a sport, or a hobby you did in your spare time. Surfing could be a part of your very identity, of who you are.
"You're definitely well on your way," I said.
She smiled.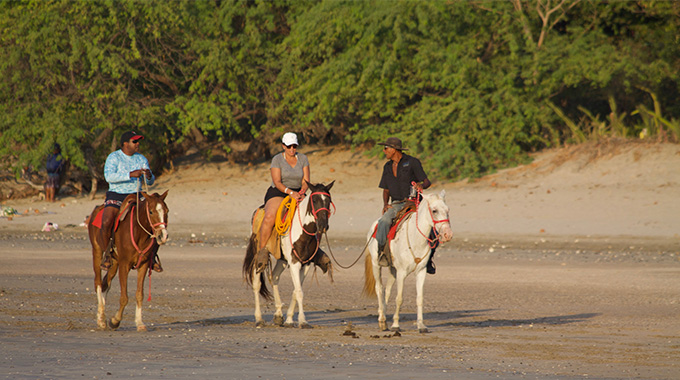 We surfed a few more times after that. We also kicked back in hammocks and relaxed around the hotel's swimming pool. On more than a few occasions, I could feel time slowing. When I was Lucia's age, I never fully appreciated such quiet, in-between moments, but now that I was older, I understood how rare and fleeting they are.
As the pandemic has transformed our lives in recent months, my mind has returned to a magical evening in Tamarindo when Lucia and I surfed together. As the sun began to set, the sky turned orange, then pink, and then a brilliant lavender. A warm breeze blew. We each caught small waves and cheered the other on until darkness began to fall. I didn't want the day to end or to ride that last wave in. The scene is burned into my memory, and as I've chafed at the lockdown, thinking back to that evening has kept my spirits up. I don't think I'm alone.
"Dad," Lucia said the other day. "When the pandemic is over—like, the moment it's safe to travel again—can we go back to Costa Rica?"
"I'd love that," I said.
Travel editor Jim Benning recently wrote about New Mexico's Hatch Valley and its world-renowned chiles.
Getting there

Fly into Daniel Oduber Quirós International Airport in Liberia, Costa Rica, and then take a shuttle to Tamarindo.
Where to stay
In Tamarindo, we stayed at the Coast Beachfront Hotel and surfed directly in front of the property. The hotel can arrange surf lessons, surfboard rentals, and surf trips to other beaches. Rates sart at $119. thecoastbeachfront.com.
After we left Tamarido, we spent a couple of nights at the Andaz Costa Rica Resort at Peninsula Papagayo, a stunning property (though not a surf destination) overlooking Culebra Bay. There, we lounged on a private beach, kayaked above sea turtles and puffer fish, and watched capuchin and howler monkeys swing through the trees. Rates start at $320. hyatt.com