North of the Arctic Circle,  a grown-up cynic is enchanted with St. Nick and his home village of Rovaniemi.
Yukka indifferently nibbles a long spruce twig as I approach. But when I reach a hand toward his irresistibly fuzzy, cream-colored muzzle, he flinches in his brightly fringed harness. Pro tip: If you're going to pet a reindeer, approach from the side, not the end with the antlers. 
Yukka might not have made Santa's top nine, but I'm smitten. I settle into the jaunty wooden sleigh behind him and—a little guiltily—pile on a thick reindeer pelt for protection against the mid-30s temps. The driver takes his place at the back of the sleigh, and we're off for a snowy ramble through stands of aspen, spruce, and birch. 
What's drawn me here to Finnish Lapland, a few steps north of the Arctic Circle? I've got an important question for Santa Claus, my first in a really long time. I want to know what makes this far-north reach so magical.
I've caught the tail end of the December-through-March season in Rovaniemi, a small town that serves as the gateway to Finland's northern region. In a week, the surrounding area's winter outfitters will pack it in; and the playgrounds, restaurants, and hotels carved from snow and ice will slowly melt away. But Rovaniemi's main draw, a park called Santa Claus Village, will remain open year-round, because the world's jolliest man never takes a vacation.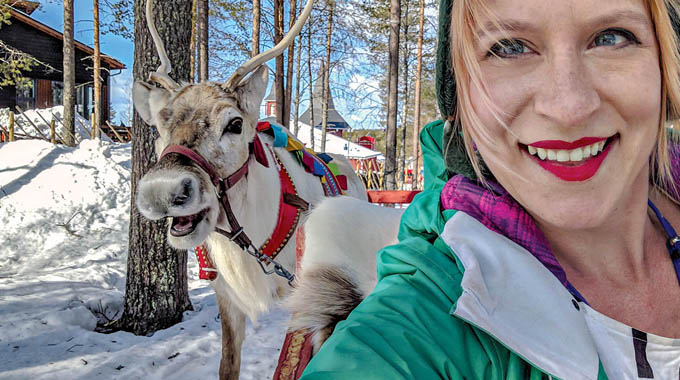 The village's cluster of Christmas-themed shops and attractions, family-friendly hotels, and tour operators waiting to whisk you into the Finnish wilds is not technically where Santa lives. That location remains top secret for obvious reasons. But the park is where he's set up office to receive visitors, and the on-site post office is where he picks up his mail. 
A few days before my one-on-one with the big guy, I call for some backup. This is no job for a mere grown-up. 
"When did he start growing his beard?" my piccolo-voiced niece ponders via cell phone. "And when is his birthday? I have no idea. He's like, something years old?"
Ellie, 8, is a font of questions. As always, I'm on speaker. "She's going to the North Pole!" she calls to her brothers, ages 9 and 5. A stampede of small feet approaches the microphone.
"Say 'hi' to Santa for me!" yells Adam, the eldest. "Make him teach you how to do magic!"
"Wait! Wait! Can you call us from the North Pole?" Ellie interjects. At this point, the "conversation" tumbles into a tangle of fanciful plotting and debate over which questions are most important. 
"Or fly! See if he can teach you to fly! Then you can teach us," Adam says. "Or just float," he adds, in case flying is too big an ask. 
"We're playing foosball!" Cael, the youngest, chimes in, helpfully. 
I jot down all their questions in my little green notebook and smile. I'd forgotten how limitless the world feels when you're that age, and just how many possibilities a guy like Santa represents. 
But for cheerful carols plinking through the park's loudspeaker, all's quiet on the front porch of Santa's office a few days later until—at precisely 9:45 a.m.—a pointy-hatted elf just a few inches shorter than me pops her head out of a massive wooden door. (Elves come in all sizes, she explains.) She walks me past piles of presents, a miniature forest, a peephole to the reindeer nursery (you see a video of baby reindeer and an elf caretaker), and up a wide staircase. A wall display proclaims: "269 days to Christmas."

"That's the only clock we need," she says.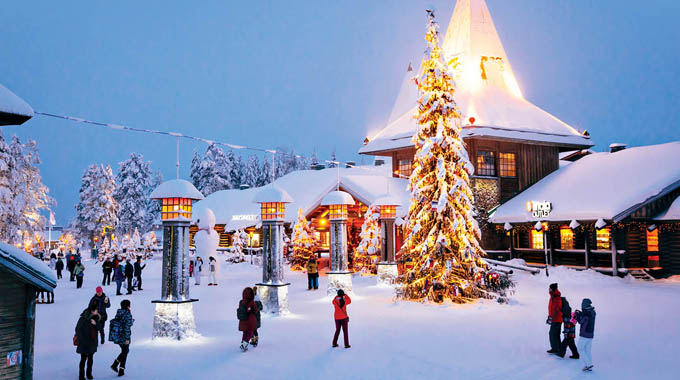 Scanning the framed photos of Santa posing with visiting dignitaries, I spot his portrait with the Spice Girls. "Everyone in that picture wants to know what you want, what you really, really want," I note with a smile.
We pass through another wooden door and boom! I'm face-to-face with St. Nick himself and utterly starstruck. 
For most of my life, I've considered him more the "spirit of Christmas that lives in our hearts" than a living, breathing being. So, it's a shock when his massive, pillowy hand engulfs mine. I notice the strangest details. He's so … warm! His felted shoes are easily three times the size of mine, with comically bulbous toes. His beard? Epic. (Later, when I try to snap a quick selfie, I can't even get the whole thing in the frame.) 
Remember that scene from A Christmas Story, where a tongue-tied Ralphie nearly blows his big moment with the mall Santa? I'm perilously close to such a fate when I recall the green notebook in my hands and snap back to reality. (Is this reality?) 
"I once sat down by the fire and started to count my age," Santa is soon explaining in a soft, resonant voice. "But when I reached 374, I fell asleep." 
I learn he can fly, but only at Christmas and only with reindeer. The snow at his house is very, very deep. He drops a few not-so-subtle hints about enjoying homemade cookies and hot chocolate. When I ask what he loves most about Lapland, I'm surprised to discover he's an avid outdoorsman who loves the Finnish traditions of taking saunas, trekking through the forest on snowshoes, and foraging for mushrooms.
"Mostly, I like to go with Mrs. Santa into the woods and build a fire," he says. "If the sky is clear, we see the aurora borealis. When I see that, I hope that all the children in the world can play with each other and don't have to be afraid." 
From the hall, I hear an elf greeting the day's next visitors with "Ni Hao!" and "Buongiorno!"—a signal that my visit with Santa is nearly over. But first, a mission.
"When you go back home, please say very warm greetings to all little and big children in the neighborhood. In that way, you can be my helper," Santa says. "And please give my very warm greetings to Adam, Ellie, and Cael."
Over the rest of my three-day trip, I'll sample some of Santa's favorite pastimes, steaming myself to a puddle in a sauna carved into a snowbank and snowshoeing through the wooded hill in Rovaniemi's city center. My late-night vigil in the Arctic forest, when—just as we turn our snowmobiles to leave the aurora borealis at last turns on its dazzling green lights, will become one of my most memorable travel experiences to date. 
But for now, I have big news to share with some little kids. Three fresh Dear Santa postcards in hand, I hoof it across the village.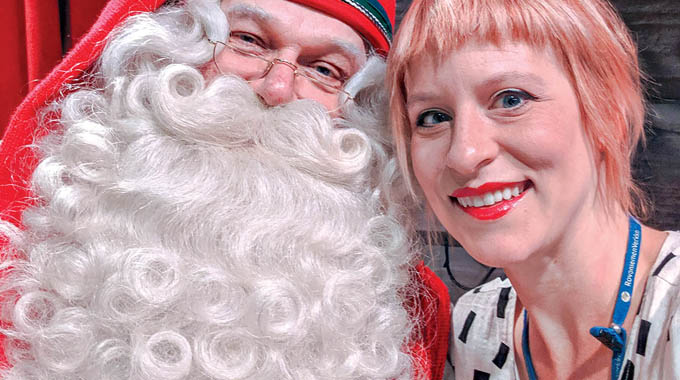 The Santa Claus Main Post Office, with its log cabin interior and pops of red paint, feels as cheery as Santa's office and nearly as busy. I take a seat among a dozen other visitors to fill my postcards with everything I've just learned from Santa. Nearby, surrounded by shipping boxes and Christmas trinkets, one man from San Francisco and another man from Belgium check their own lists—of addresses, enjoying their chance to play Santa. 

"We're sending Christmas presents from the North Pole," the visitor from San Francisco says. Everything sent from this post office gets a special "Arctic Circle" postmark. (The line of latitude runs through the park.)
About 500,000 letters to Santa arrive here from across the globe each year, about 32,000 a day during Christmastime. Elves open and sort each letter, and Santa reads them when he has time.
A wall of cubbyholes stuffed with envelopes catches my eye. Each slot is labeled with different countries. Here, Bahrain is neighbors with Bangladesh and Bermuda. The envelopes—all sizes, shapes, and colors—have traveled thousands of miles to reach Santa Claus. I marvel at the faith in that act. I'd set out to discover what makes this place so magical and, standing before the collective hopes of children from 200 countries, I think I've found my answer.
If you go
Do
Year-round, entry to the park and short visits with St. Nick at Santa Claus Village are free, though photo packages start at $37. More in-depth visits with Santa and the elves are available from park-associated outfitters. santaclausoffice.com. Or meet some fluffy reindeer inside the park with Santa Claus Reindeer. From $16 per person. santaclausreindeer.fi.
During winter, ride one of Wild Nordic's snowmobiles into the forest for a traditional Finnish campfire and, if you're lucky, you'll see the aurora borealis. Snowmobile safari, $88. wildnordic.fi. 
Eat
For a midday bite inside the park, Nova Skyland Restaurant offers Lappish and international options in buffet form in a chic dining room. About $16. novaskyland.com/en/restaurant. In the town center, savvy foodies hit Roka Kitchen and Wine Bar, where traditional ingredients such as reindeer and cloudberries get modern bistro treatment. Main courses from about $20. rokawinebar.fi. And splurge on Sky Kitchen and View's tasting menu, where delicately flavored local perch and forest mushrooms pair beautifully with sunset views over the Rovaniemi woods. Three-course meals from about $55. kitchensky.fi/en.
Stay 
In the city center, the award-winning Arctic Light Hotel combines contemporary style and a luxe feel in Rovaniemi's former City Hall. Winter rates start at about $296. arcticlighthotel.fi/en/hotel. In the park, Nova Skyland Hotel has 14 apartments and recently debuted 19 suites. Bonus: Each comes with its own sauna. Winter rates start at about $460. novaskyland.com/en.
Info: visitfinland.com
Reindeer fangirl Jessica Fender is a former Pulitzer Prize–winning newspaper reporter who traded her press pass for a boarding pass. She chronicles her globe-trotting adventures at travelerbroads.com and aspires to one day make Santa's "Nice" list.
AAA Travel Alert: Many travel destinations have implemented COVID-19–related restrictions. Before making travel plans, check to see if hotels, attractions, cruise lines, tour operators, restaurants, and local authorities have issued health and safety-related restrictions or entry requirements. The local tourism board is a good resource for updated information.