The islands are gorgeous, but their warm people are what make it a paradise.
The potato chips scared me. Who wants chicken-flavored chips? Okay, cassava-flavored potato chips make a certain amount of local sense, but what on earth is Twistix, and why would anybody want to eat a potato chip flavored by it?
These are probably not things that concern most people when they come to Fiji's 330 or so islands. But there I was, on a ferry loaded with Fijians, headed to the outer islands—me for vacation, them for work—and they were all laughing so hard and talking so happily around mouthfuls of chips that I feared the joyful noise might cause me ear damage.
Weird potato chips aside, Fiji is, flat out, paradise. It's Hawai'i before jets; it's Nirvana with swank resorts.
Or at least that's its public face. Fiji works kind of like a Broadway show: Everyone sees the shiny stuff up front—which is amazing. But the most interesting stuff happens backstage, in the village on the other side of the island from the gorgeous resort where housekeepers use flowers to spell out your name on the bed. Or on a neighboring island a short ferry ride away.
Throughout Fiji, at even the swankiest resort, guests and workers come together in the evening over bowls of kava—a drink made from a kind of pepper plant, Fiji's social and ceremonial lubricant, sort of like mixing mud with a good anesthesia. As the night progresses, the Fijians start telling you about home. Their village.
So on my most recent visit to the islands, I strayed from my posh hotel in the Mamanuca island group to explore the Fiji beyond the resorts. Fiji's heart, I discovered, is in its villages.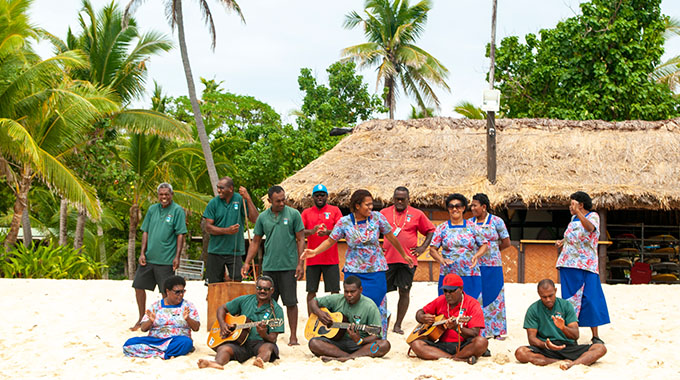 In Fiji, you're never far from a village. Slip beyond the manicured edges of the resorts, cross a low hill, or go an island or two away across bathtub-warm water, and there it is: Fiji of the Fijians.
In the villages, the jungle works its way around the houses, comes right to the edge of the water, making sure everything is perfumed with flowers the size of dog bowls. Morning's alarm clock is a hundred kinds of birds, invisible in leaf shadow, singing the sun up. Houses stretch out on flat sand; a few cassava and yam and taro gardens thrive on evening rain.
Fijians are among the most welcoming people on Earth, so it's difficult to conceive that today's residents are descendants of cannibals who ate people regularly enough they even had a particular spice palette for seasoning them.
The early Fijians tried not getting along (war clubs are still a popular souvenir). Since the great ancestor chief Lutunasobasoba brought the first Fijians to these islands—in the time before there was time, or, according to archaeologists, somewhere around 3,500 years ago—the Fijians warred with each other or with anybody who came in sight. After Dutch explorer Abel Tasman spied the islands in 1643, Fijians warred with Europeans who landed there. For the next couple of hundred years, sailing through Fiji meant a risk of being turned into an entrée, so most outsiders chose to sail days out of the way to go around the islands.
Then Christian missionaries arrived from Tahiti and later from Europe, and when Chief Ratu Seru Cakobau converted in 1854, the Fijian world changed and became a more peaceful nation.
Twenty years later, England brought the Fijians under the queen's rule, so Fiji was a colony for the next 96 years. Fijians regained independence on October 10, 1970. The British legacy included a few problems that led to a 2006 coup that fizzled out pretty fast, and today, people on all the islands welcome visitors to a landscape as lush as the Garden of Eden.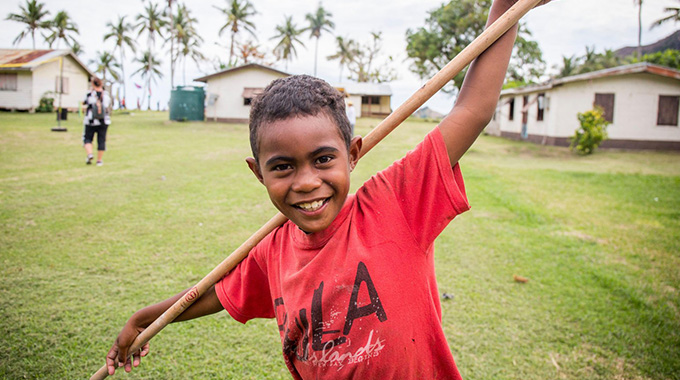 One Sunday morning, as a rainbow posed for a postcard shot and the low sea lapped at the front of my resort bure—the Fijian bungalow updated for the 21st century—I set out to explore. I took a path that led along the water's edge, decorated by coral and scuttling crabs, before turning inland over the low spine of mountains splitting the island.
I walked through tall grasses, and about 10 minutes after leaving the resort, I arrived in a village of houses painted in fading shades of red, blue, and yellow, and surrounded by perfect lawns. Church was in session, the windows open in a wooden building painted a shade of blue somewhere between the sea and sky. Hymns whose tunes I recognized but whose words I couldn't comprehend poured out like notes of stained glass past rows of flip-flops lined up at the doorway. Before moving on, I stood outside for a few moments listening to the sermon, given in Fijian. Then I walked on.
"Bula," someone called out in Fiji's all-purpose greeting. Even though I didn't understand a word of the songs or sermon, I understood the welcome.
A couple of days later, I hitched a ride on a resort dive boat to a village whose name I never did learn. Surrounded by laughing Fijians, I braved the snack bar's potato chip selection, and along the way, we bounced over water clear enough to see the coral below, a fish-populated Atlantis done in 1960s Day-Glo colors.
And while the divers headed out for a close-up look at this undersea lava lamp, I waded ashore. Every house had all its doors open, and anybody who noticed me walking by leaned out and yelled, "Bula," as if they were wondering why I was late, even though I didn't know I was coming.
A total stranger invited me in. I kicked off my flip-flops before entering the house. Within minutes, lunch was laid out on a mat on the floor, and I sat dining with the man and his wife, grandmother, and son. The youngster, who looked to be about 7 years old, took his fish off the bone with surgical precision. Lacking his dexterity, I indecorously tore at my fish. It tasted so good that the revered chef back at my resort would have hung up his knives in shame had he eaten it.
After lunch, I walked through the village: a couple of dozen houses stretched along a waist of land so narrow that everybody gets an ocean view, although they might be looking in opposite directions. Everybody also gets an island view, because in Fiji a neighboring isle is almost never out of sight.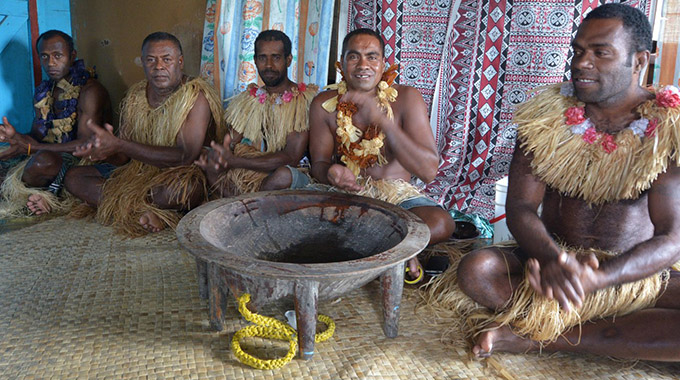 Back at my resort, I stayed up late one night drinking kava with Niko, from Fulaga, in the Lau island group. If you want a carver, you recruit from the Lau islands, and he was here doing new woodwork for the resort. As we talked and drank, he said something that changed my whole view of Fiji. Dipping me another shell full of mud and painkiller, he said, "My island is where all of Fiji's best boat makers live."
Since the islands are all so close to one another, Fijians did not need the big voyaging canoes that Hawaiian and Tahitian navigators used; Fijians treat the ocean more like a river. They build compact canoes made for fast travel, for catching a few fish as quickly as possible so you can hurry back home and hang out with the people you love. Once you've got that boat and some fishing line, you're set; you can sail to a different beach every night, if you like. Villagers will dish out the kava and tell you what land is good for farming, which reefs offer the best fishing—just don't forget to share your bounty.
As they shared with me. I sometimes brought kava to share with them, but the most important things to take with you are openness and kindness. On one village visit, I walked slowly past a canoe-shaped drum made from a hollowed-out tree trunk. It was crafted to draw the villagers together, but as best I could tell, everyone is always together, and there's always room for one more. And after two weeks here, I started to really get into Twistix-flavored potato chips, which I finally learned are cheese-flavored chips, although they didn't taste like cheese to me.
Back at my resort, I experienced evenings measured out by nature: the short twilight, accented by the shadows of giant fruit bats heading out for a night of foraging; frogs croaking from the jungle, their sounds echoing off the thick tree trunks; and finally, each night, the rain, even though the days were completely cloudless. I'd wake in the dark to what sounded like waves crashing over my head, the rain was coming down so hard. And when I couldn't resist, I'd go outside and stand in the downpour, which was as warm as the ocean itself.
Mornings arrived clear, the last of the giant fruit bats flapping up dawn. I'd follow their flight path and notice another island I hadn't yet visited. Another village. Another place to feel very much at home in paradise.  
Pleasant Holidays offers packages to Fiji as well as to other Pacific destinations, including Tahiti and Hawai'i. Your AAA travel agent can provide trip-planning information. Call 800-814-7471 or go to AAA.com/travelinfo.    
Fiji Airways (fijiairways.com) flies from Los Angeles to the town of Nadi, on Viti Levu, Fiji's most populated island. South Sea Cruises (ssc.com.fj/island_resort_connections.aspx) offers ferry service to the Mamanuca island group, and Awesome Adventures Fiji (awesomefiji.com/ferrytimetable.aspx) offers service to the Yasawa island group.
Accommodations throughout the Fijian islands range from buck-a-night guesthouses in villages to resorts where the rooms have bathtubs the size of swimming pools.
On Viti Levu, the Radisson Blu Resort Fiji Denarau Island (radissonblu.com/resort-fiji/location), about 6 miles from Nadi, offers five pools designed to resemble tropical lagoons. The Uprising Beach Resort (uprisingbeachresort.com) is more intimate, reachable by road from Nadi. At the swank end, Tokoriki (tokoriki.com), in the Mamanucas, about 90 minutes by ferry from Nadi, has ultraluxe rooms and dining and gorgeous views. There's also a chapel, if you feel like getting married on the island.
Many resorts have arrangements with nearby villages to help you get introduced around. Larger villages are accustomed to people wandering in, since there's likely to be a guesthouse or two in town. Be polite, open, and respectful, and you truly will not find anyone friendlier than a Fijian.
And you can buy potato chips in weird flavors for about a buck at any store in the islands.
Edward Readicker-Henderson has written for Islands, Afar, and National Geographic Traveler. His books include A Short History of the Honey Bee.    
AAA Travel Alert: Many travel destinations have implemented COVID-19–related restrictions. Before making travel plans, check to see if hotels, attractions, cruise lines, tour operators, restaurants, and local authorities have issued health and safety-related restrictions or entry requirements. The local tourism board is a good resource for updated information.