Looking to put some meat and sizzle into your dining experience? These Southern California steak houses aim to satisfy.
1. Born and Raised, San Diego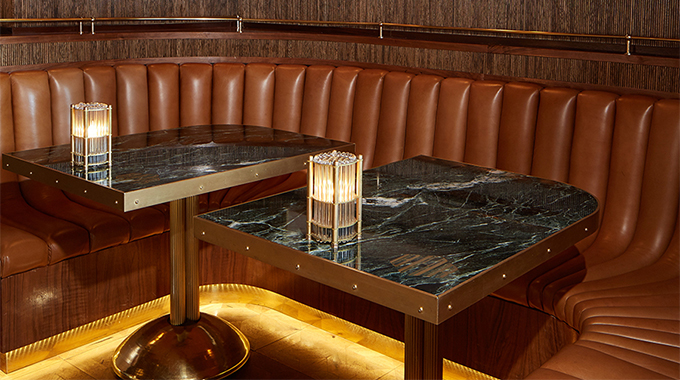 There's so much action everywhere in Little Italy's big, bold, and busy Born and Raised. By 6:30, this extravagant, art deco–style dining room is typically packed to the rafters, not just with diners eager to consume luxuries such as dry-aged tomahawk steaks, but also with what seems like a battalion of servers, hosts, and bartenders, as well as the inhabitants of the crowded open kitchen and glassed-in butcher shop.
The atmosphere is noisy and fun. Most folks are constantly in motion, and even the tuxedo-clad headwaiters dash around in black Chuck Taylors. 
Born and Raised's unique, informal approach to fine dining relies on an impressively sized room, lavish ingredients (truffles, caviar, lobster), and an ultra-selective wine list. Rich, brandy-enhanced lobster bisque sets the tone for an impressive starters list that also offers snails in garlic-basil butter, a one-of-a-kind plate of mushrooms tartare, and chilled crab claws ready to be cracked and dressed with melted butter or spicy cocktail sauce.
The grand steaks—filet mignon, New York, rib eye, porterhouse—are aged or dry-aged, which creates distinctive flavors and textures. A steak specialty, Tournedos Rossini, is a French haute cuisine classic that this kitchen does exceedingly well, garnishing the sautéed filet with pan-seared foie gras, black truffle, and a phenomenal Madeira sauce.
Tableside service is available for cocktails, an enjoyably flambéed Steak Diane, and a fluffy French omelet with shaved truffles. Daily cart specials have included steak tartare and Châteaubriand for two. Sides such as sweet carrots Vichy and coal-roasted leeks are offered separately.
The dessert cart delivers a towering carrot cake and an imposing New York cheesecake, as well as bowls of chocolate verrine, mousse topped with delightful marzipan cakes. —David Nelson
Best dishes at Born and Raised
Lobster bisque, Tournedos Rossini, tableside specialties, dry-aged steaks, Robuchon potato, chocolate verrine
Dinner prices at Born and Raised
Starters $14–$28; entrées $29–$150 (steaks are $5 per ounce); desserts $1
2. Greensleeves Steakhouse, Redlands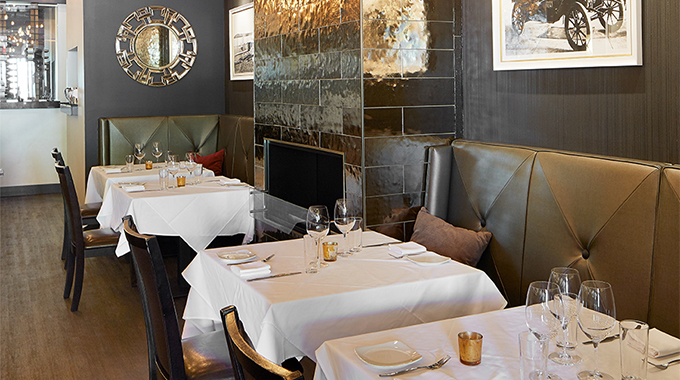 Greensleeves Steakhouse is ensconced in Redlands' Phinney Block building, a 125-year-old structure that has been occupied by a restaurant with a similar name for decades. Acquiring the space after a fire, the new owners created a handsome steak house that honors the historic site.
An elegant, modern setting with an art deco quality, the dining room showcases contemporary lighting, a fireplace clad in gilded glass tile, and mirrors mounted on dark walls. Those seeking a burger instead of a rib eye can head upstairs to a more casual lounge.
For starters, consider a classic shrimp cocktail, steak tartare, or roasted bone marrow. A Caesar salad is tweaked with Parmesan crisps and flash-fried elephant garlic, while roasted beets are plated with citrus- and cardamom-whipped goat cheese, candied pistachios, and oranges.
Naturally, beef (USDA Prime from Colorado) takes center stage here, from a petite 6-ounce filet to a shareable 40-ounce tomahawk. A nicely charred domestic Wagyu flatiron with a pleasant chewiness might be paired with a blue cheese demi-glace that works well for dipping assertively salted pommes frites.
Other side dishes include crispy brussels sprouts with pistachios and pickled Fresno peppers, tossed in a maple vinaigrette with perfectly balanced sweetness and acidity.
Rivaling any steak, surprisingly, is the beef short rib, braised five hours in cabernet sauvignon that reduces to a silky sauce with considerable intensity. Complemented by "peewee" fingerling potatoes, cipollini onions, and wild mushrooms, the dish could be described as beef bourguignonne on steroids. Seared, paprika-dusted scallops are presented over ratatouille, accompanied by avocado-cilantro mousse and lemon emulsion.
Among the dessert options are baked pastry-wrapped Brie with apricot chutney, and a "cream cake" in which flan is layered over cheesecake and plated with caramel sauce. —Roger Grody
Best dishes at Greensleeves Steakhouse
Roasted bone marrow, braised short rib, crispy brussels sprouts, "cream cake"
Dinner prices at Greensleeves Steakhouse
Starters $8–$18; entrées $22–$52; desserts $11–$18.
A subtle white glow shines upon the passers-by. It's a spotlight of sorts that entices glances and stares at the contents within the pristine refrigerated case, which contains dry-aged steaks, lengths of chorizo, and freshly trimmed racks of lamb. It's an exhibition that may as well be the kitchen's statement of purpose. Vaca, after all, is Orange County's new, Spanish-accented steak house.
Vaca is the second restaurant from chef Amar Santana, a familiar face from both his acclaimed Broadway by Amar Santana in Laguna Beach as well as his recent appearance on Bravo TV's Top Chef. Reservations are appropriately hard to come by. But Vaca—a boisterous little place within earshot of the Segerstrom Center for the Arts—is worth the wait.
Tapas clutter the table before you even contemplate the rest of the menu. The erizos con huevo may be the most picturesque, scrambled eggs and briny uni served inside the urchin's spiny shell. Vaca's smoked chicken cannelloni is brilliantly simple: tender pulled chicken loaded into a single tube of pasta and encircled by a pool of beguiling sauce fortified with foie gras and sherry. 
You can, of course, compose a cheese and charcuterie board. Or double up on tapas: roasted cauliflower with tahini and lemon, the Bikini sandwich (Ibérico ham and Manchego cheese), wine-braised oxtail, and meaty mushrooms. The menu can sometimes be a minefield, however—with this many dishes (there are some two dozen tapas alone), there are bound to be occasional missteps.
Still, there's the redemptive paella de carne. It's a carnival of meat: pork belly, chorizo, blood sausage, duck confit, and beef cheek all arrayed over short-grain bomba rice. And if that's not enough, there are those steaks and chops. There's a brawny beef rib steak, lean bison tenderloin, filet mignon, and more. All are grilled over smoldering wood.
Dessert brings stubby little churros. They're fluffy and wonderful, even better streaked through the dark dipping chocolate. Vaca's ice creams and sorbets are a treat, too, cleansing flavors like rosemary-caramel and green apple–yuzu offering a respite from all that indulgence. —Miles Clement
Best dishes at Vaca
Smoked chicken cannelloni, Bikini sandwich, charcuterie boards, erizos con huevo, roasted cauliflower, paella de carne, churros
Dinner prices at Vaca
Tapas and sides, $6–$16; charcuterie and cheese, $7–$36; paella, $32–$45; steaks and composed plates, $24–$76; desserts, $7–$12

Save at restaurants and on meal-kit delivery services.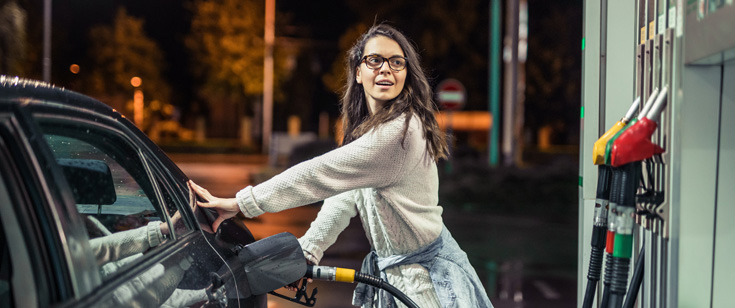 AAA membership unlocks savings on everyday purchases.