Looking to put some meat and sizzle into your dining experience? These Southern California steak houses aim to satisfy.
Born and Raised
1909 India Street, San Diego. 619-202-4577; bornandraisedsteak.com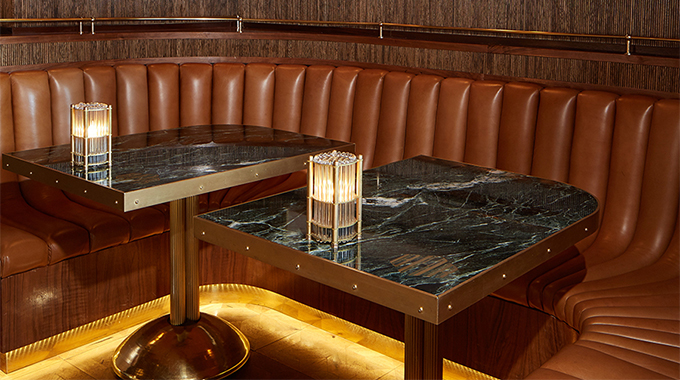 There's so much action everywhere in Little Italy's big, bold, and busy Born and Raised. By 6:30, this extravagant, art deco–style dining room is typically packed to the rafters, not just with diners eager to consume luxuries such as dry-aged tomahawk steaks, but also with what seems like a battalion of servers, hosts, and bartenders, as well as the inhabitants of the crowded open kitchen and glassed-in butcher shop. The atmosphere is noisy and fun. Most folks are constantly in motion, and even the tuxedo-clad headwaiters dash around in black Chuck Taylors. 
Born and Raised's unique, informal approach to fine dining relies on an impressively sized room, lavish ingredients (truffles, caviar, lobster), and an ultra-selective wine list. Rich, brandy-enhanced lobster bisque sets the tone for an impressive starters list that also offers snails in garlic-basil butter, a one-of-a-kind plate of mushrooms tartare, and chilled crab claws ready to be cracked and dressed with melted butter or spicy cocktail sauce.
The grand steaks—filet mignon, New York, rib eye, porterhouse—are aged or dry-aged, which creates distinctive flavors and textures. A steak specialty, Tournedos Rossini, is a French haute cuisine classic that this kitchen does exceedingly well, garnishing the sautéed filet with pan-seared foie gras, black truffle, and a phenomenal Madeira sauce.
Tableside service is available for cocktails, an enjoyably flambéed Steak Diane, and a fluffy French omelet with shaved truffles. Daily cart specials have included steak tartare and Châteaubriand for two. Sides such as sweet carrots Vichy and coal-roasted leeks are offered separately.
The dessert cart delivers a towering carrot cake and an imposing New York cheesecake, as well as bowls of chocolate verrine, mousse topped with delightful marzipan cakes. —David Nelson
Best Dishes: Lobster bisque, Tournedos Rossini, tableside specialties, dry-aged steaks, Robuchon potato, chocolate verrine
Dinner Prices: starters $14–$28; entrées $29–$150 (steaks are $5 per ounce); desserts $1
Donovan's Steak and Chop House
1250 Prospect Street, La Jolla. 858-346-7562; donovanssteakhouse.com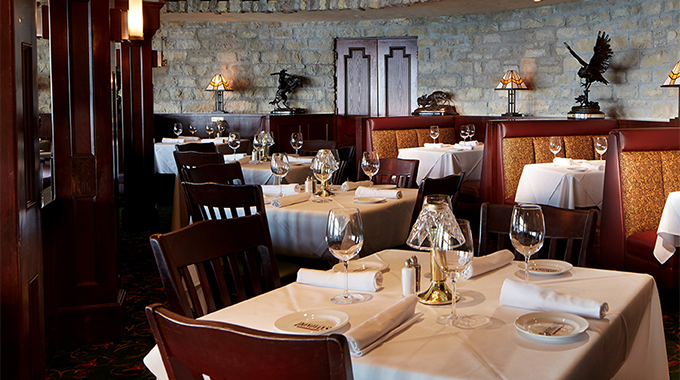 Everything is monumental at the luxurious Donovan's Steak and Chop House. The decor features massive stone walls, deep booths, massive bronze sculptures, and a wall of windows showcasing a beguiling vista of cliffs above La Jolla Cove. Over the sound system, Frank Sinatra—the unrivaled troubadour of old-school steak houses—sings. 
When the sun shines, the animated view encompasses waves, colorful schools of kayakers, seabirds soaring overhead, and palm trees sashaying with the breezes—window-side dinner could easily become a lifelong memory. Equally memorable is the deluxe menu that includes Maryland lump crab cakes nested on shoestring onions and bacon-wrapped baked scallops with nose-tingling fennel compote. The most exceptional appetizer, the high-rising chilled seafood tower, beguiles the eye with Australian rock lobster, Alaskan red king crab legs, Canadian snow crab claws, ultratender Mexican shrimp, and a selection of tangy sauces. Donovan's towers (there's also a half-size version) define extravagance as grandly as do the hefty meat entrées.
Traditional steak-house salads, such as sliced beefsteak tomatoes with red onions and a lettuce wedge lavished with blue cheese dressing, are refreshing lead-ins to robust entrées like rack of sizzling Australian lamb, a fork-tender, 14-ounce center cut veal chop, and seared sesame-crusted 'ahi tuna with piquant accents of wasabi and pickled ginger. Donovan's centerpiece, however, is the Midwestern, corn-fed steaks shipped from Chicago's famed Stockyards. There's also the handsome New York strips, bone-in rib chops, and prime T-bones. Served with a generously garnished baked potato, the tender and flavorful 8-ounce prime filet is described as "delicately petite for smaller appetites," which is true relative to the barrel-cut 14-ounce filet. If room somehow exists for dessert, the key lime pie is a creamy, tart-sweet antidote to all the richness that has preceded it. —David Nelson
Best Dishes: Chilled seafood tower, Maryland crab cake, bacon-wrapped scallops, Australian rack of lamb, USDA prime steaks, key lime pie
Dinner Prices: starters $12–$28; entrées $27–$74; desserts $11
Greensleeves Steakhouse
220 Orange Street, Redlands. 909-335-1752; greensleevessteakhouse.com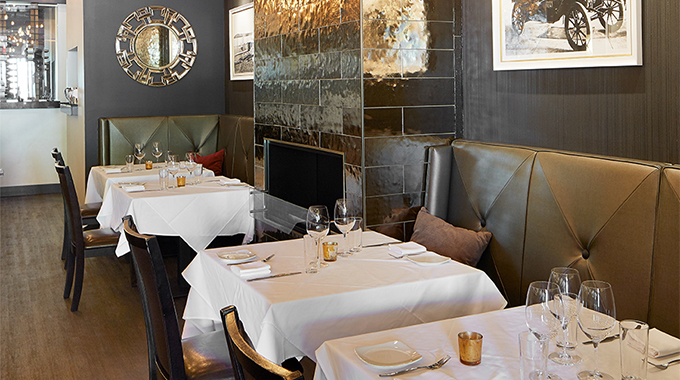 Greensleeves Steakhouse is ensconced in Redlands' Phinney Block building, a 125-year-old structure that has been occupied by a restaurant with a similar name for decades. Acquiring the space after a fire, the new owners created a handsome steak house that honors the historic site.An elegant, modern setting with an art deco quality, the dining room showcases contemporary lighting, a fireplace clad in gilded glass tile, and mirrors mounted on dark walls. Those seeking a burger instead of a rib eye can head upstairs to a more casual lounge.
For starters, consider a classic shrimp cocktail, steak tartare, or roasted bone marrow. A Caesar salad is tweaked with Parmesan crisps and flash-fried elephant garlic, while roasted beets are plated with citrus- and cardamom-whipped goat cheese, candied pistachios, and oranges. Naturally, beef (USDA Prime from Colorado) takes center stage here, from a petite 6-ounce filet to a shareable 40-ounce tomahawk. A nicely charred domestic Wagyu flatiron with a pleasant chewiness might be paired with a blue cheese demi-glace that works well for dipping assertively salted pommes frites. Other side dishes include crispy brussels sprouts with pistachios and pickled Fresno peppers, tossed in a maple vinaigrette with perfectly balanced sweetness and acidity.
Rivaling any steak, surprisingly, is the beef short rib, braised five hours in cabernet sauvignon that reduces to a silky sauce with considerable intensity. Complemented by "peewee" fingerling potatoes, cipollini onions, and wild mushrooms, the dish could be described as beef bourguignonne on steroids. Seared, paprika-dusted scallops are presented over ratatouille, accompanied by avocado-cilantro mousse and lemon emulsion.
Among the dessert options are baked pastry-wrapped Brie with apricot chutney, and a "cream cake" in which flan is layered over cheesecake and plated with caramel sauce. —Roger Grody
Best Dishes: Roasted bone marrow, braised short rib, crispy brussels sprouts, "cream cake"
Dinner Prices: starters $8–$18; entrées $22–$52; desserts $11–$18.
SOCA
14015 Ventura Boulevard, Sherman Oaks. (818) 301-4300; soca-la.com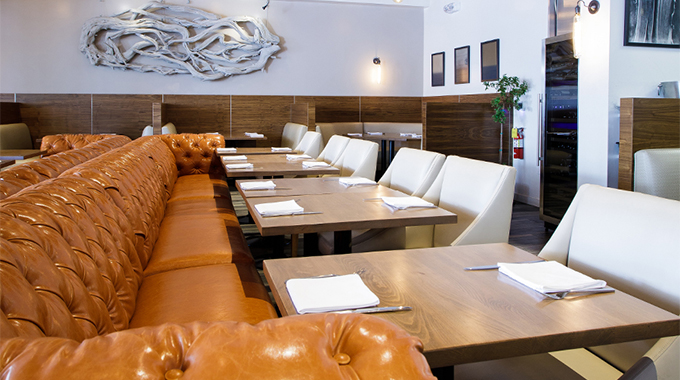 It's about time Ventura Boulevard got a high-end restaurant like SOCA—spacious, elegant yet comfortable, and serving very good food. The menu showcases beautifully grilled steak-house cuts such as prime rib eye, certified Angus New York, American Wagyu flatiron, and, if you really want to indulge, a 30-day dry-aged Creekstone tomahawk rib eye (40 ounces for $150, feeds three to four diners). 
You can also have a terrific meal at SOCA without ordering beef. Appetizers include a pile of tuna tartare and shiitakes, as well as a duck confit flat bread. The lardon salad is a tweaked version of the French classic frisée aux lardons, with house-cured bacon from Boneyard Bistro and a runny egg on top; the Caesar is also very good, although I'd favor more anchovy in the dressing. 
Seafood preparations are creative, and the Kurobuta pork chop is prepared Cuban-style. There are several desserts, but every time I eat here I get the chocolate crunch bar. —Jean T. Barrett
Best Dishes: Tuna tartare, Aviator Caesar, duck flat bread, lardon salad, certified Angus beef New York steak, pork chop, chocolate crunch bar
Dinner Prices: Starters: $12–$25; Entrées: $32–$54: Desserts: $12
The Bear and Star
2860 Grand Avenue, Los Olivos. 805-686-1359; thebearandstar.com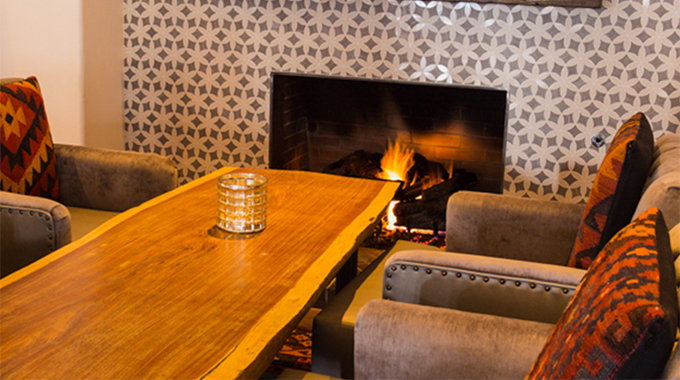 A perfect fit for this Western-style town in the Santa Ynez Valley, The Bear and Star is settling nicely into its home adjacent to the Fess Parker Wine Country Inn and Spa. The restaurant and inn are owned by the Parker family, which seems to have hospitality in its DNA, as it ably continues the legacy of the late actor-turned-vintner and hotelier Fess Parker. The family has teamed up with chef-partner John Cox, who earned accolades at Sierra Mar at Big Sur's Post Ranch Inn, to create a ranch-to-restaurant concept that works well and tastes even better.
The Bear and Star takes its name from the two states Fess Parker called home—California and Texas—and turns out "refined ranch cuisine" using products (Wagyu beef, chickens, quail, rabbits, pigs, heirloom fruits, and organic vegetables) gleaned from the family's 714-acre ranch located 7 miles away.
The Bear and Star is open for breakfast, lunch, dinner, and weekend brunch. Whether you sit in the rustic-chic dining room, bar and lounge, front porch, back patio, or private chef's room (upon availability), it's all comfortable and elegant. For dinner, you'll start with piping-hot cornbread served in a cast-iron skillet with brown butter. Move on to briny-sweet Morro Bay oysters with a pink-peppercorn mignonette granita, or delicate smoked Wagyu carpaccio.
 For mains, you can't miss with the meats. Cuts of beef vary, but mainstays are the juicy grilled Wagyu burger with cheddar, smoked tomato, and aioli, and the satisfying Parker Charolais meatloaf with potato puree. Seasonal fresh fish also shines. Try the vibrant Salad from the Farm, with a crunch of crispy quinoa. 
Sip from a well-chosen list of Fess Parker Winery, Santa Barbara County, and international wines. For a finish, dig into chess pie, a Southern classic. —Nancy Ransohoff
Best Dishes: Morro Bay oysters, smoked Wagyu carpaccio, grilled Wagyu burger, Parker Charolais meatloaf, Salad from the Farm, chess pie
Dinner Prices: Starters $7–$17; entrées $15–$60; desserts $7–$9
Vaca
695 Town Center Drive, Suite 170, Costa Mesa. 714-463-6060; vacarestaurant.com
A subtle white glow shines upon the passers-by. It's a spotlight of sorts that entices glances and stares at the contents within the pristine refrigerated case, which contains dry-aged steaks, lengths of chorizo, and freshly trimmed racks of lamb. It's an exhibition that may as well be the kitchen's statement of purpose. Vaca, after all, is Orange County's new, Spanish-accented steak house.
Vaca is the second restaurant from chef Amar Santana, a familiar face from both his acclaimed Broadway by Amar Santana in Laguna Beach as well as his recent appearance on Bravo TV's Top Chef. Reservations are appropriately hard to come by. But Vaca—a boisterous little place within earshot of the Segerstrom Center for the Arts—is worth the wait.
Tapas clutter the table before you even contemplate the rest of the menu. The erizos con huevo may be the most picturesque, scrambled eggs and briny uni served inside the urchin's spiny shell. Vaca's smoked chicken cannelloni is brilliantly simple: tender pulled chicken loaded into a single tube of pasta and encircled by a pool of beguiling sauce fortified with foie gras and sherry. 
You can, of course, compose a cheese and charcuterie board. Or double up on tapas: roasted cauliflower with tahini and lemon, the Bikini sandwich (Ibérico ham and Manchego cheese), wine-braised oxtail, and meaty mushrooms. The menu can sometimes be a minefield, however—with this many dishes (there are some two dozen tapas alone), there are bound to be occasional missteps.
Still, there's the redemptive paella de carne. It's a carnival of meat: pork belly, chorizo, blood sausage, duck confit, and beef cheek all arrayed over short-grain bomba rice. And if that's not enough, there are those steaks and chops. There's a brawny beef rib steak, lean bison tenderloin, filet mignon, and more. All are grilled over smoldering wood.
Dessert brings stubby little churros. They're fluffy and wonderful, even better streaked through the dark dipping chocolate. Vaca's ice creams and sorbets are a treat, too, cleansing flavors like rosemary-caramel and green apple–yuzu offering a respite from all that indulgence. —Miles Clement
Best Dishes: Smoked chicken cannelloni, Bikini sandwich, charcuterie boards, erizos con huevo, roasted cauliflower, paella de carne, churros
Dinner Prices: Tapas and sides, $6–$16; charcuterie and cheese, $7–$36; paella, $32–$45; steaks and composed plates, $24–$76; desserts, $7–$12
AAA Travel Alert: Many travel destinations have implemented COVID-19–related restrictions. Before making travel plans, check to see if hotels, attractions, cruise lines, tour operators, restaurants, and local authorities have issued health and safety-related restrictions or entry requirements. The local tourism board is a good resource for updated information.