These 6 eateries elevate south-of-the-border cuisine to new levels.
1. Rocio's Mexican Kitchen, Bell Gardens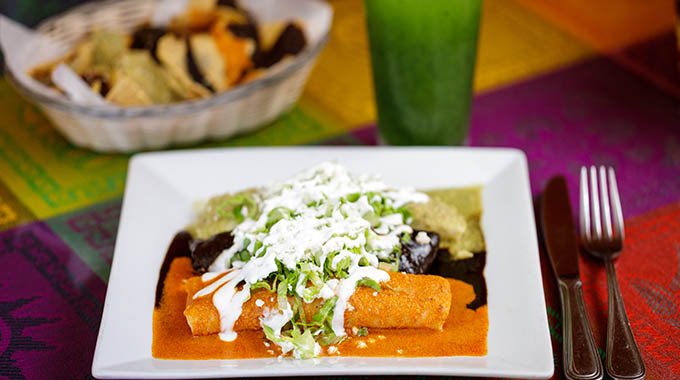 When an L.A. chef is heralded as the absolute best, you might expect the food to appear in a fancy restaurant that serves $30 entrées and $16 cocktails. Lucky for those of us who love excellent Mexican food without high prices and chichi ambience, there is the understated Rocio's Mexican Kitchen in Bell Gardens. That's where Rocio Camacho, the "Goddess of the Moles," reigns.
Born in food-obsessed Oaxaca, Camacho began learning the laborious art of making moles as a little girl by watching her grandmother. At 12, she was working in a professional kitchen, and by the time she came to L.A. in 1986 at the age of 19, she already had more meals under her kitchen belt than any Food Network star. She worked off and on at L.A.'s best Mexican restaurants while raising her kids, quietly earning a reputation for her mastery of Oaxacan classics and her inventiveness.
Now Camacho has her own place, a humble setting for some of the most sophisticated Mexican cooking in the country.
Perfecting one mole, like the classic dark Oaxaqueño (nuts, seeds, chiles, chocolate, and more), is achievement enough, but Camacho has perfected many. You'll be able to try three or four of them when you sit down, because they're drizzled over the chips. Come here for complex, aromatic moles flavored with pumpkin seeds or rose petals or coffee, paired with pork cutlets, salmon, shrimp, chicken, and more.
You also come for such masterfully made dishes as mahimahi in a delicious huitlacoche (corn fungus) sauce; miniature empanadas filled with zucchini blossoms, huitlacoche, or shrimp; enmoladas (mole-based cousins of enchiladas); and for dessert, plantains in tequila sauce. The chubby, chile-flecked corn tortillas are house-made, as is the horchata.
Not only does it require expertise, it also takes a ton of time to make a proper 20- to 30-ingredient mole. That you can have a superb one for just $14 at Rocio's is one of the great gifts of living in Los Angeles. —Colleen Dunn Bates
Best dishes at Rocio's Mexican Kitchen
Miniature empanadas; anything (chicken, mahimahi, shrimp) with any of the moles, especially the poblano, the verde, or the Oaxaqueño; chicken or cheese enmoladas; plantains in tequila sauce. 
Dinner prices at Rocio's Mexican Kitchen
Starters $6–$10; entrées $9–$14; desserts $5.
2. El Mercado Modern Cuisine, Santa Ana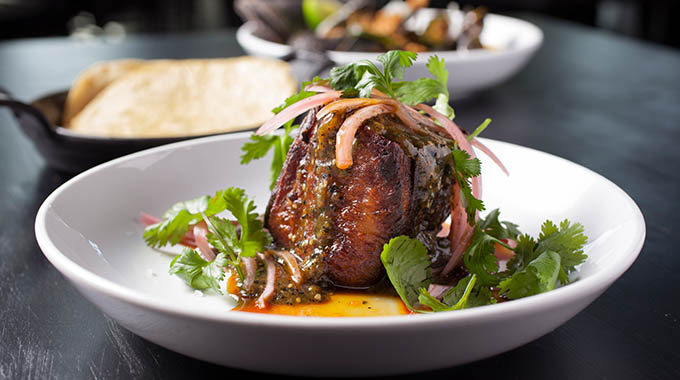 Mexican cuisine contains multitudes of dishes that reflect the bounty of the coast, the heartland, the highland, the jungle, the desert, and all the terrain in between. But sometimes even the evangelists among us need to be reminded of that delicious depth. Luckily, Santa Ana's El Mercado Modern Cuisine does just that. 
The menu here surveys the whole of Mexico, recrafting recipes from virtually every state for a menu that plumbs both the classic and unfamiliar.
At dinner, the restaurant is dim and moody, lit primarily by the soft glow that pours in through the windows. Servers pass through the near-moonlight carrying dramatic cocktails and dishes by the armful. These are by no means small plates, but everything at El Mercado is meant for family-style sharing.
The tlayuda may be the most beautiful you'll ever encounter, a cracker-thin tortilla artfully smeared with beans, molten Oaxacan cheese, dollops of avocado puree, shaved onion, and drizzles of jocoque (a kind of buttermilk-style sour cream).
The carnitas are a hearty marvel. The dish is substantial and satisfying without being leaden, a lobe of fatty pork brightened with salsa verde and marinated onion and enriched with a porcine jus. Swaddle a few hunks into a sturdy, pliant tortilla for a perfect do-it-yourself taco. The chicken mole is a statement of purpose, chunks of chicken outlined by moats of smoky, complex mole and avocado puree that are carefully drawn in the shape of Mexico.
El Mercado also does an excellent Sunday brunch. The surprise hit just might be the pancakes, fluffy, sizable disks that taste perhaps as if they've been imbued with masa. A sticky piloncillo-maple syrup pools on the plate. Add a cup of coffee, and there are few better ways to ease into the day. —Miles Clements
Best dishes at El Mercado Modern Cuisine
Tlayuda, carnitas, chicken mole, buttermilk pancakes, huevos rancheros.
Dinner prices at El Mercado Modern Cuisine
Soups and salads $10–$23; shared plates $10–$29; desserts $8.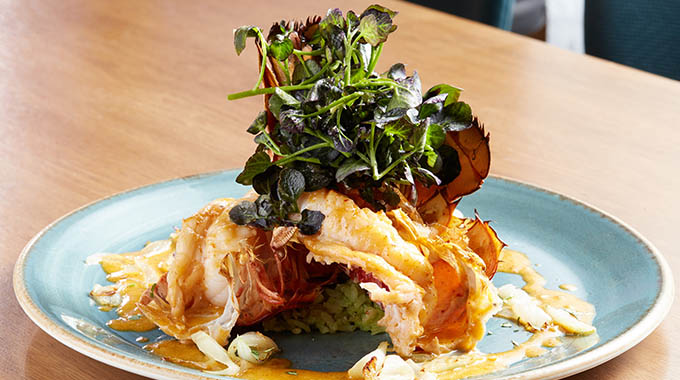 At San Diego's stylish Red O, the fourth in a small, upscale Southern California chain, the distinctions between "spicy" and "hot" seem always in play.
When presenting a polished metal box full of tortilla chips and a big bowl of chunky, mildly piquant salsa, the server will say something like, "If you need a spicier salsa, let me know." Do so and he'll bring one based on ferocious habañero chiles.
Celebrity chef Rick Bayless oversaw the menu, which encompasses dressed-up versions of traditional Mexican dishes as well as impressive steaks, a fine cut of lamb in mole negro, and deluxe seafood entrées that reach their apogee with Chilean sea bass in a guajillo chile–heated chimichurri sauce.
The soups present the "hot" (as in temperature) side of Red O, and a server cautioned about the "volcanic" tortilla soup he poured from a pitcher into a bowl decorated with cubed avocado, pulled chicken, caramelized onions, and fried tortilla strips. The presentation is wonderful and the soup sensational, as is butternut squash soup poured into a bowl dressed with Marcona almonds, golden raisins, and cubed squash.
Starter options include carefully seasoned guacamole and queso fundido, but for something more unusual, there are taquitos of slow-cooked duck with tomato–chile de arbol sauce, and a colorful, very Mexican-accented plate of 'ahi tuna tartare garnished with harissa aioli and pickled red onions.
Meat ranges from an 8-ounce skirt steak, a popular South-of-the-border cut, to an 18-ounce prime "cowboy" rib eye with fried sweet plantains. The pollo asado is a sublimely juicy Jidori chicken breast, pan-seared and served with a lively mole poblano and Red O's "street corn," buttery roasted kernels tumbled with Cotija cheese and cilantro. Shrimp enchiladas are dressier than usual, and the Maine lobster tail with spiced butter and cilantro-fennel rice is irresistible.
The dessert list makes for hard choices, but count on enjoying the delicate passion fruit butter cake and the lovely tres leches. —David Nelson
Best dishes at Red O
Butternut squash and tortilla soups, ahi tuna tartare, skirt steak, Maine lobster tail, pollo asado, passion fruit butter cake, tres leches.
Dinner prices at Red O
Starters $8–$22; entrées $19–$52; desserts $12.
Salazar is a funky-hip restaurant at the site of a former auto-body shop in Frogtown, where the grilled hanger steak is from Aspen Ridge, the tacos al pastor feature house-made flour tortillas, and the roasted beets are paired with spiced pistachios. Diners sip alcoholic horchatas and share bowls of esquites, a delicious take on elotes, Mexican street corn.
The restaurant started with young chef Esdras Ochoa, who was born in Mexico City, raised on the edge of the Sonoran desert in Calexico, and schooled in the restaurant business in L.A. His star has risen so dramatically that he's left both Salazar and his first place, downtown's Mexicali Taco, to open a high-end restaurant in Hong Kong. But the new executive chef, Jonathan Aviles, is an equally talented cook and grill master.
Each taco is a small masterpiece of balanced flavors and textures. Grilled beef, chicken, veggies, and pork are simple and perfectly executed. Every culinary detail, from the pickled onions atop the chicken tacos to the grilled scallions served with the sweet grilled branzino, is attended to with care.
It's not easy to eat at Salazar. The parking stinks (no valet), they don't take reservations, and you'll probably have to wait unless you come really early. If it's raining, you'll get wet; if it's hot, you'll sweat. But on a warm fall evening, this is California living at its best: relaxing outdoors, talking with friends over margaritas, and dining on grilled hanger steak. … Ah, I love L.A. Closed Mondays. —Colleen Dunn Bates
Best dishes at Salazar
Esquites (corn), roasted beet salad, al pastor and carne asada tacos, grilled whole branzino, grilled hanger steak.
Dinner prices at Salazar
Starters and sides $4–$14; main courses $18–$58; desserts $9.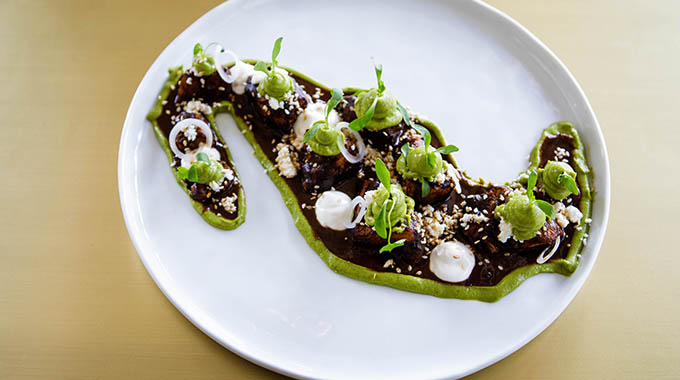 Maestro, which pays homage to the regional flavors of Mexico, is clearly designed to be Instagram-ready.
A row of grilled octopus chunks arrives perched on the side of a mescal bottle. Chicken in a dark mole sauce is arranged in the shape of a map of Mexico, outlined in a squiggle of green guacamole. The picada, a thin masa cake covered with translucent radish slices that look like petals, is reminiscent of a Dutch floral still life, while the fish of the day is more like a modernist Miró, the square of tender barramundi complemented by vibrantly colored rounds of pureed vegetables.
Here's the good news: Seldom have artistic creations been so tasty. Flavors are vibrant and well balanced, and aside from a too-salty sauce on the enchiladas one evening, the menu is remarkably free of misfires.
Seafood fans will enjoy the oysters, a south-of-the-border version of oysters Rockefeller flavored with chorizo and Mexican cheese, as well as the feather-light fried calamari piled on a base of roasted pepper puree and topped with a shower of flavorful micro cilantro and chiles de arbol. The skirt steak, cooked to order, is served with roasted fingerling potatoes on a verdant poblano puree. For desserts, try the tres leches carrot cake or the cornbread cake with huitlacoche (corn fungus) ice cream. Closed Mondays. —Jean T. Barrett
Best dishes at Maestro
Oysters, octopus, chicken mole, picada, fried calamari, skirt steak, barramundi (fish of the day), tres leches carrot cake 
Dinner prices at Maestro
Starters $9–$12; entrées $15–$29; desserts $10.
6. Santo Mezcal, Santa Barbara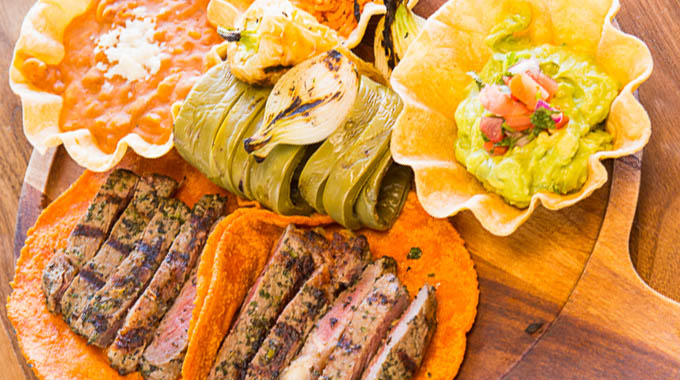 Restaurateur Carlos Luna, owner of the popular Los Agaves restaurants—with four locations in Santa Barbara, Goleta, and Westlake Village—opened this spot just as finishing touches were made to a transformed lower State Street.
Santo Mezcal sits at its epicenter, serving lunch and dinner next to the Hotel Indigo on the edge of Santa Barbara's buzzy Funk Zone. It's a block from Stearns Wharf and the beach; the Hotel Californian complex and MOXI, the Wolf Museum of Exploration and Innovation, are steps away.
The modern rustic decor includes warm woods and tile, with an exposed brick wall providing a backdrop for an illuminated display of tequila and mescal bottles at the full bar. With the room's hard surfaces, expect some noise at peak times: Sit outside if you want it quieter. A glassed-in kitchen turns out wonderful renditions of traditional and contemporary Mexican dishes, many of which spotlight local seafood.
Order the 'ahi tuna ceviche to start: Its bright flavors of fresh 'ahi with cucumber, cilantro, salsa machacada, and corn with a splash of sesame oil are delicious with the freshly made tortilla chips, which you'll also be devouring with the house salsas.
For mains, we were smitten with the camarones al mezcal, Mexican shrimp sautéed with a creamy mescal sauce. Another impressive specialty is pulpo a las brasas, grilled Spanish octopus that's been marinated in an adobo punched up with guajillo chile oil, complemented by a smooth garbanzo bean puree. Or try the tender rib-eye tacos.
The menu offers several taco and enchilada entrées—we can't get enough of the crab enchiladas and their suave creamy poblano sauce. —Nancy Ransohoff
Best dishes at Santo Mezcal
'Ahi tuna ceviche, camarones al mezcal, pulpo a las brasas, rib-eye tacos.
Dinner prices at Santo Mezcal
Starters $9–$17; entrées $14–$35; dessert $7.

Save at restaurants and on meal-kit delivery services.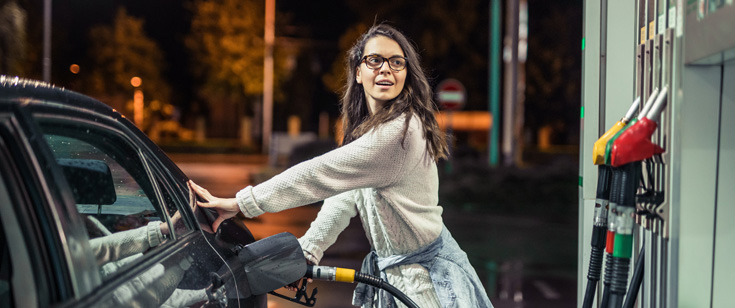 AAA membership unlocks savings on everyday purchases.