Here's our 16th annual list of the best inexpensive restaurants in Southern California.
Panelas is a clean-lined Brazilian bistro hidden in a residential part of Redondo Beach. It's an everyday gem, serving carefully prepared Brazilian standards, as well as juices, wine, and beer at bargain prices.
You can either have fun with a few of the smaller dishes ($3.75–$10.90)—try the empanada-like rissole, fried yucca, savory codfish balls, and fabulously fried chicken—or stick with a larger entrée ($10.50–$15.95), perhaps the ample grilled salmon or the rich, subtly tangy pot roast. Most entrées include several sides, such as black beans, rice, salad, and yucca or potato fries. The salads and sandwiches are also generous, affordable, and tasty.
—Colleen Dunn Bates
It's one thing to run an affordable restaurant in a lower-rent area, but to do so in the most popular part of Santa Monica is almost miraculous. Uovo pulls off this feat by doing just one thing very well: pasta. Other than a couple of vegetables, the menu offers only pasta dishes. Most are $15 or $16, and they're all terrific.
There are no appetizers, no desserts, no bread, no coffee—just killer pasta and inexpensive (for the 'hood) wine and beer. Created by the folks behind Sugarfish, Uovo is mostly taken up by a U-shape counter, with a few tables in the back, and seats turn quickly as people drink a glass of Chianti, eat a plate of handmade pasta (flown in from Bologna, Italy), and move on.
Don't miss the tonnarelli all'amatriciana, sparked with incredible guanciale, and the simple, perfect tagliatelle al ragù, a stripped-down Bolognese. Here's hoping more neighborhoods get their own Uovo soon. 
—Colleen Dunn Bates
Porridge and Puffs, Los Angeles
In case you haven't heard, porridge is the new avocado toast. But to Minh Phan, proprietor of Porridge and Puffs, porridge is the opposite of trendy because boiled grains have been a staple of the human diet for thousands of years.
It's unlikely, however, that our ancestors' versions were as stunning as Phan's compositions of greens, mushrooms, edible flowers, and braised short rib and a pickled soft egg. The $9 to $20 bowls at her café are all delicious and satisfying. They are, however, on the petite side, so you'll have room for an order of light cardamom sugar puffs with a rich coffee cream dipping sauce ($5), and perhaps the brown-butter mochi with miso caramel ($5). Closed Mondays. 
—Colleen Dunn Bates
Eloong Dumplings, Westlake Village
Dumpling lovers were happily surprised when Eloong Dumplings opened in late 2017, and relieved when it survived the terrible Woolsey fire a year later. Try the xiao long bao (pork soup dumplings, $10.95), and flavor them with a little bit of black vinegar mixed with fresh ginger and chile oil, which are provided on the tables. The vegetarian dumplings ($11.25) are equally terrific.
You can also have a delicious dumpling-free meal at Eloong. The sautéed string beans ($10.95) are crunchy, bright green, and infused with garlic, and the gingery, spicy shrimp and pork wontons ($10.95) is my favorite dish on the menu. Closed Mondays.
—Jean T. Barrett
All India Café is a branch of the well-established All India Café in Pasadena. The Glendale restaurant has a few pricey menu options, but budget-conscious diners can eat economically and very well here.
Try the shahi paneer ($11.95), a Punjabi dish of cheese cubes in a tomato cream sauce, along with one of the tandoori specialties, such as tandoori chicken ($12.95) or lamb shish kebab ($14.95). Throw in garlic naan ($2.95) or some brown basmati rice ($3.25) and you've got a satisfying meal for two. There are also lots of vegetarian, vegan, and gluten-free options on the menu. 
—Jean T. Barrett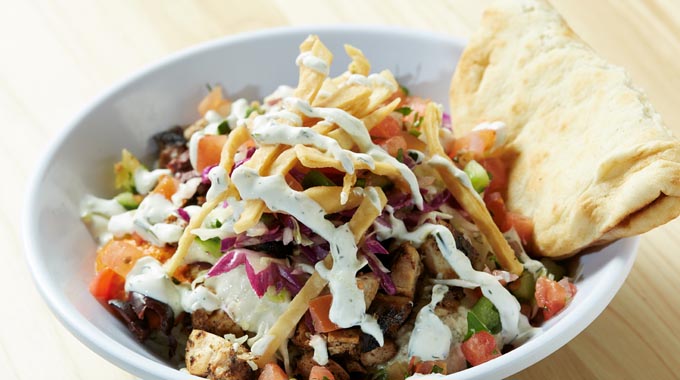 Cava in Encinitas is part of a fast-growing, fast-casual chain that features a build-a-bowl approach with a Greek and Mediterranean twist. Join the line and order from the staff members behind the counter.
First, you'll choose a base: Options include grains (brown basmati rice, brown rice, black lentils, etc.), salad greens, and fresh-baked pita bread. Then you pick up to three dips and spreads (feta, tzatziki, hummus, roasted red pepper hummus, harissa, and eggplant and red pepper), and pile on a protein, such as grilled beef meatballs (pretty good), spicy lamb meatballs, or grilled chicken. Add as many toppings as you want—pickled onions, cabbage slaw, olives, tomatoes—and the dressing of your choice, and then pay at the register. A bountiful bowl should cost no more than $15.
—David Nelson
Dave's Dogs Grill, Santa Barbara
David Reynoso started out slingin' hot dogs out of a cart after hours at his dad's auto-repair shop. He built a following of fans who sought out his dressed-up dogs with toppings in hunger-slaying combinations. After opening his brick-and-mortar spot, tucked away in a busy shopping plaza, he was featured on the Cooking Channel's Cheap Eats.
Hot dogs are still the star of the show (you can substitute veggie, turkey, Polish, hot link, or bratwurst), although the menu now also offers tacos (with house-made family-recipe salsas), chicken wings, and burgers. Top dogs are the Santa Barbara Style ($5), loaded with bacon, grilled onions, tomato, avocado, cream sauce, mayo, mustard, ketchup, and cilantro; and the Mac 'n' Cheese Dog ($5), with mac-and-cheese, bacon, Parmesan, and spicy mayo. If you feel like going full state fair, try the deep-fried Oreos. Closed Sundays.
—Nancy Ransohoff
Kashiwa Ramen, Costa Mesa
Kashiwa Ramen is the latest outpost of a multigenerational ramen empire, beginning with partner Hideto Kawahara's father in Japan and eventually spreading to New York City, Amsterdam, and now Costa Mesa. This is a bright, youthful restaurant that outfits its cooks in T-shirts reminiscent of the fashions by Supreme.
The specialty here is one new to Orange County: tori paitan ramen ($9.50). The broth is an immensely satisfying chicken bone broth, the poultry equivalent of ultrarich pork tonkotsu ramen. It's just as full-bodied, too, thick with collagen and schmaltz. There are excellent variations with spicy chile sauce and black garlic sauce ($11–$12.50), as well as a vegan kombu broth ($9) strained to order. Even at their most decadent, Kashiwa's clean, deep flavors elicit just a little less guilt.
—Miles Clements
The Flinderstreet Café, Chino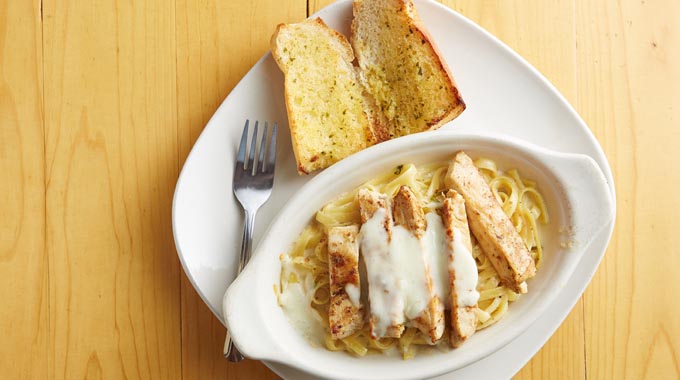 The Flinderstreet, an inviting café where artwork lines mocha-colored walls, is known for its quality espresso drinks and its gracious staff, but it's also a great place for a satisfying, affordable meal.
Hearty sandwiches include a Philly cheesesteak ($8.50), a chicken pesto panino ($8.90), and an Italian sausage grinder ($8.90) that's bathed in marinara. Also available are pastas ($7.50) and individual meat pies ($6.50)—iconic snacks in owner Jamie Choi's native New Zealand—featuring fillings such as steak and cheese or curried chicken beneath golden, flaky pastry. Finish with a brownie ($2.70) or chocolate-banana cake ($3.50).
—Roger Grody
It would be safe to assume that Mr. Taco Nice is known for its tacos. And they're quite good, especially the tender shredded birria ($2.49) and the toasty, cheesy shrimp gobernador ($3.99). But that's not what makes this place one of those only-in-California finds.
Mr. Taco Nice is both taqueria and pizzeria, a hybrid restaurant ready-made for any game day or gathering. The pizza here isn't about the provenance of its flour or the quality of its crust. This is pizza purely dedicated to fusion flavor.
Take the al pastor pizza ($13.95), which is finished with guacamole, crema, radishes, and lime. It has all the fixings found at a salsa bar, and they're just as enjoyable atop an overloaded slice of pizza as they are in a warm tortilla.
—Miles Clements
Brodard Vietnamese Cuisine, Fountain Valley
Brodard is one of the most important restaurants in Southern California. Indeed, it has long served as a kind of de facto ambassador to Little Saigon. The bustling dining room is comfortable both for those who might be new to Vietnamese cuisine as well as discerning diners who already know to expect excellence. The restaurant's flagship Fountain Valley location is fittingly elegant, with dark woods, dramatic lighting, and plush booths.
An order of nem nuong cuon ($5.25) is still essential; the addictive spring rolls are wrapped tightly around grilled pork sausages. Split an order of banh khot tom ($8.95), little cups of fried rice flour and coconut milk topped with shrimp and eaten with a handful of herbs, before moving on to, say,  a steaming bowl of chicken curry ($8.95). 
—Miles Clements
Blanco Tacos and Tequila, San Diego
Mission Valley's traditionally stylish Fashion Valley now boasts trendy eateries such as Blanco, the first local offspring of a small, Arizona-based chain. The spacious, uncrowded room is defined by stone, wood, and whimsy, and the menu is lengthy and affordable.
Choices include grilled Mexican street corn ($9), tacos filled with lushly garnished carnitas ($15), very good cheese enchiladas ($11) in a memorable ancho chile sauce, and an elaborate avocado and green apple salad ($14).
An order of the brown sugar caramel flan will add $7 to the check, but the dessert is large and scrumptious. There's also an extensive drinks menu, with a tequila list that seemingly goes on forever. 
—David Nelson

Save at restaurants and on meal-kit delivery services.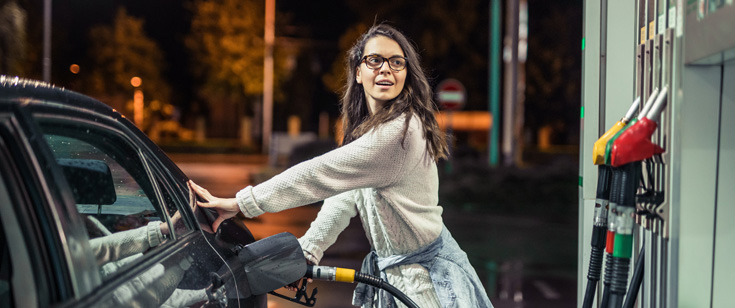 AAA membership unlocks savings on everyday purchases.