What's a weekend without brunch with family and friends? These are favorites chosen by Westways food correspondents.
Three San Diego locations: Pacific Beach, Hillcrest, and Liberty Station.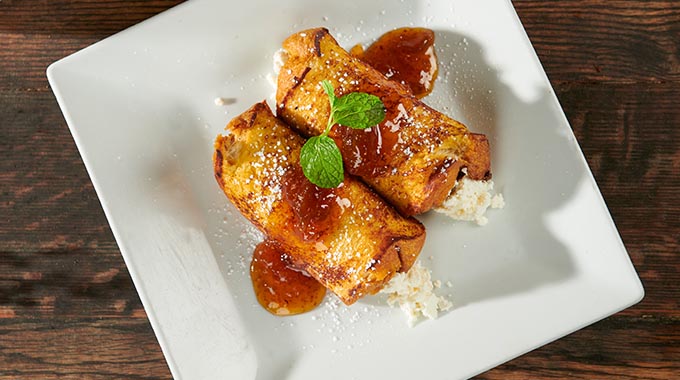 From the artfully plated bacon-wrapped breakfast "sushi" to the comically oversized coffee mugs, brunch at this popular café is as much a feast for the eyes as it is for the stomach. The incredible fig ricotta French toast is no exception, boasting two gigantic slabs of brioche toast griddled to perfection and stuffed with a healthy heaping of fig jam and flavorful ricotta cheese (pictured above). The smoothly whipped ricotta combined with the sweetness of the fruit is sure to give you a new appreciation for how this cheese can balance an unforgettably scrumptious dish. All three locations have dog-friendly patios. Hours at Pacific Beach, 8 a.m.-2:30 p.m. Mondays-Fridays, and 8 a.m.-3 p.m. weekends; Hillcrest, 8 a.m.-3 p.m. daily; and Liberty Station, 7 a.m.-3 p.m. daily —Nick Rufca
3408 Via Oporto, Suite 103, Newport Beach; 949-529-2784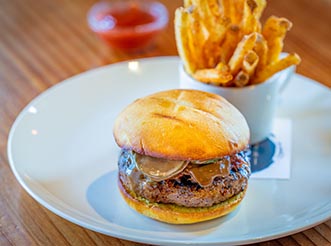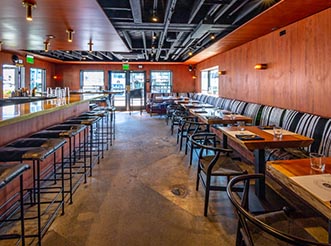 Lido Bottle Works is an elegant and unassuming place, an intimate Lido Marina Village restaurant that looks not unlike the cabin of a stylish vintage yacht. The dining room is clad in warm wood and framed around a ceramic abstract mural. The cooking, courtesy of Executive Chef Amy Lebrun, is a beachy, California-centric spin on small plates. You might start your weekend brunch with the granola French toast made with brioche or chorizo hash with a perfectly poached egg on top. The eponymous LBW burger is a fascinating fusion of flavors, with smoky-sweet bacon jam, umami-rich black garlic aioli, and a brioche bun invigorated by a bit of wasabi. Saturdays and Sundays, 11 a.m.-3 p.m. —Miles Clements
Photos by Julee Ho
3. Petit Trois
13705 Ventura Boulevard, Sherman Oaks; 818-989-2600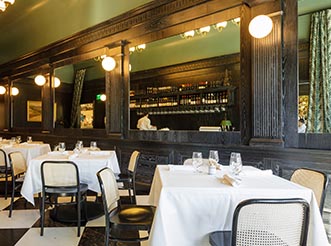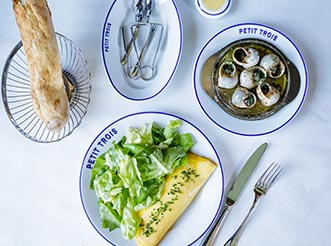 Is Petit Trois a serious French restaurant? Bien sûr (of course)! Its menu is replete with la cuisine classics, such as escargot, pâté de campagne, frisée lardon, steak frites, and a range of patisserie. The latest outpost in the burgeoning Ludo Lefebvre, Jon Shook, and Vinny Dotolo empire, Petit Trois is pricey, but one factor that makes it more approachable is that it's open from morning 'til night. Indeed, some of the restaurant's tastiest menu items suit brunch or lunch more than dinner, such as the justly praised Omelette Petit Trois, oozing with Boursin cheese and accompanied by a butter lettuce salad. It's served on retro blue-and-white restaurant ware, which bears the restaurant's name and evokes traditional French-bistro style. In the Instagram Age, it's also smart branding. Daily, 8 a.m.-10 p.m. —Jean T. Barrett
Photos by Vanessa Stump
4. Perch
448 S. Hill Street, Los Angeles; 213-802-1770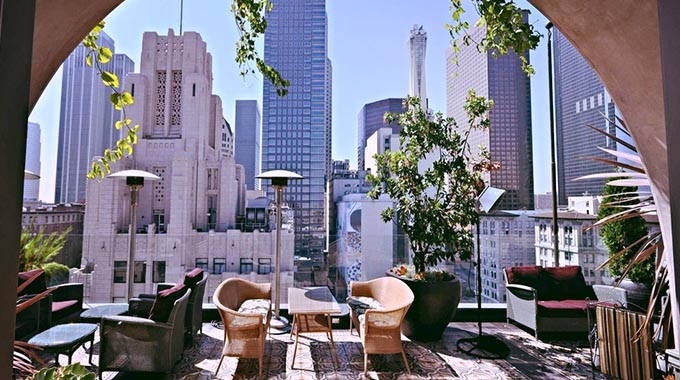 This bustling bistro located 15 floors above downtown L.A. provides a picturesque setting in which to enjoy French-inspired fare. "It feels like New York City" is a common refrain heard from diners beguiled by the striking sight of gleaming skyscrapers surrounding the spacious roof patio. During the exquisite Sunday brunch, freshly shucked oysters and a top-notch crab cake Benedict (available Saturdays and Sundays) are even more enjoyable when paired with the resident jazz band. Saturdays and Sundays, 10 a.m.-4 p.m. —Nick Rufca
AAA travel alert: Many travel destinations have implemented COVID-19–related restrictions. Before making travel plans, check to see if hotels, attractions, cruise lines, tour operators, restaurants, and local authorities have issued health and safety-related restrictions or entry requirements. The local tourism board is a good resource for updated information.