Freshen up your holiday baking routine with homemade treats shared by New Hampshire inns.
New Hampshire's Inn to Inn Cookie and Candy Tour gives tour-goers a peek inside 11 Mount Washington Valley country inns and bed-and-breakfasts decked out in their holiday best. It's a chance for visitors to indulge their sweet tooth with house-made cookies and candies offered at each venue. Here are four of the inns' recipes for some holiday home-baking inspiration. 
1. Shortbread, caramel, and chocolate bars
Recipe from White Birch Inn in North Conway, New Hampshire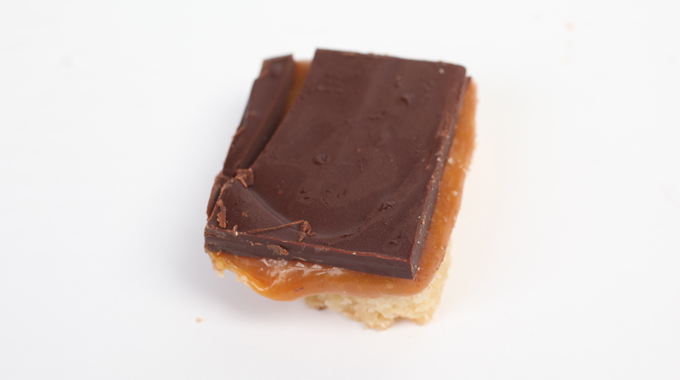 Ingredients
Makes 12 bars
Shortbread (bottom layer)
2 sticks unsalted butter, room temperature
1/2 cup powdered sugar
1/2 cup granulated sugar
1 tablespoon pure vanilla extract
1/2 teaspoon salt
2 cups flour

Caramel (middle layer)

10 ounces individually wrapped caramels (unwrapped and diced)
2 tablespoons heavy cream
1 teaspoon sea salt
Chocolate (top layer)
12 oz. bag of dark chocolate melts
Directions
Preheat oven to 325 degrees. Spray a 15- by 10-inch glass baking dish with cooking spray and set aside.
Bottom layer 
Combine and cream the softened butter with the granulated and powdered sugars until fluffy. Add in the vanilla and salt.
Blend in the flour until you have a soft doughy mixture. Press the dough firmly into the bottom of the baking dish. Poke holes in the dough using a fork for even baking.

Bake for 35 minutes or until golden brown. Allow the crust to cool while you make the caramel layer.
Middle layer 
In a medium saucepan, melt diced caramels, heavy cream, and sea salt over low heat, stirring constantly.
Once completely melted, pour the mixture over the cooled shortbread.
Smooth with a cake spreader or a rubber spatula. Allow the caramel layer to cool while you make the chocolate layer. 
Top layer 
Place chocolate melts in the microwave for one minute. Stir chocolate and return to microwave for another 30 seconds or until the chocolate is fully melted.
Pour chocolate over the caramel layer. Smooth with a cake spreader or a rubber spatula.
Finishing steps
Refrigerate for about an hour to completely cool before slicing. 
Before cutting the cookie bars, run a knife around all edges of the pan to loosen, remove the entire bar from the pan and gently slide it onto a large cutting surface. For best results, use a hot knife to cut into squares or bars.
2. Chocolate Christmas Spiders
Recipe from 1785 Inn in North Conway, New Hampshire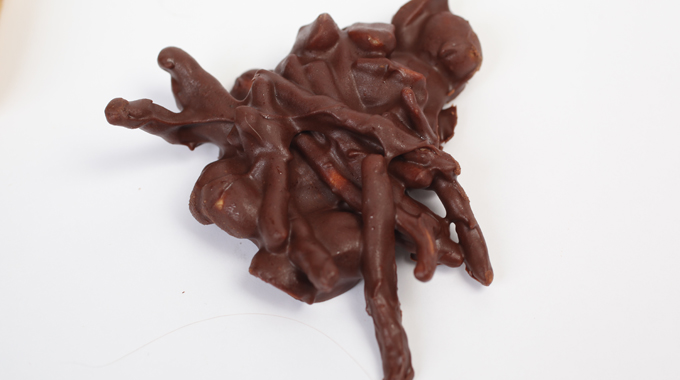 Ingredients
Makes approximately 60 cookies/candies
12 ounces of chocolate chips

12 ounces of butterscotch chips

5 ounces of chow mein noodles
10 ounces of dry roasted peanuts
Directions
Melt both kinds of chips together in a double boiler. Pour the melted ingredients over the other two ingredients in a large bowl. Mix together until the noodles and peanuts are covered with the melted chocolate and butterscotch. Then drop the mixture by tablespoons onto a tray lined with parchment paper. Cool and then store in an airtight container until you are ready to serve them. 
3. Cornmeal cookies with apricot and sage
Recipe from Inn at Crystal Lake in Eaton Center, New Hampshire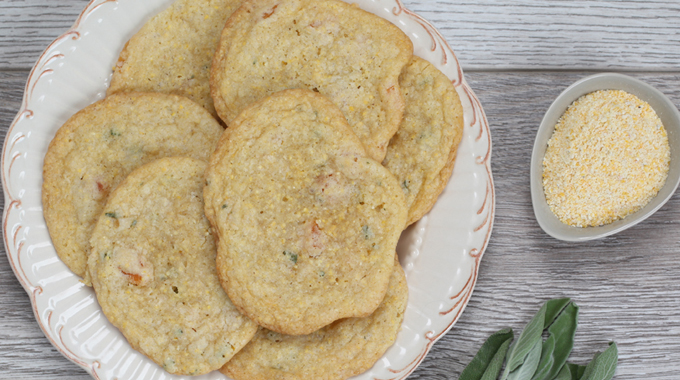 Ingredients
Makes approximately 18 cookies
1/2 cup (1 stick) unsalted butter, softened
3/4 cup sugar
1 egg
3/4 cup, plus 2 tablespoons all-purpose flour
1/2 teaspoon baking soda
1/4 cup chopped dried apricots
2 tablespoons finely chopped fresh sage leaves
1/2 cup cornmeal
1/2 teaspoon salt
Directions
Preheat oven to 350 degrees. Lightly grease baking sheet (you can also use parchment paper or a Silpat mat). Whisk together butter, sugar, and egg until smooth. Sift in flour and baking soda. Add apricots, sage, cornmeal, and salt. Stir until combined. Drop tablespoons of dough on cookie sheet about 1-inch apart. Bake 10 minutes. Let them cool before serving.
4. Meg's Fruitcake Crisps
Recipe from Darby Field Inn in Albany, New Hampshire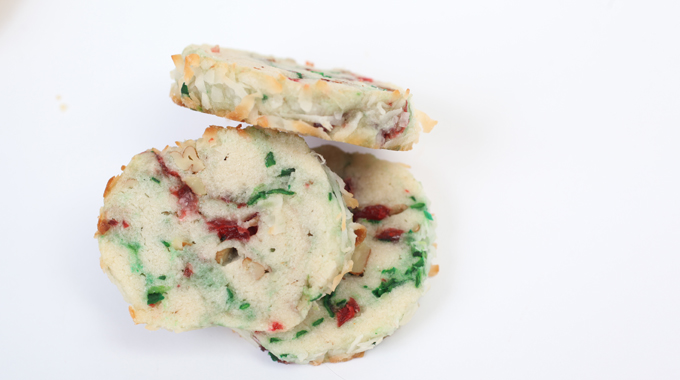 Ingredients
Makes 5 dozen cookies
1 cup butter, softened
1 cup white sugar
2 tablespoons milk
1 1/2 teaspoon vanilla
2 1/2 cups flour
3/4 cup finely chopped red and green candied cherries
3/4 cup finely chopped pecans
1 cup flaked coconut
Directions
Preheat oven to 375 degrees. Cream butter and sugar until light and fluffy. Mix in milk and vanilla. Gradually add flour, and mix well. Stir in cherries and pecans. Shape dough into two 8-inch logs. Sprinkle coconut onto waxed paper, then roll dough on waxed paper to coat with coconut. Wrap in plastic wrap and chill for 4 hours. Unwrap dough and cut into quarter-inch slices. Place 2 inches apart onto ungreased cookie sheet. Bake for 10 to 12 minutes, until edges are lightly browned.

Save at restaurants and on meal-kit delivery services.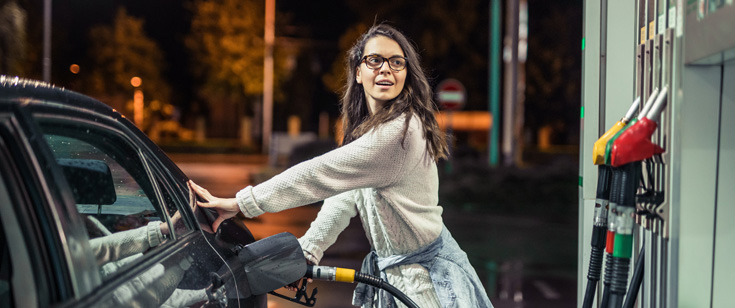 AAA membership unlocks savings on everyday purchases.