Adventurous eateries inspire diners to sing hail to the chefs.
A Washington, D.C., vacation has traditionally been a civic duty, an outing to see monuments, and a trip to honor history. Now visitors have a new reason to hit the nation's capital: to eat.
In the past decade, the city has morphed into a dining hot spot, winning marks in gourmet magazines and attracting the attention of the Michelin food critics, who released a D.C. guide for the first time in 2016. It's quite a change for a place once known for expense-account dining at steak houses and white tablecloth French restaurants. That image has changed as the city's revitalized neighborhoods have attracted young residents willing to spend money on adventurous eating, says Ashok Bajaj, who came to the city 27 years ago from London to open the Bombay Club, the first of his eight D.C. restaurants. 
"People want their palates challenged, and they're looking for an experience," he says. "They're not just looking to go out for a great piece of steak."
Indeed, dining options abound.
"There are so many choices now, and the quality of the food is totally deserving of the hype," says Ann Limpert, executive food editor and critic for Washingtonian magazine. "The dining scene is much more interesting and accessible than it was."
With hundreds of choices, it's impossible to say where to find the best meal, but here are a few places to start.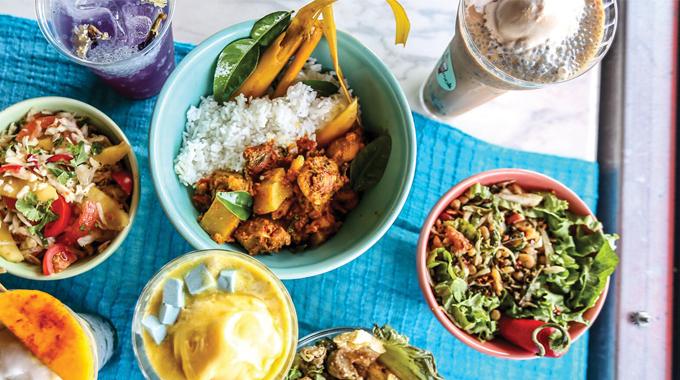 International Flair

From its sleepy beginnings, D.C. has attracted a global crowd, but finding ethnically diverse food often meant tracking down a hole-in-the-wall with a confusing menu. 
Restaurants were "dark and dingy, and you'd feel like you had to make excuses to your dining companions for the shabby setting," says Jocelyn Law-Yone, who started Toli Moli, a Burmese pop-up restaurant, with her daughter, Simone Jacobson. Now she has a permanent location and a following on social media. "You want to keep the traditional flavors, but you can make it beautiful."
Today, some of the city's top tables are ethnic. Perhaps most telling is James Beard Award winner Bajaj's Indian offering, Rasika, with two locations. Crowds come for dishes like palak chaat, a flash-fried spinach dish topped with yogurt and chutney, and lamb badami korma with almonds, green cardamom, and cloves.
Afghan food stars at Lapis, a trendy bistro with an airy dining room and outdoor seating. The menu takes the mystery out of the dishes, offering shrimp and meat dumplings and vegetarian favorites such as pumpkin flat bread. 
A cornucopia is on offer at Union Market, a sleek food hall where several of the city's new restaurants have started. Ethiopian, traditionally served on a large platter of tangy injera bread, gets a modern update at Gorsha, with bowls and even injera pockets that pay homage to the taco. Across the aisle, Takorean offers Korean tacos and slaws. And at Law-Yone's Toli Moli, lines form for falooda, a Burmese dessert with house-made jellies, juices, agar-agar, basil seeds, and berry rose syrup.
Check in for Hotel Dining

A hotel used to be the last dining option, a refuge when nothing else was open or you were too tired to leave the building. Today, some of Washington's top restaurants are based at hostelries.
The Jefferson, Washington, D.C., hosts one of the city's most elegant tables, Plume (plumedc.com), which spotlights performance dining with dishes such as salmon poached tableside in beeswax. Blue Duck Tavern (washingtondc.park.hyatt.com) enlivens the Park Hyatt's ground floor. Try the rich, roasted bone marrow appetizer and the Hudson Valley duck breast with tomato-orange marmalade. For pure fun, seek out Radiator, at the Kimpton Mason and Rook Hotel. Chef Jonathan Dearden serves snacks such as charred shishito peppers and bacon-fat fries, along with Spanish octopus. Don't dare call it bar food.
Museums of Flavors

In recent years, the Smithsonian has upped the museum cafeteria game.
Not only is the National Museum of African American History and Culture the toughest ticket in town, but its Sweet Home Café is a not-to-miss restaurant. The food, an extension of the exhibits, provides a taste of African-American culture. Dining stations feature dishes from the Agricultural South, the Creole Coast, the North States, and the Western Range. Lines form for the fried chicken, barbecue pork, and shrimp and grits, but for something different, try the pan-roasted trout stuffed with corn bread and greens. For dessert, you owe yourself a piece of sweet potato pie. It's an educational experience, after all. 
Before you can line up for lunch, you must get into the museum. Tickets are free, but plan ahead, as there's limited open afternoon admission beginning at 1 p.m. weekdays. And every day beginning at 6:30 a.m., the museum's website offers limited same-day tickets. 
Mitsitam Café at the Smithsonian's National Museum of the American Indian originated this dining-as-learning trend in 2004. Best sellers include Navajo-style fry bread tacos, bison burgers, and Northwest salmon, but the café's chief chef, Freddie Bitsoie of the Navajo tribe, swears by the subtle flavoring of the North Atlantic clam soup.
With myriad options such as these, dining in Washington, D.C., is a capital suggestion.
AAA Travel Alert: Many travel destinations have implemented COVID-19–related restrictions. Before making travel plans, check to see if hotels, attractions, cruise lines, tour operators, restaurants, and local authorities have issued health and safety-related restrictions or entry requirements. The local tourism board is a good resource for updated information.