Houston is fast becoming one of the hottest food scenes in America. Here are some highlights
Every time I visit Houston, I experience another round of eating revelations, from downtown to the Galleria, from Montrose to the Heights, Chinatown to Eado. Often my discoveries aren't new efforts at all—in a city this size, it would take years to get to all the great stuff. But I've come up with eight essential dishes to try immediately, based on the many meals I've had around town in recent months. Like Houston itself, my picks represent a happy mix of cuisines. Some are under $12, most are under $25, and just one may involve sticker shock. You'll even find an irresistible dessert in the mix. All are worth your effort to sample—even if you have to spend a little extra time in the gym.
1. Lucienne's Thin Apple Tart
In Hotel Alessandra, 1070 Dallas Street; 713-242-8555
Price: Part of the $55 four-course tasting menu or $12 a la carte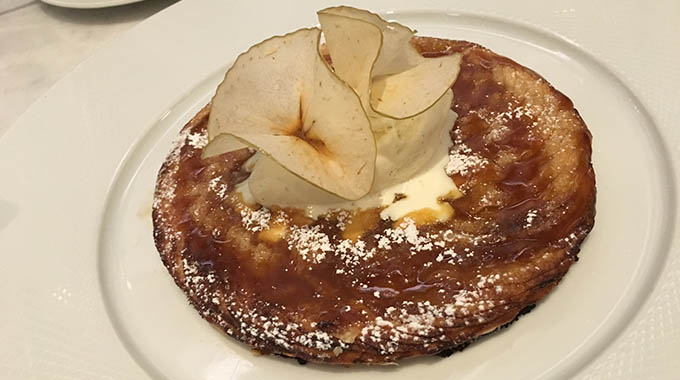 Chef Jose Hernandez, who earned his stripes under renowned French chefs, now masters his own brand of elegant dishes at this contemporary, Parisian-style bistro. The tasting menu's gravlax, escargot, lamb tartare, and squab impress, but the chef's apple tart finale so wowed us that a reverent hush fell over our table. Pancake-flat, the handcrafted puff pastry base filled with almond cream takes on a spiral arrangement of tissue-thin Granny Smith apple slices, whose tartness shines through a buttery, caramelized Calvados glaze. Atop, delicate apple slices twist into a butterfly over a drizzle of Tahitian vanilla cream. 
2. Hay Merchant's Korean Braised Goat and Dumplings
1100 Westheimer Road; 713-528-9805
Price: $15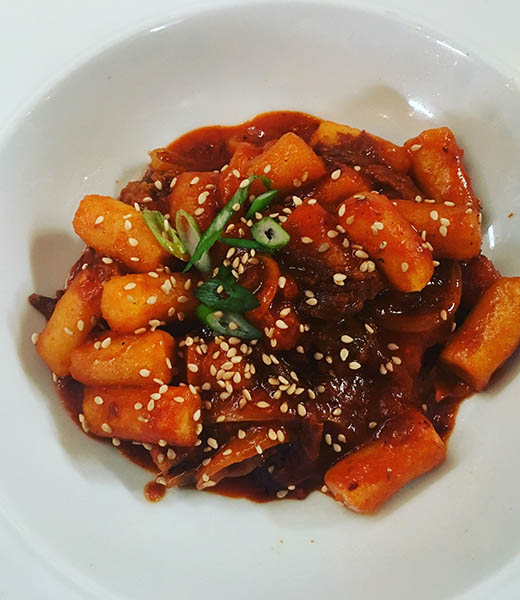 When Chris Shepherd announced plans to relocate and refashion his beloved Underbelly recently, devotees panicked over the fate of his acclaimed braised goat and dumplings. Not to fear—they're now a mainstay at his sister restaurant, the Montrose craft beer bar Hay Merchant (pictured at top). The wide, shallow bowl of brilliantly orange goodness exemplifies the chef's deft hand at using locally produced Asian ingredients. Tender goat chunks braised with carrots, onion, and garlic are slathered in rust-colored Korean red pepper sauce and mingle companionably with small, barrel-shaped, gnocchi-like dumplings made of rice. There's a suitable spark in the sauce, tempered by nutty sesame seeds.
3. Killen's Barbecue's Beef Ribs
3613 E. Broadway Street, Pearland; 281-485-2272
Price: $22 per pound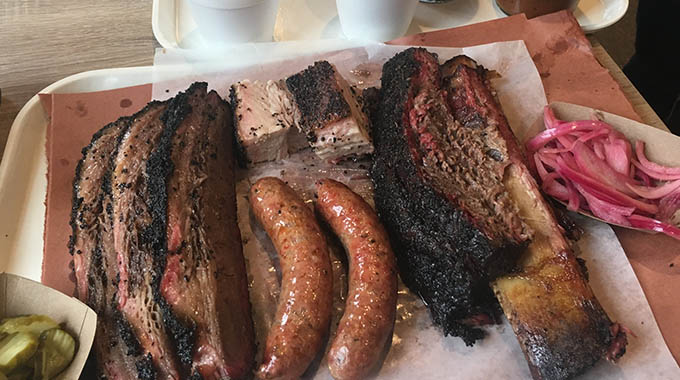 The long line of people standing in cold rain for up to an hour outside this former school cafeteria in Pearland says it all—there's some darned fine barbecue served inside. The pork ribs and beef brisket may distract you, but don't miss the beef ribs. Owner Ronnie Killen, a classically trained chef, and pitmaster Manny Torres employ post oak and pecan in the smoker to turn out monster beef ribs that have no peers. The peppery black bark gives way to impossibly tender flesh that slips right off a 2-inch-wide bone. Far juicier than any pork rib, this carnivore's dream-come-true needs no adornment. But it's also divine with a bite of pickled red onion and just the slightest dab of the deep, dark coffee-based barbecue sauce. 
4. Xochi's Hongos en Mole
1777 Walker Street, Suite A; 713-400-3330
Price: $11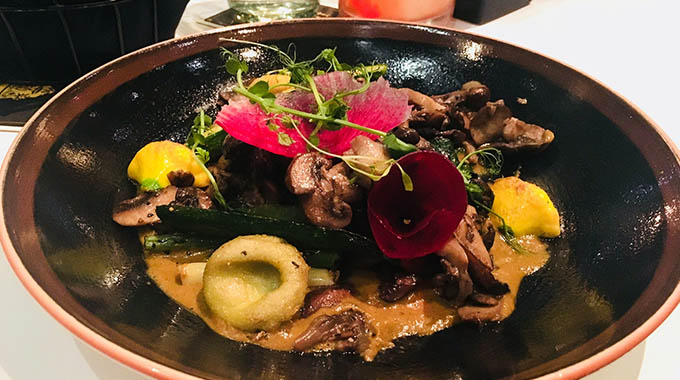 Houston's culinary darling Hugo Ortega brought home the city's third James Beard Award in four years last spring, just after the opening of this newest effort (he now has four Houston restaurants). The first to focus on Oaxacan cuisine, the modern but comfy downtown hot spot proves to be a playground of creations that match fascinating presentation with gratifying flavors. The favorite choice from a list of mole dishes, this jumble of roasted wild mushrooms with pillowy masa dumplings, little yellow patty pan squash, and crunchy green beans rests over a small pool of velvety, burnished-gold mole amarillo. You don't need to be a vegetarian to fall hard for this exotic fiesta-in-a-bowl. 
5. The Pass and Provisions' Okonomiyake
807 Taft Street; 713-628-9020
Price: $16  
These sibling restaurants share a roof, yet function as two separate eateries bound by ownership and commitment to local ingredients and inspired creations. The Pass serves as the high-end, tasting-menu side, while Provisions is its laid-back, whimsical alter ego, bringing us back often for pasta and pizza. Of late, the latter's intriguing okonomiyake strikes a resounding chord with a cabbage pancake in latticework construction, pan-roasted to a golden crunch, drizzled with faintly sweet miso aioli, strewn with pickled purple onion tendrils, scattered with fresh dill, and crowned with an orb of minced smoked salmon bound with a dab of cream cheese. Artful and homey, all at once—which is Provisions' stock-in-trade. 
6. Pho Binh's Pho Ga Kho
10827 Bellaire Boulevard, Suite 116; 281-568-7333
Price: $6.95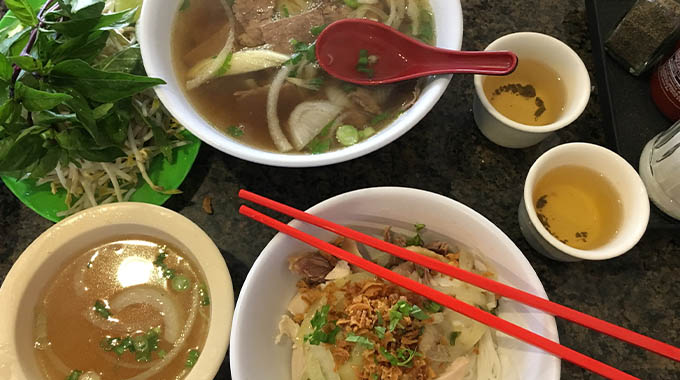 Thanks to Houston's bountiful Vietnamese population, you can always find an ample supply of báhn mì, bún thit nugón, and pho—but for the best of the latter, everyone is going to Pho Binh (serving pho and only pho) in Chinatown. Among traditional choices, the soup filled with thin, tender rib eye slices is lovely but the pho ga kho, or dry chicken pho, proves the real winner. Atop a nest of fine rice noodles are layers of sliced sweet onion, thick and satiny shreds of chicken breast and thigh, minced cilantro, and half a hard-boiled egg. A bowl of simmering chicken broth floating a few onion slices and chopped green onions comes alongside; traditionally, you'd dip the dry ingredients into the broth, but who has such patience? Pour that broth in, add some fresh basil leaves, crunchy bean sprouts, and a squeeze of lime from the condiment plate and enjoy. 
7. Cafe Annie's Coffee-Roasted Tenderloin
1800 Post Oak Boulevard; 713-840-1111
Price: $125 for two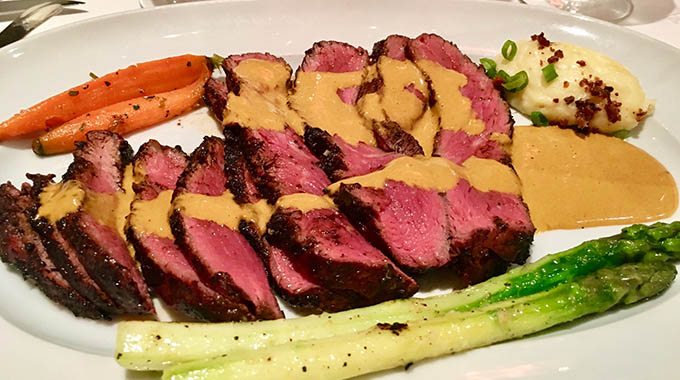 One bite into this coffee-rubbed roasted beef tenderloin, and I'm reminded why Robert Del Grande is the de facto godfather of Houston cuisine. The 22-ounce, wet-aged and air-dried steak is a supple, sublime cut that serves two. It includes a fan of ruby-centered slices on a plate with shaved asparagus, petite roasted carrots, and whipped potatoes dusted with beef cracklings. The centerpiece, created in 1992, when Del Grande won Houston's first James Beard Award, still inspires swoons with its robust crust enveloping sweet, lush meat. The posh Galleria-area setting itself makes you feel special, but the staff makes you feel fine about wearing boots and jeans.
8. The Original Ninfa's on Navigation's Spicy Baked Oysters
2704 Navigation Boulevard; 713-228-1175
Price: $18 per half-dozen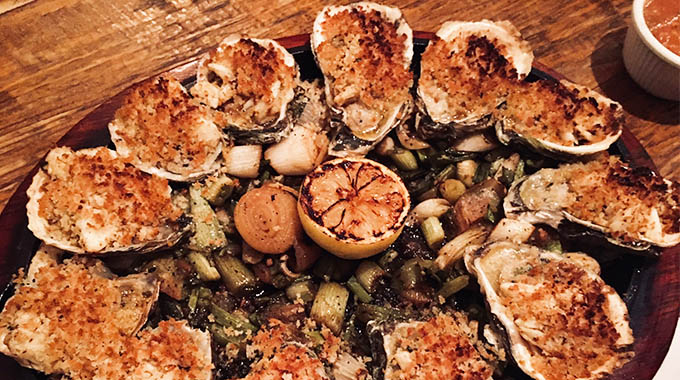 This iconic Tex-Mex entity is widely accepted as the birthplace of fajitas, which were called tacos al carbon back in the day. Now, however, the real finds on this menu come from a new oven that burns white oak and pecan. Roasted octopus or pork and pineapple folded into handmade corn or flour tortillas make sumptuous tacos, but the best pick of all is the platter of baked blue point oysters. Executive Chef Alex Padilla tops the mollusks with lump crabmeat, chile oil, lime juice, and garlicky bread crumbs, then nestles the oysters in their half-shells over a pillow of chopped green onion with roasted lemon at the center before browning in the oven. 
AAA Travel Alert: Many travel destinations have implemented COVID-19–related restrictions. Before making travel plans, check to see if hotels, attractions, cruise lines, tour operators, restaurants, and local authorities have issued health and safety-related restrictions or entry requirements. The local tourism board is a good resource for updated information.