Royal Caribbean International's ship provides tubular thrills in a lively atmosphere.
The magenta tubular slide twists, turns, and curves like the legs of a giant spider down 10 decks and around the aft of Royal Caribbean International's Harmony of the Seas. It looked way fun.
"I'm hesitant to go down it," said fellow passenger Carol Calicchio, a Palm Beach, Florida-based jewelry designer. The safety warnings at the slide's entrance, which resembled the mouth of a demented piranha, made the ride seem so intimidating that I, too, was reluctant.
"I'm going to do it," said Columbus, Ohio-based journalist Theresa Russell. "You two should, too." We all looked at each other and smiled.
The Ultimate Abyss was one of an array of attractions I discovered aboard Harmony, which is 1,188 feet long and 215.5 feet wide. Weighing in at 226,963 gross tons, the vessel is one of the world's largest cruise ships, along with her sister ship, Symphony of the Seas.
Normally, I prefer the intimacy of smaller ships, but Harmony's lively atmosphere, beautiful artwork, and thoughtful design had me at "bon voyage." I strolled along the Royal Promenade, a three-deck-high thoroughfare lined with shops, lounges, and cafés, and stopped to watch Head, a kinetic sculpture by Czech artist David Cerny whose stainless steel tiers revolved, periodically pausing to form facial features. 
Old-fashioned charm
Aft on Deck 6, the Boardwalk captured the funky charm of an old-fashioned amusement park, with a hot dog stand, a fortune-telling machine, and a merry-go-round. My favorite space was Central Park, an eight-deck-tall section in the ship's center that's open to the sky. I walked along curving pathways, beneath a trellis, and past a profusion of plants as well as ficus, black olive, and dwarf umbrella trees.

As I strolled by the restaurants fronting the park, I realized that my affinity for Harmony came from my love of big cities—and Harmony isn't so much a cruise ship as a city that floats. It's like a New York on water.
Like New York, Harmony offers a variety of entertainment. I took in Grease; an original production called Columbus, the Musical; and The Fine Line, a water spectacular that was part Cirque du Soleil show, part Esther Williams extravaganza. 
I also had my pick of a range of restaurants. On a balmy evening, I dined outdoors at Jamie's Italian, a creation of British star chef Jamie Oliver, savoring prosciutto, salami, and house-made pasta. Over a smooth and creamy cheesecake with just a hint of tartness, I watched a near-full moon above Central Park and could hardly believe I was at sea.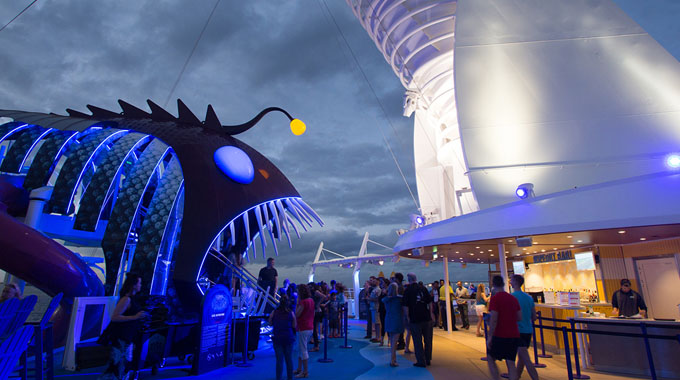 Conquering the Abyss
But I still had to conquer the Ultimate Abyss. At the piranha's mouth, we prepared ourselves to descend into the toothy cave. Brave Theresa went first, followed by a slightly nervous Carol. I gulped as the attendant showed me how to put my legs into a kind of cloth mini-sled.
Fear vanished as I propelled myself into the tube and plunged, whirling, twirling, and curling through a tunnel of glowing color that went black momentarily before lighting up in riotous color patterns. I'm told there were sound effects, but all I could hear were my own screams of joy.  
I emerged on the Boardwalk, giddy with delight. Carol and Theresa also had great rides, and we posed together beneath a sign saying, I survived the Ultimate Abyss. It was some of the best fun I've ever had, whether in the city or at sea. 
Harmony of the Seas
Size: 226,963 gross tons
Passenger capacity: 5,479 (double occupancy)
Best features: The free Ultimate Abyss slide and a walking/jogging track around the ship's perimeter.
Price: From about $123 per person, per night, including many onboard activities and meals. 
AAA Travel Alert: Many travel destinations have implemented COVID-19–related restrictions. Before making travel plans, check to see if hotels, attractions, cruise lines, tour operators, restaurants, and local authorities have issued health and safety-related restrictions or entry requirements. The local tourism board is a good resource for updated information.