A veteran traveler dips her toe into a world cruise, and it opens her horizons to a global perspective.
I sat in the Queen Mary 2's Carinthia Lounge, a quiet room with plush sofas in shades of gold and cornflower blue, and gazed through the window as the ship glided through the South China Sea.
"Did you get on in Hong Kong?" asked the woman at the next table.
"Yes," I answered. "And you?"
"I boarded in Southampton," said the woman, who had dark hair and huge brown eyes that seemed to take in everything around her. "I'm doing the entire world cruise."
The entire world cruise. The phrase evoked images of far-flung ports and uncommon adventures. As a travel journalist, I've ventured to many distant lands and taken more than 100 cruises, but the prospect of setting sail for some three months to circumnavigate the globe holds a special appeal.
A family friend named Alice used to reminisce at age 90 about a world cruise she'd taken in the 1930s, and her tales of meeting Balinese wood-carvers and Indian camel merchants captivated me.
I lack the time to embark on a complete world cruise right now, but Cunard Line offered segments of its 2018 World Voyage aboard Queen Mary 2 (QM2). I signed up for a five-night leg from Hong Kong to Singapore, eager to learn if this sampling would whet my appetite to one day take the whole trip.
International infusion

Cunard launched the first world cruise on a passenger vessel in November 1922, when the RMS Laconia visited 22 ports in 130 days. Today, several lines offer world cruises, which typically begin in January and range from about 85 to 245 days.
On the QM2, some 270 passengers—out of a capacity of 2,620—were sailing the entire 120-night voyage. I'd assumed they'd all be wealthy. Many I met—like the handsome twentysomething Argentinian whom I could imagine in a sleek sports car—were. But some came from more modest means. What they all had in common, I observed, was an insatiable curiosity about other people and far-off places.
 "My mind was always in the world," said Mary Ann Molinaro, the woman I had met in the Carinthia Lounge. "I started collecting stamps from around the globe when I was 10." When she and I later met for fish-and-chips in the ship's Golden Lion Pub, I learned she was a retired high school Spanish teacher from Nevada.
These adventurers were on the right ship. The QM2, which entered service in 2004, was built to cruise the world. "She's the one-and-only true ocean liner that sails the seven seas," said Captain Peter Philpott when I visited the bridge. "QM2 has thicker steel than other cruise ships and a deeper draft, which means she can handle any weather the North Atlantic might throw at her. And she was designed to be at her best at high speed: 28.5 knots." That makes QM2perfect for long-range voyaging.
While the exterior is hardy, the ship also exudes elegance. In the two-deck-high atrium, a copper-colored wall sculpture depicts QM2 emerging from a sunburst, and murals along hallways celebrate the history, culture, and wildlife of six continents. The two-deck-high Britannia Restaurant is so glamorous, I felt like Marilyn Monroe in Gentlemen Prefer Blondes as I descended the double staircase that curved beneath a ceiling evocative of stained glass.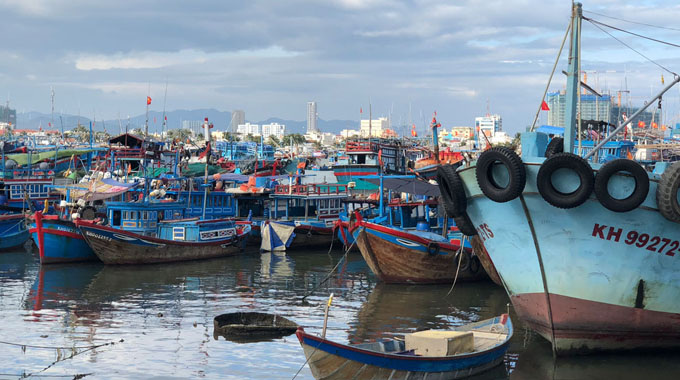 Global cuisine
The food served onboard reflected the ship's global itinerary. The velvet consistency of the mushroom risotto with mascarpone and asparagus that I ate in one of the ship's restaurants reminded me of the risotto I'd enjoyed in Italy on Venice's Burano Island. 
QM2 Executive Chef Klaus Kremer said the world cruise differs from other voyages in that he features a wider variety of cuisines. "I get off in the different ports," he said. "I eat the local food and I feature those dishes aboard." No wonder that, since we'd recently left Hong Kong, lunch in the Kings Court Buffet featured dim sum, with baked barbecue pork buns and shrimp dumplings.
Also, because a large contingent of Chinese passengers were on the Hong Kong–to–Singapore stretch, breakfast buffets included congee—Chinese rice porridge—alongside British staples such as baked beans and streaky bacon. I imagined eating curry in Sri Lanka and paella in Spain, the ship providing an entrée into different cultures through its cuisine.
The ship's international bill of fare seemed fitting for a cruise visiting more than 30 ports. During my segment, we called at Nha Trang, Vietnam, where our shore-excursion van took us past the long beach that makes the city a popular resort for Southeast Asian vacationers. Engines whirred and horns honked as moped drivers dashed by carrying mattresses, sugar cane stalks, and baskets of live ducks.
At the fishing port, bright red-and-blue boats with eyes painted on the fronts crowded the waterfront, and incense filled the air at the rust-red brick Po Nagar Cham Towers, a collection of Hindu temples built between the eighth and 12th centuries. On the way back to the ship, our guide, Phuong Vu, a young woman wearing a pink Vietnamese-style tunic, sang a folk song for us—a gentle, lilting melody that transcended any cultural differences.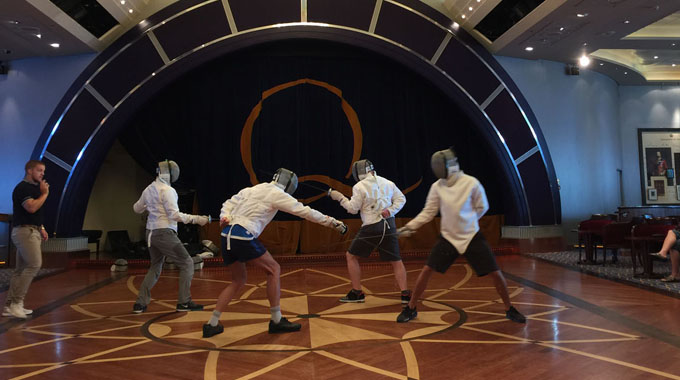 The long haul
As the days passed, I began to envy Molinaro and her fellow all-the-way-around passengers, who would soon visit Petra, Jordan; Naples, Italy; and Seville, Spain. Although I enjoyed interacting with all the passengers, I noticed those onboard for the duration seemed to share a special bond.
Many ship activities—such as movies, dance classes, and lectures on compelling topics like "Who Won the Intelligence Cold War: the West or the East?"—were open to all passengers. Other offerings, such as fencing, involved multiple sessions and were only for those onboard for the entire cruise or for lengthy segments.
A watercolor exhibition displayed works created by passengers during weeks of onboard art classes. Several paintings depicted clusters of fishing boats similar to those I'd seen in Nha Trang. They were so beautiful, I could hardly believe that amateurs had created them. If I take a world cruise, I'll finally have time to indulge in art classes, I thought.
"When you teach art, you're not just teaching how to paint; you're teaching a new view of the world," said the ship's creative arts instructor Vivien Philpot (no relation to the captain), explaining that you have to really look at things in order to paint them. "One lady told me, 'I'm 78 years old; I think I have lived my life walking around with my eyes closed. Now I see the colors in the sky and the way things work.'"
That sense of opening up to fresh ideas permeated my journey. People of various nationalities, political persuasions, and socioeconomic levels were sailing the world to gain new views—both literally and figuratively. As Singapore's skyscrapers came into sight, I realized that in today's world, a global perspective is more important than ever, and I vowed to one day immerse myself in the entire voyage. 
Cunard's Queen Mary 2
Size: 149,215 gross registered tons
Passenger capacity: 2,620
Best features: Afternoon tea in the Queens Room and Broadway-style shows in the Royal Court Theatre. 
Price: 108-night 2019 World Voyage departing Jan. 3 starts at $170 per person, per night, including meals and most onboard activities. Seven-night transatlantic sailings from $150. 
AAA Travel Alert: Many travel destinations have implemented COVID-19–related restrictions. Before making travel plans, check to see if hotels, attractions, cruise lines, tour operators, restaurants, and local authorities have issued health and safety-related restrictions or entry requirements. The local tourism board is a good resource for updated information.