A voyage in the South Pacific reveals the region's surprising culinary character.
There couldn't have been more than a handful of them, but the native dancers and drummers greeting arriving passengers at Nuku Hiva, the largest of the Marquesas Islands, made an amazing racket. Staff from Oceania Cruises' Marina scurried about, reminding spellbound passengers, myself included, about our shore excursion and urging us on to our vans. It was all I could do to pull myself away to join my group of about 15 for lunch at an inland village park and shrine in the Taipivai Valley.

We arrived after about 45 minutes of a twisting ascent and descent, and chef Noelle Barille led us to what looked from afar—and smelled—like a lu'au, the kind of celebration of traditional food and culture I'd experienced many times in Hawai'i. Sure enough, the men cleared away a covering of leaves, burlap, and cardboard to retrieve a cooked pig from the ashen pit.
As a family quartet serenaded us with song, guitar, and 'ukulele, we feasted on a meal that also included breadfruit and purple sweet potatoes, mussels and crabs caught the night before, and poisson cru (it's like ceviche in coconut milk). The occasion lacked the glitz of some lu'au I'd enjoyed in Hawai'i, but was no less heartfelt. I'd always known in the back of my mind, but I fully realized then that the roots of Hawaiian hospitality started here.
As a frequent traveler to Hawai'i, I'd always thought it would be interesting to visit French Polynesia, home turf of Hawai'i's first settlers. This 12-night, seven-port cruise afforded me that opportunity. Because culinary traditions can reveal a place's character, the trip also gave me a chance to learn about the islands of Hawai'i's forebearers through the region's food.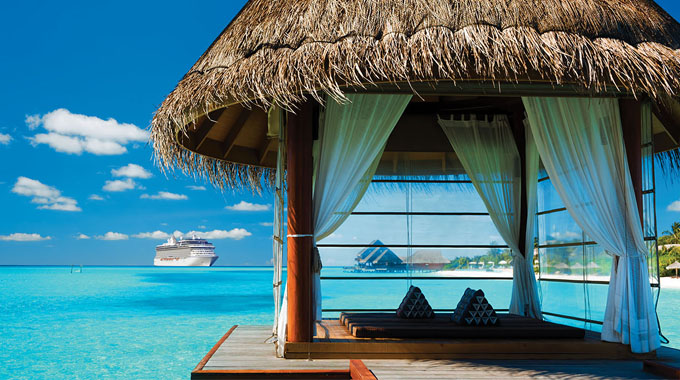 Oceania Cruises' Marina
Size: 66,094 gross registered tons

Passenger capacity: 1,250
Best features: The Marina has an attentive yet unobstrusive staff and seemingly lots of return passengers.
Price: Fares begin at $250 per night, per person, including meals and most onboard activities.
Bon appétit
Our Nuku Hiva feast inaugurated a new addition to Oceania's Culinary Discovery Tour (CDT) program. The ship's guest chef joins passengers for such activities as market and farm visits followed by a cooking experience and lunch; foraging plus an onboard cooking class; or eating at a local restaurant. Senior Chef Instructor Barille, a diminutive Chicagoan who resides in Italy, has taught classes on the ship for nearly seven years. Those excursions, coupled with other culinary experiences, highlighted my cruise.
Moorea provided my first glimpse of water in myriad shades of blue and aqua that I'd never seen before. On the way to a picnic on a private motu (small island), our tour boat paused over a sand bar so we could enter the water and frolic with smooth, friendly stingrays and indifferent black-tipped reef sharks—perfectly safe, the guides said, as long as you didn't touch them.
The motu provided plenty of shade, wonderful swimming, and a chance to interact with a few of Marina's officers who came along. The grass always seems greener, but as we stood in chest-high water, Marina's General Manager Marck Warmenhoven and I ultimately agreed that we'd be happy to keep our own gigs.
A filling lunch of grilled chicken included a lesson on shelling coconuts and using the coconut milk squeezed from the hand-carved flesh to make poisson cru. Everyone, it seems, has their own interpretation of the islands' signature dish: Lime and shredded carrots stood out in this version. A fast-moving shower ended the festivities early; our windowless boat's return into the rainy wind turned a refreshing drizzle into a cold pelting. 
When Marina docked at Raiatea, chef Barille led another CDT. Starting in the port of 'Uturoa, we visited the market for tastings of local produce before packing into a van to visit a fenced-off residential hillside vanilla grove. The tour concluded at the seaside Raiatea Lodge Hotel, where chef Eddy Goarant fried taro slices to provide a crunchy accompaniment for his poisson cru (my third variety in about a week, if anyone is counting). An electric coconut shredder made his preparation exponentially quicker.
Raiatea reminded me of the more laid-back parts of Hawai'i, such as O'ahu's leeward coast and Moloka'i.
I had my most natural interactions with locals here: the lone employee at a very relaxed postal branch who encouraged me with a huge smile as I surprised myself by how much high school French I could conjure up while purchasing postcard stamps; the police officers who pointed me to a mailbox later in the day when the same post office had closed; and the French matron who remembered my morning purchase of a hat and postcards when I returned in the afternoon to buy pearls for my mom and sister—she gifted me a golden tiki figurine that now hangs from my key chain.
Bucolic Huahine, our final day's destination, made Raiatea seem urban by comparison. A morning jaunt to snorkel at Motu Murimaora built up an appetite for more poisson cru. But the tables and chairs were set up in the water, the beer was cold, and the company was good.
Au revoir

I bade an early-morning adieu to the lovely Marina. With a whole day remaining before the departure of our red-eye return flight, some new friends I'd met on the ship invited me to join a small boat outing they'd organized to Tahiti's remote east side, an hour's cab ride away from bustling Papeete.
The theme from Gilligan's Island ran through my head as we embarked on a "three-hour tour" of the rural coast, including the famed Teahupo'o surf break, whose danger lies in its powerful crash over a shallow bed of sharp coral. Despite being a fan of most things Polynesian and oceanic, I never caught the surfing bug, and seeing this wave up close, even in its calmer off-season mode, did nothing to change my mind.
Our French captain moored in the well-hidden Vaipoiri River and set about preparing lunch for our small, but hungry, group. Reveling in our anticipation, he pulled the foil covering from a large serving bowl with a flourish: "Voilà! Poisson cru!"
Crickets. Then laughter. It took 55 years and a trip to another hemisphere for me to fully understand the phrase too much of a good thing.
Nonetheless, the cruise introduced me to the tastes of these islands, and I'll remain thankful to those long-ago Polynesians who made Hawai'i possible by pointing their canoes into the open ocean in search of what was there.
Al Bonowitz is editor-in-chief of the AAA member magazines for Hawai'i and Northern New England.
AAA Travel Alert: Many travel destinations have implemented COVID-19–related restrictions. Before making travel plans, check to see if hotels, attractions, cruise lines, tour operators, restaurants, and local authorities have issued health and safety-related restrictions or entry requirements. The local tourism board is a good resource for updated information.