Disaster Preparedness Center
Help your family prepare for a natural disaster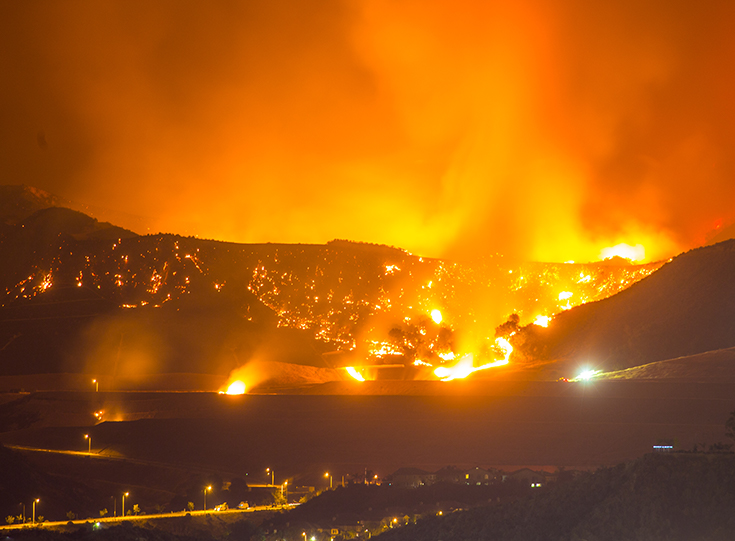 Here's what you can do ahead of a possible disaster
You can't know ahead of time when a river will overflow, an earthquake will strike, or a tornado will touch down. What you can do is prepare. When the time comes, you'll be more likely to have the tools and knowledge you'll need to get through it safely.   
Get our checklists for how to prepare for, stay safe during, and recover from these natural disasters

Earthquakes
How to prepare:


Inventory your belongings using photos or videos to assist in insurance claims after an earthquake. A video tour of your house will give claims agents a better understanding of the condition of your walls, flooring, light fixtures, etc.
Secure your space by fastening large movable items to the wall, bracing overhead light fixtures, and securing top-heavy objects.
Store breakable items in low cabinets with latches.
Repair any deep cracks in ceilings or foundations.
Hang heavy items such as mirrors, art, or pictures away from couches and beds.
Keep a flashlight and pair of shoes next to each family member's bed in case an earthquake strikes in the middle of the night.
Make sure your home is securely anchored to its foundation.
Learn how to shut off the gas valves in your home; keep a wrench handy for that purpose.
Locate the safe spots in each room so that you know where to go when an earthquake strikes.
Practice "stop, drop, and hold on," with family earthquake drills.
Develop a communication plan. If disaster strikes, who will call and check on each family member/friend? What number is best to reach each person?
Pick a spot with your family to meet if you are separated when disaster strikes, or if you get separated during an evacuation.
Keep an emergency kit prepared ahead of time. 
How to recover:
 
Stay on your guard; aftershocks, landslides, or a tsunami may follow the earthquake.
Be careful when driving after an earthquake and anticipate traffic light outages.
Turn on your car radio and listen for advisories; most radio stations can broadcast emergency information.
Check yourself for injuries before helping others.
Help those who are injured or trapped, particularly neighbors who may require special assistance. Do not move seriously injured people unless they are in danger of being further injured.
If available, put on long pants, a shirt with long sleeves, sturdy shoes, and gloves to protect yourself against injury from broken objects.
Watch animals closely. Leash dogs and place them in a fenced yard. Normally quiet and friendly cats and dogs may become aggressive or defensive after an earthquake.
Fires are the most common hazards after an earthquake; look for and extinguish any small flames that you see.
Watch for loose plaster, drywall, and ceilings that could fall.
Clean up spilled medications, bleach, gasoline, and other flammable liquids immediately.
Keep an eye out for fallen gas and power lines.
Inspect your utilities for leaks and damage.
Take pictures or video of the damage, both of the house and its contents, for insurance claims.
Are you a AAA policyholder who needs to speak with a claims agent? Call 1-800-67-CLAIM

Hurricanes
How to prepare:
 
Learn your community's evacuation routes and nearest evacuation shelters.
Make plans for special assistance for the elderly, disabled, and pets.
Learn about emergency plans for your children's school or daycare center.
Meet with household members and discuss how to respond to a pending disaster.
Discuss what to do about power outages or personal injury.
Learn how to turn off the water, gas, and electricity at main switches.
Post emergency numbers near telephones.
Pick one out-of-state and one local friend or relative for family members to call if separated by disaster. 
Pick two meeting places: A place near home and a place outside your neighborhood in case you cannot return home after a disaster.
Take a basic first aid or CPR class.
Make an inventory of the items you own; take photos and include serial numbers if possible. Keep this inventory, along with any other important documents such as family records and insurance policies, in a water- and fire-proof container.
Carefully review your insurance policy so you are familiar with the coverage you have.
Prepare a smaller version of your disaster supplies emergency kit for your car.
Make sure your car is in good working condition and has a full tank of gas.
Obtain materials, such as plastic and plywood, necessary to properly secure your home.
Trim trees and shrubs, cutting weak branches and trees that could fall on or bump against your home.
Secure items that might blow away or be torn loose, such as garbage cans, signs, and patio furniture.
Check prescription medications and make sure you have at least a 10- to 14-day supply.
Clear your windshield and windows on the inside and outside to ensure you have clear visibility.
Be sure all of your tires are properly inflated and vehicle lights work properly.
How to stay safe in the home:
 
Listen to your radio for the latest emergency procedures or evacuations; observe road closure signs.
Remain indoors until officials announce an "all clear."
Stay away from doors and windows. Designate a "safe room" in the house or on the property that is windowless and is centrally located.
Store mattresses or seat cushions in the "safe room" for added protection from flying debris.
Shut off water, gas, and electricity if instructed to do so.
If your home begins to flood, move to a second floor or attic. If necessary, use an axe to cut a hole in the roof for an emergency exit.
How to stay safe on the road:
 
Turn on windshield wipers and headlights (not just daytime running lights), as soon as rain begins to fall.
If windows begin to fog, turn on the car's defroster, preferably the heat.
Use low-beam headlights to help other drivers see your car and increase visibility.
Slow down. Speed limits are set for ideal road conditions. Rain decreases visibility and increases braking distances.
Increase following distances. Normal dry pavement following distance (three to four seconds) should be increased to eight seconds or more when driving on slippery surfaces.
Driving in other vehicle's tracks can improve traction and help you avoid hydroplaning.
Drivers of four-wheel-drive vehicles must remember they are not immune from hydroplaning on wet surfaces.
Be wary of high wind conditions and give extra room for larger trucks.
Watch out for debris or downed wires. If you're in a vehicle that is in contact with a downed power line, the best rule is to stay there until help arrives. If there is an imminent danger, such as fire, stand on the door frame or edge of the vehicle and jump clear with both feet at the same time.
Do not cross standing water on the road. As little as 6 inches of water can make you lose control of your car; 2 feet of water will carry away most cars.
Try to avoid bridges and roads that are known to flood.
If you are forced to stop in traffic due to poor visibility, turn on emergency flashers.
How to recover:
 
Don't touch loose or dangling wires.
If your home is flooded, don't turn on lights or appliances until an electrician inspects your property.
Store any undamaged property in a protected place so it will not be stolen.
Don't drink tap water until given an "all clear" by officials.
Notify your relatives of your safety and whereabouts.
If your home and/or car are damaged, take pictures of the damage for insurance claims and contact your service agent.
If power lines are on your vehicle, do not attempt to remove them nor touch the vehicle. Contact the local power company for assistance.
If the vehicle has been flooded, contact a qualified automotive technician before attempting to start it. Have the technician inspect all mechanical components including the engine, transmission, steering system, axles, and fuel system for water contamination. Also have the technician drain floodwater from contaminated systems and flush with clean water or a solvent, as appropriate. All contaminated fluids, such as oil, transmission fluid, and engine coolant, should be drained and replaced.
Only make necessary repairs to protect your home from further damage. These may include:
Covering broken windows and holes
Removing soaked carpet
Drying flooded areas
Unplugging electronics and appliances
Be present when the adjuster inspects your damaged property.
Are you a AAA policyholder who needs to speak with a claims agent? Call 1-800-67-CLAIM

Flooding
How to prepare:
 
Inventory your possessions using photos or videos to assist in insurance claims after a flood. A video tour of your house will give claims agents a better understanding of the condition of your walls, flooring, light fixtures, etc.
Develop a communication plan. If disaster strikes, who will call and check on each family member/friend? What number is best to reach each person?
Pick a spot to meet your family if you are separated when disaster strikes, or if you get separated during an evacuation.
Elevate the furnace, water heater, and electric panel in our home if you live in a high-risk flood area.
Consider installing "check valves," which are tools that prevent flood water from backing up into the drains of your home.
Seal basement corners with waterproofing compounds.
How to recover:
 
Avoid moving water, as you can easily get carried away in a current.
Use local alerts and warning systems to get information as soon as possible.
A recovery team may be on-site assisting others. You can be most helpful to them by staying off the road and out of the way.
If power lines are down around your home, do not step in puddles or standing water.
If you must walk or drive in an area that has been flooded, play it safe and stay on firm ground; moving water just 6 inches deep can sweep you away.
Stay out of any buildings that are surrounded by flood waters.
Keep children and pets away from moving water to the best of your ability.
Return home only when it has been deemed safe to do so by officials.
Watch out for wild animals, especially snakes, that may enter your home.
Help dry your home by opening windows, doors, crawl space vents and access doors, attic access panels, etc. to permit airflow throughout the house. Interior doors, second floor windows, bath and kitchen cabinet doors and drawers should also be opened.
To prevent mold, remove water soaked materials such as clothes, drapes, furniture, rugs and if possible, carpeting. Salvageable materials should be spread to dry in a carport or garage. Move non-salvageable material to a debris pile away from the house.
During cleanup wear protective clothing, including rubber gloves and boots.
Take pictures or video of the damage, both of the house and its contents, for insurance claims.
Are you a AAA policyholder who needs to speak with a claims agent? Call 1-800-67-CLAIM

Snow storms
How to prepare:
 
Before you hit the road, tune in to radio and television weather reports to know where traffic congestion or crashes might be located.
Let someone know your destination, your route, your cellphone number, and when you expect to arrive. If your car gets stuck along the way, help can be sent along your predetermined route.
Check to ensure the battery, ignition system, and lights are in good working order.
Check brakes and tires for wear that might make stopping and starting difficult.
Ensure your tires are properly inflated and in good condition. Tire traction determines how well the vehicle accelerates, turns, and stops.
Check the level of antifreeze in your vehicle's cooling system. The owner's manual will help determine the best coolant for your vehicle.
Some roads, especially in mountain areas, may require chains or snow tires in harsh conditions. Check the requirements in your area with local law enforcement and carry chains in your car if required.
Defrost frozen door locks by carefully heating the end of a key with a match or lighter. A squirt of de-icer spray also works.
Ensure wipers are working and wipe them before driving to prevent damage from ice. Washer fluids need to be filled with anti-freeze washer solvent. 
Road salt, slush, and grime are especially hard on a car's finish. To help prevent rust and paint damage, keep cars washed and waxed. 
Keep your gas tank full for emergency use and to keep the fuel line from freezing.
How to stay safe:
 
Remove all snow from your vehicle; it may end up on the windshield while driving otherwise.
Wear your seat belt and make sure everyone in the vehicle does as well.
Give yourself a bigger margin of safety around your vehicle. 
Don't use cruise control when driving on any slippery surface.
Use extra caution on bridges, overpasses, shaded spots, and intersections when approaching other vehicles.
Brake slowly and gently. Slamming on the brakes on ice-covered roads dramatically increases your risk of entering a skid.
If you start to skid, take your foot off the brake, ease off the gas pedal, and steer in the direction you want to go. This helps keep you from over-correction, a common cause of crashes in snow and ice conditions.
Are you a AAA policyholder who needs to speak with a claims agent? Call 1-800-67-CLAIM

Tornadoes
How to prepare:
 
Know evacuation routes, shelter locations, and the safest and strongest rooms in your home.
Make a plan to meet family members in the event you get separated.
If you have time, reinforce windows with plywood or storm shutters.
Bring your car, garbage cans, lawn chairs, umbrellas, and anything else that isn't anchored down inside; tie down whatever you can.
If you're told to evacuate, pack what you need and get on the road. If a tornado is imminent, get to a storm shelter immediately. Storms can intensify in seconds, so don't delay.
How to stay safe:
If you have a radio handy, stay up to date on the latest storm news so you know when it's safe to come out of your home or shelter.
Keep your head down and face away from the wind, keep away from windows, and stay as well insulated from the storm as possible.
Whether you're in a storm shelter, your basement, a closet, or other safety area, try to remain in one place until it's safe to come out.
If you're in an open area, lie flat in a ditch and try to avoid flying debris; stay away from bridges and overpasses.
How to recover:
Be cautious both inside and outside; a storm can create dangerous debris, including broken glass, roofing nails, splinters, and possibly power lines.
Supplies may be limited, so be conscientious about food and water consumption and try to ration supplies.
Make a detailed list of any damage and take pictures, if possible. As soon as you can, you should contact your insurance agent to get the claims process started while everything is fresh in your mind.
In the event that any doors or windows have been damaged during the storm, board them up and make temporary repairs to prevent further damage until they can be permanently fixed.
 Are you a AAA policyholder who needs to speak with a claims agent? Call 1-800-67-CLAIM

Heat waves
How to prepare:
Batteries more than two years old should be tested by a qualified technician to ensure they have the starting power to handle the stress of extreme temperatures.
Motor oil plays an important role in keeping the engine cool, so check your vehicle's oil level and condition. If you're driving under extreme conditions, such as over mountains or towing a heavy trailer, switch to motor oil with higher viscosity (check your manual for specific recommendations).
Check air conditioning system performance. If needed, have it serviced by a qualified technician. Do not use non-approved substitute refrigerants. Check the owner's manual for approved types.
Inspect antifreeze/coolant level and condition. Ensure the proper 50/50 mixture of water and coolant is present.
If your car overheats, don't remove the radiator cap until the engine has cooled. Coolant in the radiator is under pressure and can flash into steam, causing severe burns.
Other under-the-hood components such as belts and hoses are also stressed by extreme heat and should be regularly inspected. Be sure the vehicle engine is turned off before inspecting these items.
How to stay safe:
 
Don't leave children or animals unattended in a car even for a short time. Outside air temperatures in the 90s can rise to 125 degrees inside the vehicle very quickly and can cause brain damage or death.
When parked, use a sun shield to cover the windshield to minimize heat buildup and to help protect the car's interior. Cover metal and plastic parts on seat belts and child safety seats to prevent burns.
Open the vehicle's doors and let the interior cool for a few minutes before entering.
Remember to remove electronics such as cellphones, music players, etc. from your vehicle, as the high heat can drain the batteries and possibly damage internal components.
Are you a AAA policyholder who needs to speak with a claims agent? Call 1-800-67-CLAIM

Wildfires
How to prepare:
 
Develop a communication plan. Who will call and check on each family member/friend? What number is best to reach each person?
Locate two ways out of each room in the house, and develop two escape routes out of your neighborhood.
Pick a spot to meet your family if you are separated when disaster strikes, or if you get separated during your evacuation.
Sign up for emergency alert system notifications in your area.
Regularly back up your electronic devices to a cloud or external hard drive. This ensures that if your electronic device is lost during a fire, you won't the information stored on it.
Scan important documents such as medical records and birth certificates and store them on a cloud or external hard drive. Store hard copies in a secure fire-proof box.
Inventory your possessions using photos or videos to assist in insurance claims after a wildfire. A video tour of your house will give claims agents a better understanding of the condition of your walls, flooring, light fixtures, etc.
If possible, take a first aid/CPR class. Your training in the event of an emergency could save lives.
In the event that you are on the road when disaster strikes:
Have two days' worth of clothing, toiletries and basic survival items in an easy-to-carry bag or container stored in your vehicle.
Carry a spare USB/connector cable for in-car cellphone use and charging, and a 110-volt converter plug for wall use.
Keep a small amount of cash readily available in the event that widespread power outages preclude the use of ATMs.
How to stay safe:
 
Landscape your home with wildfire safety in mind by choosing fire-resistant plants.
Use fire-resistant, non-combustible materials on your roof and exterior, and treat wood with fire-retardant chemicals evaluated by a nationally recognized laboratory, such as Underwriters Laboratories.
Regularly clean roof and gutters to remove buildup that may become a potential fire hazard. Remove branches that overhang the roof, making sure they do not come in contact with electrical wires and are at least 15 feet from the chimney.
Create a safety zone at least 30 feet from all structures by removing all flammable vegetation.
Install a dual sensor smoke alarm on each level of your house, especially near bedrooms. Check the batteries once a month.
Have accessible fire extinguishers and household items that can be used as fire tools, such as a rake, bucket, or shovel.
Identify an adequate outside water source—such as a hydrant, pond, or swimming pool—that can be used by emergency responders to combat the wildfire.
Keep a garden hose that is long enough to reach all areas of your home and other structures on your property.
How to recover:
 
Go to a designated public shelter if you have been told to evacuate or you feel it is unsafe to remain in your home. Text SHELTER + your ZIP Code to 43362 (4FEMA) to find the nearest shelter in your area (for example: SHELTER 92626).
For several hours after the fire, remain on fire watch. Re-check for smoke and sparks throughout the area.
Do not enter your home unless it has been deemed safe to do so by fire officials.
Watch animals closely and keep them under your direct control. Hidden embers and hot spots could burn your pets' paws or hooves.
Discard any food that has been exposed to heat, smoke, or soot.
Do not use contaminated water.
Wet debris to minimize breathing in dust particles.
Remain calm and pace yourself. If you find yourself in a position of leadership, listen carefully to what those around you are telling you and deal with urgent situations first.
Are you a AAA policyholder who needs to speak with a claims agent? Call 1-800-67-CLAIM


Emergency kit checklist
Water checklist
 
1 gallon of water per family member and pet per day, preferably at least a week's supply. Change the water in your kit every six months.
Water-purifying supplies, such as chlorine or iodine tablets or unscented, ordinary bleach
Cheesecloth, to strain water if necessary
Food checklist
 
Non-perishable food, preferably a week's supply per person. Consider high-energy foods such as peanut butter, jelly, crackers, granola bars, and trail mix. Avoid foods that will increase thirst, such as salted crackers.
A week's supply of pet food 
Sugar, salt, pepper
Vitamins
Heavy-duty aluminum foil
Plastic utensils
Paper plates and cups
Paper towels
Sealable plastic bags
Manual can opener
Camping stove for outdoor cooking. (Before using fire to cook, make sure there are no gas leaks. Never use charcoal indoors.)
Medical checklist
 
First aid kit, freshly stocked
First aid book
List of family physicians and the style and serial number of medical devices, such as pacemakers
Essential medications (Ask your doctor about storing prescription medications.)
Extra pair of eyeglasses / contacts
Sunscreen
Insect repellent containing DEET or Picaridin
Clothing checklist
 
Three days' worth of clothes
Long-sleeved and long-legged clothing for protection from mosquitoes that may gather in pooled water
Sturdy shoes or work boots to protect against broken glass, nails, and debris
Sunglasses
Rain gear (rubber boots, sturdy shoes, and waterproof gloves)
Heavy gloves for clearing debris
Tools & supplies checklist
 
Small tool kit
Whistle to signal for help
Portable radio, flashlight, and spare batteries
Candles and matches (in a waterproof container)
Light sticks
Small mirror for signaling
Knife or razor blades
Rope and wire
Duct tape
Small shovel
Umbrella
Rope for towing or rescue
Wrench or pliers to turn off utilities
Fire extinguisher (A-B-C type)
Dust mask to help filter contaminated air and plastic sheeting and duct tape to shelter-in-place
Large plastic trash bags for waste, tarps and rain ponchos
Large trash cans
Garden hose for siphoning and firefighting
Warning devices (flares or reflective triangles)
Towels
Shelter & sanitation checklist
 
Tent
Blankets or sleeping bags
Plastic sheeting
Toiletries, such as soap, shampoo, feminine hygiene supplies, toilet paper, toothpaste, and toothbrushes
Disinfectant
Automotive checklist
 
Car jack and spare tire
Jumper cables
Spare tire or sealant/inflator
Tire pressure gauge
Quart of oil and coolant (specific to your vehicle)
Reflective sun shade
Miscellaneous checklist
 
A leash and/or carrier for your pet
Any special food and supplies for babies, seniors, or family members with disabilities
Important family documents such as insurance policies, IDs, and bank records in a waterproof, portable container
Extra set of house and car keys
Cash (small bills) and change
Books, games, puzzles, or activities for children
Communication kit: paper, pens, stamps
AAA membership card (in your wallet)
Disposable camera for photos of damage
Extra charging cables for electronic devices
Local maps and a compass
If you live in a climate where snow is a factor, consider adding these items to your kit:
 
Abrasive material (sand or kitty litter)
Gloves or mittens
Ice scraper/snow brush
Jacket and hat
Snow chains for vehicle tires
Additional resources
Helpful sites

Preparing for the future means assessing your needs and making the right AAA life insurance choice for you and your family.

You're likely to make it through a disaster unscathed, but your house might not. Be prepared to recover from home loss and damage with AAA insurance.