AAA Insurance
Auto claims total loss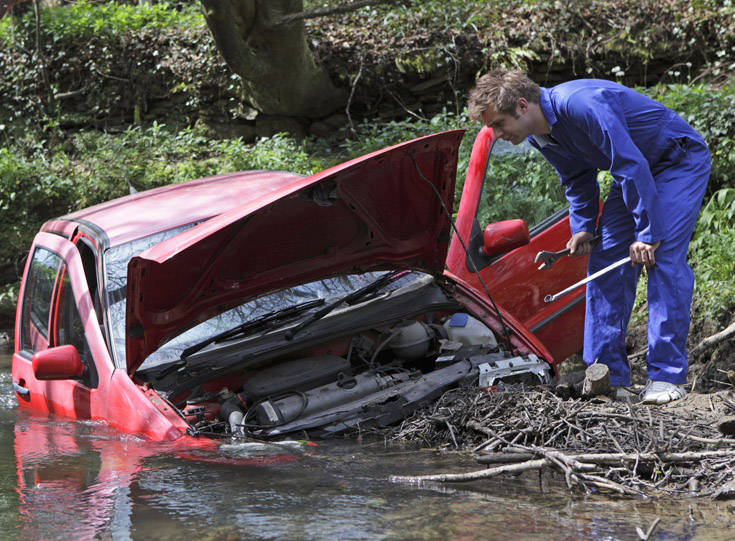 What should I know about a total loss auto claim?
When you have AAA auto insurance, we're here to help you a total car loss and the auto claims process every step of the way. To begin filing a claim, please call our claims reporting line available 24 hours a day, 7 days a week.
What does total loss of my vehicle mean?
Total loss means the expected cost to repair your car is greater than the expected cost to total the vehicle.

Several considerations factor into the cost to repair, but it's mostly based on the repair estimate.
There are many factors that help determine the cost to total, but it mostly depends on the actual cash value (ACV) of your vehicle.
The actual cash value is what your vehicle would have been worth if sold before the accident occurred.
Actual cash value is determined by a state-regulated process or by using a third-party vendor that helps determine what comparable vehicles sold for in your market.
We use various methods depending on your state's regulations.

What is a comparable vehicle?
A comparable vehicle is one of a similar year, make, model, and condition. Only vehicle sales or listings that can be verified with a VIN or stock number can be taken into account as a comparable vehicle.

What's the next step after my vehicle is a total?
Our claims service representative will discuss next steps such as payment for your claim, processing paperwork from your state's department of motor vehicles (or equivalent), moving your vehicle to a salvage yard if necessary, and address any questions you may have.

What if I'm still making payments on my vehicle?
Your claims service representative will reach out to your lienholder to determine the payoff amount.

If the settlement is more than what is owed to the lienholder, the adjuster will pay the lienholder and issue the remaining balance to you.
If the settlement is less than what is owed to the lienholder, the total settlement will be made toward the balance owed to the lienholder. Should this occur, work with your lienholder to determine if you have "gap" insurance. This type of insurance exists to cover the difference between the amount owned on your loan and settlement of a total loss claim. If necessary, we'll provide additional documents to help you file a gap insurance claim.
Do I keep making payments on my car loan after it was totaled?
It's recommended to continue making all loan payments on time. If an additional payment affects the payoff loan balance, the lienholder will issue any overpayment back to you.
Why is my vehicle being called salvage now?
Salvage is a term used to describe a vehicle that has been in an accident and was deemed a total loss.

Do I get to keep the salvage or does AAA take it?
Dependent on the specifics of the claim, you may have the option of retaining the salvage or releasing it to AAA. Your claims service representative will let you know what options are available for your specific claim.
I kept the salvage, now what do I do with it?
You can sell the salvage or you can register it with your state's department of motor vehicles to renew its registration. Registering the salvage normally requires the vehicle be inspected and deemed road safe. Please review the requirements for registering the salvage with your local department of motor vehicles.
Am I able to insure my vehicle with AAA if it has a salvage title now?
Possibly. Many states have rules regarding salvaged titles and what is required to insure them. In addition, insurance underwriting rules vary by state, which may impact the ability to insure a salvaged vehicle. The most important consideration is related to the value of a previously salvaged vehicle. This type of title may impact the actual cash value of any future claims. It's best to contact your insurance agent or our insurance services department for information on your specific vehicle and state.
What do I need to submit to the department of motor vehicles?
If AAA took possession of the salvage, your adjuster will assist with all necessary documents and submit them on your behalf.
If you retained the salvage, we'll notify the department of motor vehicles that the car has been deemed a total loss.
Working with your AAA insurance agent is a good way to make sure your insurance needs are covered. You can also sign in to your AAA account to review your policies, deductibles, and coverage.

Log in to your account to view and manage your policy details, review your coverage amounts, and enroll in paperless billing.

AAA claims agents are available to help you file a claim, and to answer questions about your coverage, limits, or deductibles.