AAA Insurance
Auto claims glass damage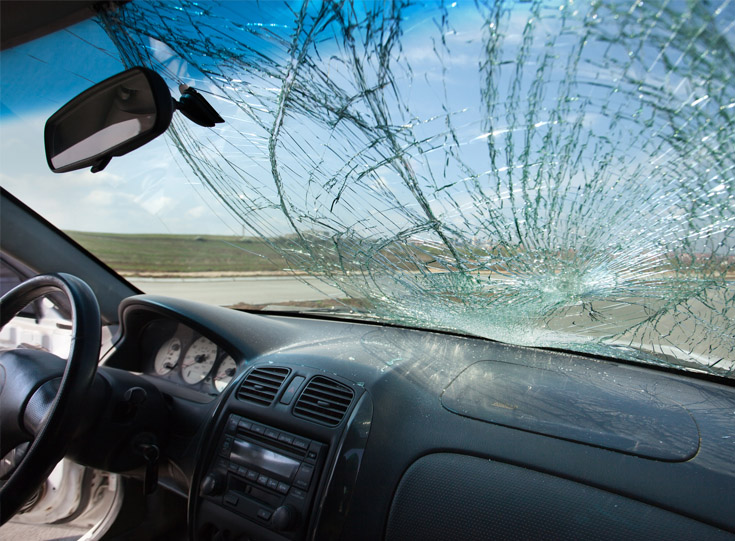 What should I do after the glass on my vehicle breaks?
When you have AAA auto insurance, we're here to help you through the glass damage auto claim process every step of the way. To begin filing a claim, please call our 24/7 claims reporting line.

We'll be able to assist when your vehicle's windshield or glass is damaged due to a covered claim.
Our goal is to provide a high-quality repair to get you back on the road as quickly as possible.
If you don't have a preference or don't want to choose a vendor, a covered glass claim will be referred to Safelite Solutions, our authorized glass claims administrator.
Safelite Solutions operate call centers 24 hours a day, 365 days a year in all time zones.
They also have over 7,000 network glass repair shops nationwide. Call Safelite toll-free at 1-800-787-4222.
Does my auto policy cover glass damage to my vehicle?
In most cases, you need to carry comprehensive coverage on your policy to cover a cracked or broken windshield and other types of glass damage. Glass repair or replacement may be subject to the comprehensive coverage deductible on your auto policy.
What should I do if I have glass damage?
Report the damage to AAA as soon as possible.
Typically, you'll have the option to have your glass repaired or replaced by a vendor of your choice.
Once the claim has been reported, your service representative will coordinate the repair process with Safelite Solutions or a shop of your choice.
What if I don't want to choose my own shop?
Not a problem. If you don't have a glass vendor or don't want to locate one on your own, we can help you find a local quality preferred glass vendor.
Our glass program administrator (Safelite Solutions) will give you a referral number and general toll-free phone number to contact a Safelite representative when you're ready.
You'll also receive a confirmation email.
You can call at your convenience to coordinate your vehicle's glass damage repair or replacement.
Who do I pay my deductible to once repairs are done?
Once repairs are completed, the invoice will be sent to your claims service representative by the vendor for payment. Your deductible is payable to the vendor who has completed the repairs.
What if I repaired or replaced the glass before filing a claim?
You can give the invoice to your claims service representative once the claim has been filed. Your representative will then review the invoice for payment consideration pursuant to the terms of your policy.
What type of glass damage can be repaired?
Typically, small breaks such as a bullseye, star, or half-moon in a non-acute area (not in front of the driver) could be repairable. Benefits of repairing your windshield rather than replacing it include:
The repair process takes approximately 30 minutes.
Repairing your windshield leaves the original factory-installed seal in place.
Quality windshield repair leaves a slight blemish that becomes less noticeable over time.
Working with your AAA insurance agent is a good way to make sure your insurance needs are covered. You can also sign in to your AAA account to review your policies, deductibles, and coverage.

Log in to your account to view and manage your policy details, review your coverage amounts, and enroll in paperless billing.

AAA claims agents are available to help you file a claim, and to answer questions about your coverage, limits, or deductibles.