AAA Insurance
Auto claims deductibles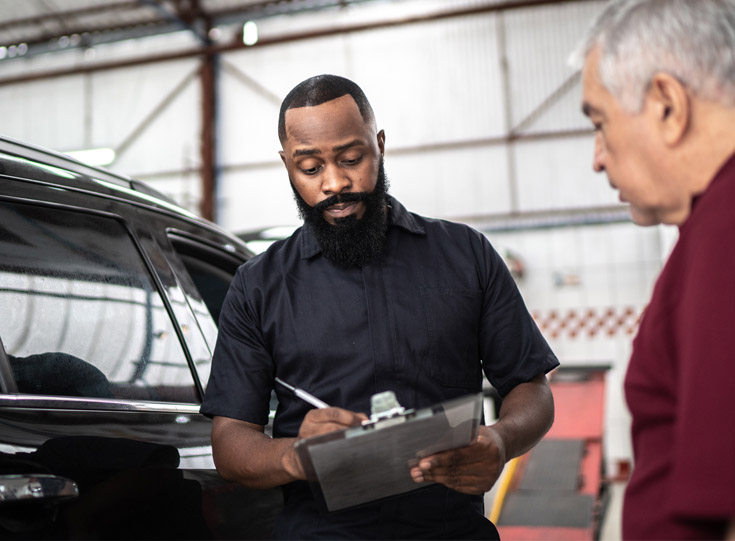 What should I know about auto claims deductibles?
AAA is here to help your through the auto claims process, and to better understand deductibles. If you need to file a claim, please call our claims reporting line available 24 hours a day, 7 days a week.
What is a deductible?
A deductible is the amount you pay out of pocket toward repairs for your vehicle due to a covered loss. For example, if you have a $500 deductible and you're in an accident that results in $3,000 of repairs to your car, you pay only $500 toward repairs.
How can I find my deductible amount?
Your policy will list both your comprehensive and collision deductibles if you have purchased those coverages. When you file a claim, your claims representative will discuss your deductible with you. You can also sign in to your online AAA account to review your policies and coverage.


Why are my collision & comprehensive deductibles different?
They are 2 separate coverages, and you have the option of choosing 2 different deductibles.
Collision coverage pays for repairs to your vehicle after a collision with another vehicle or fixed object. 
Comprehensive coverage pays for losses that usually aren't the result of driving, such as theft, vandalism, hail, or fallen objects. It isn't uncommon to have a lower comprehensive deductible, as the premium is not as prohibitive for lower comprehensive deductible.
Can I change my deductible?
Yes, contact your insurance agent or our insurance services department to change your deductible for future losses. They can advise you on how a deductible change will affect your premium.
Why do I have to pay my deductible if I'm not at fault?
There are a few reasons the deductible might apply:

For comprehensive claims, the deductible always applies since there is no fault assessment.
For collision claims, the deductible generally applies. In most markets, when you're not at fault for an accident, we can waive the deductible if we can identify the other party, that they're at fault, and their insurance carrier confirms they have valid liability coverage for the accident. This investigation can take time, so the deductible may apply at the beginning of the claim and be reimbursed later.
Do I pay my deductible to AAA or the shop?
The deductible is paid directly to the shop, normally when the repairs are complete.
Why do I have to pay my deductible for windshield repairs or replacement?
I'm having the at-fault insurance fix my vehicle. Who do I pay my deductible to?
Your deductible only applies when your insurance company pays for your vehicle repairs. There is no deductible if the other party's insurance is handling the repairs.
Will I have to pay a deductible for the other person's damage?
The deductible only applies to your own vehicle repairs. There is no deductible for the other party's vehicle repairs under your policy.

I paid my deductible and now it's being waived. How do I get my money back?
Your claims service representative will send you a reimbursement check for your deductible.
Working with your AAA insurance agent is a good way to make sure you have all your insurance needs covered. You can also sign in to your online AAA account to review your policies, deductibles, and coverage.

Log in to your account to view and manage your policy details, review your coverage amounts, and enroll in paperless billing.

AAA claims agents are available to help you file a claim, and to answer questions about your coverage, limits, or deductibles.