AAA Insurance
Auto claims rental car process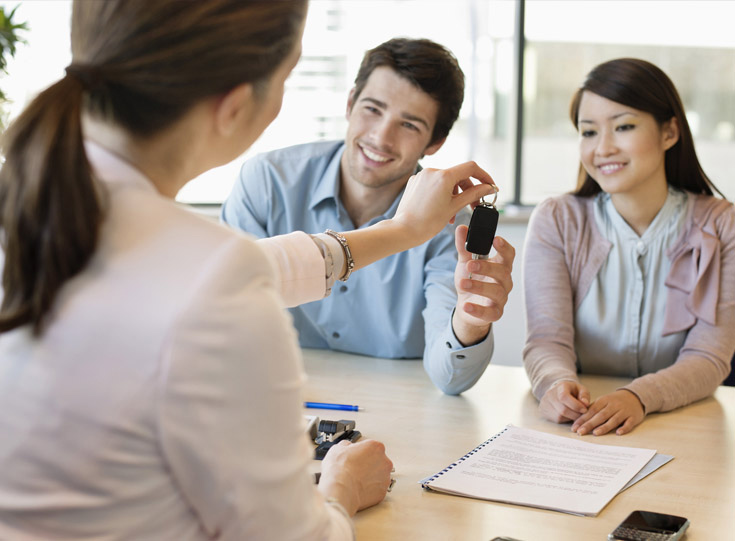 What should I know about the auto claims rental car process?
When you have AAA auto insurance, we're here to help you with the rental car auto claims process every step of the way. To file a claim, please call our 24/7 claims reporting line.
Is my rental car covered by my personal auto policy?
Yes, a rental vehicle is covered in most markets if it temporarily replaces your insured car for reasons such breakdown, repair, and servicing, or if it's being used for a short time like driving within the U.S. for leisure purposes.
Your auto policy coverage applies to you and drivers listed on your policy who are using the vehicle with the rental company's express permission.
A rental may be referred to as a non-owned auto, an additional insured automobile, or temporary substitute in your policy documents.
When in doubt, review your policy coverage.
How does rental reimbursement work?
Rental reimbursement is an optional auto policy coverage that pays for rental costs if your vehicle isn't drivable, or at a shop undergoing repairs due to a covered loss and the repairs exceed your deductible.
Reimbursement is subject to your daily limit and total claim limit. Consider starting repairs in a timely manner if your vehicle isn't drivable, or look for a replacement as early as possible if your vehicle is deemed a total loss.
Subject to your policy limits, rental reimbursement coverage applies on a covered claim while your vehicle isn't drivable, actively being repaired, or for a set time after a total loss offer is made. A claims service representative will provide assistance with applicable rental coverage if your vehicle is deemed a total loss and a settlement has been reached.
In most cases, your claims service representative can set up a billing agreement and rental reservation directly with the rental provider to make the process hassle-free. Contact your claims service representative or rental provider before you need your rental to ensure availability. You may use any rental provider.
If you're paying for rental car and submitting the receipt for reimbursement, consider the total daily cost, including taxes and additional rental fees to ensure daily rental costs are within your chosen policy limit.
If you're seeking reimbursement from a third-party liability carrier, consider renting basic transportation to ensure complete reimbursement. Some third-party liability auto policies may only consider basic transportation and others may only consider a vehicle similar to your damaged one.
What I should know before getting into a rental?
Ask the rental provider about their security deposit requirements. Many need a credit card to meet the security deposit requirement. This deposit is often applied to any charges you may owe or will be reimbursed once the rental is returned.
Rental reimbursement coverage doesn't cover the cost of gas, mileage, or additional insurance charges imposed by the rental provider. Ask the rental provider agent up front how these charges may apply.
Contact your rental provider in advance and give them your vehicle repair date. Many offer complimentary transportation from your auto repair shop to the rental office.
Your AAA membership gives you a discount with many rental providers. In many cases, this discount can be applied by simply showing your membership card. 
If you need more help identifying rental providers in your area, contact your claims service representative.
Working with your AAA insurance agent is a good way to make sure your insurance needs are covered. You can also sign in to your AAA account to review your policies, deductibles, and coverage.

Log in to your account to view and manage your policy details, review your coverage amounts, and enroll in paperless billing.

AAA claims agents are available to help you file a claim, and to answer questions about your coverage, limits, or deductibles.