AAA Insurance
Auto claims accident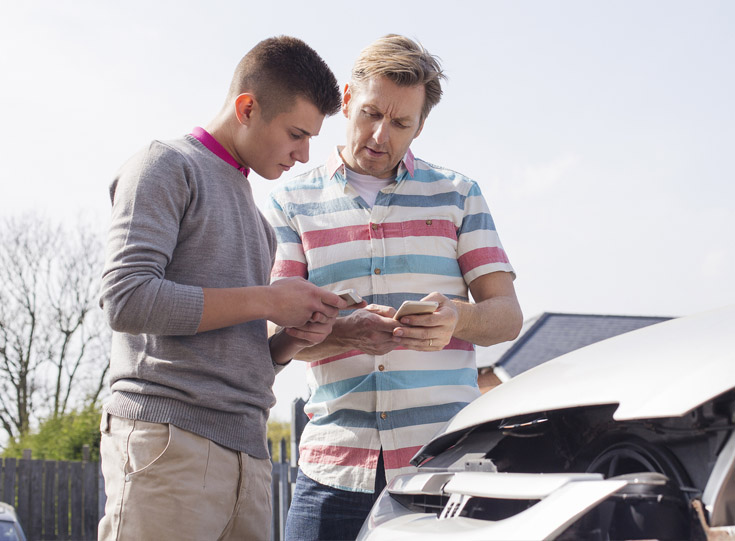 What should I do after a car accident?
AAA is here to help you through the auto accident claims process. After addressing immediate safety and medical needs, then gathering necessary information, please call our claims reporting line available 24 hours a day, 7 days a week.
What should I do after an accident?
No one expects to be in an accident. When we are, it can be hard to remember what to do with so much going on. Let's break it down into 3 main steps.
Step 1: Assess the situation
Take a moment to catch your breath and look around at the current situation.
If your vehicle isn't in a safe location, pull over out of harm's way if you can safely do so.
Make sure everyone is OK.
If medical attention is needed, call 911 and advise the operator of the situation.
Step 2: Gather information
Once everyone is in a safe location, it's time to collect information. If possible, start by taking photos of:
Accident scene
Vehicles involved
Driver's licenses
License plates
And proof of insurance for everyone involved.
Other useful details includes phone numbers, third-party witness information, and police report information if available. This will address most of what you'll need for the next step.
Step 3: Arrange the next steps
It's best to report an accident as soon as possible, but it doesn't have to be done at the accident site.
When you're in a safe place and it's convenient, call the claims reporting line to get help answering your questions and filing a new claim.
Once your claim is reported, your claims representative will help you move forward.
Working with your AAA insurance agent is a good way to make sure your insurance needs are covered. You can also sign in to your AAA online account to review your policies, deductibles, and coverage.

Log in to your account to view and manage your policy details, review your coverage amounts, and enroll in paperless billing.


AAA claims agents are available to help you file a claim, and to answer questions about your coverage, limits, or deductibles.